Nigerian police say they've arrested senior Boko Haram member
July 15, 2014 -- Updated 1310 GMT (2110 HKT)
Boko Haram: Nigeria's crisis
Boko Haram: Nigeria's crisis
Boko Haram: Nigeria's crisis
Boko Haram: Nigeria's crisis
Boko Haram: Nigeria's crisis
Boko Haram: Nigeria's crisis
Boko Haram: Nigeria's crisis
Boko Haram: Nigeria's crisis
Boko Haram: Nigeria's crisis
Boko Haram: Nigeria's crisis
Boko Haram: Nigeria's crisis
Boko Haram: Nigeria's crisis
Boko Haram: Nigeria's crisis
Boko Haram: Nigeria's crisis
Boko Haram: Nigeria's crisis
Boko Haram: Nigeria's crisis
Boko Haram: Nigeria's crisis
Boko Haram: Nigeria's crisis
Boko Haram: Nigeria's crisis
Boko Haram: Nigeria's crisis
Boko Haram: Nigeria's crisis
Boko Haram: Nigeria's crisis
Boko Haram: Nigeria's crisis
STORY HIGHLIGHTS
Nigerian police say they've arrested senior Boko Haram member
They say Mohammed Zakari calls himself "chief butcher" of the Balmo Forest
That's a region of northeast Nigeria where troops claim to have routed Boko Haram
The terror group has been blamed for deadly attacks in recent years
(CNN) -- Nigerian police have arrested a man claiming to be Boko Haram's "chief butcher" in an area identified as the Balmo Forest of northeastern Nigeria.
Detectives arrested Mohammed Zakari, 30, as he fled from what police and the military describe as an intensive counterinsurgency sweep in the area.
Zakari is accused in connection with the deaths of seven people, including women and children, according to Nigerian police.
He is also accused of taking part in an April attack against Nigerian customs officers in Kari, police say.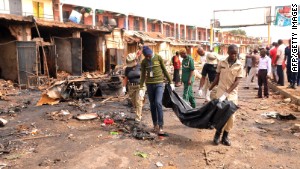 Boko Haram has Nigeria living in fear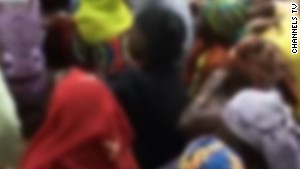 Source: More than 60 females escape Boko Haram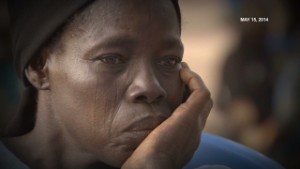 Boko Haram horror 'gripped me by throat'
Boko Haram is a fundamentalist Islamic militant group based in northern Nigeria whose name translates as "Western education is forbidden." Its members are accused in dozens of brutal attacks against Nigerian government offices, churches and schools since 2009.
Human Rights Watch said Tuesday the group is responsible for at least 2,053 civilian deaths in 2014. The group based its account on media reports and field investigations.
"Boko Haram is effectively waging war on the people of northeastern Nigeria at a staggering human cost," said Human Rights Watch West Africa Director Corinne Dufka.
Malala to Boko Haram: Stop misusing Islam
In May, the group abducted more than 200 girls from a boarding school in the town of Chibok, setting off worldwide condemnation of the group and prompting Western nations to send troops and aid to the region to help with the search for the missing girls.
Last month, Boko Haram militants held residents in the village of Kummabza hostage for four days, abducting more than 60 females and killing 30 men. The women later escaped when militants left them alone in a camp while they battled Nigerian soldiers.
Nigerian troops have been conducting intensive efforts against the group in northeastern Nigeria for days, according to government statements and Nigerian media reports.
The military said it has routed terrorists from the Balmo Forest region and uncovered weapons caches as well as uniforms worn by Nigerian security services, according to Nigeria's Ministry of Defence.
Some of the suspected terrorists captured during the raid are "volunteering information linking the activities in the forest with other terrorist activities in the country," the Defence Ministry said in a statement.
CNN's Radina Gigova and Nana Karikari-apau contributed to this report.

Today's five most popular stories
Part of complete coverage on
Boko Haram
December 18, 2014 -- Updated 1633 GMT (0033 HKT)

What exactly is Boko Haram, and why has it turned into a Nigerian synonym for fear and bloodshed?
October 22, 2014 -- Updated 0946 GMT (1746 HKT)

Nigeria says that more than 200 girls abducted by Boko Haram in April are to be released.
October 20, 2014 -- Updated 1252 GMT (2052 HKT)

Six months after more than 200 schoolgirls vanished in Nigeria, the #BringBackOurGirls campaign has faded. But this man hasn't.
October 18, 2014 -- Updated 1124 GMT (1924 HKT)

CNN's Jessica King looks at how a social media campaign may have influenced the government to take action.
October 18, 2014 -- Updated 1831 GMT (0231 HKT)

Despite government claims of a ceasefire, alleged Boko Haram gunmen attack two villages and a town.
October 18, 2014 -- Updated 0410 GMT (1210 HKT)

Journalist Sarah Topol spent time with some girls who managed to escape. She gives her reaction to CNN.
October 12, 2014 -- Updated 0601 GMT (1401 HKT)

27 hostages freed from Boko Haram have arrived in the capital of Cameroon. Lynda Kinkade reports.
September 25, 2014 -- Updated 1008 GMT (1808 HKT)

Nigerian forces battling Boko Haram have killed a man suspected of acting as the group's leader, Nigerian officials said.
October 19, 2014 -- Updated 1035 GMT (1835 HKT)

In April the world was shocked to learn that Boko Haram had abducted more than 200 girls from their boarding school in Chibok.
October 22, 2014 -- Updated 1040 GMT (1840 HKT)

With every attack by Islamist militants in northern Nigeria, Daniel Ayuba relives a nightmare.
May 12, 2014 -- Updated 1318 GMT (2118 HKT)

The terrifying news began to spread before the gun-wielding Islamist militants made it into Chibok.
November 19, 2014 -- Updated 1817 GMT (0217 HKT)

Here's a look at Boko Haram, a militant Islamic group working out of Nigeria, whose purpose is to institute Sharia, or Islamic law.
October 3, 2014 -- Updated 1053 GMT (1853 HKT)

Nina dos Santos talks to the chief spokesman of a Nigerian opposition party about the challenges his country faces.