Strangers help with photo in midst of tragedy
July 17, 2014 -- Updated 0203 GMT (1003 HKT)
STORY HIGHLIGHTS
Baby dies after long struggle with liver tumor
Parents turn to Reddit for help retouching favorite photo
Hundreds respond with photos, drawings, gifts
(CNN) -- Gifts have been arriving at the Steffel home in Kalida, Ohio, every day. Blankets, photographs, paintings.
It started with a simple request that grieving father Nathen Steffel posted to Reddit on Sunday: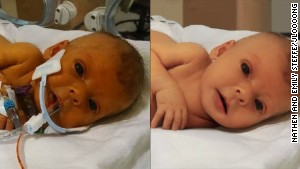 Nathen Steffe posted this image to Reddit asking members to retouch the image to remove the tubing from his daughter's face. Credit Nathen and Emily Steffe
"My daughter recently passed away after a long battle in the children's hospital. She was in the hospital her whole life and we were never able to get a photo without all her tubes. Can someone remove the tubes?"
Don't miss out on the conversation we're having at CNN Living.
Follow us on Twitter
and
Facebook
for the latest stories and tell us what's influencing your life.
The image of their daughter, Sophia, connected to breathing tubes is the Steffels' favorite because it captured her during one of few times she was awake. In the photo her eyes are wide open and she appears to be staring into the camera.
Nathen Steffel said he's been a member of the Reddit online community for a while and had seen many instances of talented Photoshop work.
He was hoping to get at least one good image. So far, he's received more than 100 photos, drawings and paintings.
"We're still getting them today. From all over the world," he said in a phone interview Wednesday. "I can't even read what some of them say."
Initially he responded to each message but eventually it became overwhelming. The responses helped take their minds off things even though most of them were condolences. Nathen Steffel is now in touch with a parent who went through a similar experience.
The couple first learned there was a mass on their baby's liver during a routine ultrasound.
"They didn't know what it was," Emily Steffel said. "They just said they'd keep an eye on it."
They shared the news with family and friends, and when Sophia Steffel was born May 30 tests revealed a liver tumor known as hepatic hemangioma. The condition is a rare noncancerous tumor linked to high rates of heart failure and death in infants, according to the National Institutes of Health.
Sophia was transferred from one children's hospital to another and died on July 10. She was 6 weeks old.
"Everyone did everything they could," Nathen Steffel said.
The Steffels' story has drawn widespread attention and media coverage, which the couple says will help them explain Sophia's story to her brothers Tristan, 5, and Owen, 3.
Nathen Steffel's sister told him she's comforted by all the attention -- happy that Sophia's story didn't just end at the hospital.
"We'll have this memory forever," he said.
To see more of the retouched images click here.
To see a YouTube video of Sophia click here.
Today's five most popular stories
Part of complete coverage on

CNN Living reflects your life. From advice for modern parents to the freshest news in food: It's all here.
August 7, 2014 -- Updated 1606 GMT (0006 HKT)

Travis and Joyce Miller started producing hickory syrup as an experiment. Demand for the unique flavor has turned into a full-time business.
August 5, 2014 -- Updated 1505 GMT (2305 HKT)

These happy couples kept the campfire flames burning, and turned summer flings into lifetime commitments.
August 7, 2014 -- Updated 1733 GMT (0133 HKT)

Shanesha Taylor says a moment of "desperation" led her to leave her children in a car during a job interview.
July 18, 2014 -- Updated 1555 GMT (2355 HKT)

Bikinis might dominate the beaches, but style editors and trend forecasters say the one-piece is the "fashion-forward" choice this season.
July 30, 2014 -- Updated 1442 GMT (2242 HKT)

Are you ready for this? These guidelines tell you when to wash everything, from sheets and cars to bras and hair.
August 7, 2014 -- Updated 1121 GMT (1921 HKT)

"I am a canvas of my experiences, my story is etched in lines and shading," says tattoo artist Kat Von D. Is this a good thing?