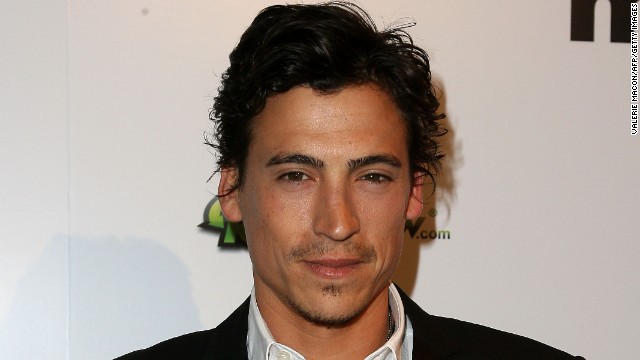 Andrew Keegan, who came to fame in the 1999 film "10 Things I Hate About You," founded Full Circle, a new age temple and spiritual movement
described to Vice
as "advanced spiritualism."
told People
that the birth of his premature son in 2012 had caused him and his wife, actress Anna Faris, to pray a great deal. "It restored my faith in God, not that it needed to be restored, but it really redefined it."
Chris Pratt, star of the summer blockbuster "Guardians of the Galaxy,"
Some were surprised to learn that rapper Ja Rule, once best known for being the brash star of Murder Inc. Records, was raised by Jehovah's Witnesses, as he revealed in his memoir "Unruly: The Highs and Lows of Becoming a Man." Now Ja Rule, who was born Jeffrey Atkins, has been baptized as a Christian after "reconnecting with God" while working on the 2013 movie, "I'm In Love With a Church Girl."
Justin Bieber was raised in a Christian household by his evangelical mother. In a 2011 interview with Rolling Stone, Bieber said, "I feel I have an obligation to plant little seeds with my fans. I'm not going to tell them, 'You need Jesus,' but I will say at the end of my show, 'God loves you.' "
Julia Roberts, the star of "Eat Pray Love" and countless other movies, says she and her family chant and pray at a Hindu temple. "I'm definitely a practicing Hindu," she told People in 2011.
Actress Natalie Portman was raised in a Jewish household in Long Island, New York. Now she jokes that "like, every Jewish role comes to me."
Pop star Prince became a Jehovah's Witness in 2001 and has even gone door-to-door to share his faith with others. "Sometimes people act surprised," he told The New Yorker in 2008. "But mostly they're really cool about it."
Tiger Woods repeatedly invoked his Buddhist faith during his public apology for marital infidelity in 2010. "People probably don't realize it," he said, "but I was raised a Buddhist, and I actively practiced my faith from childhood until I drifted away from it in recent years."
Former boxer Mike Tyson told Fox News in December that he's "very grateful to be a Muslim." "Allah doesn't need me; I need Allah," said the onetime heavyweight champion.
Singer Alice Cooper always believed in Christ but wouldn't have considered himself a Christian before giving up his rock-star lifestyle, he told the Huffington Post.
Actor Mark Wahlberg is serious about his Catholic faith. Even so, he joked about his risque roles with CNN's Jake Tapper. "I hope God's a movie fan. I want to explain 'Boogie Nights' at the right time."
Former "American Idol" contestant David Archuleta went on a mission for the Church of Jesus Christ of Latter-day Saints, better known as the Mormons, after his stint on the show.
Orlando Bloom joined the Soka Gakkai school of Buddhism at age 19. "It's about studying what is going on in my daily life and using that as fuel to go and live a bigger life," he told Details in 2007.
Recognized for his role in "Rush Hour," Chris Tucker said he became a born-again Christian after filming "Money Talks" in 1997. Eight years later, Tucker was arrested for speeding on a Sunday in Georgia, allegedly approaching 120 mph. He was soon released and apologized, saying he was running late to church.
Comedian Dave Chappelle, a practicing Muslim, left his highly successful show in 2005 and went on a spiritual retreat in Africa. "I don't normally talk about my religion publicly because I don't want people to associate me and my flaws with this beautiful thing," he told Time in 2005. "And I believe it is a beautiful religion if you learn it the right way."
Paula Abdul, the singer and former "American Idol" judge, told The Associated Press that "beyond being Jewish, I've always found myself to be very much in tune with spirituality."
Miley Cyrus was baptized in a Southern Baptist church and still calls herself a Christian though she doesn't attend church every Sunday. "People are always looking for you to do something that is non-Christian," she told Parade magazine in 2010. "But it's like, 'Dude, Christians don't live in the dark.' ... If I wear something revealing, they go, 'Well, that's not Christian.' And I'm like, 'Yeah, I'm going to go to hell because I'm wearing a pair of really short white shorts.' "
Actor Denzel Washington may be more known for his starring role in films like "American Gangster," but he's also a devout Christian. He told GQ magazine in 2012 that he "reads the Bible every day."
Pop star Katy Perry was raised Pentecostal and once recorded on a Christian label. "I lay on my back one night and looked down at my feet, and I prayed to God. I said, 'God, will you please let me have boobs so big that I can't see my feet when I'm lying down?' God answered my prayers," she told GQ magazine.
Malcolm Gladwell, the bestselling journalist, was raised among Mennonites. After writing "David and Goliath," he told Religion News Service that "I am in the process of rediscovering my own faith again."
After Pope Francis was elected, television personality Mario Lopez tweeted, "Big moment for the church & for those of us who call ourselves Catholics. I hope Pope Francis comes with an open heart & open mind... #Faith."
Celebs you didn't know were religious
Celebs you didn't know were religious
Celebs you didn't know were religious
Celebs you didn't know were religious
Celebs you didn't know were religious
Celebs you didn't know were religious
Celebs you didn't know were religious
Celebs you didn't know were religious
Celebs you didn't know were religious
Celebs you didn't know were religious
Celebs you didn't know were religious
Celebs you didn't know were religious
Celebs you didn't know were religious
Celebs you didn't know were religious
Celebs you didn't know were religious
Celebs you didn't know were religious
Celebs you didn't know were religious
Celebs you didn't know were religious
Celebs you didn't know were religious
Celebs you didn't know were religious
Celebs you didn't know were religious
Justin Bieber and other celebs you didn't know were religious