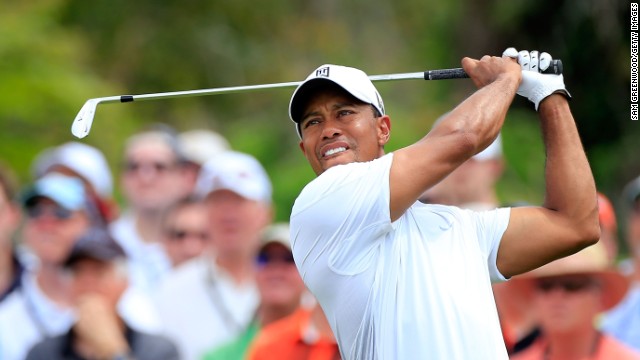 Tiger Woods regains the
No. 1 spot in world golf rankings
with a win at the Arnold Palmer Invitational on Monday, March 25. Here, he plays a shot at the tournament in Orlando on Sunday, March 24. Check out what Woods has been up to since the last time he was the top-ranked golfer nearly 2½ years ago:
Woods appears dejected after losing to Lee Westwood and Luke Donald in the 2010 Ryder Cup competition in Wales in October 2010. That month, he lost his No. 1 ranking to Westwood, a position he had held for 281 consecutive weeks. He had taken a break from golf earlier that year after reports of marital infidelities emerged in late 2009.
Woods misses a putt at the Frys.com Open in October 2011. That month, he dropped out of golf's Top 50 players list for the first time in almost 15 years. Woods reportedly lost millions in endorsements after sponsors ended their ties with him in the wake of a sex scandal.
citing knee and Achilles tendon injuries
. Here, he plays in the tournament in 2008.
Woods misses the U.S. Open in July 2011,
Woods said
. Here, the two share a laugh during a practice round two months before Williams was let go.
Woods drops his caddy of 12 years, Steve Williams, in July 2011. "I want to express my deepest gratitude to Stevie for all his help, but I think it's time for a change,"
After a nearly three-month break, Woods returns to golf at the Bridgestone Invitational in August 2011.
Woods hits out of the bunker on the ninth hole during the first round of the PGA Championship in August 2011.
Woods landed Rolex as a sponsor
despite not having won a major tournament in nearly two years. "Rolex is convinced that Tiger Woods still has a long career ahead of him," the high-end watchmaker said.
Woods plays his tee shot on the 18th hole at the Presidents Cup in Melbourne, Australia, in November 2011. The previous month,
He shot a 62, his lowest final round as a professional
, at the Honda Classic, but he tied for second in the tournament.
Woods lines up his putt at the Honda Classic at PGA National in March 2012.
Chevron World Challenge
, a non-PGA tour event, in December 2011.
Woods earns his first win since November 2009 at the
Arnold Palmer Invitational
in March 2012. His win there marked his first PGA tour victory since September 2009.
Woods signs autographs at the
He overtook Jack Nicklaus
for second place on the all-time PGA Tour list with his victory at the AT&T National.
Woods drops the ball on the 15th fairway during the final round of the AT&T National in July 2012.
Woods hits his tee shot on the 12th hole during the final round of the Farmers Insurance Open at Torrey Pines in January 2013.
Woods hits the ball on the 18th hole during the second round of the Deutsche Bank Championship at TPC Boston. He became the first PGA Tour participant to earn $100 million when he finished third and won more than $500,000 at the Deutsche Bank Championship.
they were dating on Facebook
in March 2013. Vonn recently divorced Thomas Vonn, who was also her coach, and Woods split up with his wife, Elin Nordegren, in 2010.
Woods and champion skier Lindsey Vonn announced
Woods tosses his ball to his caddie at the Farmers Insurance Open at Torrey Pines in January 2013. He started the new year in fine form by winning his 75th PGA Tour title in the Farmers Insurance Open.
Tiger Woods: From highs to lows
Tiger Woods: From highs to lows
Tiger Woods: From highs to lows
Tiger Woods: From highs to lows
Tiger Woods: From highs to lows
Tiger Woods: From highs to lows
Tiger Woods: From highs to lows
Tiger Woods: From highs to lows
Tiger Woods: From highs to lows
Tiger Woods: From highs to lows
Tiger Woods: From highs to lows
Tiger Woods: From highs to lows
Tiger Woods: From highs to lows
Tiger Woods: From highs to lows
Tiger Woods: From highs to lows
Tiger Woods: From highs to lows
Tiger Woods: From highs to lows