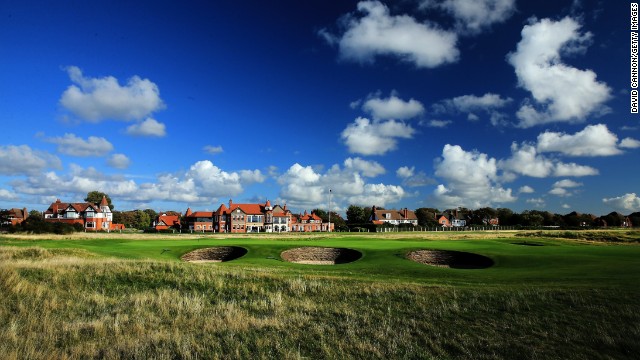 Hoylake stands proudly on the Wirral Peninsula, just outside the city of Liverpool. It was built in 1869 and hosted the first Amateur Championship in 1885. It has hosted 11 previous Opens, the last in 2006, when Tiger Woods was triumphant.
Augusta's famous green jacket has been awarded to the winner of The Masters every year since 1949, but its origins lie at Hoylake, host of this year's British Open.
It was at Hoylake in 1930 that Bobby Jones won the British Open. Jones was the champion golfer of his age and one of the first sports stars to make the front pages of newspapers and magazines.
The American was already a superstar, with nine major titles to his name before his UK trip. But he would write his name into golfing folklore with his achievements that year, accomplishing a feat that has never been matched.
Jones had won the British Amateur at St. Andrew's the week before he arrived at Hoylake. Though he had the air of a confident man, according to Hoylake historian Joe Pinnington he was racked with nerves: "Jones hardly ate, he had a bit of toast and maybe a whiskey and water at the end of the day. He was in a right old ragged state."
Despite the inner turmoil, Jones battled his way to the front of the field and eventually won his third Open crown by two strokes from compatriot Leo Diegel and Scotland's Macdonald Smith.
Jones clutches the Claret Jug after his triumph. Having secured both British titles on offer, he headed back home to complete the grand slam by winning the U.S. Open and the U.S. Amateur -- taking him to 13 majors overall.
Jones' British Open win also meant he captured something else -- a red blazer worn by all Hoylake members who had been captain of the golf club. He had been fascinated by the red jacket of Kenneth Stoker at a players' dinner prior to the tournament, and Stoker promised to give his to Jones should he triumph.
Jones was made an honorary member at Hoylake after his victory. This meant the only three amateurs to win the British Open title had all been members at the club -- Harold Hilton and John Ball being the others.
Jones was afforded a ticker-tape parade on his return to New York, with the Claret Jug and his new jacket in his luggage. Later, when he retired from golf at 28 and founded Augusta National Golf Club, members were given green jackets during The Masters tournament so they were easily identifiable. In 1949, Sam Snead was the first winner to be given a green jacket -- a tradition that endures today.
Jones' portrait still hangs in the clubhouse at Hoylake. He was invited back for its centenary year in 1969 but was prevented from attending by ill health. In his correspondence with the club he noted that it was at Hoylake he played his first and last competitive rounds in Britain.
The Wirral winds
Augusta Masters
The joy of Jones
Hoylake quivers
Nervous wreck
Grinding it out
Grand Slam
Red blazer
Hoylake member
New York celebrates
Hoylake old boy
STORY HIGHLIGHTS
Hoylake, this year's British Open host, was the inspiration for Augusta's green jacket
Bobby Jones was given a red jacket worn by captains of Hoylake on his visit in 1930
Jones won the Open at Hoylake on his way to a famous grand slam of golf that year
The winner of The Masters at Jones' club in Augusta got a green jacket from 1949
Follow us at @WorldSportCNN and like us on Facebook
(CNN) -- "Hoylake, blown upon by mighty winds, breeder of mighty champions." -- Bernard Darwin (1876-1961 - golf writer and grandson of British naturalist Charles Darwin)
In 1930, in a small corner of England's green and pleasant land, the idea for one of golf's most desirable accoutrements was born.
The champion golfer of the age -- American Bobby Jones -- won that year's British Open at Hoylake, near the city of Liverpool, as the second leg of an unprecedented grand slam of championships.
But before he would tame the winds of the Wirral Peninsula, and go on to win all four major titles on offer in a single season, Jones was invited to a players' reception at the club.
And it was this soiree that would sow the idea for Augusta's legendary green jacket, awarded to the winner of The Masters.
"The story goes that Jones was sitting next to a chap called Kenneth Stoker, who was captain of the club the year before," Hoylake club historian Joe Pinnington told CNN.
"All the captains were wearing their formal kit -- the red coats that we have.
"Jones asked about it, was fascinated by it, and eventually Stoker said to him: 'Now look here Mr. Jones, if you win the tournament this week I'll give you my coat.'
"Of course Jones won and he got the coat."
Atlanta-born Jones was afforded a ticker-tape parade in New York when he returned in early July with the British Open and British Amateur titles tucked away in his locker, along with that red blazer from Hoylake.
He was the champion of a nation at a time when sport helped the American public escape the stench of poverty and despair in the wake of the Great Depression.
But his mission was only half completed.
Triumphs at the U.S. Open and the U.S. Amateur would follow, causing the New York Times to label Jones' achievement "the most triumphant journey that any man ever traveled in sport."
Having completed what was known as "the impregnable quadrilateral" at the tender age of 28, he promptly retired, exhausted from his feats, plunging a nation and a sport into mourning.
Read: Why Augusta's designer died in poverty
His next project was Augusta National, a place for him to play with his pals away from the spotlight, a course that would stage the first incarnation of The Masters in 1934.
Three years later Augusta members started wearing green jackets to make themselves identifiable to patrons, and in 1949 it was decided that year's victor, and all the previous champions, would be issued with their own version too.
"It's a wonderful link for our golf club to have and the Masters is one of golf's great events," Pinnington says.
"That red jacket is now at Jones' home course -- the Atlanta Athletic Club -- in a part of their museum which is called the Hoylake Room.
"We have a wonderful reciprocation with their club, a lot of their members are members at Hoylake and we have four or five who are members there."
Jones headed for Hoylake having secured the first leg of his historic quadruple at the home of golf -- St. Andrew's in Scotland -- the week before.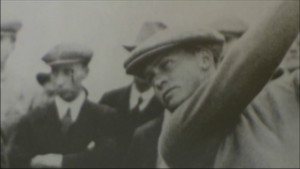 Bobby Jones' stroke of genius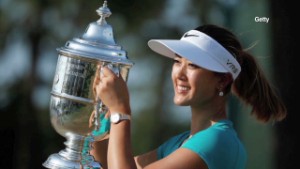 How far has women's golf come?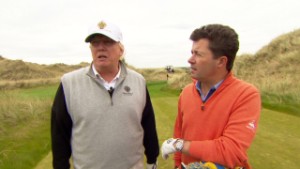 Will Trump's Turnberry succeed?
That made him a nine-time major champion and one of the most talked-about sportsmen of the day.
Unsurprisingly, his arrival at Royal Liverpool Golf Club was headline news.
"Jones was at the height of his fame when he came to Hoylake," explains Pinnington, a former club captain. "He'd eclipsed Walter Hagen and he was a phenomenal man who won 11 majors in total.
"Amateur golf was followed very closely in those days because professionals were not really socially acceptable. In 1930, they weren't allowed through the front door of clubhouses.
"Jones came at a time when magazines likes Vanity Fair and Country Life as well as The Times and The Telegraph newspapers covered golf.
"For the first time sport was on the front pages and Jones was the hero of everybody.
"He was a magnetic sort of bloke. A good-looking man with a beautiful golf swing and a wonderful temperament, very different to the bad-tempered man who arrived in 1921."
Read: Tiger - Winning majors is getting harder
Jones had smoothed out his irascible constitution, the most famous eruption of which saw him pick up his ball and withdraw from the 1921 British Open at St. Andrew's after a disastrous start.
But though he exuded a confident air during the course of his four rounds in two days at Hoylake, he grappled desperately to combat the stress that plagued him on the inside.
"He fell apart during these championships because the nerves were overwhelming," Pinnington says.
"He hardly ate -- he had a bit of toast and maybe a whiskey and water at the end of the day. He was in a right old ragged state.
"Although he looked totally supreme on the outside he was a complete wreck on the inside. There were a couple of British guys in contention but Jones ground out the last round to win by two from another American, Leo Diegel, and Macdonald Smith, from Scotland.
"It was a key part in his grand slam and we are amazingly lucky to have someone like that in our history at Hoylake."
The links between Hoylake and one of its most illustrious champions don't end there.
Jones' ill health meant he had to decline an offer to return for the club's centenary celebrations in 1969, but contained within his correspondence was another accolade.
He noted that his first competitive round in Britain came at Hoylake, during the inaugural international match between the United Kingdom and the United States in 1921, as did his last -- the 1930 Open.
Jones was made an honorary member in the wake of his latter triumph -- his third, having also won the Open at Royal Lytham and St. Anne's in 1926 and at St. Andrew's the following year.
It gave Hoylake a unique hat-trick -- the only other amateur golfers to have won prestigious tournament (John Ball in 1890 and Harold Hilton in 1892 and 1897) were also Royal Liverpool members.
Jones died in in 1971, aged 69, but a corner of Hoylake's clubhouse is devoted to his feat and ensures his legacy lives on.
Read: The gentleman who shaped modern golf
Read: What's in a name? Ask Bobby Jones IV
Read: Gary Player - 78 and doing 1,300 sit-ups a day
Read: Rory McIlroy's new love interest