Airbus files patent for saddle seats on planes
July 18, 2014 -- Updated 1310 GMT (2110 HKT)
STORY HIGHLIGHTS
Airbus publishes patent for folding saddle seats with low backrests
Vertical seat design packs more passengers into cabins
Spokesperson says patent application does not mean design will be developed
(CNN) -- For air travelers who like to gripe about being cramped in economy, here comes another warning that they've never had it so good.
Airbus has filed a patent application showing detailed renderings of what may be the plane seat of the future.
The design shows narrow rows of folding saddle seats with low backrests on which passengers perch rather than recline.
The patent application, which makes even the most budget of budget airline seating look luxurious, was published last month and is available for viewing by the public.
Are you a window flier or aisle seater?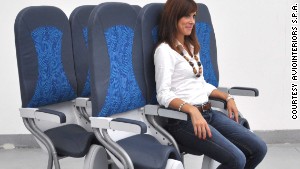 The Skyrider is another saddle seat design that was unveiled in 2010.
As CNN reported last week, a new study says the vertical passenger seat may be the next big cost-cutting move in aviation.
Upright seat designs would allow airlines to pack more passengers into a cabin and provide an affordable alternative to public transportation on short haul flights.
The patent says current seating configurations have reached their passenger limit but numbers can be increased by switching to saddle-style designs (presumably stowing travelers in the overhead compartments has been ruled out).
It says the saddle format will accommodate four seats into a space previously occupied by three.
The Airbus design is somewhat similar to the SkyRider, a perching saddle for planes developed by Italian firm Aviointeriors and unveiled at an expo in 2010.
READ: World's most luxurious passenger jets revealed
If Airbus is looking for positive feedback for its design, it may struggle.
The UK's Daily Telegraph likened the patent to "the inside of a galley," under the headline "The world's most uncomfortable plane seat?"
An Airbus spokesperson told CNN that the patent didn't necessarily mean it would be saddling up its aircraft anytime soon.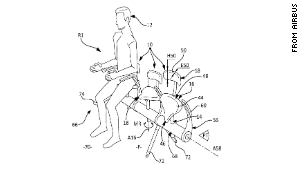 Straight from the Airbus drawing board.
"Airbus files hundreds of patents each year -- this is what innovative companies do," Airbus UK head of media relations Robert Gage said via email.
"Many patents never become reality and there is no expectation that this would. It is really to preserve an idea and has not developed beyond this stage."
Gage said that even if the designs were to be developed, it would be up to airlines would choose the seating configurations and type.
MORE: See-through cabins and passenger pods: Is this the future of flight?

Part of complete coverage on
September 17, 2014 -- Updated 1117 GMT (1917 HKT)

This aging cargo work whale makes more than 60 flights each week, carrying parts for all of the Airbus programs.
September 17, 2014 -- Updated 1555 GMT (2355 HKT)

From a three-room apartment to a Michelin-starred meal, many airlines are offering services you won't even get in some top hotels.
September 16, 2014 -- Updated 1446 GMT (2246 HKT)

Airbus patent proposes using special headsets to control in-flight sights, sounds and smells.
September 12, 2014 -- Updated 0701 GMT (1501 HKT)

Bear on the tail and heart on the underside -- it's been a big week for makeovers in the world of aviation.
September 9, 2014 -- Updated 1305 GMT (2105 HKT)

The only two surviving pilots of the wartime China National Aviation Corp celebrate after an historic Douglas C-47 flight.
September 5, 2014 -- Updated 1236 GMT (2036 HKT)

Just because you can use your phone on the plane, it doesn't mean you have to.
September 6, 2014 -- Updated 0042 GMT (0842 HKT)

You've been up since 3 a.m.
August 19, 2014 -- Updated 1514 GMT (2314 HKT)

Airlines and airports are going high-tech to reduce your time in line.
August 26, 2014 -- Updated 0115 GMT (0915 HKT)

Ever wondered what it takes to get that movie to your inflight screen? This special report details who, what and how much it takes to bring you the best in IFE (we'll explain).
July 30, 2014 -- Updated 1835 GMT (0235 HKT)

Takeoff on one of Airbus' new A350WXB test planes is a strangely quiet experience.
August 12, 2014 -- Updated 0906 GMT (1706 HKT)

Cars, craft beer, yetis? Since when did in-flight purchases get so strange?
July 17, 2014 -- Updated 1426 GMT (2226 HKT)

CNN takes a look at the new car-plane hybrid that brings affordable recreational air travel to the masses.

Today's five most popular stories