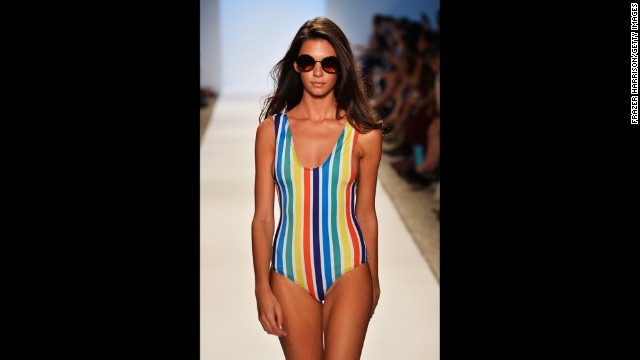 One-piece bathing suits are giving bikinis a run for their money this season on the runways and beaches. Inspired by '90s-style trends, the look is expected to return to the runways this weekend. Here's one from a 2013 fashion show in Miami. Click through the gallery for memorable one-piece bathing suits from recent history:
In the 1979 movie "10," Bo Derek's beige swimsuit made history and turned the young star into a mainstream sex symbol.
Farrah Fawcett gained international fame when she posed for her memorable red swimsuit poster in 1976.
Nicole Eggert, left, Pamela Anderson and their low-cut red swimsuits made waves in the 1990s on the television show "Baywatch."
This 2013 Instagram post by Kim Kardashian, with the hashtag "#NoFilter," showed off her post-baby body in what followers called a "white hot" swimsuit.
Sacha Baron Cohen and his daring, neon green suit shocked viewers when he wore it in his 2006 mockumentary "Borat."
Model Naomi Campbell wows the crowd during the Versace show at Paris Fashion Week in 2013.
With her anticipated return to the Olympics in 2012, gold-medalist Janet Evans signed an endorsement deal with one of the world's leading swim brands, Arena.
When the first Barbie was released in 1959, in her black and white swimsuit, she was considered to be a rebel, embodying both sensuality and innocence.
Singer and actress Rita Moreno, famous for her early role as Anita in "Westside Story," poses for a sizzling pin-up style photo.
"America's Sweetheart" Annette Funicello's curve-hugging suit turned heads in 1965's "Beach Blanket Bingo."
While playing a mental patient in 1959's "Suddenly, Last Summer" Elizabeth Taylor was able to maintain her status as a sex symbol with this simple white suit.
Blond bombshell Marilyn Monroe makes a splash circa 1951.
Actress Dorothy Dandridge showcases her trademark Hollywood glamor while frolicking in a checkered one-piece in 1957.
Actress Jane Russell, wearing a strapless one-piece swimsuit, strikes a pose poolside in 1951.
Deborah Kerr's star rose after she donned a simple black bathing suit in 1953's "From Here to Eternity," which also earned her an Academy Award nomination.
Circa 1940, from left, actresses Joan Collins, Pauline Andress, Veronica Hurst, Janice Lothian, Mavis Greenaway and Norma Maden stand for their screen test at Shepperton Studios, where they were vying for a role in the film "Beauty Queen."
Thelma Parr, one of the Mack Sennett Bathing Belles, was a star of silent films. Here she poses circa 1920.
Iconic one-piece bathing suits
Iconic one-piece bathing suits
Iconic one-piece bathing suits
Iconic one-piece bathing suits
Iconic one-piece bathing suits
Iconic one-piece bathing suits
Iconic one-piece bathing suits
Iconic one-piece bathing suits
Iconic one-piece bathing suits
Iconic one-piece bathing suits
Iconic one-piece bathing suits
Iconic one-piece bathing suits
Iconic one-piece bathing suits
Iconic one-piece bathing suits
Iconic one-piece bathing suits
Iconic one-piece bathing suits
Iconic one-piece bathing suits
Iconic one-piece bathing suits