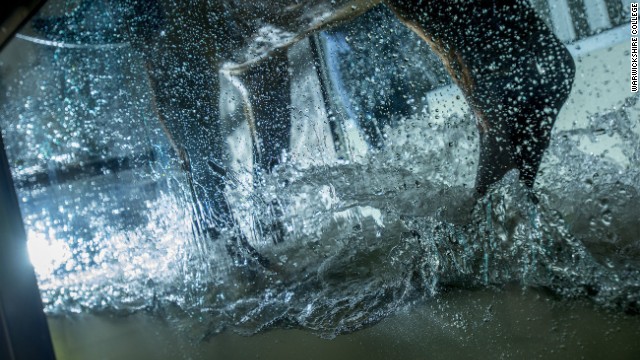 Leading riders keep their best horses in shape using all manner of contraptions. Among the most impressive is the equine water treadmill.
Zara Phillips, a member of British royalty preparing to compete at this year's World Equestrian Games, inspects an equine treadmill at Warwickshire College in the UK.
These facilities are part of Warwickshire College's equine therapy center. If your horse doesn't take to the treadmill, there is also an "equine hydrotherapy spa" available.
Nearby Hartpury College, a center of equestrian education, says its treadmill helps to "repair and strengthen muscles" in horses.
More than 600 students study at Hartpury. Here, they can learn how water resistance helps horses to recover and maintain their fitness.
This is an example of a solarium, used across the globe to keep horses comfortable in cold conditions. This one is located near the Russian Baltic outpost of Kaliningrad, where winter temperatures can drop below -20C (-4F).
This solarium is at the Spanish Riding School in Vienna, Austria. Many more complex variants are available, incorporating air-drying facilities and even soothing light shows for the horse.
Here, a horse receives tissue therapy with the help of a handheld laser. Lasers come in different strengths and work to stimulate the recovery of muscle tissue, affecting individual cells.
Some lasers are visible to the naked eye; others are not. Ultrasound is another common technique to treat damage to muscle tissue.
This is one example of a magnetic rug used in equine therapy. The latest blankets extend all the way up the horse's neck and even come with a set of four boots.
At major events like the Olympic Games, staff work behind the scenes to prepare and treat top horses on behalf of U.S. riders.
Janus Marquis has worked with the U.S. showjumping team as an equine physiotherapist at three Olympic Games -- Athens, Beijing and most recently London.
Racehorses use other methods to keep fit and recover, including the equine pool, which is much larger than a treadmill and demands that the horse swims, with no legs touching the floor.
This racehorse, at Jonjo O'Neill's Jackdaws Castle stables in Cheltenham, has just finished a session in the equine pool.
Keeping fit on the hoof
Royal approval
Ready to go
Scrubbing up
Look and learn
Red hot
Home and dry
Laser therapy
Light session
Magnetic attraction
Home from home
Olympic expectation
Swim fit
Session over
STORY HIGHLIGHTS
Lights, treadmill, action: Top riders employ all manner of gadgets to keep horses in shape
Horses can enjoy an overhead disco designed to soothe mentally and physically
Ultrasound, laser therapy and powerful magnets help to repair muscle tissue
Water treadmills are the ultimate equine home gym -- but don't overdo it
Follow us at @WorldSportCNN and like us on Facebook
(CNN) -- How do you keep a 500 kg sports star in shape?
Like any leading two-legged athlete, the world's finest on four legs demand the best treatment.
Hopping in an ice bath, however, is not quite so easy.
So how do you keep horses in top condition at big events? CNN speaks to a champion Olympic rider and the physiotherapist behind one of the world's best equestrian teams.
Hot, hot heat
The strangest-looking technology is above your head: the solarium.
These overhead heat lamps look like a horse enjoying a private disco, but they make a big difference.
"You stand your horse under the lights on a cold day and they get the warmth," explains British rider Laura Tomlinson, who won individual bronze and team gold in dressage at the London 2012 Olympics.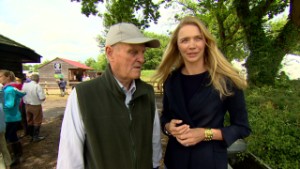 Harvey Smith on Derby jumping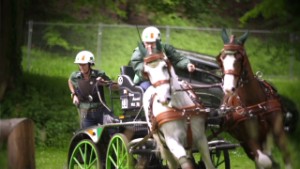 What is carriage driving?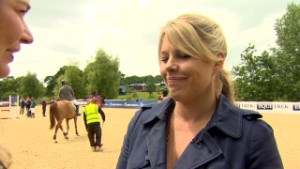 Daisy Bunn on Derby difficulties
"It gives them the equivalent of sunshine in the winter, when they don't get much outdoor time."
The lamps are the basic model. Some devices add hot air and even a light show to the solarium concept, morphing into huge, colorful computers above a horse's head.
Tomlinson's own ceiling-mounted device has a "hairdryer" function to give a horse a good, hot blow-dry after a wet day's training.
"It means that in the winter, when you've had to wash the horse down and they've been sweaty, they don't catch a chill," she says.
The manufacturer claims the light show, with four different color settings, will soothe your horse and alter its mindset -- while it enjoys the hairdryer and the heat lamps.
Green is "the color of nature and spring, relaxing and harmonious," reads the brochure. Blue is "the coolest, clearest and deepest color, (which) calms the body and has a balancing effect," while red is "the color of vitality, improves the formation of red blood cells (and) stimulates breathing." Yellow "has a stimulating effect on the glands and brain."
Tomlinson politely suggests she is unconvinced. (There is also the question of a horse's ability to see color, with some research suggesting the animals struggle to distinguish the color red. The manufacturer declined CNN's interview request.)
Sonic boost
Sticking with the theme of lights, lasers are now vital when treating and rehabilitating top horses.
Janus Marquis is at the top of her profession -- she has been the U.S. showjumping team physiotherapist at the past three Olympic Games.
"I do a lot with lasers, and laser therapy is changing so fast," she tells CNN.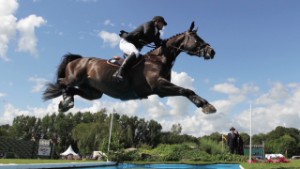 What makes Hickstead an Equestrian icon?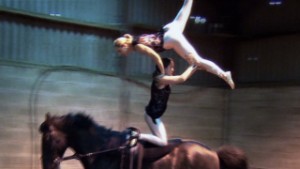 Scottish family masters rare sport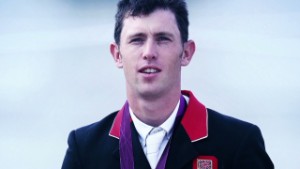 Young Scotsman dominates equestrian world
"Lasers work at reducing inflammation and increasing circulation. The light is absorbed by the tissue, it makes tissue healthier on a cellular level."
There are different categories of laser: some you can see with the naked eye, like a laser pointer, while other, stronger lasers are invisible.
A similar tool in the equine physio's armory is ultrasound. Unlike many treatments, where bigger is better, ultrasound kits are getting smaller each year.
"Ultrasound has a very deep heating effect," Marquis says. "It's a very powerful therapy and therefore it's very effective, but it can cause tissue damage if done incorrectly.
"The newer units are a fraction of the power, so they take a lot more time -- you can leave them on for six or seven hours at a time to reduce inflammation and bring circulation to an area -- but you don't have the same risk of injury, because they are so much less powerful.
"When I'm treating an area of a similar size with a professional ultrasound unit, it takes me about five minutes. But the more things we can give people that they can use themselves, safely, that are still effective, then the more we are doing for more horses."
Marquis even finds herself giving top American riders a taste of ultrasound treatment.
"All of the units that I use are also designed for humans, so I can use it on the riders a little bit, to let them get a feel for what it's like to experience that therapy," she says.
"I'm not licensed in humans, though. If they have something wrong themselves, I generally have to direct them to somebody more qualified on that species."
Wet, wet, wet
Racehorses have long used equine pools for fitness, swimming while being led around a small, but deep, circular pool.
Top horses in the Olympic equestrian sports -- showjumping, dressage and eventing -- often use an equine water treadmill instead. The demands a treadmill places on a horse better suit those sports.
The treadmill is almost exactly how you'd imagine it: a big box into which the horse steps, which is sealed shut and filled with cold water. This is your equine ice bath.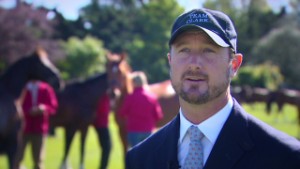 Top equestrians gather for prestigious events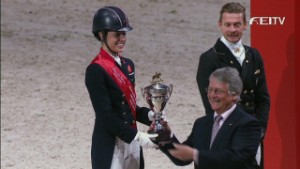 Equestrian elites gather for World Cup Final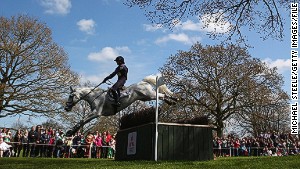 Designer shakes up historic horse trials
"You always want it as cold as possible," says Tomlinson. "You start the horse walking normally on the treadmill, then press a button and gradually it fills up. The higher the water level, the harder the horse has to work against the water resistance."
The water treadmill is a tough workout.
"Horses that are used to it can build up to walking for 20 minutes, and a couple of minutes' trot. It's a bit of cross-training, something different for the muscles and a way to get fit without putting pressure on the legs," Tomlinson adds.
"But think of it like going to the gym and doing a heavy session. You can't make a horse that's never been on the treadmill go for 20 minutes and then trot. The next day ... well, it won't be able to walk. Not clever."
Marquis believes equine treadmills are working wonders for the health of horses across the world.
"Treadmills have become quite popular because they've come down in price," she says. "Since so many people have them now, I believe we're seeing fewer injuries."
Even horses' rugs use technology to help repair their bodies.
Various manufacturers produce rugs which wrap a series of magnets around the horse, designed to relieve pain and reduce inflammation.
"These rugs bring a fair amount of circulation to the muscles at the surface and they have a very relaxing effect, but not so much that you sedate the horse," explains Marquis.
"There's some data that says they 'help the blood to balance ionically ' -- I'm not sure that I'm fully on-board with that, but I certainly see a lot of horses getting a lot of relief from it. You can't do it wrong, it's not dangerous and it's not terribly expensive."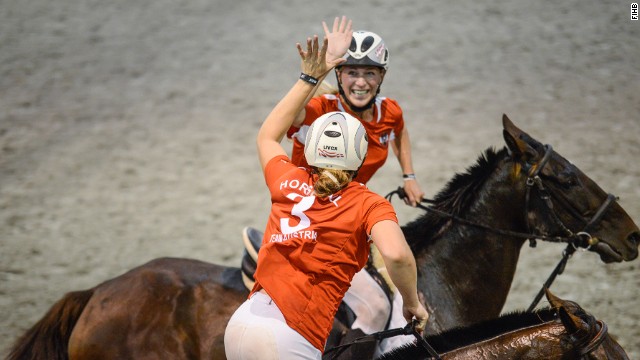 Horseball was invented in the 1970s, featuring men and women playing 20-minute matches in mixed teams of six. But who are the world's best teams?
Britain was introduced to horseball in the 1990s but, like the England football team, has not yet lived up to expectations on the international scene.
The French created the sport to build confidence in riders. Horseball players must master the art of swooping low to collect the ball from the floor.
As horseball's inventor, France has been dominant for decades, but Spain and Belgium are increasingly strong.
While 80% of current players are French, horseball is a growing sport. Algeria, China, Kyrgyzstan and Mexico are among its member nations.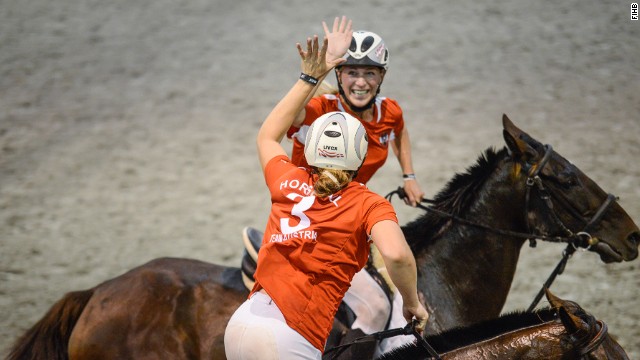 Horseball: 'Quidditch on a horse'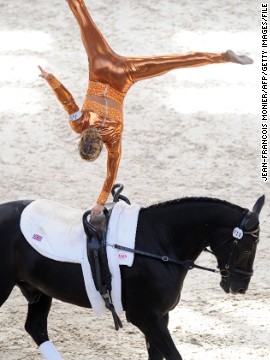 Joanne Eccles on her way to victory at the 2012 FEI World Vaulting Championship in France, competing on her family's horse W.H. Bentley.
Eccles also competed in the "pas de deux" pairs discipline with her younger sister Hannah at the same event in Yvre-L'Eveque.
Their father John -- pictured right -- serves as Joanne's lunger, directing the horse from the center of the circle while his daughter competes on its back.
The British equestrian rider won her first vaulting world title in 2010, also on W.H. Bentley.
Italy's Anna Cavallaro, seen competing at a vaulting World Cup in the German city of Leipzig, is expected to challenge Eccles for world gold this year.
Germany has long been the world's leading vaulting nation. In 2013 the Germans won the European team event, which involves six vaulters, up to three of whom may touch the horse at any moment.
In 2006, U.S. rider Megan Benjamin became the first non-German in vaulting history to win women's gold at the World Equestrian Games.
Benjamin performs a split leap. Vaulting's trickiest move may be the shoot-up mount, where the vaulter springs onto the horse while facing its tail, using a combined backflip and reverse-handstand motion.
Benjamin retired from vaulting in 2012. Her relieved mother says there will be "no stress" watching August's World Equestrian Games in Normandy, France.
Male vaulters are in short supply in some nations, though France has a strong men's team. Jacques Ferrari, pictured, won European gold last year.
As well as individual and team contests, the pas de deux allows a pair of vaulters to compete at the same time. Austria, pictured, won the 2013 European title with this performance.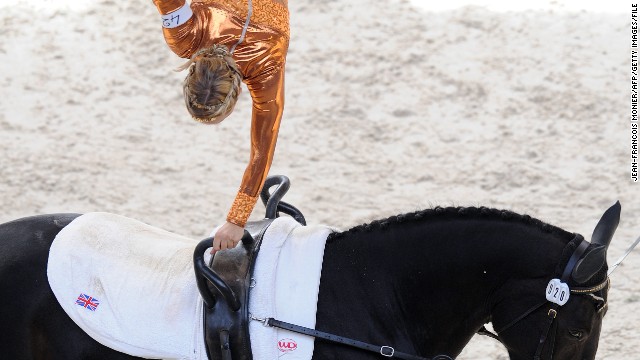 Acrobatics on horses
Tomlinson adds: "You can attach boots as well as just the rug, and the rug goes up the neck, too. There are lots of different settings like pre-work, post-work and injury, helping the body to regenerate and recover.
"How does it work? I have no idea. But top-level yards all use them in some shape or form."
Why do it?
Tomlinson, as a dressage rider, is associated with a sport which requires the utmost precision, patience and balance from horses.
Less emphasis is placed on raw speed, power and endurance, so why put horses through the car wash of a water treadmill, a ceiling-mounted blow-dry, lasers, ultrasound, magnets and more?
"If you think of a horse as an athlete, you're asking them to do a lot of weight-bearing exercises," says Tomlinson, making the point that every horse competes with a hefty human being on board.
"Anything you can do to help a horse's muscles recover after a hard session is good, and you're dealing with much bigger muscle groups than in a human."
Marquis says it's like trying to get the best out of any athlete.
"It's our responsibility that we make these horses feel as good as possible so they can do their jobs, and that we take care of them."
Read: Madonna teacher's equine quest
Read: Dentist by day, world champion by night