Susie Wolff makes her mark at German GP practice
updated 8:16 AM EDT, Fri July 18, 2014
STORY HIGHLIGHTS
Williams development driver impresses finishing 15th out of 22 drivers
Wolff completes 20 laps with a fastest time of one minute 20.769 seconds
The 31-year-old finishes just 0.227 seconds behind main Williams driver Felipe Massa
(CNN) -- Susie Wolff put the disappointments of Silverstone behind her on Friday with an impressive run in the first free practice session ahead of Sunday's German Grand Prix.
The Williams development driver only managed four laps during practice at the British Grand Prix a fortnight ago before engine problems curtailed her involvement.
But it was a happier story at Hockenheim as the 31-year-old Scot completed 20 laps finishing a highly respectable 15th.
Her best lap time of one minute 20.769 seconds was just 0.227 seconds behind Williams' driver Felipe Massa who finished the session in 11th place.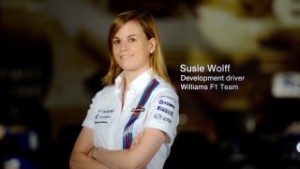 Will Susie Wolff make history in Hockenheim?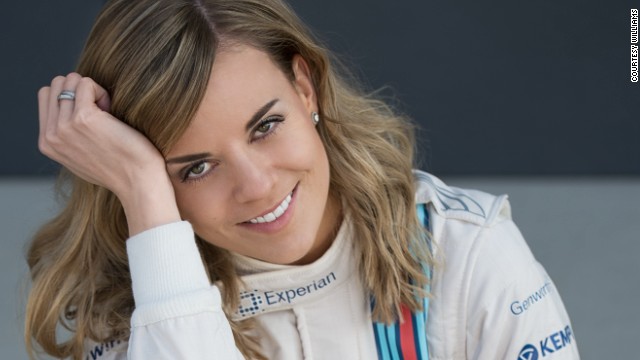 British driver Susie Wolff became Formula One's first female competitor in 20 years when she took part in the first practice sessions at the British Grands Prix. Find out more about her amazing journey to the F1 track...
Born in Scotland in 1982 as Susie Stoddart, her parents ran a motorbike shop -- and it wasn't long before she got the racing bug.
At eight years old, she and her brother got their first go-karts. It would mark the start of her life in competitive motorsport.
At 18 she was ranked 15th in the world at karting, racing against future F1 stars Lewis Hamilton, Nico Rosberg and Kimi Raikkonen.
After spells in Formula Renault and Formula 3000, she landed in DTM (German Touring Car) racing with Mercedes Benz in 2006. She finished her first race in the top 10.
In 2010, Wolff became the first female driver to score points in DTM in almost 20 years.
The 2010 season became her most fruitful so far, and she ended ahead of teammates Ralf Schumacher and David Coulthard -- both former F1 stars.
In 2010, she married Williams F1 board member Toto Wolff, who is now working for rival team Mercedes.
Wolff has described F1 as the "ultimate goal," and says she was determined to follow that dream.
Wolff signed for the Williams F1 team as a development driver in April 2012. "Sometimes in life you just need a chance. Claire and Frank (Williams) gave me that chance," she told CNN.
Her responsibilities that year involved testing the aerodynamics of the car to be driven by Pastor Maldonado and Bruno Senna, and driving the Williams race simulator.
Wolff had her first F1 test at the end of 2012 and was given an expanded role for the 2013 season.
In 2013, she was the first person to drive the team's new car.
"I was also unsure if the strain was going to be too much," she says. "But already on my first lap out of the pits I knew it was going to be manageable."
Her new responsibilities for the season made her a regular fixture in the pits, as she eyed a driver's berth.
For 2014, she will join Valtteri Bottas and Felipe Massa behind the wheel for two practice sessions -- at Silverstone and Hockenheim -- becoming the sport's first female driver since 1992.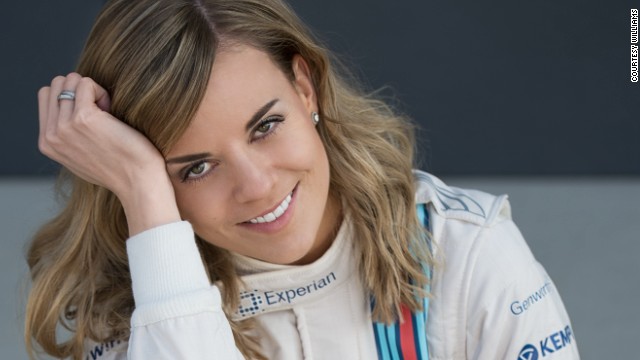 Susie Wolff's F1 journey
Things had not looked so promising for Wolff earlier in the day as she crawled round her out lap in first gear before returning to the pits.
Thankfully, it wasn't long before the mechanical problems were resolved and she was back on track -- even briefly clocking the fastest lap of the session.
Wolff has been a development driver for Williams since 2012 and is the first female driver to participate in a F1 race weekend since Italy's Giovanna Amati attempted to qualify for three races during the 1992 season.
Lewis Hamilton, speaking ahead of his recent victory at Silverstone, said Wolff's participation at two practice sessions this season was fully deserved.
"She's very, very talented," said the Mercedes driver, who raced against her in his junior career in karting and Formula Renault. "It's really cool to see her in a Formula One car.
"I didn't race against many girls. Susie was one of the very few, if not the only one, I raced against. We shared a podium together a couple of times."
Wolff, who replaced Massa's teammate Valtteri Bottas for Friday's first practice session, finished 1.638 seconds off the pace set by current championship leader Nico Rosberg.
Hamilton was fractionally behind (0.065 seconds) his teammate with Ferrari's Fernando Alonso third and Daniel Ricciardo of Red Bull fourth.
The Australian's teammate and last year's race winner Sebastian Vettel finished the session in sixth, one place behind McLaren's Jenson Button.
Read more: Historic Formula One outing stalls
Read more: Why can't women win in F1?