Michael Schumacher's wife thanks fans for support ahead of German GP
updated 11:25 AM EDT, Fri July 18, 2014
STORY HIGHLIGHTS
Corinna Schumacher thanks motorsport fans in official race German GP program
Wife of 45-year-old former champ praises fans for "good wishes and positive energies"
Schumacher injured head in skiing accident last December
Schumacher's agent said in June that the racing star was no longer in a coma
(CNN) -- Corinna Schumacher, wife of the stricken motor racing legend Michael, has issued a personal message of gratitude to Formula One fans ahead of this weekend's German Grand Prix at Hockenheim.
Writing in the official race program, Schumacher thanked motorsport fans for their "good wishes and positive energies" sent to the former racing driver who was critically injured in a skiing accident in France at the end of last year.
"The German Grand Prix gives me the perfect opportunity to cordially thank you all for the good wishes and positive energies you keep sending to Michael," Schumacher wrote.
"I have to say your sympathies literally blew us all away! Good to know that together we made it through the hardest time!"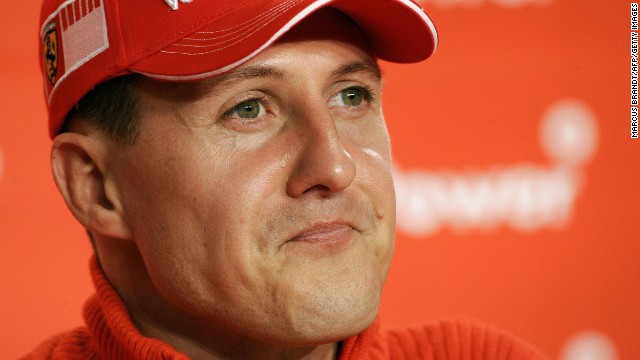 Seven-time Formula 1 champion Michael Schumacher was hospitalized December 29 after suffering "severe head trauma" from a ski accident in the French Alps. He is no longer in a coma and has since been transferred to a hospital in Lausanne, Switzerland for rehabilitation. Here's a look back at his personal and career highlights:
Schumacher is hoisted by his pit crew at the Australian Grand Prix track in Adelaide, Australia, after winning the Formula 1 World Drivers Championship in 1994.
Schumacher holds up the victory trophy, left, and the French Republic President's trophy after winning the French Formula 1 Grand Prix in Magny Cours, France, in 1995.
Schumacher meets Pope John Paul II in 1999.
King Juan Carlos of Spain congratulates Schumacher after he won the Spanish Formula 1 Grand Prix in 2001.
Schumacher checks out an Enzo Ferrari at Frankfurt's International Motor Show in 2003.
Schumacher steers his Ferrari in front of a Eurofighter on the track of a military airport in Grosseto, Italy, in 2003.
Schumacher sits in his car before the start at the inaugural Chinese Grand Prix in 2004 in Shanghai.
A man rides past a poster with Schumacher's likeness in Bahreman, Iran, in 2005.
Felipe Massa hugs Schumacher after Massa won first place in the Formula 1 Grand Prix of Turkey in Istanbul in 2006.
Schumacher drives during a practice session at the Australian Formula 1 Grand Prix in Melbourne in 2006.
Schumacher celebrates his win at the Formula 1 Grand Prix of Germany in 2006 in Hockenheim, Germany.
Schumacher's pit team works on his car during the Formula 1 Grand Prix of China in Shanghai in 2006.
Schumacher arrives for an awards ceremony in Oviedo, Spain, in 2007.
Schumacher autographs the T-shirt of an earthquake victim in Costa Rica in 2009.
Shumacher presents the new Mercedes SLS AMG, also the 2010 Formula 1 safety car, in Geneva in 2010.
Schumacher visits the European Parliament in Strasbourg, France, to test eSafety technologies in 2011.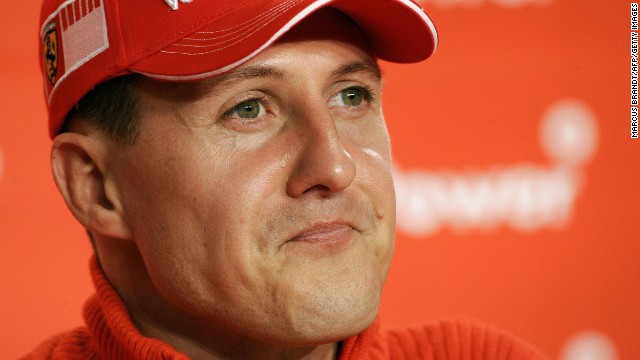 Formula 1 champion Michael Schumacher
Last month, Schumacher's agent Sabine Kehm said that the seven-time world champion was no longer in a coma and had been transferred from the French hospital in Grenoble, where he had been recovering from a severe head trauma, to University hospital in Lausanne, Switzerland to "continue his long phase of rehabilitation," a statement from Kehm said.
Schumacher's statement was printed in both German and English topped by a photograph of a smiling Schumacher with an inset image of the couple together.
"Now we are facing a phase which will presumably take a long time.
"We trust that -- as for so many years in F1 -- time will be Michael's ally in this fight. Until then I would like to wish you and your families all the best as well."
The couple have been married since 1995 and have two teenage children -- daughter, Gina Marie and son, Mick.
Hockenheim was a happy hunting ground for Schumacher who won his home Grand Prix four times at the circuit -- once for the Benetton-Renault team and three times for Ferrari.
Read more: Schumacher out of coma and transferred to rehab
Read more: Will legend Michael Schumacher ever recover?