STORY HIGHLIGHTS
NEW: Israeli military announces expansion of ground operation
Palestinian Authority President goes to Qatar and could meet with Hamas leader
Israeli military delivers 100 tons of medicine and supplies to Gaza hospitals
Death toll in Gaza passes 370; more than 70% of them civilians, officials say
Gaza City (CNN) -- The battle between Israel and Gazan militants is growing, as the Israel Defense Forces announced early Sunday that it will expand its ground offensive.
On Saturday, Hamas Islamist fighters infiltrated nearby parts of Israel via underground tunnels and clashed with Israeli troops. The use of the tunnels was the main reason Israel gave for launching its ground operation Thursday night.
The IDF is adding additional troops, having called up tens of thousands of reservists at the start of Operation Protective Edge to prepare for the ground operations.
"In preparation for the mission, the forces have undergone an intensified training and thorough planning period and are prepared and stand ready for the task at hand," said IDF spokesman Lt. Col. Peter Lerner in a statement.
The IDF's goal is to weaken Hamas military capabilities, the statement said.
The clashes demonstrated how Israel's conflict with Hamas has now spilled outside -- and even underneath -- Gaza as the ground war entered a third night Saturday.
As midnight approached, a major battle flared in Shaja'ia east of Gaza City, where the horizon along the border was dominated with flashes, explosions and columns of smoke.
Sixty-two people in Gaza had been killed Saturday, the highest daily death toll so far, according to the Gaza Health Ministry.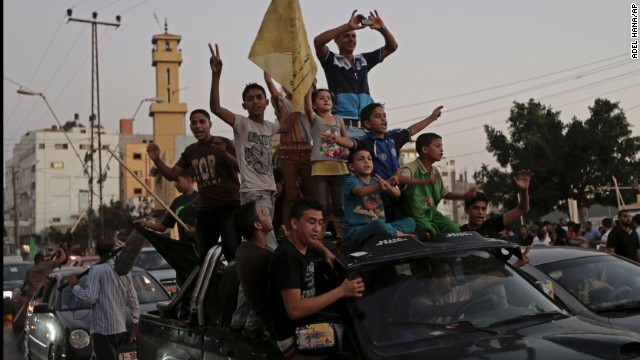 Palestinians in Gaza celebrate a ceasefire between Israel and Hamas on Tuesday, August 26. After more than seven weeks of heavy fighting, Israel and Hamas agreed to an open-ended ceasefire that puts off dealing with core long-term issues.
Palestinians inspect the damage to a residential building following several late night Israeli airstrikes in Gaza City on August 26.
Gila, center, mother of 4-year-old Israeli boy Daniel Tragerman, sits next to his grave during his funeral near the Israel-Gaza border on Sunday, August 24.
Palestinians run away from debris after a bomb from an Israeli airstrike hit a house in Gaza on Saturday, August 23.
An Israeli soldier smokes a cigarette in a large concrete pipe used as shelter at an army deployment point near the Israeli-Gaza border on Wednesday, August 20.
Light trails made by rockets fired from the Gaza Strip stand out against the night sky on Tuesday, August 19. Despite efforts to come to a peaceful agreement, Gaza militants launched rockets into Israel on Tuesday, and Israel responded with its own rockets.
An injured Palestinian man is helped into the Shifa hospital in Gaza City on August 19.
Police examine the remains of a rocket launched from Gaza that landed near the kibbutz of Yad Mordechay on August 19.
Smoke rises after an Israeli airstrike on Gaza City on August 19.
Islam El Masri begins to sort through the rubble of her destroyed home in Beit Hanoun, Gaza, on Thursday, August 14.
Israelis gather in Tel Aviv during a protest August 14 calling on the government and the army to end Palestinian rocket attacks from Gaza once and for all.
Smoke rises in Gaza City after an airstrike on Saturday, August 9.
Israeli soldiers walk past a Merkava tank as they patrol a field near Israel's border with Gaza on August 9.
A Palestinian boy salvages family belongings from the rubble of a four-story building after an airstrike in Gaza City on Friday, August 8.
Israelis flee after a rocket fired from Gaza hit the residential neighborhood of Sderot, Israel, on August 8.
A Palestinian man looks out over destruction in the al-Tufah neighborhood of Gaza City on Wednesday, August 6.
Displaced Palestinians carry their belongings as they leave a United Nations school in Beit Lahiya, Gaza, to return to their homes Tuesday, August 5.
The body of Avrohom Wallis is carried during his funeral in Jerusalem on Monday, August 4. Wallis was killed in what Israeli police spokesman Micky Rosenfeld called a "terror attack," when a man drove an earthmover into a bus in Jerusalem.
Israeli soldiers fire a mortar shell toward Gaza from the Israeli side of the border on August 4.
Palestinians remove rubble from a house hit by an airstrike in the al-Shati refugee camp in Gaza City on August 4.
An Israeli drone circles over Gaza City on Sunday, August 3.
A Palestinian man sits in a hospital in Rafah, Gaza, on August 3.
An honor guard caries the coffin of Israeli Lt. Hadar Goldin during his funeral in Kfar-saba, Israel, on August 3. Goldin was thought to have been captured during fighting in Gaza but was later declared killed in action by the Israel Defense Forces.
A Palestinian boy looks for belongings after an airstrike in Rafah on Saturday, August 2.
Israeli soldiers walk to their tank at a staging area near the border with Gaza on August 2.
A young Palestinian carries damaged copies of the Quran from the rubble of the Imam Al Shafaey mosque in Gaza City on August 2.
Palestinians displaced from their houses return to check their homes in Gaza City on Friday, August 1.
An Israeli soldier carries a shell as he prepares a tank along the Israel-Gaza border on Thursday, July 31. Israel called up 16,000 additional reservists, bolstering forces for its fight against Hamas, the militant group that controls Gaza.
Smoke rises from a building after an airstrike in Rafah on July 31.
The parents and a sister of Israeli soldier Guy Algranati mourn during his funeral in Tel Aviv on July 31.
U.N. workers remove a donkey injured at a U.N.-run school in Gaza on Wednesday, July 30.
Palestinians walk under the collapsed minaret of a destroyed mosque in Gaza City on July 30.
Palestinians gather leaflets that fell from an Israeli plane on July 30. The leaflets warned residents of airstrikes in Gaza City.
Israelis take cover from a Palestinian rocket attack from Gaza during the funeral of Israeli soldier Meidan Maymon Biton, which was held at a cemetery in Netivot, Israel, on Tuesday, July 29.
Smoke and fire rise above Gaza City after an Israeli airstrike on July 29.
An Israeli soldier prays on the Israeli side of the border with Gaza on July 29 as smoke billows from the only power plant supplying electricity to Gaza.
Near the rubble of their home in Rafah, Palestinian men mourn July 29 for people killed during an airstrike.
A Palestinian man places a portrait of Hamas leader Ismail Haniya on the rubble of Haniya's Gaza City home July 29 after it was hit by an overnight airstrike.
Flares from Israeli forces light up the night sky of Gaza City on July 29.
Israeli soldiers carry the coffin of 2nd Lt. Roy Peles, an infantry officer who was killed in combat, during his funeral in Tel Aviv on Sunday, July 27.
During a 12-hour cease-fire in Gaza City's Shijaiyah neighborhood on Saturday, July 26, a Palestinian man sits atop a car filled with belongings that were salvaged from a destroyed home.
Israeli soldiers watch a bomb explode along the border with Gaza before the 12-hour cease-fire on July 26.
As her brother-in-law Mazen Keferna weeps on the ground, Manal Keferna cries upon discovering her family home destroyed by airstrikes in Beit Hanoun on July 26.
Palestinians dig a body out of the rubble of a destroyed house in Gaza during the cease-fire on July 26.
An Israeli soldier mourns at the grave of reserve Master Sgt. Yair Ashkenazy during his funeral at the military cemetery in Rehovot, Israel, on Friday, July 25. Ashkenazy was killed during operations in northern Gaza, the Israel Defense Forces reported.
A Palestinian man cries after bringing a child to the Kamal Adwan hospital in Beit Lahiya on Thursday, July 24. The child was wounded in a strike on a school that was serving as a shelter for families in Gaza. It's unclear who was behind the strike. The Israeli military said it was "reviewing" the incident, telling CNN that a rocket fired from Gaza could have been responsible.
Israeli soldiers carry a wounded soldier to a helicopter near the Israel-Gaza border on July 24.
Israeli soldiers patrol the Israel-Gaza border on July 24.
A trail of blood is seen in the courtyard of the school that was hit July 24 in the Beit Hanoun district of Gaza.
An Israeli tank fires toward Gaza from a position near Israel's border on July 24.
A photograph tweeted by astronaut Alexander Gerst on Wednesday, July 23, shows major cities of Israel and Gaza. Gerst said in his tweet: "My saddest photo yet. From #ISS we can actually see explosions and rockets flying over #Gaza & #Israel."
A woman in Philadelphia passes by a departure board that shows US Airways Flight 796, scheduled to fly to Tel Aviv, has been canceled on Tuesday, July 22. The Federal Aviation Administration told U.S. airlines they were temporarily prohibited from flying to the Tel Aviv airport after a Hamas rocket exploded nearby.
Smoke and fire from the explosion of an Israeli strike rise over Gaza City on July 22.
A relative of Israeli soldier Jordan Ben-Simon mourns over his coffin during his funeral in Ashkelon, Israel, on July 22.
Palestinians inspect destroyed buildings and collect usable items after an Israeli air assault on July 22.
Israeli soldiers weep at the grave of Israeli Sgt. Adar Barsano during his funeral Sunday, July 20, in Nahariya, Israel.
Palestinian medics carry a body in Gaza's Shaja'ia district on July 20.
Israeli soldiers give medical care to soldiers who were wounded during an offensive in Gaza on July 20.
A Palestinian boy injured during an Israeli airstrike is taken to the hospital by his father in Gaza City on July 20.
Palestinians flee their homes as Israeli troops focus their firepower on the Gaza town of Shaja'ia on Sunday, July 20. The shelling and bombing killed at least 60 people and wounded 300, according to the Gaza Health Ministry.
Smoke rises after an Israeli missile hit Shaja'ia on July 20.
A Palestinian child walks on debris from a destroyed house following an overnight Israeli strike in Beit Lahiya on Saturday, July 19.
An explosion rocks a street in Gaza City on Friday, July 18.
Israeli ground forces move to the Gaza border on July 18.
Israeli soldiers patrol near the Israel-Gaza border on July 18.
A relative mourns July 18 during the funeral of Rani Abu Tawila, a Palestinian who was killed in an Israeli attack on Gaza City.
A Palestinian demonstrator, protesting Israel's military operation in Gaza, runs through smoke July 18 during clashes with Israeli soldiers at the entrance of the Ofer prison in the West Bank village of Betunia.
This image, made from video shot through a night-vision scope, was released by the Israeli military on July 18. It shows troops moving through a wall opening during the early hours of the ground offensive in Gaza.
Children stare as Palestinians flee Khan Yunis, Gaza, to safe areas July 18.
An Israeli tank fires a shell into Gaza on July 18.
A Palestinian carries a gas cylinder salvaged from the rubble of an apartment building after it was hit by Israeli fire on July 18.
An Israeli reservist prays July 18 near the Gaza border by Sderot, Israel.
Flare smoke rises into the Gaza City sky on Thursday, July 17.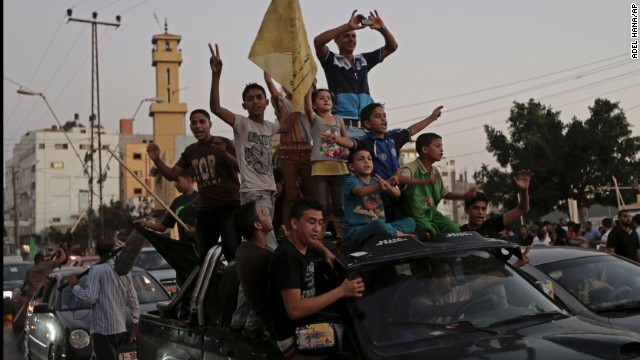 Photos: Israel-Gaza crisis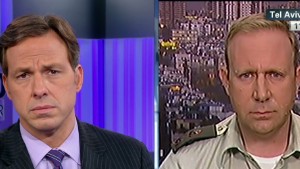 Israel and Hamas at ceasefire crossroad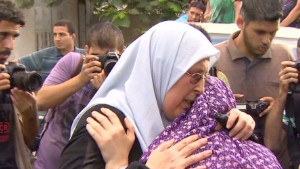 CNN camera captures airstrike in Gaza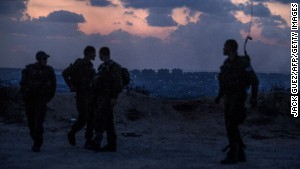 Palestinians, Israelis blame each other
An example of infiltration occurred earlier in the day when Hamas militants slipped out of a tunnel from central Gaza and fired at Israeli soldiers, killing two of them, Israel's Channel 10 said.
The Hamas gunmen disguised themselves in uniforms belonging to the Israel Defense Forces, the military said.
One of the Hamas gunmen was killed on Israeli soil, and the rest fled back to Gaza and were killed by a helicopter gunship, Channel 10 said.
"We know that Hamas terrorists are operating underground, and that's where we will meet them," the IDF said in a statement.
The IDF said it found 13 tunnels across Gaza, with 34 access points.
In another infiltration, a dozen Hamas fighters penetrated an Israeli military base they called Abu Mutibq and ambushed a convoy of Israeli troops just outside Gaza, killing six Israeli soldiers, according to Hamas' military wing, the al-Qassam Brigades.
Several more Israeli soldiers were wounded, the militants also claimed.
Hamas fighters had lain in wait for the convoy for six hours, the militants said.
"Our fighters could have at any given time raided the settlements in the area, but we in the al-Qassam Brigades started the clash with the enemy soldiers to teach him a practical lesson from direct contact," Hamas' military wing said in a statement.
In that attack, three Israeli military jeeps were destroyed, and another fled, the Hamas brigades said. Two Israeli M-16s were seized, Hamas said.
Hamas militants also claimed to have infiltrated behind Israel's front lines east of Rafah. The al-Qassam Brigades claimed to have killed an unspecified number of Israeli soldiers.
In one of the foiled infiltrations, a killed Hamas fighter was found with tranquilizers and cuffs, "carried with intention to abduct Israelis," the Israeli military said.
Living with tank and air strikes
The changing battlefied came as 62 more people died Saturday in Gaza, according to territory health officials. The overall toll there has reached 373 since the Israeli military operation Protective Edge began July 8. A fifth of those deaths are children.
More than 70% of those killed have been civilians, according to the United Nations.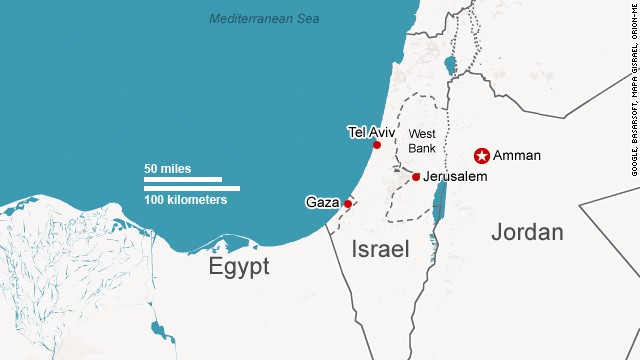 Map of the Middle East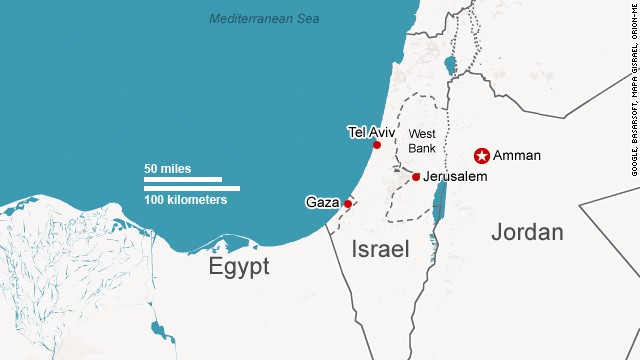 Map of the Middle East
The Israeli military said late Saturday that since its ground war began Thursday, at least 70 "terrorists" were killed, including 20 in the past 24 hours. Thirteen more fighters were captured and brought to Israel for questioning.
While the battle grew geographically, the brunt of the conflict remained focused on Gaza, where Palestinian civilians say there's nowhere for them to hide in the densely populated coastal enclave.
Residents have quickly learned how to recognize the differences in gunfire -- and which means a better chance of survival.
In his Gaza home, Ramez al-Madhoun listened Saturday to the thunder of Israeli tank shells battering the neighborhood -- some a little less than a mile away, some closer.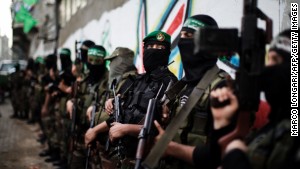 Hamas wants to 'bloody Israeli troops'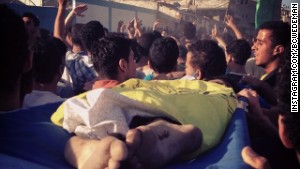 4 Gazan boys killed while playing soccer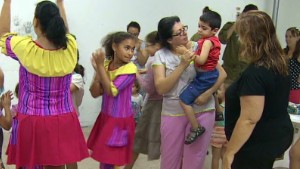 Rockets force children into bomb shelters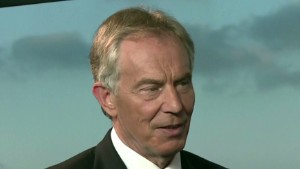 Tony Blair: 'Time is running out'
A few miles south of him, militants' rockets streamed into the sky -- about seven in 15 minutes -- toward Israel.
The tanks were gunning for tunnels leading into Israel and the Gazan attack squads that use them.
Al-Madhoun said he felt safer during Israeli airstrikes.
"If it was an airstrike, it would be more of a precision strike, but the tanks shells are more dangerous. They are destroying more than the airstrikes," he said.
Every 30 seconds to a minute, a shell landed in or around Beit Lahya. The local imam has told residents to stay home and pray, because the shelling has made it too dangerous to go outside, al-Madhoun says.
Farther to the south, the Israeli military also encountered a suicide donkey -- one loaded with explosives -- approaching soldiers near Rafah. The troops fired on the animal, detonating the bombs and killing the donkey Friday night. Fighting raged there Saturday with Hamas brigades shelling an armored vehicle, Hamas said.
Meanwhile, Palestinian Authority President Mahmoud Abbas will travel to Qatar on Sunday and may meet with Hamas leader Khaled Meshaal, though a meeting hasn't been confirmed, said Izzat Risheq, a senior aid to Khaled Mashaal and a member of Hamas political bureau.
Attacking Israel
In southeastern Israel, a rocket from Gaza crashed into Negev early Saturday, killing an Israeli, the Israel Defense Forces reported.
The rocket wounded four others, a hospital spokesman says. One of them is a 3-month-old; its wounds are severe.
Two Israelis have been killed by apparent Hamas rockets in the past week's warfare.
In Gaza, the al-Qassam Brigades announced that it sent an attack squad to Eshkol, just on the other side of the border. The IDF has the entire district, or regional council, under military lockdown to avoid Israeli civilian deaths.
But next to Eshkol's Kibbutz Beeri, a militant squad popped up out of tunnel to carry out an attack. They quickly crossed paths with an IDF patrol, and a firefight erupted, the IDF says. It wasn't immediately clear whether the clash was related to another reported infiltration.
A Palestinian militant was killed and four Israeli soldiers injured. The IDF pushed the rest of the attackers back into Gaza, where the air force pursued them farther.
Then, sirens howled an incoming rocket warning over Eshkol. The two missiles fell into open areas.
Warnings also sounded Saturday about missiles over the Israeli cities of Ashkelon, Rishon Letzion, Rehovot and Beer Sheva. The rocket aimed at Beer Sheva exploded in an unpopulated area.
1,770 rockets, 2,300 strikes
Since Operation Protective Edge began, militants in Gaza have launched 1,770 rockets, the IDF said in a statement Saturday. The Israeli rocket defense system Iron Dome has intercepted 360 of them.
The IDF has struck "2,300 terror targets" in Gaza, the statement said. In its recently launched ground operations, the IDF targeted 95 rocket-launching sites and found 13 tunnels with a network of at least 34 shafts.
Hamas-run Al-Aqsa TV reported Friday that Israel had sent text messages to many Palestinians telling them of safe corridors to reach central Gaza.
Before the land incursion, the IDF dropped leaflets in 14 areas of Gaza, urging residents to temporarily leave their homes. But many have nowhere to go in the small, impoverished strip of land. Border crossings with Israel and Egypt are closed.
"The IDF is a moral military without peer; it does not aspire to harm any innocent person," Israeli Prime Minister Benjamin Netanyahu said before a special Cabinet meeting Friday. "We are operating only against terrorist targets, and we regret any inadvertent civilian casualties. It is the terrorist organizations -- which attack our cities and our civilians and use their civilians as human shields -- that bear the responsibility for casualties among noncombatants."
The new warfare in Gaza, however, has displaced more than 61,479 Palestinians, a figure harkening to the peak number from Israel's Operation Cast Lead in Gaza in 2008-09. It killed 1,166 Palestinians, including 709 Hamas operatives, according to the United Nations.
Health ministry: 72 of the dead in Gaza are children
The flash of assorted ordnance illuminated Gaza's night sky on Friday as Israeli forces and Hamas militants clashed throughout the 27-mile-long Palestinian territory.
With fighting reported all along the coastal enclave, casualties poured into Gaza City's Shifaa Hospital, including children, after Israeli artillery shelled east of the city, physicians told Al-Aqsa TV.
Children are 72 of the dead, said Gaza health ministry spokesman Dr. Ashraf al-Qedra. About 2,560 people in Gaza have been injured in the fighting.
Hospitals say they are running out of emergency medical supplies.
On Saturday, five Israeli trucks delivered 100 tons of medicine and supplies for Gaza hospitals, the military said.
A family of eight died when Israeli artillery shells hit their northern Gaza home, the health ministry said.
It's the region where al-Madhoun lives, which borders on two sides with Israel. He can hear automatic gunfire in the distance.
Netanyahu has warned that Israeli ground troops are prepared to expand an offensive against Hamas militants after Hamas rejected an Egyptian-backed cease-fire proposal.
Hamas leaders complained that they had not been consulted on the deal. They wanted Israel to free Palestinian prisoners and to ease a border blockade that has been in effect for much of the past seven years on Gaza.
"Look, we have some demands," senior Hamas spokesman Ghazi Hamad said. "They should listen to us. We are not against this cease-fire. We want to live. We want to be also in a good situation."
No water, some food
In Beit Lahya, Al-Madhoun can't get to his well to get water. His pumps are electric, and Friday's fighting knocked out power. It surges back for a few moments at a time, but it's hardly reliable.
He has to wait for rations.
"The water from the municipality is going to be distributed to us for two hours in a 24-hour cycle," he said.
If there is a break in the shelling, he can go south to Jabalya, where it's less dangerous, to stock up on food. He goes every two or three days.
"We don't know when that will run out," he said.
Gaza crisis: Who's who in Hamas
Israeli military's 'knock on roof' warnings criticized by rights groups
War-scarred Gaza medical crews also in harm's way
Opinion: A smart way out of the Gaza confrontation
CNN's Michael Martinez reported and wrote from Los Angeles and Ben Brumfield from Atlanta. CNN's Ben Wedeman reported from Gaza City. CNN's Kareem Khadder, Ian Lee, Ali Younes, Ralph Ellis, Tim Lister, Diana Magnay, Samira Said, Michael Schwartz, Salma Abdelaziz and Tal Heinrich contributed to this report.