Lawmakers: Ukraine tensions prompt Cold War fears
July 31, 2014 -- Updated 0001 GMT (0801 HKT)
STORY HIGHLIGHTS
Key lawmakers raise Cold War fears following Ukraine disaster
House Homeland Security Committee chair concerned tension could impact U.S. security
Russia under scrutiny in suspected rebel downing of passenger jet in Ukraine
(CNN) -- Deadly violence, ongoing tensions and the deliberate downing of a passenger airplane. Though that turbulence is happening far away from American streets -- in Eastern Ukraine -- why should Americans worry?
One reason: renewed fears of a return to Cold War relations between the United States and Russia.
Two powerful members of Congress spoke on the matter during separate interviews on CNN's "State of the Union."
Sen. Dianne Feinstein is the chairman of the Senate Intelligence Committee. Does she believe that U.S. and Russian relations are now at Cold War levels?
"Yes," the California Democrat said bluntly.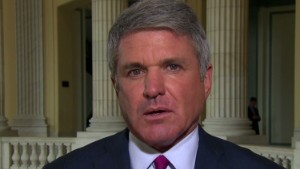 Rep. McCaul: This is a new Cold War
Meanwhile, Rep. Michael McCaul, chairman of the House Homeland Security Committee, was asked if U.S. security is under any threat because of the situation in Eastern Ukraine.
"Oh, I mean, sure it is," the Texas Republican said. "And I think this is a game changer, what happened, the downing of this commercial flight by separatists tied to Putin. I think Putin is responsible and complicit for what happened."
He continued: "Why is that important to Americans? Because I believe ... that we are, Mr. Putin is returning to a Cold War mentality. When I was over there, you could see its nationalistic pride, a sort of resurgence to regain the glory of the old days as the Soviet Empire."
However, McCaul explained a crucial difference.
"It's not the al Qaeda threat," he said. "But it's the threat of brute force. It's the threat that could involve submarine warfare. We know that Russia's more fully engaged in every aspect of that type of warfare. And that concerns me from a homeland security standpoint."
Feinstein: Putin should 'man up' on plane disaster

Today's five most popular stories
Part of complete coverage on
September 9, 2014 -- Updated 1134 GMT (1934 HKT)

"There were many scenes that defied logic," writes OSCE spokesman Michael Bociurkiw, who was one of the first international observers to arrive at the site.
July 29, 2014 -- Updated 2255 GMT (0655 HKT)

During the last four months, the people of Ukraine have been fighting for their freedom, independence and European path in a war started by Russia-backed terrorists and their accomplices.
July 31, 2014 -- Updated 1108 GMT (1908 HKT)

The road isn't easy -- past shelling and eerie separatist checkpoints. But where it leads is harder still.
July 23, 2014 -- Updated 1857 GMT (0257 HKT)

A nun, an AIDS researcher, an athlete and a family traveling on summer vacation. These were some of the victims aboard MH17.
July 26, 2014 -- Updated 1229 GMT (2029 HKT)

The mother of two brothers killed in the MH17 plane crash has spoken of her regret at not taking her youngest son's fears over the flight seriously.
July 27, 2014 -- Updated 1801 GMT (0201 HKT)

A long line of hearses, accompanied by police, carried the remains slowly toward a Dutch military base, where forensic investigators will begin the grim work of identifying them.
July 25, 2014 -- Updated 1808 GMT (0208 HKT)

Seeing the images of the mangled wreckage of an aircraft after a crash is difficult for any flight attendant.
July 24, 2014 -- Updated 2304 GMT (0704 HKT)

The United States and its allies are angrier at Russia now over Ukraine, but will they do anything more about it -- especially Europe?
July 24, 2014 -- Updated 0700 GMT (1500 HKT)

When passengers boarded Malaysia Airlines Flight 17 last week, they couldn't have known they were about to fly over a battlefield.
July 23, 2014 -- Updated 0925 GMT (1725 HKT)

The horrifying crash has put the pro-Russia rebels center stage -- and raised all kinds of questions about who they are, what they want and who's in charge.
July 20, 2014 -- Updated 1540 GMT (2340 HKT)

Some contend that larger weapons have come into Ukraine from Russia.
July 21, 2014 -- Updated 1704 GMT (0104 HKT)

Aerial photos show the scale of the crash site and help investigators to answer lingering questions.