STORY HIGHLIGHTS
NEW: The Palestinian death toll in Gaza rises to 476, health officials say
Israeli soldiers from California and Texas are reported killed
U.S. Secretary of State Kerry will travel to Egypt on Monday
13 Israeli soldiers were killed Sunday, Israel says
Gaza City (CNN) -- Hamas claimed it captured an Israeli soldier Sunday on the deadliest day yet in the battle between Israel and Hamas militants in Gaza.
Ron Prosor, Israeli ambassador to the United Nations, denied the report.
"There's no kidnapped Israeli soldier, and those rumors are untrue," he said.
According to Abu Obeida, a spokesman for Hamas' military wing, al-Qassam Brigades, the soldier was taken during an early morning operation.
He provided the supposed soldier's name and ID.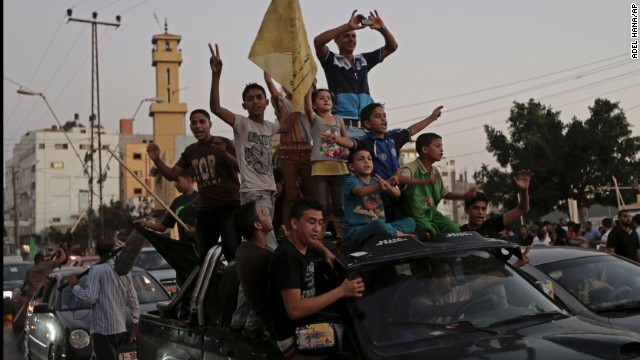 Palestinians in Gaza celebrate a ceasefire between Israel and Hamas on Tuesday, August 26. After more than seven weeks of heavy fighting, Israel and Hamas agreed to an open-ended ceasefire that puts off dealing with core long-term issues.
Palestinians inspect the damage to a residential building following several late night Israeli airstrikes in Gaza City on August 26.
Gila, center, mother of 4-year-old Israeli boy Daniel Tragerman, sits next to his grave during his funeral near the Israel-Gaza border on Sunday, August 24.
Palestinians run away from debris after a bomb from an Israeli airstrike hit a house in Gaza on Saturday, August 23.
An Israeli soldier smokes a cigarette in a large concrete pipe used as shelter at an army deployment point near the Israeli-Gaza border on Wednesday, August 20.
Light trails made by rockets fired from the Gaza Strip stand out against the night sky on Tuesday, August 19. Despite efforts to come to a peaceful agreement, Gaza militants launched rockets into Israel on Tuesday, and Israel responded with its own rockets.
An injured Palestinian man is helped into the Shifa hospital in Gaza City on August 19.
Police examine the remains of a rocket launched from Gaza that landed near the kibbutz of Yad Mordechay on August 19.
Smoke rises after an Israeli airstrike on Gaza City on August 19.
Islam El Masri begins to sort through the rubble of her destroyed home in Beit Hanoun, Gaza, on Thursday, August 14.
Israelis gather in Tel Aviv during a protest August 14 calling on the government and the army to end Palestinian rocket attacks from Gaza once and for all.
Smoke rises in Gaza City after an airstrike on Saturday, August 9.
Israeli soldiers walk past a Merkava tank as they patrol a field near Israel's border with Gaza on August 9.
A Palestinian boy salvages family belongings from the rubble of a four-story building after an airstrike in Gaza City on Friday, August 8.
Israelis flee after a rocket fired from Gaza hit the residential neighborhood of Sderot, Israel, on August 8.
A Palestinian man looks out over destruction in the al-Tufah neighborhood of Gaza City on Wednesday, August 6.
Displaced Palestinians carry their belongings as they leave a United Nations school in Beit Lahiya, Gaza, to return to their homes Tuesday, August 5.
The body of Avrohom Wallis is carried during his funeral in Jerusalem on Monday, August 4. Wallis was killed in what Israeli police spokesman Micky Rosenfeld called a "terror attack," when a man drove an earthmover into a bus in Jerusalem.
Israeli soldiers fire a mortar shell toward Gaza from the Israeli side of the border on August 4.
Palestinians remove rubble from a house hit by an airstrike in the al-Shati refugee camp in Gaza City on August 4.
An Israeli drone circles over Gaza City on Sunday, August 3.
A Palestinian man sits in a hospital in Rafah, Gaza, on August 3.
An honor guard caries the coffin of Israeli Lt. Hadar Goldin during his funeral in Kfar-saba, Israel, on August 3. Goldin was thought to have been captured during fighting in Gaza but was later declared killed in action by the Israel Defense Forces.
A Palestinian boy looks for belongings after an airstrike in Rafah on Saturday, August 2.
Israeli soldiers walk to their tank at a staging area near the border with Gaza on August 2.
A young Palestinian carries damaged copies of the Quran from the rubble of the Imam Al Shafaey mosque in Gaza City on August 2.
Palestinians displaced from their houses return to check their homes in Gaza City on Friday, August 1.
An Israeli soldier carries a shell as he prepares a tank along the Israel-Gaza border on Thursday, July 31. Israel called up 16,000 additional reservists, bolstering forces for its fight against Hamas, the militant group that controls Gaza.
Smoke rises from a building after an airstrike in Rafah on July 31.
The parents and a sister of Israeli soldier Guy Algranati mourn during his funeral in Tel Aviv on July 31.
U.N. workers remove a donkey injured at a U.N.-run school in Gaza on Wednesday, July 30.
Palestinians walk under the collapsed minaret of a destroyed mosque in Gaza City on July 30.
Palestinians gather leaflets that fell from an Israeli plane on July 30. The leaflets warned residents of airstrikes in Gaza City.
Israelis take cover from a Palestinian rocket attack from Gaza during the funeral of Israeli soldier Meidan Maymon Biton, which was held at a cemetery in Netivot, Israel, on Tuesday, July 29.
Smoke and fire rise above Gaza City after an Israeli airstrike on July 29.
An Israeli soldier prays on the Israeli side of the border with Gaza on July 29 as smoke billows from the only power plant supplying electricity to Gaza.
Near the rubble of their home in Rafah, Palestinian men mourn July 29 for people killed during an airstrike.
A Palestinian man places a portrait of Hamas leader Ismail Haniya on the rubble of Haniya's Gaza City home July 29 after it was hit by an overnight airstrike.
Flares from Israeli forces light up the night sky of Gaza City on July 29.
Israeli soldiers carry the coffin of 2nd Lt. Roy Peles, an infantry officer who was killed in combat, during his funeral in Tel Aviv on Sunday, July 27.
During a 12-hour cease-fire in Gaza City's Shijaiyah neighborhood on Saturday, July 26, a Palestinian man sits atop a car filled with belongings that were salvaged from a destroyed home.
Israeli soldiers watch a bomb explode along the border with Gaza before the 12-hour cease-fire on July 26.
As her brother-in-law Mazen Keferna weeps on the ground, Manal Keferna cries upon discovering her family home destroyed by airstrikes in Beit Hanoun on July 26.
Palestinians dig a body out of the rubble of a destroyed house in Gaza during the cease-fire on July 26.
An Israeli soldier mourns at the grave of reserve Master Sgt. Yair Ashkenazy during his funeral at the military cemetery in Rehovot, Israel, on Friday, July 25. Ashkenazy was killed during operations in northern Gaza, the Israel Defense Forces reported.
A Palestinian man cries after bringing a child to the Kamal Adwan hospital in Beit Lahiya on Thursday, July 24. The child was wounded in a strike on a school that was serving as a shelter for families in Gaza. It's unclear who was behind the strike. The Israeli military said it was "reviewing" the incident, telling CNN that a rocket fired from Gaza could have been responsible.
Israeli soldiers carry a wounded soldier to a helicopter near the Israel-Gaza border on July 24.
Israeli soldiers patrol the Israel-Gaza border on July 24.
A trail of blood is seen in the courtyard of the school that was hit July 24 in the Beit Hanoun district of Gaza.
An Israeli tank fires toward Gaza from a position near Israel's border on July 24.
A photograph tweeted by astronaut Alexander Gerst on Wednesday, July 23, shows major cities of Israel and Gaza. Gerst said in his tweet: "My saddest photo yet. From #ISS we can actually see explosions and rockets flying over #Gaza & #Israel."
A woman in Philadelphia passes by a departure board that shows US Airways Flight 796, scheduled to fly to Tel Aviv, has been canceled on Tuesday, July 22. The Federal Aviation Administration told U.S. airlines they were temporarily prohibited from flying to the Tel Aviv airport after a Hamas rocket exploded nearby.
Smoke and fire from the explosion of an Israeli strike rise over Gaza City on July 22.
A relative of Israeli soldier Jordan Ben-Simon mourns over his coffin during his funeral in Ashkelon, Israel, on July 22.
Palestinians inspect destroyed buildings and collect usable items after an Israeli air assault on July 22.
Israeli soldiers weep at the grave of Israeli Sgt. Adar Barsano during his funeral Sunday, July 20, in Nahariya, Israel.
Palestinian medics carry a body in Gaza's Shaja'ia district on July 20.
Israeli soldiers give medical care to soldiers who were wounded during an offensive in Gaza on July 20.
A Palestinian boy injured during an Israeli airstrike is taken to the hospital by his father in Gaza City on July 20.
Palestinians flee their homes as Israeli troops focus their firepower on the Gaza town of Shaja'ia on Sunday, July 20. The shelling and bombing killed at least 60 people and wounded 300, according to the Gaza Health Ministry.
Smoke rises after an Israeli missile hit Shaja'ia on July 20.
A Palestinian child walks on debris from a destroyed house following an overnight Israeli strike in Beit Lahiya on Saturday, July 19.
An explosion rocks a street in Gaza City on Friday, July 18.
Israeli ground forces move to the Gaza border on July 18.
Israeli soldiers patrol near the Israel-Gaza border on July 18.
A relative mourns July 18 during the funeral of Rani Abu Tawila, a Palestinian who was killed in an Israeli attack on Gaza City.
A Palestinian demonstrator, protesting Israel's military operation in Gaza, runs through smoke July 18 during clashes with Israeli soldiers at the entrance of the Ofer prison in the West Bank village of Betunia.
This image, made from video shot through a night-vision scope, was released by the Israeli military on July 18. It shows troops moving through a wall opening during the early hours of the ground offensive in Gaza.
Children stare as Palestinians flee Khan Yunis, Gaza, to safe areas July 18.
An Israeli tank fires a shell into Gaza on July 18.
A Palestinian carries a gas cylinder salvaged from the rubble of an apartment building after it was hit by Israeli fire on July 18.
An Israeli reservist prays July 18 near the Gaza border by Sderot, Israel.
Flare smoke rises into the Gaza City sky on Thursday, July 17.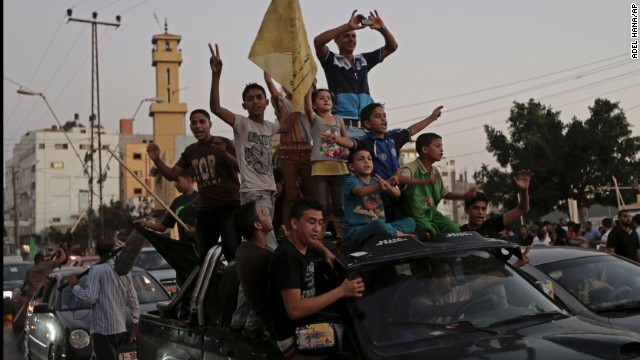 Photos: Israel-Gaza crisis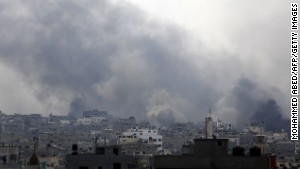 Israel denies claims of captured soldier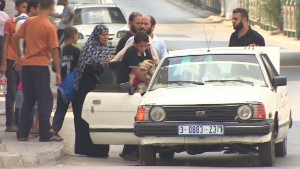 Citizens run for their lives in Gaza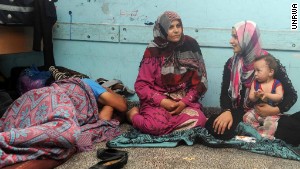 Director: Gazans 'don't feel safe'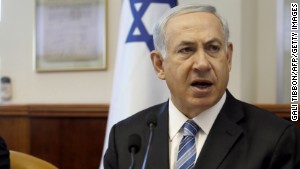 Netanyahu: Hamas targets civilians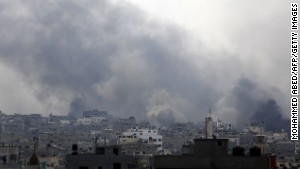 Israel denies claims of captured soldier
"He is a prisoner, and if Zionists lie about the dead and wounded, then the fate of this soldier is their responsibility," the spokesman said.
Gunfire and cheers erupted in Gaza in apparent celebration of the soldier's capture, according to CNN reporters on the ground.
"It's a game changer, immediately, because it's going to change what the Israelis are doing on the ground in that sector. They're going to be looking for him," said CNN military analyst Lt. Col. Rick Francona.
"Overall, the Israeli strategy is not going to change. They're committed to this mission," he said. Though, in the future, Francona said, the Israelis are "going to have to make some sort of accommodation to get this guy back."
In 2006, Israeli soldier Gilad Shalit was captured. He was released some five years later in exchange for more than a thousand Palestinian prisoners.
Gaza battle's deadliest day for both sides
Eighty-seven Palestinians died, at least 60 of them in Israel's assault on the town of Shaja'ia, the Gaza Health Ministry said.
The IDF said 13 soldiers were killed. At a news conference, Israeli Prime Minister Benjamin Netanyahu expressed the country's "deep pain" at the loss of the soldiers.
Among those killed was Max Steinberg, a California native, according to the Jewish Federation of Greater Los Angeles. Steinberg attended Pierce College and served as a sniper.
Sean Carmeli, an IDF soldier from South Padre Island, Texas, was also killed, according to Rachel Simony of the Congregation Shoova Israel in South Padre Island.
In total, 476 Palestinians have been killed since the start of Israel's military operations against Hamas on July 8, according to the Gaza Health Ministry. It's unknown how many were militants. The United Nations has estimated that 70% were civilians.
The Health Ministry said 3,130 people have been wounded.
Since beginning ground operations Thursday, Israel said, it has killed at least 70 terrorists and captured others.
"We're doing everything we can not to harm the people of Gaza," Netanyahu added. "Hamas is doing everything they can to make sure the people of Gaza suffer."
But people in Gaza who spoke with CNN painted a different picture. "What is happening is a massacre," said a resident of the al-Remal neighborhood.
Hamas claimed responsibility for the deaths of the Israeli soldiers, saying it had lured tanks into a field in which it had hidden improvised explosive devices. The attack "destroyed the force completely," Hamas said, calling it a "heroic operation."
In total, 18 Israeli soldiers have been killed, in addition to two civilians. Israel has used its Iron Dome defense system to block many missiles, fired by militants in Gaza, from hitting population centers.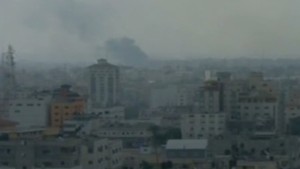 Intensified attacks in Gaza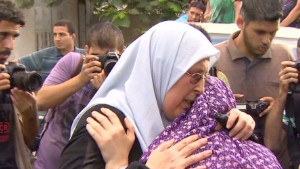 CNN camera captures airstrike in Gaza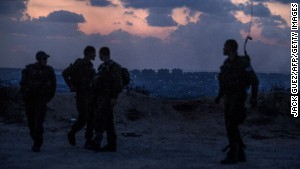 Palestinians, Israelis blame each other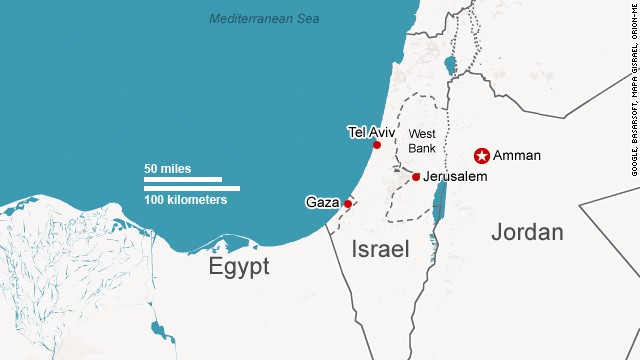 Map of the Middle East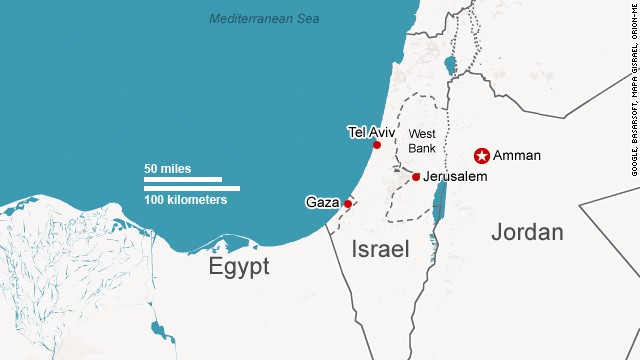 Map of the Middle East
Dozens dead in Shaja'ia
Hundreds of people fled in panic into Gaza City on Sunday as Israeli troops focused their firepower on nearby Shaja'ia. Bodies lay in streets beside gashes blasted into apartment buildings, said people who had escaped the violence.
Overnight, Hamas fired rockets from Shaja'ia toward Israel.
For three days, the IDF had warned residents of Shaja'ia to flee, Israel said. Such warnings are delivered through calls and text messages as well as fliers that said "it is the intention of the IDF to carry out aerial strikes against terror sites and operatives" in the area. The fliers told people to head to Gaza City by Wednesday morning and not to return until further notice. The IDF posted an English translation of the fliers Sunday on Twitter.
Some residents said they received the warnings but felt that even if they fled, they could face the same dangers in other parts of Gaza.
But the IDF said Hamas "ordered them to stay" and "put them in the line of fire."
The IDF posted a photo Sunday on Twitter, saying, "We fired a warning shot at this target in Gaza. In response, these civilians ran to the roof and brought their kids."
Hamas' cease-fire demands
Hamas told CNN on Sunday that it would only agree to a cease-fire if it was guaranteed that certain demands would form the basis of negotiations. Izzat Risheq, a senior Hamas political leader in Qatar, said the demands include opening the border crossings, freeing detainees Israel arrested in June, and opening the Gaza port.
The militant group overnight turned down an invitation by Egypt to talk about a cease-fire initiative that Cairo had proposed.
U.S. Secretary of State John Kerry is scheduled to go to Egypt on Monday to meet with senior officials about the crisis in Gaza. While there, he will push for a cease-fire, a State Department spokeswoman said.
U.S. President Barack Obama spoke Sunday with Netanyahu, the second call in three days. Obama reiterated U.S. condemnation of Hamas attacks against Israel "and reaffirmed Israel's right to defend itself," the White House said in a statement. Obama also "raised serious concern about the growing number of casualties, including increasing Palestinian civilian deaths in Gaza and the loss of Israeli soldiers."
Speaking to CNN's "State of the Union," Kerry said the United States supports Egypt's initiative for a cease-fire and "will work for a fair cease-fire."
The United States has "shown our willingness to try to deal with the underlying issues," but Hamas "must step up and show a level of reasonableness," he said.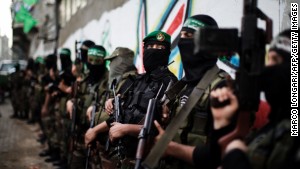 Hamas wants to 'bloody Israeli troops'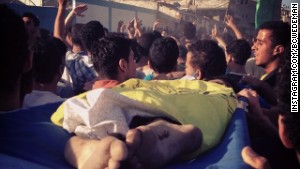 4 Gazan boys killed while playing soccer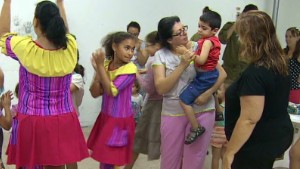 Rockets force children into bomb shelters
"Israel is under siege by a terrorist organization that has seen fit to dig tunnels and come through those tunnels with handcuffs and tranquilizer drugs, prepared to try to capture Israeli citizens and take them back to hold them hostage. No country could sit by and not take steps to try to deal with people who are sending thousands of rockets your way," Kerry said.
"No country, no human being, is comfortable with children being killed, with people being killed, but we're not comfortable with Israeli soldiers being killed either or with people being rocketed in Israel."
"Hamas uses civilians as shields," he said. "They fire from a home and draw the fire into the home."
Separately, Kerry was caught on an open mic, appearing to criticize Israeli assurances that its ground offensive in Gaza would be limited.
His comments occurred between multiple television interviews. He was heard in a phone conversation with a State Department deputy, Jonathan Finer, discussing the deaths of Israeli soldiers killed overnight.
"I hope they don't think that's an invitation to go do more," Kerry said in the unguarded moment. "That better be the warning to them."
At that point, Finer is heard mentioning the number of Palestinians wounded and killed in the past 24 hours.
"It's a hell of a pinpoint operation. It's a hell of a pinpoint operation," Kerry said, a seemingly frustrated comment aimed at Israel.
Fawzi Barhoum, a spokesman for Hamas, said on Aqsa TV on Saturday that there would be no truce or surrender while Israel is attacking.
Israel opens field hospital for Palestinians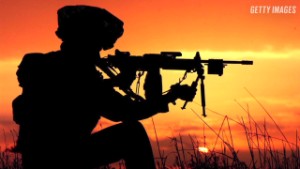 Israel's military by the numbers
Israel announced Sunday it would open a field hospital at the Erez Crossing to treat injured Palestinians. On Saturday, the defense forces delivered truckloads of medical supplies to Gaza.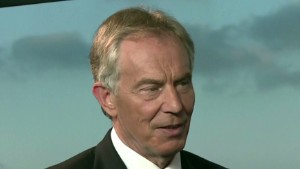 Tony Blair: 'Time is running out'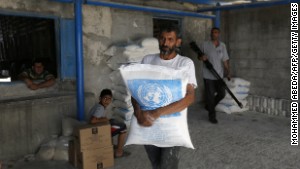 UN: Palestinian people aren't statistics
Meanwhile, at Barzilai Hospital in Ashkelon, soldiers have been coming in with serious wounds from shrapnel and gunshots. The hospital treats soldiers and civilians, as well as injured Palestinians, although none were there Sunday.
The hospital is frequently hit by rocket attacks from Gaza. It has emergency procedures in place, including moving its neo-natal ward into a reinforced rocket shelter.
Israel agreed to a two-hour cease-fire Sunday, at the request of the Red Cross, to allow Palestinian emergency medical workers to tend to the wounded and dead in Shaja'ia, the IDF said. Israel also announced it was extending its cease-fire, but said Hamas was not holding its fire.
Hamas, meanwhile, said Israeli forces shelled Shaja'ia after the cease-fire was declared.
The IDF said it has held fire three times since beginning the operation in Gaza, but "Hamas never stopped shooting rockets."
Israel is still "early on in the mission," IDF spokesman Lt. Col. Peter Lerner said Sunday. "You can't erase 10,000 rockets overnight," he said of Hamas' arsenal.
The IDF is adding troops to the incursion. It called up tens of thousands of reservists at the start of Operation Protective Edge to prepare for the ground operations.
Israel said it has struck "2,300 terror targets" in Gaza and found 13 tunnels the militants use for smuggling weapons.
Netanyahu: Demilitarize Gaza
Netanyahu called on the international community to "undertake a program to demilitarize Gaza" in the future.
The situation is "unacceptable" because of Hamas and Islamic Jihad, Netanyahu told CNN's Wolf Blitzer in an interview Sunday.
"These people are the worst terrorists -- genocidal terrorists. They call for the destruction of Israel and they call for the killing of every Jew, wherever they can find them."
Hamas fighters in Gaza "don't care" about the dying people around them, Netanyahu said.
Israel has enabled the shipment of concrete into Gaza for buildings, hospitals, and schools, but the militants use hundreds of tons of it for each tunnel, Netanyahu said.
Hamas: Israel committed 'crime against humanity'
Hamas spokesman Sami Abu Zuhri, speaking to Al-Jazeera, said Israel committed "a crime against humanity," and that most of those killed in Shaja'ia were women and children. "Our people will not sit idle in front of this brutal aggression."
He called on the Palestinian Authority, in the West Bank, to "stop its security coordination with the occupation" and to "stop suppressing the demonstrations in the West Bank." He also said "the Arab world should not sit idle."
The Israeli government has repeatedly said that, unlike Palestinian militants, the IDF does not target civilians and works to avoid innocent casualties.
But in Gaza, one of the most densely populated areas on Earth, more than 70% of those killed in the hail of artillery and airstrikes have been civilians, according to the United Nations. A fifth were children. More than 40% of Gaza's population is 14 or younger.
About 81,000 Palestinians have taken refuge in U.N. facilities, Robert Turner, the director of U.N. efforts in Gaza, said Sunday. The United Nations has been investigating a cache of rockets used by militants found in a U.N. school.
Gaza crisis: Who's who in Hamas
Israeli military's 'knock on roof' warnings criticized by rights groups
War-scarred Gaza medical crews also in harm's way
Opinion: A smart way out of the Gaza confrontation
CNN's Ben Wedeman and Karl Penhaul reported from Gaza; CNN's Ben Brumfield and Josh Levs from Atlanta. CNN's Atika Shubert reported from Israel near Gaza. CNN's Tim Lister, MIchael Martinez, Kareem Khadder, Ian Lee, Ali Younes, Mohammed Tawfeeq, Ralph Ellis, Samira Said, Michael Schwartz, Salma Abdelaziz and Tal Heinrich contributed to this report.