STORY HIGHLIGHTS
Michael Oren: More than a military strategy, Hamas has a media strategy
He says that by exposing its own population to danger, it cultivates sympathy for its cause
Oren: As any sovereign state, Israel can't tolerate attacks on its territory
Media effectively absolves Hamas of responsibility for putting its own people at risk
Editor's note: Michael B. Oren, a CNN Middle East analyst, is the Abba Eban chair in international diplomacy at the Interdisciplinary Center in Herzliya, Israel, and an ambassador-in-residence at the Atlantic Council. He was formerly Israel's ambassador to the United States. The opinions expressed in this commentary are solely those of the author.
(CNN) -- The displacement, injury, and death of civilians in war is always tragic, and the current fighting between Israel and Hamas in Gaza is no exception. But unlike the vast majority of conflicts in history, Operation Protective Edge, as Israel calls it, is one in which images of civilian suffering play a central—and potentially decisive—role in the outcome.
And the reason is simple: More than a military strategy, Hamas has a media strategy. Calculatingly, Hamas employs primitive military tactics to mount a sophisticated media campaign that can threaten Israel's basic security. And in conducting that offensive, Hamas can count on one of the world's most powerful weapons: the international media.
Hamas fires hundreds of rockets at Israeli cities and towns and tries to attack Israeli farms via the sea and through tunnels. Thanks to Israeli technology and vigilance, few of these actions have inflicted extensive damage. Still, they disrupt Israeli life, impair the economy, and leave cumulative psychological scars.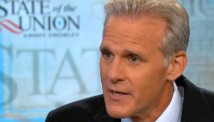 Michael Oren
As a sovereign nation, Israel must respond robustly to such attacks. And as a state committed to Jewish and democratic values, Israel provides water, humanitarian aid, and electricity to the residents of Gaza even as their government murders Israelis.
Throughout, Israel strives tirelessly to minimize Palestinian civilian casualties. Yet in spite of the hundreds of thousands of leaflets Israel dropped, the countless text messages and personal phone calls it made warning Palestinian civilians to leave targeted areas, tragedies still occur. Israel deeply regrets these losses and continuously hones its operations to make them more surgical still.
In a war with Hamas, though, Israel's strength and morality can become vulnerability and guilt. By investing nothing in air raid sirens and bomb shelters, by hiding deep beneath neighborhoods and shooting near hospitals and mosques, Hamas ensures that Israel will invariably wound and kill civilians.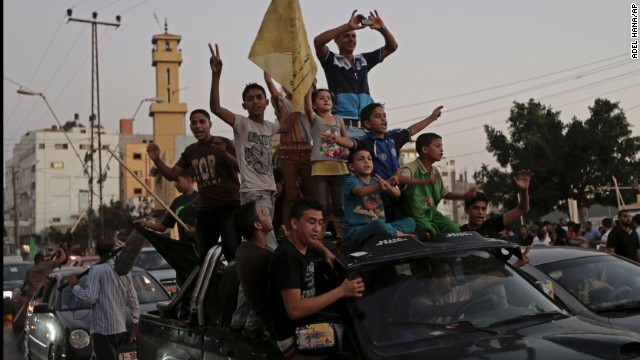 Palestinians in Gaza celebrate a ceasefire between Israel and Hamas on Tuesday, August 26. After more than seven weeks of heavy fighting, Israel and Hamas agreed to an open-ended ceasefire that puts off dealing with core long-term issues.
Palestinians inspect the damage to a residential building following several late night Israeli airstrikes in Gaza City on August 26.
Gila, center, mother of 4-year-old Israeli boy Daniel Tragerman, sits next to his grave during his funeral near the Israel-Gaza border on Sunday, August 24.
Palestinians run away from debris after a bomb from an Israeli airstrike hit a house in Gaza on Saturday, August 23.
An Israeli soldier smokes a cigarette in a large concrete pipe used as shelter at an army deployment point near the Israeli-Gaza border on Wednesday, August 20.
Light trails made by rockets fired from the Gaza Strip stand out against the night sky on Tuesday, August 19. Despite efforts to come to a peaceful agreement, Gaza militants launched rockets into Israel on Tuesday, and Israel responded with its own rockets.
An injured Palestinian man is helped into the Shifa hospital in Gaza City on August 19.
Police examine the remains of a rocket launched from Gaza that landed near the kibbutz of Yad Mordechay on August 19.
Smoke rises after an Israeli airstrike on Gaza City on August 19.
Islam El Masri begins to sort through the rubble of her destroyed home in Beit Hanoun, Gaza, on Thursday, August 14.
Israelis gather in Tel Aviv during a protest August 14 calling on the government and the army to end Palestinian rocket attacks from Gaza once and for all.
Smoke rises in Gaza City after an airstrike on Saturday, August 9.
Israeli soldiers walk past a Merkava tank as they patrol a field near Israel's border with Gaza on August 9.
A Palestinian boy salvages family belongings from the rubble of a four-story building after an airstrike in Gaza City on Friday, August 8.
Israelis flee after a rocket fired from Gaza hit the residential neighborhood of Sderot, Israel, on August 8.
A Palestinian man looks out over destruction in the al-Tufah neighborhood of Gaza City on Wednesday, August 6.
Displaced Palestinians carry their belongings as they leave a United Nations school in Beit Lahiya, Gaza, to return to their homes Tuesday, August 5.
The body of Avrohom Wallis is carried during his funeral in Jerusalem on Monday, August 4. Wallis was killed in what Israeli police spokesman Micky Rosenfeld called a "terror attack," when a man drove an earthmover into a bus in Jerusalem.
Israeli soldiers fire a mortar shell toward Gaza from the Israeli side of the border on August 4.
Palestinians remove rubble from a house hit by an airstrike in the al-Shati refugee camp in Gaza City on August 4.
An Israeli drone circles over Gaza City on Sunday, August 3.
A Palestinian man sits in a hospital in Rafah, Gaza, on August 3.
An honor guard caries the coffin of Israeli Lt. Hadar Goldin during his funeral in Kfar-saba, Israel, on August 3. Goldin was thought to have been captured during fighting in Gaza but was later declared killed in action by the Israel Defense Forces.
A Palestinian boy looks for belongings after an airstrike in Rafah on Saturday, August 2.
Israeli soldiers walk to their tank at a staging area near the border with Gaza on August 2.
A young Palestinian carries damaged copies of the Quran from the rubble of the Imam Al Shafaey mosque in Gaza City on August 2.
Palestinians displaced from their houses return to check their homes in Gaza City on Friday, August 1.
An Israeli soldier carries a shell as he prepares a tank along the Israel-Gaza border on Thursday, July 31. Israel called up 16,000 additional reservists, bolstering forces for its fight against Hamas, the militant group that controls Gaza.
Smoke rises from a building after an airstrike in Rafah on July 31.
The parents and a sister of Israeli soldier Guy Algranati mourn during his funeral in Tel Aviv on July 31.
U.N. workers remove a donkey injured at a U.N.-run school in Gaza on Wednesday, July 30.
Palestinians walk under the collapsed minaret of a destroyed mosque in Gaza City on July 30.
Palestinians gather leaflets that fell from an Israeli plane on July 30. The leaflets warned residents of airstrikes in Gaza City.
Israelis take cover from a Palestinian rocket attack from Gaza during the funeral of Israeli soldier Meidan Maymon Biton, which was held at a cemetery in Netivot, Israel, on Tuesday, July 29.
Smoke and fire rise above Gaza City after an Israeli airstrike on July 29.
An Israeli soldier prays on the Israeli side of the border with Gaza on July 29 as smoke billows from the only power plant supplying electricity to Gaza.
Near the rubble of their home in Rafah, Palestinian men mourn July 29 for people killed during an airstrike.
A Palestinian man places a portrait of Hamas leader Ismail Haniya on the rubble of Haniya's Gaza City home July 29 after it was hit by an overnight airstrike.
Flares from Israeli forces light up the night sky of Gaza City on July 29.
Israeli soldiers carry the coffin of 2nd Lt. Roy Peles, an infantry officer who was killed in combat, during his funeral in Tel Aviv on Sunday, July 27.
During a 12-hour cease-fire in Gaza City's Shijaiyah neighborhood on Saturday, July 26, a Palestinian man sits atop a car filled with belongings that were salvaged from a destroyed home.
Israeli soldiers watch a bomb explode along the border with Gaza before the 12-hour cease-fire on July 26.
As her brother-in-law Mazen Keferna weeps on the ground, Manal Keferna cries upon discovering her family home destroyed by airstrikes in Beit Hanoun on July 26.
Palestinians dig a body out of the rubble of a destroyed house in Gaza during the cease-fire on July 26.
An Israeli soldier mourns at the grave of reserve Master Sgt. Yair Ashkenazy during his funeral at the military cemetery in Rehovot, Israel, on Friday, July 25. Ashkenazy was killed during operations in northern Gaza, the Israel Defense Forces reported.
A Palestinian man cries after bringing a child to the Kamal Adwan hospital in Beit Lahiya on Thursday, July 24. The child was wounded in a strike on a school that was serving as a shelter for families in Gaza. It's unclear who was behind the strike. The Israeli military said it was "reviewing" the incident, telling CNN that a rocket fired from Gaza could have been responsible.
Israeli soldiers carry a wounded soldier to a helicopter near the Israel-Gaza border on July 24.
Israeli soldiers patrol the Israel-Gaza border on July 24.
A trail of blood is seen in the courtyard of the school that was hit July 24 in the Beit Hanoun district of Gaza.
An Israeli tank fires toward Gaza from a position near Israel's border on July 24.
A photograph tweeted by astronaut Alexander Gerst on Wednesday, July 23, shows major cities of Israel and Gaza. Gerst said in his tweet: "My saddest photo yet. From #ISS we can actually see explosions and rockets flying over #Gaza & #Israel."
A woman in Philadelphia passes by a departure board that shows US Airways Flight 796, scheduled to fly to Tel Aviv, has been canceled on Tuesday, July 22. The Federal Aviation Administration told U.S. airlines they were temporarily prohibited from flying to the Tel Aviv airport after a Hamas rocket exploded nearby.
Smoke and fire from the explosion of an Israeli strike rise over Gaza City on July 22.
A relative of Israeli soldier Jordan Ben-Simon mourns over his coffin during his funeral in Ashkelon, Israel, on July 22.
Palestinians inspect destroyed buildings and collect usable items after an Israeli air assault on July 22.
Israeli soldiers weep at the grave of Israeli Sgt. Adar Barsano during his funeral Sunday, July 20, in Nahariya, Israel.
Palestinian medics carry a body in Gaza's Shaja'ia district on July 20.
Israeli soldiers give medical care to soldiers who were wounded during an offensive in Gaza on July 20.
A Palestinian boy injured during an Israeli airstrike is taken to the hospital by his father in Gaza City on July 20.
Palestinians flee their homes as Israeli troops focus their firepower on the Gaza town of Shaja'ia on Sunday, July 20. The shelling and bombing killed at least 60 people and wounded 300, according to the Gaza Health Ministry.
Smoke rises after an Israeli missile hit Shaja'ia on July 20.
A Palestinian child walks on debris from a destroyed house following an overnight Israeli strike in Beit Lahiya on Saturday, July 19.
An explosion rocks a street in Gaza City on Friday, July 18.
Israeli ground forces move to the Gaza border on July 18.
Israeli soldiers patrol near the Israel-Gaza border on July 18.
A relative mourns July 18 during the funeral of Rani Abu Tawila, a Palestinian who was killed in an Israeli attack on Gaza City.
A Palestinian demonstrator, protesting Israel's military operation in Gaza, runs through smoke July 18 during clashes with Israeli soldiers at the entrance of the Ofer prison in the West Bank village of Betunia.
This image, made from video shot through a night-vision scope, was released by the Israeli military on July 18. It shows troops moving through a wall opening during the early hours of the ground offensive in Gaza.
Children stare as Palestinians flee Khan Yunis, Gaza, to safe areas July 18.
An Israeli tank fires a shell into Gaza on July 18.
A Palestinian carries a gas cylinder salvaged from the rubble of an apartment building after it was hit by Israeli fire on July 18.
An Israeli reservist prays July 18 near the Gaza border by Sderot, Israel.
Flare smoke rises into the Gaza City sky on Thursday, July 17.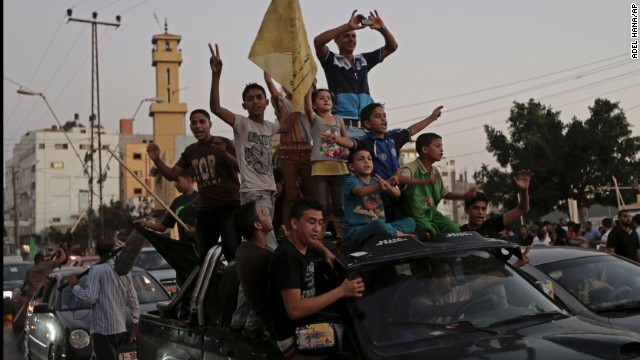 Photos: Israel-Gaza crisis
Hamas gunmen carry out attacks disguised as women and old men, fight from UN and Red Cross vehicles, store rockets in schools, and physically prevent Palestinian civilians from fleeing combat zones. This context, though, is rarely mentioned by the media when covering the civilian cost of the fighting.
Unlike Israel, which respects the privacy and dignity of its fallen, Hamas has no difficulty in displaying these casualties to foreign cameras. And the media broadcasts them, obsessively.
The sources of that obsession are many. They include genuine empathy for the Palestinians, objection to Israeli policies, and even animus toward the Jewish state. Still, many journalists would be appalled by the suggestion that they are aiding a terrorist group indistinguishable from ISIS and al-Qaeda. Most, rather, are just doing their job by providing their audiences with the most up-to-date pictures and stories.
But whether visceral or professional, the correspondents' motives are, in fact, irrelevant to Hamas. It merely has to know that dozens of Palestinian victims of Israeli fire capture more headlines and airtime than tens of thousands of Syrian victims of Syrians or Iraqi victims of Iraqis.
Hamas knows that the construction of a world-leading civil defense system in Israel, and the utter absence of one in Gaza, will ensure a growing gap between Israeli and Palestinian casualties. And that disparity, Hamas knows, will become the focus of media attention and accusations that Israel uses force disproportionally.
Above all, Hamas knows that shocking images—some of them taken from the carnage in Syria and Iraq and even from Hollywood horror movies—inflame public opinion. Under mounting pressure, governments will endorse UN condemnations of Israel for war crimes. Hamas missiles cannot destroy Israel, but international sanctions can tie its hands from deflecting them.
Unwittingly or not, the international media is complicit in Hamas's plan. While some may think they help the Palestinians by highlighting their plight, in reality, the journalists only worsen it. They effectively absolve Hamas of culpability for using Gaza's population as a human shield, of stealing its aid money to buy munitions and dig fortified tunnels with the sole purpose of killing Israelis, and of contributing nothing to Gaza's welfare.
Israel, by contrast, is expected to apologize for protecting its citizens and for not suffering as many civilian losses as the Palestinians. Rather than depicting a complex reality in which both Israelis and Palestinians are victims of Hamas, the media prefers facile narratives of West versus East, colonialists versus natives, Goliath versus David.
Yet the most helpful role that the media plays for Hamas—and the worst disservice for Palestinians—is in demoralizing Israelis. They are willing to pay a high operational price, even to endanger their own soldiers, to avoid hurting Palestinian civilians.
Yet, in spite of these unprecedented efforts, the Jewish State is often depicted by the media as indiscriminate and callous. By calling them killers even when they take risks to save lives, the media discourages Israelis from showing restraint in the face of ceaseless Hamas attacks. And Hamas, which wants to drag Israel into a ground war in which even more civilians are killed, welcomes the media's role in convincing Israelis that image-wise they have nothing to lose by escalating.
Former President Bill Clinton recently told Indian television that Hamas "has a strategy designed to force Israel to kill their own [Palestinian] civilians so that the rest of the world will condemn them." A crucial means through which Hamas accomplishes this is the international media.
Just as Israel must relentlessly scrutinize its military actions in Gaza and their consequences, so, too, must journalists take a hard look at the way they cover this conflict. They must not allow themselves to act as accessories to Hamas's murderous strategy that delegitimizes Israel and prolongs the Palestinians' suffering.
Read CNNOpinion's new Flipboard magazine
Follow us on Twitter @CNNOpinion.
Join us on Facebook/CNNOpinion.
The opinions expressed in this commentary are solely those of Michael Oren.