Ukraine President: The world must choose sides
July 22, 2014 -- Updated 1229 GMT (2029 HKT)
STORY HIGHLIGHTS
Ukrainian President Petro Poroshenko says rebels are not separatists
In interview with CNN, Poroshenko calls them "terrorists"
He compares downing of Malaysia Airlines Flight 17 to 9/11
He denies Russian suggestions that a Ukrainian jet may have downed the plane
(CNN) -- In the wake of the attack on Malaysia Airlines Flight 17, "every country, including Russia," must determine whether it is "together with the terrorists or together with the civilized world," Ukrainian President Petro Poroshenko said Monday.
In an exclusive interview with CNN's Christiane Amanpour, Poroshenko said, "Every country and every person, and every leader should find out their own place."
"We know exactly" where a missile was shot that hit the plane Thursday, killing all 298 people aboard, and where the flight crashed, he said. "And all this territory is firmly controlled by Russian-supported terrorists."
Ukraine has "a lot of evidence that these people are supported by Russia, trained by Russia, armed by Russia," he added. "And most of them and their leaders are Russian citizens. That is for sure."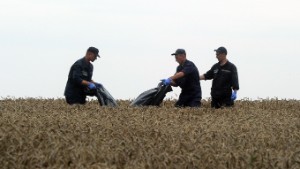 Ukraine: How did we get there?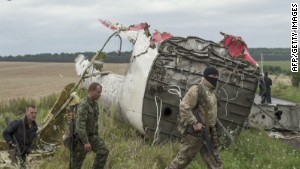 Ukrainian President compares MH17 to 9/11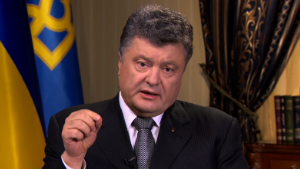 Ukraine Pres: No difference with 9/11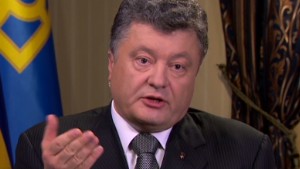 Ukraine Pres gets heated over Russia claim
Those armed in eastern Ukraine should not be referred to as "separatists," he insisted. "There are no separatists there. They are terrorists."
The United States should declared them terrorists, he said. Such a designation would trigger a "new legal framework for those who support it" and cooperate "with these terrorists."
Ukraine has suffered "three major international crimes," Poroshenko said.
There is what he called "the terrorist act" on Flight 17 -- which he compared to 9/11 and the 1988 Lockerbie, Scotland, bombing. And the way the bodies have been treated, with their personal belongings taken, is "barbarian style," he said. The third crime is that "terrorists" have tried to destroy evidence, he said.
But the crime scene "is impossible to destroy," Poroshenko said.
"All the shrapnel is dispersed on the territory of about 20 square kilometers (about 8 square miles). This crime, the international crime, is impossible to destroy."
Poroshenko also denied suggestions by Russia that a Ukrainian jet may have downed the plane. "This is an irresponsible and false statement," he insisted.
Moscow has strongly denied involvement in the downing of the jetliner.
Pro-Russian rebels have also denied responsibility.
Five unanswered questions about Flight 17
Who are Ukraine's pro-Russia rebels?

Today's five most popular stories
Part of complete coverage on
September 9, 2014 -- Updated 1134 GMT (1934 HKT)

"There were many scenes that defied logic," writes OSCE spokesman Michael Bociurkiw, who was one of the first international observers to arrive at the site.
July 29, 2014 -- Updated 2255 GMT (0655 HKT)

During the last four months, the people of Ukraine have been fighting for their freedom, independence and European path in a war started by Russia-backed terrorists and their accomplices.
July 31, 2014 -- Updated 1108 GMT (1908 HKT)

The road isn't easy -- past shelling and eerie separatist checkpoints. But where it leads is harder still.
July 23, 2014 -- Updated 1857 GMT (0257 HKT)

A nun, an AIDS researcher, an athlete and a family traveling on summer vacation. These were some of the victims aboard MH17.
July 26, 2014 -- Updated 1229 GMT (2029 HKT)

The mother of two brothers killed in the MH17 plane crash has spoken of her regret at not taking her youngest son's fears over the flight seriously.
July 27, 2014 -- Updated 1801 GMT (0201 HKT)

A long line of hearses, accompanied by police, carried the remains slowly toward a Dutch military base, where forensic investigators will begin the grim work of identifying them.
July 25, 2014 -- Updated 1808 GMT (0208 HKT)

Seeing the images of the mangled wreckage of an aircraft after a crash is difficult for any flight attendant.
July 24, 2014 -- Updated 2304 GMT (0704 HKT)

The United States and its allies are angrier at Russia now over Ukraine, but will they do anything more about it -- especially Europe?
July 24, 2014 -- Updated 0700 GMT (1500 HKT)

When passengers boarded Malaysia Airlines Flight 17 last week, they couldn't have known they were about to fly over a battlefield.
July 23, 2014 -- Updated 0925 GMT (1725 HKT)

The horrifying crash has put the pro-Russia rebels center stage -- and raised all kinds of questions about who they are, what they want and who's in charge.
July 20, 2014 -- Updated 1540 GMT (2340 HKT)

Some contend that larger weapons have come into Ukraine from Russia.
July 21, 2014 -- Updated 1704 GMT (0104 HKT)

Aerial photos show the scale of the crash site and help investigators to answer lingering questions.