Out of this world: The best selfies from space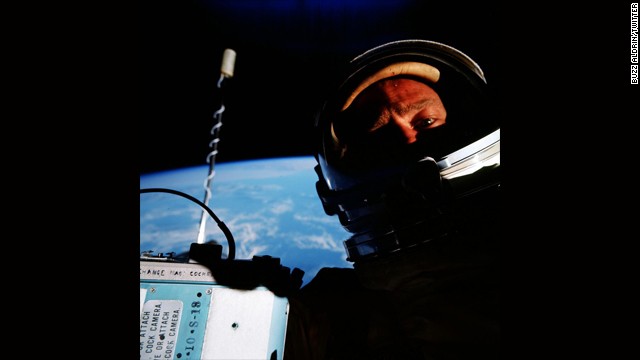 He may be best known for joining Neil Armstrong on the historic Apollo 11 moon landing in 1969, but that wasn't the only time Buzz Aldrin had a hand in history. Three years before the moon landing, while on the Gemini 12 mission in 1966, he unknowingly made history when he
snapped the "first space selfie."
Japan Aerospace Exploration Agency astronaut Aki Hoshide
took this breathtaking selfie during Expedition 32 on September 5, 2012. Using a digital stills camera while on the third spacewalk of the voyage, Hoshide reflects the Earth in his helmet visor with the sun brilliantly visible in the top left corner.
NASA released a self-portrait taken by the Curiosity rover on June 24
2012 to commemorate being on the Red Planet for a full Martian year (687 Earth days). While this intricate selfie looks fab, the exploration rover hasn't always taken the best shots ...
Even the robots are getting in on selfie fever!
first attempt at a selfie Curiosity
made back on September 8, 2012. In this upside down Wall-E-esque snap, the sandy surroundings were captured by the rover utilizing its Mars Hand Lens Imager, found at the end of its turret arm. To see the rest of the tech onboard Curiosity,
explore this interactive.
This was the
Tom Marshburn posted this stellar shot
from his twitter account (
@AstroMarshburn
) on May 13, 2013 as his latest expedition to the International Space Station (ISS) was drawing to a close.
NASA astronaut and flight engineer
During Expedition 28, NASA flight engineer Mike Fossum took a selfie showing the ISS in the background while on a six-and-a-half-hour spacewalk on July 12, 2011. Not only was this the 160th spacewalk devoted to the assembly and maintenance of the ISS -- launched in 1998 -- but this was also the final mission of the space shuttle program, which began in 1981 with the launch of Columbia.
Rosetta's Philae lander snapped this self-portrait with Mars
glowing majestically in the background. At the time of selfie, the orbiter was just 1,000 kilometers away from the planet. The spacecraft's 10-year mission should finally come to fruition in August when it reaches its target destination -- with its robotic lander landing on the 67P comet while Rosetta orbits it for 17 months, to provide the most detailed comet analysis to date.
Captured in February 25, 2007, the CIVA imaging instrument located on
Astronaut Heidemarie M. Stefanyshyn-Piper, STS-115 mission specialist, takes a self-portrait during a spacewalk on September 12, 2006 that marked the continuation of construction on the ISS.
according to NASA.
The Venera 13 lander survived for 2 hours and 7 minutes on the planet's surface.
The Soviet Venera 13 reached the surface of Venus on March 1, 1982, capturing these landing photographs using its two opposite-facing cameras,
"World's first space selfie"
Breathtaking brilliance
Celebrating a year on the Red Planet
Wall-E? Nope, just Curiosity
See ya later space station!
A selfie for the final space shuttle mission
Mars flyby
Building the International Space Station
Rocking out on Venus
STORY HIGHLIGHTS
Buzz Aldrin posted what he calls "the world's first space selfie," taken in 1966
It was captured while he was shooting pics of ultraviolet stars while on the Gemini 12 mission
"I didn't realize I was pioneering the selfies," Aldrin told CNN
Today it's a fairly popular past-time for astronauts to send selfies home from space
The Art of Movement is a monthly show that highlights the most significant innovations in science and technology that are helping shape our modern world.
(CNN) -- "Gee whiz! Look at that horizon. It's curved a little bit and the clouds are way down there. I wonder what the picture's going to look like?" recalls famed astronaut Buzz Aldrin.
He's perhaps best known for becoming the second person to walk on the moon, as part of the 1969 Apollo moon landing, but Aldrin unknowingly made history when in 1966, he snapped the "first space selfie." Taken while on the 10th and final Gemini mission -- Gemini 12 -- Aldrin revealed the story behind the selfie to CNN.
WATCH: Buzz Aldrin's space selfie
"I didn't realize I was pioneering the selfies," he says with his usual wide-eyed enthusiasm.
"We were docked to the other spacecraft, Agena. There was an experimenter from Northwestern University and he wanted pictures taken of ultraviolet stars. So we could only take pictures at night."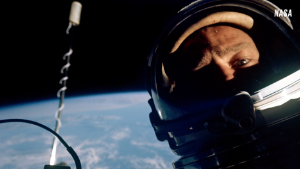 Buzz Aldrin and the first space selfie
He adds: "During the day pass, I'm looking down at the Astrodome, some of the lakes around Houston, so what am I going to do during the daytime? Look at the camera and hit the button."
And that was that. Aldrin had just snapped what he claims is the "first selfie in space."
Today it's the norm and NASA has gotten incredibly good at sharing the best shots with the world on social media.
But it's not just astronauts. Scientists and engineers are getting in on the action, too, by having the robots and orbiters out and about the galaxy take happy snaps of their alien surroundings. Scroll through the gallery above to see more.
Meanwhile, almost 50 years on, Aldrin reflects on his other "first" and concedes he took the pioneering pic out of boredom.
"What for? I don't know. I wondered what I looked like. Another claim to fame for Buzz," he says leaning forward with a cheeky grin on his face.
READ: Do we need to go back to the moon?
READ: 'Next stop -- Mars!" says Aldrin
READ: Solar flares: Cosmic fireworks or more dangerous?

Today's five most popular stories
Part of complete coverage on
December 23, 2014 -- Updated 1809 GMT (0209 HKT)

Ever since musician Eduardo Miranda met a patient with locked in syndrome 11 years ago, he has been on a mission to create a way for the paralyzed to make music.
August 25, 2014 -- Updated 1938 GMT (0338 HKT)

For thousands of years, man has looked to the stars in search of answers. Who are we? Why are we here? Are we alone?
November 16, 2014 -- Updated 1510 GMT (2310 HKT)

From the realms of science fiction to science fact, Rosetta mission's scientists succeeded in landing a washing machine-sized probe named Philae on a moving comet.
October 10, 2014 -- Updated 1700 GMT (0100 HKT)

Armed with the most advanced marine technology available, archaeologists have recovered new treasures from the ancient shipwreck.
December 17, 2014 -- Updated 1443 GMT (2243 HKT)

Meet KAO=S, a band of spellbinding musicians fusing Japanese cultural icons against a backdrop of rock and musical theater.
November 18, 2014 -- Updated 1134 GMT (1934 HKT)

Earthbound audience captivated as surreal Twitter conversation takes place 300M miles away.
December 5, 2014 -- Updated 1243 GMT (2043 HKT)

The slightest movement by this man's hand can change the behavior of at least 100 people.
November 11, 2014 -- Updated 1541 GMT (2341 HKT)

"A living painting is many things," says artist and designer Aerosyn-Lex Mestrovic. "It's a painting in process, it's a work of film, it's an actual tactile painting."
September 12, 2014 -- Updated 0938 GMT (1738 HKT)

For half a century, "Alvin" has quietly traveled through the seven seas, uncovering the ocean's mysteries.
August 25, 2014 -- Updated 1943 GMT (0343 HKT)

From Earth, the sun appears as a constant circle of light, but when viewed in space a brilliant display of motion is revealed.