Typhoon Matmo threatens mudslides in Taiwan
July 23, 2014 -- Updated 1411 GMT (2211 HKT)
STORY HIGHLIGHTS
Strong winds, rain raises threat of mudslides in Taiwan
Typhoon Matmo passed over the island in the early hours of Wednesday morning
"Water is just sheeting off the mountains," storm chaser James Reynolds tells CNN
(CNN) -- Typhoon Matmo has slammed in Taiwan, bringing heavy rain, strong winds and the threat of landslides on the mountainous island.
Winds traveling at up to 64 knots (33 meters per second) swept over the territory, downing trees, cutting electricity and sending water gushing over roads.
"The water is just sheeting off the mountains -- waterfalls flowing off cliffs, rivers in full flood. I've seen trees down, flash floods across the roads, so it's a really very hazardous environment at the moment," storm chaser James Reynolds told CNN Wednesday morning, approximately 7 a.m. local time (7 p.m. ET).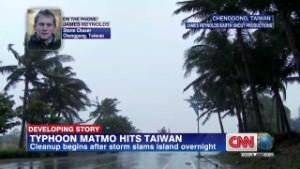 Typhoon Matmo hits Taiwan
Reynolds was driving north along the coastal road on the eastern side of the island, a journey he described as "not easy," as he swerved around fallen rocks and trees.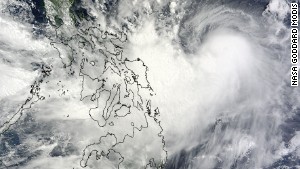 Typhoon Matmo projected to hit Taiwan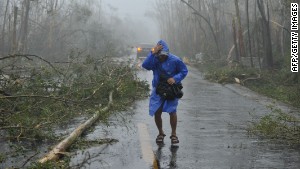 Super Typhoon Rammasun slams China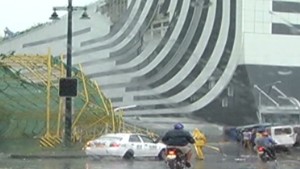 Typhoon Rammasun strikes Phillipines
Although the damage to buildings was still being assessed, Reynolds said many seem to have withstood the pounding winds.
"The infrastructure in Taiwan is built very well to withstand the wind so structural damage is to a minimum. But the electricity is out in small towns and villagers in the south east part of the island," he said.
Offices and school were closed, and flights were postponed or canceled, as residents braced for the typhoon's impact.
Matmo lost strength as it passed over Taiwan and was downgraded to a tropical cyclone. It's now heading across the Taiwan Strait to mainland China, according to the U.S. Joint Typhoon Warning Center and Taiwan's Central Weather Bureau.
It's projected to hit coastal provinces in eastern China, including Fujian, Zhejiang, Jiangxi and Anhui, according to Chinese state news agency Xinhua.
Typhoon Matmo comes on the tail of Super Typhoon Rammasun, which hit the Philippines last week and went on to cause havoc in southern China. More than 100 people were killed, mostly in the Philippines, as the storm downed buildings and caused flooding.
The China Meteorological Administration said Rammasun was the strongest storm to strike southern China since 1973.
Travelers are advised to check with their airlines about the status of flights in the region.
Today's five most popular stories
Part of complete coverage on
Severe weather
April 26, 2014 -- Updated 1358 GMT (2158 HKT)

Here are 10 facts about one of nature's most powerful forces.
August 7, 2013 -- Updated 1446 GMT (2246 HKT)

Get a glimpse of the weather events happening around the world by clicking through our photo gallery.
February 9, 2013 -- Updated 1057 GMT (1857 HKT)

In our increasingly digital world, a mobile phone or other portable device is often a one-stop communication device.
July 3, 2014 -- Updated 2339 GMT (0739 HKT)

Water jugs and batteries are not the only things to consider when extreme weather threatens.

All you need to know about keeping your food safe to eat and what to have on hand in the event of a weather emergency.
April 3, 2014 -- Updated 1453 GMT (2253 HKT)

Getting the latest warnings when tornadoes are headed your way and knowing what to do before, during and after one hits are all key to staying safe. A handful of apps can help you stay on top of impending dangerous weather.
May 30, 2013 -- Updated 1531 GMT (2331 HKT)

You've just that heard a tornado is headed directly toward you. You don't have a safe room, and you're not near a shelter. Do you hunker down and hope for the best or do you flee?
April 27, 2014 -- Updated 1531 GMT (2331 HKT)

Here are the 10 deadliest tornadoes to touch down in the United States, according to the National Oceanic and Atmospheric Administration:
July 17, 2013 -- Updated 2307 GMT (0707 HKT)

Weather experts agree: When lightning strikes, it's best to go indoors.
April 2, 2014 -- Updated 2011 GMT (0411 HKT)

A tornado is a funnel-shaped cloud that forms under thunderclouds and contains rapidly rotating air.