STORY HIGHLIGHTS
Samira Calehr's sons Miguel, 10, and Shaka, 19, were killed in MH17 crash
Calehr's middle son Mika was booked on a later flight because the plane was full
She says Miguel voiced fears the plane would crash while waiting at airport
Mother: "I said don't be silly, everything's going to be OK... I didn't listen to him"
Amsterdam, Netherlands (CNN) -- The mother of two brothers killed in the crash of Malaysia Airlines Flight 17 told CNN she regrets not taking her youngest son's fears about the flight more seriously.
Ten-year-old Miguel Calehr died alongside his older brother Shaka, 19, when the Malaysia Airlines jet came down in Ukraine, close to the border with Russia, last Thursday.
The pair were on their way to the Indonesian island of Bali for a fun-filled holiday with their grandmother.
Their middle brother, Mika, 16, was supposed to be on the flight too, but it was fully booked, and he had to take a seat on a later plane.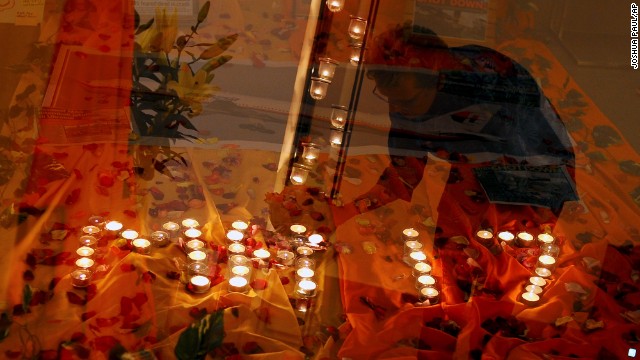 The passengers and crew aboard Malaysia Airlines Flight 17 came from around the world and held a wide range of hopes and dreams. While the identities of the 298 people aboard have not been release by the airline, CNN has been able to confirm some of them via family, friends and social media.
Karlijn Keijzer, 25, was a champion rower from Amsterdam who showed much passion and leadership in the United States as a member of the team at Indiana University in Bloomington, Indiana.
Miguel Calehr, left, and his older brother Shaka were both aboard the flight. They were on their way to Bali to visit their grandmother. Their middle brother, Mika, was supposed to be on the flight as well, but it was fully booked.
A 77-year-old teacher and Roman Catholic nun, Sister Philomene Tiernan, was on the flight, according to Australia's Kincoppal-Rose Bay School of the Sacred Heart. The school principal described Tiernan as "wonderfully wise and compassionate."
On Friday, President Barack Obama told reporters that an American, Quinn Lucas Schansman, was aboard. His Facebook page said he was a student at International Business School Hogeschool van Amsterdam.
The World Health Organization was able to confirm to CNN that their employee Glenneth Thomas was on board and heading to the International AIDS Conference scheduled to begin this weekend in Melbourne, Australia.
Shazana Salleh, a Malaysian national, was one of 15 crew members aboard.
Prominent Dutch scientist Joep Lange was a pioneer in HIV research and a former president of the International AIDS Society, which organizes the International AIDS Conference.
Jacqueline van Tongeren, partner of HIV researcher Joep Lange, was on the flight with him.
Medical student Andrei Anghel, 24, boarded Flight 17 on his way to vacation in Bali.
Darryl Dwight Gunawan, 20, was traveling home to the Philippines after a summer vacation with his family. His mother, Irene Gunawan, 54, and sister Sheryl Shania Gunawan, 15, were also aboard.
John Paulissen, his wife Yuli Hastini and their two children, Martin Arjuna and Sri were all aboard the flight.
Tessa van der Sande, an Amnesty International employee, was on the flight.
Angeline Premila Rajandaran was a flight attendant, one of the 15 crew on board.
A lover of French literature, Adi Soetjipto, 73, was returning home to Jakarta, Indonesia, after her annual visit to her mother in the Netherlands, nephew Joss Wibisono said.
Nick Norris and his three grandchildren, Otis, 8, Evie,10 and Mo, 12, were all aboard the flight.
Pim de Kuijer was also on his way to the International AIDS Conference.
Husband and wife Albert and Maree Rizk were among the passengers on board.
Musician Cor Schilfder was on vacation with girlfriend NeeltjeTol, a florist.
Shun Poh Fan and wife Jenny Loh were restaurant owners in the Netherlands.
Fatima Dycynski was an engineer and the founder and CEO of Xoterra Space.
Flight attendant Sanjid Singh Sandu swapped flights at the last moment on Thursday and boarded MH17 in Amsterdam so he could get home early, his parents told CNN.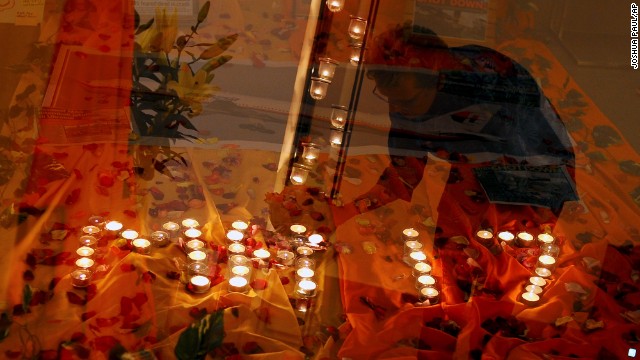 Photos: Malaysia Flight 17 victims remembered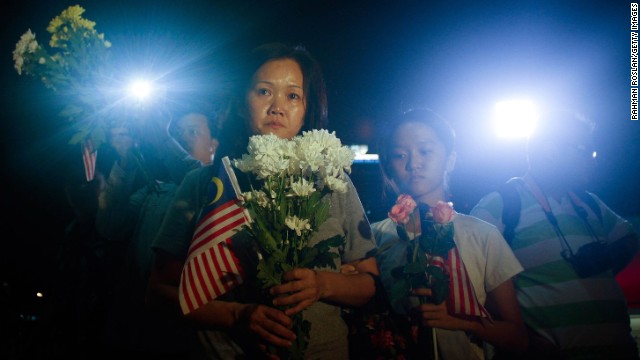 Families of crew members aboard Malaysia Airlines Flight 17 gather for a vigil Tuesday, July 22, in Kuala Lumpur, Malaysia. All 298 people aboard the passenger plane died when it was shot down Thursday, July 17, in a rebel-controlled part of eastern Ukraine.
A woman cries July 22 during a service near the crash site.
People in Melbourne gather to mourn the victims during a candlelight vigil at Federation Square on July 22.
In memory of two Newcastle United fans who died in the crash, two wreaths are placed on seats July 22 at the Forsyth Barr Stadium in Dunedin, New Zealand. The soccer fans were traveling to New Zealand to watch their team play in a preseason tournament.
A KLM employee reaches out into a sea of flowers July 22 at Schiphol Airport in Amsterdam, Netherlands.
A flower and stuffed animal sit near the crash site on Monday, July 21.
A woman in Kuala Lumpur attends a candlelight vigil on July 21.
Ukrainian President Petro Poroshenko attends a flower-laying ceremony at the Dutch Embassy in Kiev, Ukraine, on July 21. Although the passengers came from all over the world, many of them were Dutch because the flight originated in Amsterdam.
A woman places a flower during a candlelight vigil in Kuala Lumpur on July 21.
Mourners in Eynesbury, Australia, attend a memorial service Sunday, July 20, for a family of five killed in the disaster.
Buddhist monks in the Malaysian capital light candles during a special prayer for the victims on July 20.
Wildflowers lie on an engine from the crashed jet on Saturday, July 19.
Friends of Nur Shazana Mohamed, a crew member aboard the flight, take part in a special remembrance prayer at a mosque in Putrajaya, Malaysia, on July 19.
Dutch Prime Minister Mark Rutte signs a condolence register at the Ministry of Safety and Justice in The Hague, Netherlands, on Friday, July 18. "I want to see results in the form of unimpeded access and rapid recovery," Rutte said in a press briefing. "This is now priority number one."
People pray for the victims of Malaysia Airlines Flight 17 at a church outside Kuala Lumpur on July 18.
A woman in Berlin places a candle at a memorial on July 18.
People in Kiev gather to mourn the victims on July 18.
Akmar Binti Mohd Noor, whose sister was aboard Flight 17, cries outside the family holding area at Kuala Lumpur International Airport on July 18.
A man prays at a memorial in front of the Dutch Embassy in Kiev on July 18.
Dutch cyclists wear a black armband in honor of the crash victims during the 13th stage of the Tour de France on July 18.
Dutch Justice Minister Ivo Opstelten observes a moment of silence after signing a condolence book in The Hague on July 18.
Candlelight prayers honor the victims at a church outside Kuala Lumpur on July 18.
Floral tributes adorn the entrance to Schiphol Airport in Amsterdam.
A Dutch flag flies at half-staff in The Hague on July 18.
People place flowers in front of the Dutch Embassy in Moscow on July 18.
Students attend a prayer July 18 in Central Java, Indonesia. Their teacher John Paulissen was a passenger on Flight 17.
Russian President Vladimir Putin, center, and members of his government observe a moment of silence on Thursday, July 17.
People pay tribute to the victims outside the Dutch Embassy in Kiev on July 17.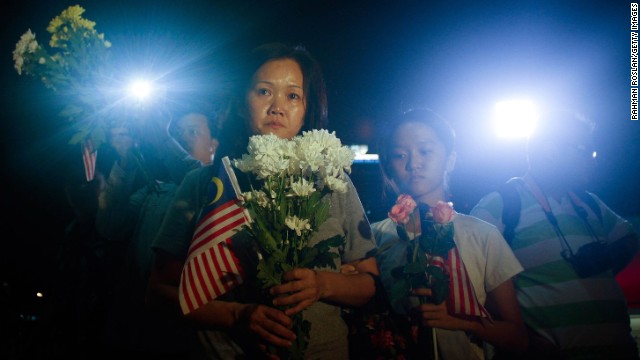 Photos: Reaction to MH17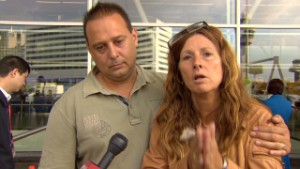 A mother's plea to Putin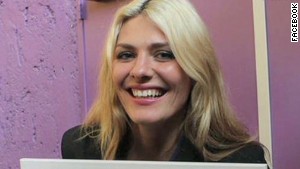 Mom of MH17 victim: 'She was beautiful'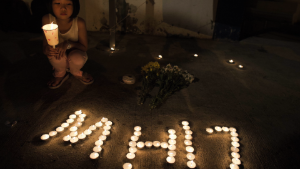 Remembering the young on flight MH17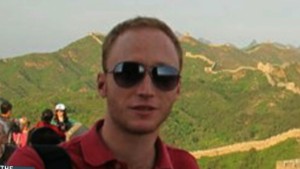 Brother remembers MH17 victim
Just hours before the flight was to depart for Kuala Lumpur, Malaysia, Miguel told his mother he was nervous.
"After entering the passport [line], he came back to me and said 'Mama, I love you. I'm happy to see Oma [Grandma], but I'm going to miss you,'" Samira Calehr told CNN.
Then, she said, he asked her, "'What happens when the plane will crash?'
"I said, 'Come on, don't be silly, you've been traveling already so many times. Everything's going to be OK.'"
It was the sort of pre-flight fear many travelers will be familiar with, brushed off by a casual remark parents all over the world are used to making.
But single mom Calehr says she now wishes she'd paid more attention to his worries: "If I could just turn back time. I didn't listen to him. I don't know, I have no words to say..."
Still stunned by the tragedy which has overtaken her family, she pleads: "Why didn't they take my life? They are still young, they still have a future. Why? Why the children? Why not me?"
Samira's brother Harun told CNN his nephew Mika was being "very brave" -- like his mother and grandmother.
"It comes in waves," he explained. "One minute they're completely distraught and inconsolable, and the other minute they're smiling and reminiscing and talking about the fun things that the boys did: the good things, the fun times, the memories."
Harun said the boys were good students. "They worked hard, they were honest, they were fun to be around." Above all, he said, "they were such a blessing to my sister. ... They were a joy to her, and the reason for her being."
The boys' grandmother, Yasmine Calehr, said the family was heartbroken: "Everybody is crying, everybody is losing something that belonged to them, but we feel like we have lost ourselves as well."
Harun said they were now focused on ensuring the boys' remains are repatriated to the Netherlands, where they can be given a proper farewell.
"As devastating as this process has been, we would like to have a grave, something to put into a grave... some remains or possibly the bodies intact to come home," he said.
Mika, now the only surviving son, told CNN he has lost his "best friends" but insists the bond he has with Miguel and Shaka will go on beyond the grave.
"It feels like they're already one with me now," he said. "They're my best friends, they're my brothers, and I feel like they're going to watch over me forever."
READ MORE: Unanswered questions about Flight MH17 READ MORE: Grieve with love, not revenge, says Lockerbie father READ MORE: 'Forgive us' plead MH17 tributes in Moscow
CNN's Erin McLaughlin reported from Amsterdam and Byrony Jones wrote from London. CNN's Don Lemon contributed to this report.