Making up is hard to do: LeBron sends cupcake apology to neighbors
updated 10:09 AM EDT, Wed July 23, 2014
STORY HIGHLIGHTS
LeBron James sends cupcakes to his neighbors in Cleveland by way of apology
NBA star's recent return to Cleveland has caused a commotion in his neighborhood
James recently signed for the Cavaliers, the team where he made his name
Cupcakes come with a note that says: "We are sorry for the chaos"
Follow us at @WorldSportCNN and like us on Facebook
(CNN) -- Delicious cupcakes can make pretty much any situation sweet.
So when NBA star LeBron James wanted to apologize to his neighbors in Cleveland for a recent bout of chaos he headed straight for the bakery.
His decision to re-sign for his hometown Cavaliers franchise prompted an explosion of joy in the city, and an explosion of interest in him.
News crews descended on his property in the Bath Township area of the city as well as fans after he announced he was coming home.
And his way of saying sorry to his community was to enlist a local bakery to deliver the treats on behalf of the LeBron James Family Foundation.
Contained within the boxes were six "Just A Kid From Akron Cherry Cola" cupcakes and six "Homecourt Chocolate Chunk" cupcakes.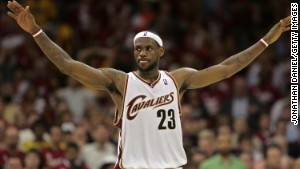 LeBron James: I'm coming home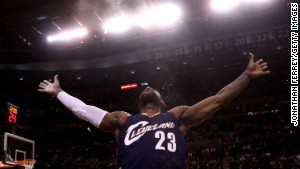 Cleveland rocks over LeBron's return
Attached to the cupcakes was a note that read: "Dear friends, we know things have been hectic in our neighborhood these past few weeks and we are sorry for the chaos.
"We are so thankful to live in this wonderful community and we are so blessed to have understanding neighbors like you."
James is one of the NBA's biggest stars and left the Cavs in storm of controversy in 2010 when he announced he was signing for the Miami Heat in a televised special called "The Decision."
A minority of Cavs fans still haven't forgiven James for walking out on his local team but he went on to win back-to-back NBA Championships with the Heat.
His announcement on July 11 prompted a wave of euphoria in Cleveland, with "Welcome Home" banners plastered all over the city.
Read: 'Stuff like this doesn't happen to Cleveland'