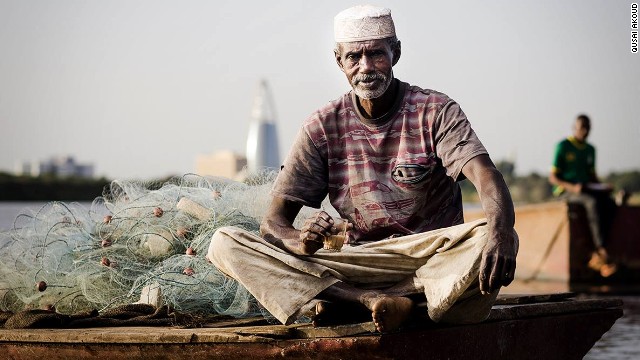 "Humans of Khartoum" is a photo series launched by Qusai Akoud to pay tribute to the people living in the Sudanese capital. Click through the gallery to read excerpts of Akoud's blog that go with the photographs he took in the streets of Khartoum.
"Since I was a toddler, I was so hyperactive and always anxious,"
said Jailani, a natural born break-dancer ..
. "Break dancing is essential to me like air is to my lungs."
I asked her where her husband was. She hesitantly answered that he had gone to Libya 7 years ago and there had been no word of him ever since. She had to work as a tea-lady to provide for her children and pay for their schools. She starts working at dawn everyday, and is done by sunset.
"Ninety-something. I'm from Nuba Mountains. I have children and 4 wives. I have 10 children from my older wife, 4 are dead, and the rest....The boys are now grandfathers and the girls grandmothers!"
Amm Saeed from Nuba Mountains - works as a watchman and helps out all the neighbourhood despite his not-so-young age. How old are you 'Amm Saeed?
"I've been living in Al-Emtidad since 1991, but I'm originally from Karkooj, Sinja, and I don't own a house in Khartoum. I live under this tree."
Some of the neighbors told me that Muntasir helps people around the neighborhood, refilling gas cylinders and buying electricity for people there. That's all he does, and he lives under this tree. - Where do you get the money?
"Money comes and goes, just like the shadows of the sun, it comes and goes."
- What's your biggest struggle right now?
"I don't have any problems, I am in peace.. you will not suffer if you're reasonable and understanding. I'm not struggling now, because I live by instinct , I live with whatever I find."
Farmer from Tuti Island.
Haj Abdallah Derwesh, an old farmer, lives alone in El Sunut Forest. He came to Khartoum in the early 1970's and settled in the area where the Petronas Tower resides now, but he had to move to the other side of the new Omdurman bridge 5 years ago ... - So, you've been here for a quite long time, and here's your land where you grow crops and here's your cattle, and that's the River Nile, everything seems great.... How've things changed here over time?
"Everything is not great here" he said firmly. "Over the years, this place attracted many people. Most people come on Fridays for picnics and boat trips along the Nile" he pointed over El Sunut forest, "this place has become very crowded."
"My name is Izzeldin, and this is my life long friend." Oh nice! How long have you been friends? They looked at each other, then Izzeldin's friend said: "A long time son, a very long time that both of us can't even remember."
Sorry sir, I didn't catch your name?
What do you do?
"I'm a carpenter, from Tanta - Egypt. I came here looking for opportunity."
What did you first notice about Khartoum?
"It's hard to find the good genuine materials, There's a lot of fake products and materials in the market"
What did you like about Khartoum?
"The people, they are very helpful and welcoming."
What's on your mind at the moment?
"Our [School of Math] next match with Faculty of Medicine. That's quite important to me!"
Why is it important?
"Basketball is my passion - right after horseback riding . [Faculty of] Medicine defeated us twice before, and I don't like losing! I mean I've graduated two years ago and I still play with the faculty team; I'm quite loyal to the faculty."
Abdelbagi, at 12 years of age, is a connoisseur and expert onion salesman at Soug Al-Oshara.
Hajja Zainab, one of the nomad Arabs, lives in an area close to the Nile, in northen Omdurman. Hajja Zainab sells firewood to earn a living for herself and her children.
"I want my daughter to grow up and become a strong educated woman."
A tribute to the people of Khartoum
A tribute to the people of Khartoum
A tribute to the people of Khartoum
A tribute to the people of Khartoum
A tribute to the people of Khartoum
A tribute to the people of Khartoum
A tribute to the people of Khartoum
A tribute to the people of Khartoum
A tribute to the people of Khartoum
A tribute to the people of Khartoum
A tribute to the people of Khartoum
A tribute to the people of Khartoum
A tribute to the people of Khartoum