STORY HIGHLIGHTS
Candidate Prabowo Subianto criticizes country's election commission
Election commission: Joko "Jokowi" Widodo won election with 53% of votes
Prabowo's team to file legal challenge by Friday
Jakarta, Indonesia (CNN) -- Indonesia's presidential candidate, Prabowo Subianto, who slammed the country's election commission and rejected the official results of the vote held earlier this month, appears poised to launch a legal challenge.
A member of Prabowo's legal team said they plan to file a complaint against the election commission at the Constitutional Court on Friday. The court has until August 21 to make a ruling.
His opponent, Joko "Jokowi" Widodo, won Indonesia's presidential race with 53% of the votes over Prabowo's 47%, the country's election commission announced on Tuesday.
Hours before the release of the voting results from ballots cast on July 9, Prabowo criticized the election commission, citing what he called "massive, structural and systematic cheating." In his speech carried live, he declared: "We withdraw ourselves from the process."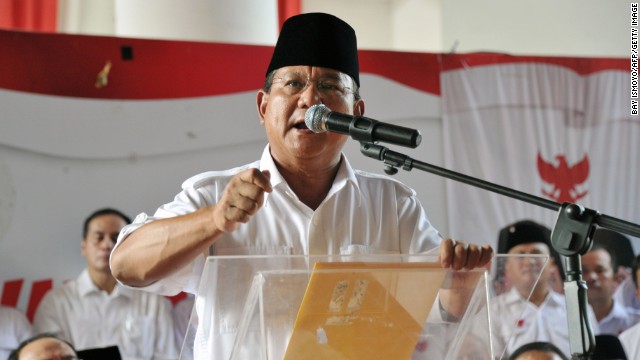 Indonesian presidential candidate Prabowo Subianto says he's withdrawing from the election process prior to the vote count announcement in Jakarta on July 22.
Indonesian police secure the area around the General Elections Commission building in Jakarta on prior to the election count announcement. The presidential election was held July 9.
Indonesian presidential candidate Joko Widodo greets his supporters as he declares victory in the election. But official election results are expected July 22.
Indonesian presidential candidate Prabowo Subianto greets supporters as the vote count continues.
A man tallies the vote count at a Jakarta polling station after the presidential election.
Supporters of Indonesian presidential candidate Prabowo Subianto gather inside a convention center in Jakarta on July 9.
Indonesian presidential candidate Prabowo Subianto casts his ballot at a Bojong Koneng polling station on July 9.
Indonesian presidential candidate Joko Widodo, at left, and his wife Iriana, show their inked fingers after casting their ballots during the presidential election in Jakarta on July 9.
A Balinese woman inks her finger after voting in the presidential election in Bali on July 9.
Children wait for their parents who vote in the presidential election in Bali on July 9. As the world's third-largest democracy held an election for a new president.
An Indonesian woman gets ink on her finger to indicate she has cast her ballot in Jakarta.
Presidential candidate Joko "Jokowi" Widodo visits a traditional market during his campaign in Jakarta on June 30. Known for his folksy and humble demeanor, Widodo symbolizes a new breed of leadership to his admirers.
Presidential candidate Prabowo Subianto, at left, and running mate Hatta Rajasa wave to supporters during a campaign rally on June 22. Prabowo was a special forces commander under the regime of his former father-in-law Suharto.
Members of an Islamic party supporting presidential candidate Prabowo Subianto attend a campaign rally in Jakarta on June 22. For his supporters, Prabowo has the qualities of a firm and decisive leader.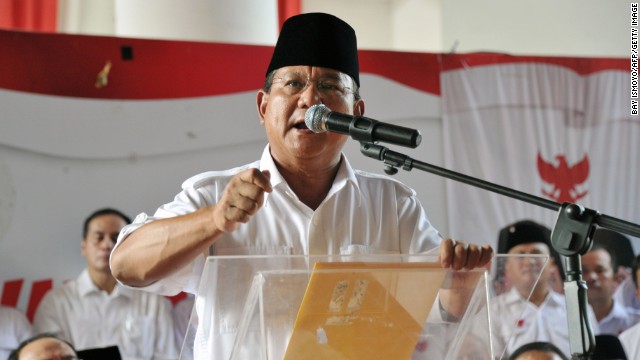 Gallery: Indonesian Presidential Election
His statement drew confusion and uncertainty.
But on Wednesday, his brother and business tycoon Hashim Djojohadikusumo said, "Let me be clear, Prabowo never withdrew as a candidate for president."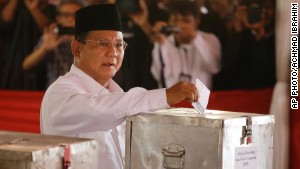 Indonesia at a crossroads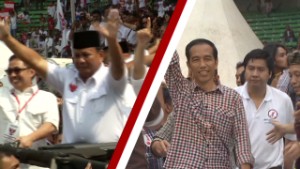 Indonesia democracy and religion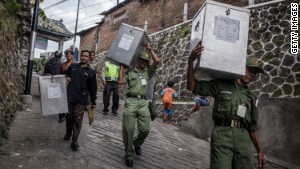 Polls open in Indonesia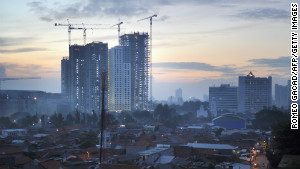 Challenges await next Indonesian president
He said they would have accepted the results, whether the former lieutenant-general won or not, if they believed the vote count was fair.
READ: Comparing the candidates
"We continue to have grave concerns about the integrity of the electoral process in a number of provinces," his brother said. "An estimated 52,000 polling stations have reported irregularities, putting an estimated 21 million votes in question. The indication of massive fraud and widespread irregularities is overwhelming."
Congratulations for Jokowi
Meanwhile, congratulations from the United States, Singapore, Malaysia and other nations poured in for Indonesia's president-elect.
Widely known as "Jokowi," he has drawn comparisons to Barack Obama for his unlikely ascent, from growing up in humble origins to becoming a national politician.
On Tuesday, he delivered a speech aboard a traditional Indonesian boat, calling for national unity in the world's most populous Muslim nation.
READ: Winner of race breaks the mold
"I ask you to heal your relations within your family, with neighbor to neighbor and with friends that were once broken."
The new president will be inaugurated on October 20.
CNN's Kathy Quiano reported from Jakarta, Indonesia and Madison Park wrote from Hong Kong. CNN's Jason Hanna contributed to this report.