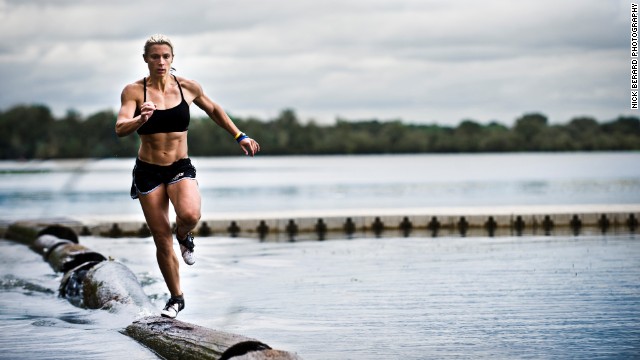 Shana Verstegen is a world champion lumberjack athlete and an
ACE-certified personal trainer
. "The common thread running through all lumberjack events is the need for speed, core strength and power," Verstegen says. Want to train like a lumberjack without the logs? Follow Verstegen's custom workout.
By far the most dangerous event in lumberjack sports, Verstegen says, is the speed climb. Athletes climb up 60- or 90-foot spar poles and descend back to the ground at lightning speed.
TRX Suspension Trainer
at mid-length, stand facing the anchor point and center one foot. Keeping the working knee in line with your middle toes, lower the hips down and back. Keeping an upright posture, use the suspension trainer and your leg strength to help pull you back to the starting position.
TRX single-leg squats will give you the leg and upper body power needed for this event. With your
Before the existence of chainsaws, axes were used to cut felled trees into logs. In the underhand chop event, the competitor stands on top of a horizontally supported log driving ax blows straight down between their legs.
To simulate the downward power and core strength needed for this event, use a heavy medicine ball. With feet slightly wider than shoulder-width apart, reach the heavy ball above your head and stand on your toes to create a stretch. Dropping the hips down and back, force the heavy ball into the floor. Drop into your deep squat to retrieve the ball and return to the starting position.
In the standing block chop, the lumberjack must cut through 12 to 14 inches of a vertical log.
The TRX Rip Trainer is designed to build rotational stability, speed and power, Verstegen says, which is exactly what an axman needs. Grasp the trainer with your left hand palm down at the very end, and the right hand palm up in the middle, while standing sideways. By simultaneously pushing and pulling, drive the power end of the trainer to the other side of your body.
Verstegen, left, competes in the logrolling event at the Lumberjack World Championship in 2011. Using foot maneuvers and endurance, the athletes try to dislodge their opponent into the water.
Logrolling is all about balance, agility and foot speed, which can be gained using an agility ladder. Standing sideways in the ladder, take four fast steps inside the ladder, then four fast steps outside, moving from rung to rung.
The one-man cross-cut saw is also known as the "misery whip" for the physical toll it takes on a lumberjack's body, Verstegen says. Keeping the saw as even as possible, the athlete must make one cut through a horizontal log.
Rotational power is essential for this event as well. With the TRX Suspension Trainer in mid-length position, grab one handle -- toes pointing toward the anchor point -- and open the body up. While maintaining a tight plank and engaging behind the working shoulder blade, rotate 180 degrees up, ensuring a constant tension on the suspension trainer.
Lumberjack moves you can use
Lumberjack moves you can use
Lumberjack moves you can use
Lumberjack moves you can use
Lumberjack moves you can use
Lumberjack moves you can use
Lumberjack moves you can use
Lumberjack moves you can use
Lumberjack moves you can use
Lumberjack moves you can use
Lumberjack moves you can use