Paris hotels experiment with 'honesty rates': What would you pay for a stay?
July 24, 2014 -- Updated 1233 GMT (2033 HKT)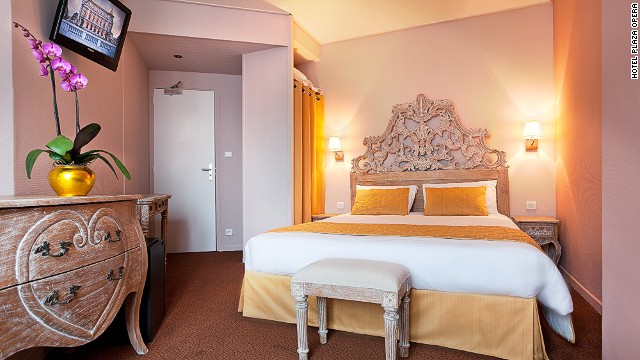 The three-star
Hotel Plaza Opera
in Paris is one of five hotels that have signed up to a new pay-what-you-want concept during the peak summer season.
The pay-what-you-want concept is the brainchild of hotelier Aldric Duval. It's a "trust contract," he says.
Duval says he struck on the idea for his pay-what-you-want concept after running a successful honesty bar at his
Duva says in theory, guests at his Tour d'Auvergne hotel could pay as little as one euro -- but he believes most will "play the game."
Villa Boheme
in Paris has also signed up to the pay-what-you-want concept. Duval says he's been contacted by other hotels in the city and elsewhere in France.
The
Duval says the government needs to reduce taxes at hotels like the Villa Boheme in Paris to make the city more attractive to tourists.
How much would you pay for these rooms?
Hotel Plaza Opera
Hotel Tour d'Auvergne
What would you pay?
Villa Boheme
Friendly to tourists?
STORY HIGHLIGHTS
Five hotels in Paris have signed up to the pay-what-you-want scheme during peak summer months
Hotelier Aldric Duval says the plan is to create a "trust contract" between client and hotel
He says guests could pay one euro for a hotel room but believes most will "play true"
(CNN) -- When your city has an unenviable reputation for insulting tourists and fleecing them for every cent, inviting hotel guests to pay what they want could be a risky move.
That's the experiment being tested by several hotels in the French capital during the height of the summer season.
"It's something like a trust contract between the client and the hotel," says Aldric Duval, who came up with the "Payez ce que vous voulez" (Pay what you want) concept as a gimmick to promote Tour d'Auvergne, his three-star hotel in the city's Opera district.
Duval has recruited four other city center hotels, variously rated with three and four stars, to the scheme which runs from July 21 to August 10.
He tells CNN he struck on the idea after successfully running an honesty bar that left it up to guests to declare their booze consumption at check-out. In the City of Light, it seems hotel guests are not generally light fingered.
Allowing them to choose their own room rates -- instead of paying typical charges of about $250 -- will not only bring in the punters, but will also give the hotel valuable feed back, he adds.
"We put guests at the heart of the system and we transform them into a mystery customer. They will look at the hotel with a new eye and if they play true in this game, it can work."
If guests decide their stay is barely worth a dollar -- or euro, this being Paris -- then it could it could also wind up being an embarrassing financial disaster.
Duval doesn't think so.
MORE: And the most expensive tourist city is...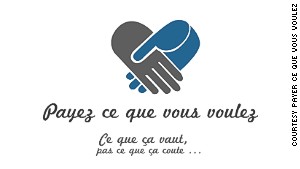 The pay what you want scheme's logo
Friendlier to tourists
"If the client wants to pay one euro, there's nothing I can do, but people will know that this approach is not a good deal, we'll explain it's not fair if they pay one euro."
"We could have run a promotion offering free rooms to the first 15 people to answer a question on our Website, but we've decided to do this instead."
Duval says the scheme has attracted interest from other hotels in Paris and elsewhere in France, with several in Cannes and Nice planning similar deals for the winter low season.
The pay-what-you-want scheme follows recent comments by France's foreign minister, Laurent Fabius, that the country needs to be friendlier and more accommodating to visitors if it want to protect an annual tourism income of $16 billion.
Duval said his scheme wasn't a response to this and complained that the government should be doing more to help hoteliers during tough economic times.
"To be friendly to the tourists Laurent Fabius must cut the hotel taxes and charges, then Paris will be better and more attractive and not so expensive."
It's unlikely, however, that Fabius will let them set their own tax rates.
What would you pay if you could choose your room rate? Let us know in the comments.
MORE: France admits it needs to be friendlier to tourists

Today's five most popular stories
Part of complete coverage on
November 16, 2014 -- Updated 2326 GMT (0726 HKT)

Take a trip to the Chinese town that has more relics than people.
November 13, 2014 -- Updated 1742 GMT (0142 HKT)
You know about reggae and Usain Bolt -- but you probably aren't aware of these other Jamaican superlatives.
November 14, 2014 -- Updated 1152 GMT (1952 HKT)

Artist creates brilliant tribute to Dutch impressionist painter -- a cycle route that glows in the dark
November 14, 2014 -- Updated 0633 GMT (1433 HKT)

European airlines beware: These 320kph trains are upping the travel game with roomy seats and onboard wi-fi.
November 13, 2014 -- Updated 1053 GMT (1853 HKT)
For such a relatively small collection of islands, the UK packs in an phenomenal range of beautiful scenery.
November 12, 2014 -- Updated 2237 GMT (0637 HKT)

Rovos Rail's epic trips out of South Africa pamper passengers with fine dining, vintage comfort and even a bathtub.
November 18, 2014 -- Updated 0137 GMT (0937 HKT)

Self-taught Iranian photographer gains rare access to shoot religious buildings as they've never been seen.
November 11, 2014 -- Updated 0345 GMT (1145 HKT)

The subject of erotica has a way of making people uncomfortable.
November 7, 2014 -- Updated 0037 GMT (0837 HKT)

UK's Heathrow Airport pairs destinations with fragrances to evoke long distance travel. We do too.
November 6, 2014 -- Updated 2100 GMT (0500 HKT)

Bumper cars, a freefall simulator and robot bartenders are just a few of the cool features on Royal Caribbean's new Quantum of the Seas.
November 2, 2014 -- Updated 2258 GMT (0658 HKT)

Up in the mountains and across deep chasms, these bridges are both spectacular and terrifying.