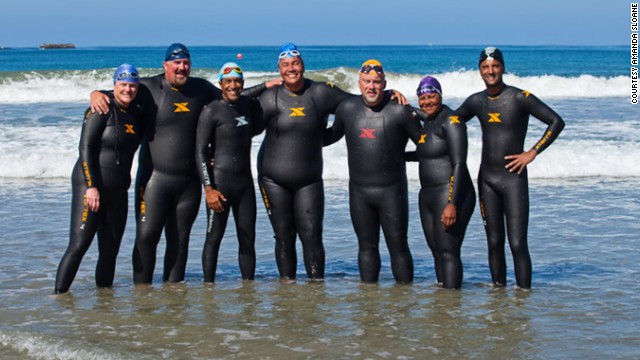 The Fit Nation "
Sassy Six
" spent seven days in San Clemente, California, training for the upcoming Nautica Malibu Triathlon with their CNN coaches. From left: Connie Sievers, Mike Wilber, Dr. Sanjay Gupta, Sia Figiel, Ron Cothran, Karen Manns and Jamil Nathoo.
Sia Figiel shows off her arm muscles with some tricep dips at Lifetime Athletic. "I am amazed at the strength I'm finding," she said.
Mike Wilber works his arms and core in the plank position. "The midway trip turned into a personal journey for me," Wilber said. "It wasn't the physical challenge as much as a mental challenge. Something that I thought I couldn't do or wouldn't be able to do -- and now I have done it."
If you have to ride a stationary bike, this is the place to do it.
Ron Cothran tests his cardio endurance. "This week proved to me that there is an athlete inside me that wishes to come out and play," he said. "What I thought in the past to be impossible is now becoming reality."
Karen Manns gets a few swimming tips from Paula Newby-Fraser, an Ironman World Champion.
Connie Sievers, front, works on her swim form. " 'The process' does work!" she said. "Healthy lifestyle changes can happen with time and perseverance."
Manns goes for a ride. The Fit Nation team cycled about 45 miles during their weeklong trip.
is a cancer survivor
; he was training for an Olympic triathlon before he was diagnosed. Now he's determined to finish what he started.
Jamil Nathoo works his hamstrings and gluteus maximus. Nathoo
Figiel takes a moment to compose herself as Manns and Ironman champ Newby-Fraser offer comfort. "I have a propensity to put on the brakes whenever I feel I'm going 'downhill' in my life, and I'm now learning that it's OK to let go," Figiel said. "Letting go of my fears and trusting myself is a lesson I've learned."
Dr. Sanjay Gupta completes an ocean swim with the Sassy Six.
The Fit Nation team completed a mock triathlon on their last day, racing against each other for bragging rights. From left: Karen Manns, Mike Wilber, Connie Sievers, Ron Cothran, Sia Figiel and Jamil Nathoo. Nathoo crossed the finish line first.
Training for a triathlon
Training for a triathlon
Training for a triathlon
Training for a triathlon
Training for a triathlon
Training for a triathlon
Training for a triathlon
Training for a triathlon
Training for a triathlon
Training for a triathlon
Training for a triathlon
Training for a triathlon
Training for a triathlon
STORY HIGHLIGHTS
It's normal to experience mild panic in your first triathlon swim
Your triathlon run pace will be slower than your normal running race pace
Use a brightly colored towel or chalk mark to guide your transitions
Editor's note: Each year CNN picks six viewers to be a part of the Fit Nation Triathlon Challenge program. Follow the "Sassy Six" on Twitter and Facebook as they train to race the Nautica Malibu Triathlon with Dr. Sanjay Gupta on September 14.
(Triathlete.com) -- Tackling your first triathlon? Even the best triathletes in the world started somewhere -- and made their share of rookie mistakes.
Ironman world champion and Olympic silver medalist Michellie Jones wore her bike helmet backward at the same race two years in a row before getting it right. Mistakes happen, and no question is stupid -- especially when learning something new.
Here, we anticipate some of the questions and common pitfalls that arise for newbies navigating multisport.
I'm scared of the swim. What should I do?
It's normal to experience mild panic in your first triathlon swim, especially in a mass start. It's OK to take a break and breaststroke, or even hang onto an official's kayak (as long as you don't use it to make forward progress) to catch your breath.
Minimize the chaos by starting toward the back and to the side, out of the main pack, until your swim confidence increases.
Triathlete.com: Remaining calm in open water
I'm an experienced runner -- why do I feel so awkward when I start the triathlon run?
Running off the bike is an entirely different beast than straight running, at least at the start. You'll feel strange as your muscles adapt to a different body position and different demands.
Begin slowly and allow your body to adjust, and after 15 to 20 minutes you'll settle into your normal running rhythm. Also note that your triathlon run pace will almost always be slower than your pace in a standard running race.
Triathlete.com: Questions to ask at a bike shop
How will I find my gear in a crowded transition area?
Use a brightly colored towel (or, if allowed, a little chalk art signal on the ground) to easily identify your place. On race morning, familiarize yourself with the transition layout and the "in" and "out" entrances and exits for the swim, bike and run.
Toward the end of the swim, rehearse in your head what you'll do when you reach T1. Likewise, toward the end of the bike, rehearse for T2.
What and when should I eat and drink?
You'll learn through trial and error in training and racing what works best for you nutrition-wise.
Be sure to take in plenty of electrolytes (via sports drink) in the days before a race -- water alone will flush vital sodium and potassium from your system. Eat an early pre-race dinner; something simple to digest that your body is used to.
Triathlete.com: Is dietary variety overrated?
For race day breakfast, eat a few hours before the start and stick to simple foods such as oatmeal, toast and bananas. During the race, consume roughly 300 calories per hour from a combination of energy gels (the easiest to digest), chews or bars and sports drink, and sip some water at each aid station on the run.
For more beginner tips, visit Triathlete.com.
© 2011 The Competitor Group. All rights reserved.