STORY HIGHLIGHTS
Alexander Motyl says Putin has promoted, supplied Russian and pro-Russian terrorists
Motyl: Putin was member of brutal secret police and behind invasions in Georgia, Ukraine
He is evil enough for all to condemn, Motyl says; countries' silence implies approval
Motyl: France, Germany must end economic ties with Russia; EU must take a moral stand
Editor's note: Alexander J. Motyl is professor of political science at Rutgers University-Newark. He was associate director of the Harriman Institute at Columbia University from 1992 through 1998. A specialist on Ukraine, Russia and the former Soviet Union, Motyl is the author of six academic books and several novels, including "The Jew Who Was Ukrainian," "My Orchidia" and "Sweet Snow." He writes a weekly blog on "Ukraine's Orange Blues" for World Affairs Journal. The opinions in this commentary are solely those of the author.
(CNN) -- Vice President Joe Biden recently confided a sensational bit of news to the New Yorker magazine: In a 2011 meeting with Vladimir Putin, he had actually told Russia's then-prime minister that he had no "soul." Even more remarkable was Putin's response. "And he looked back at me, and he smiled, and he said, 'We understand one another.' "
Many people -- in Ukraine, Europe, America and even Russia -- probably share Biden and Putin's estimation of the Russian president's spiritual condition. In saying Putin has no soul, it means he seems to lack both the capacity to feel emotions and to show empathy.
Russia's leader certainly has a long record of inhumanity. He was an agent of the Soviet secret police, a criminal institution with a record that goes back to the purges of Stalin, a record more bloody than that of the Nazi SS.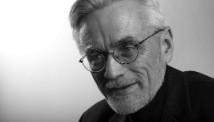 Alexander Motyl
John Dunlop of Stanford's Hoover Institution wrote in "The Moscow Bombings" that there is strong evidence to suggest that Putin was in on the plot to bomb two apartment buildings in Moscow in September 1999, in which 300 Russian citizens were killed and several hundred others were wounded. He says the bombings were blamed on Chechen rebels as a pretext to invade Chechnya.
Putin has funded, promoted, supplied and aided and abetted the Russian and pro-Russian terrorists in eastern Ukraine. And by invading Crimea, he created the conditions of war, hatred and fanaticism that led to the destruction of 298 innocent lives aboard Malaysia Airlines Flight 17 on that day of infamy, July 17.
Who are Ukraine's pro-Russia rebels?
Is Putin evil? His actions certainly are, if by evil we understand behavior that willfully, consciously and purposely destroys human life. Perhaps we can call his actions undeniably evil and Putin himself "evil enough." Evil enough for what? Evil enough for condemnation by people of good will.
How rebels in Ukraine built up an arsenal capable of reaching the skies
If Putin is "evil enough," what are the implications for policy-makers?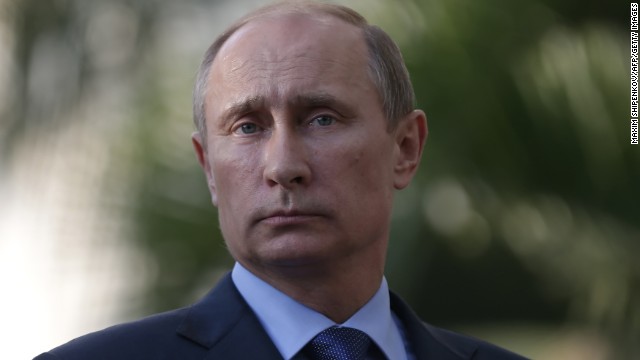 Russia's President Vladimir Putin is a popular but polarizing figure who has dominated Russian politics for more than a decade. Click through to see some highlights of his career.
Putin serves as the chairman of the Foreign Relations Committee of the City Council in St. Petersburg from 1991 to 1994. Before becoming involved in politics, he served in the KGB, a Soviet-era spy agency, as an intelligence officer.
Russian President Boris Yeltsin, right, shakes hands with Putin during a farewell ceremony at the Kremlin in Moscow on December 31, 1999. Putin rose quickly through the political ranks, becoming the second democratically elected president of the Russian Federation in 2000.
President-elect Putin watches the tactical exercises of Russia's Northern Fleet in the Barentsevo Sea on April 6, 2000. He has been at the helm during a decade of Russian economic growth fueled by natural resources of gas and oil.
A Russian cadet snaps a picture with Putin in Moscow's Red Square on May 9, 2007, during an annual celebration of the end of World War II. Putin has pushed to modernize Russia's military.
Putin attends an inauguration ceremony for president-elect Dmitry Medvedev at Moscow's Kremlin on May 7, 2008. Putin was constitutionally obliged to stand down as president but stayed close to power, becoming prime minister.
Putin vacations outside the town of Kyzyl in Southern Siberia in 2009. Over the years he has earned a reputation as a "strongman," declaring a crackdown on Chechen militants a priority in his first presidential term.
President Barack Obama meets Prime Minister Putin at his home in Novo Ogaryovo, near Moscow, on July 7, 2009. Putin said Russia was pinning its hopes on Obama to revive ties with the United States.
A worker takes down a giant elections poster bearing a portrait of Putin on October 13, 2009, in Moscow. Putin's party tightened its grip on Russian politics with a sweeping victory in local elections, officials said, as the opposition alleged widespread fraud.
Russian President Medvedev and Prime Minister Putin ski together in Krasnaya Polyana, near the Black Sea resort of Sochi in southern Russia, on January 3, 2010.
Putin takes part in a judo training session at a sports complex in St. Petersburg, on December 22, 2010. The Russian leader holds a black belt in judo.
Putin receives a medical consultation during his visit to the Smolensk Regional Hospital on August 25, 2011. Putin said he hurt his shoulder during morning judo practice.
Putin speaks to supporters at a Moscow rally on February 23, 2012. He won the presidential election in March, with just under 65% of the vote. Former President Medvedev became his prime minister.
A topless protester shouts at Putin and German Chancellor Angela Merkel, center, during their visit to the Hanover Industrial Fair in central Germany on April 8. Human rights groups say civil liberties and democratic freedoms have suffered during Putin's rule.
Putin addresses the media during his visit to Hanover on April 8.
Putin and his wife, Lyudmila, ended their nearly 30-year marriage, the state-run news agency reported on June 6.
Putin, center, poses for a photo with Russian Olympic athletes in Sochi, Russia, on February 24. Russia hosted the Olympic Games and won the most medals.
Putin, center, and Defense Minister Sergei Shoigu, left, arrive to watch a military exercise at the Kirillovsky firing ground in Russia's Leningrad region on March 3.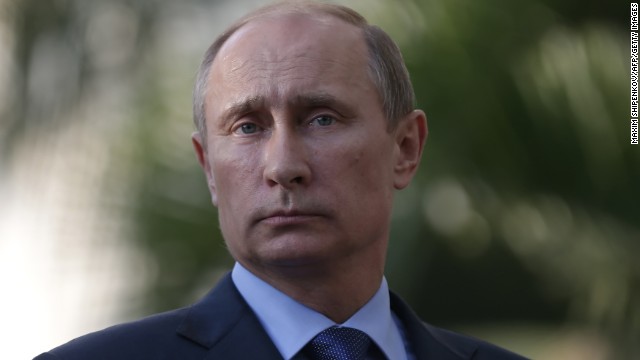 Photos: Putin in power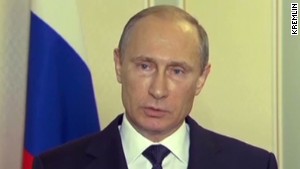 What is Putin's game plan after MH17?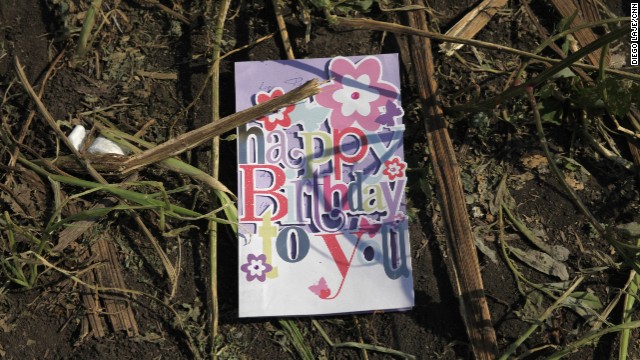 A birthday card found in a sunflower field near the crash site of Malaysia Airlines Flight 17 in eastern Ukraine, on Thursday, July 24. The passenger plane was shot down July 17 above Ukraine. All 298 people aboard were killed, and much of what they left behind was scattered in a vast field of debris.
A classical music record is seen among the sunflowers on July 24.
A shoe, appearing to be brand new, sits under foliage at the crash site.
Two Dutch passports belonging to passengers lie in a field at the site of the crash on Tuesday, July 22.
Clothing, sunglasses and chocolate are seen on July 22.
More sunglasses and a travel guide lie in the field on July 22.
A doll is seen on the ground on Saturday, July 19.
A single shoe is seen among the debris and wreckage on July 19. There has been concern that the site has not been sealed off properly and that vital evidence is being tampered with.
Pieces of a wristwatch lie on a plastic cover at the crash site.
Books, bags, a tourist T-shirt. Ukraine's government said it had received reports of looting, and it urged relatives to cancel the victims' credit cards. But a CNN crew at the scene July 19 said it did not see any signs of looting.
Passports were scattered across the large field.
Playing cards and euros are seen at the crash site.
A travel guide and toiletries.
Luggage on Friday, July 18.
An empty suitcase is cordoned off near the plane's impact site on Thursday, July 17.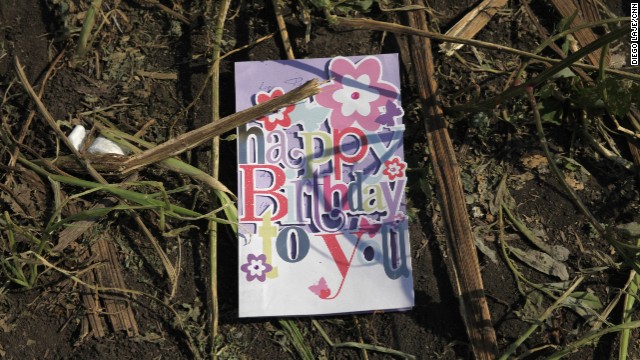 MH17: What they left behind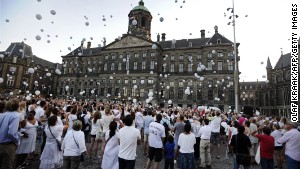 The Netherlands honors MH17 victims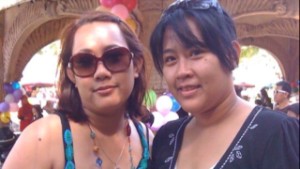 Sister gives up seat on Flight 17
First, they should openly state that they condemn Putin's behavior. Because silence implies approval, policy-makers must understand that their moral standing, like that of the countries they represent, is on the line. Evil is indivisible. If they refuse to condemn this instance, they effectively surrender the right to condemn any instance of evil.
Second, they should refuse to shake his hand, engage in chitchat, attend photo ops with him and in any way create the impression that they accept his behavior as a socially acceptable. German Chancellor Angela Merkel would not hobnob with a German neo-Nazi; President Barack Obama would not have drinks with the head of the Ku Klux Klan. By extension, neither of them should hobnob with Putin at World Cup soccer games.
Third, policy-makers should avoid doing anything that aids and abets Putin's proclivities. Since those proclivities largely rest on his ability to employ armaments to cause death, any form of assistance to Putin's war machine or repressive apparatus is the moral equivalent of supplying barbed wire and bullets to Auschwitz. Two examples will illustrate this point.
The Dusseldorf-based German defense company Rheinmetall is manifestly abetting Putin's evildoing by continuing to insist that it has "to meet its contractual obligations with Moscow and finalize a combat simulation center where up to 30,000 soldiers could be trained annually." Since Rheinmetall signed the contract with Russia in 2011, when Putin's record was already on full display to the world, it cannot claim ignorance of Putin's evil intentions.
France's continued determination to supply the Putin war machine with two Mistral-class assault ships is no less of a moral outrage.
As Robert C. O'Brien, a former U.S. representative to the United Nations, argues, "With the downing of Malaysia Airlines Flight No. 17, it should now be clear to all observers that Russia is fully intent on subjugating and intimidating its former Soviet constituent states and Warsaw Pact allies, and will do so with the most advanced weapons in its inventory.
"There is no reason to believe that the Mistral-class warships, once in the Russian Navy, will not also be used in the Black Sea, Baltic and Pacific to further increase the pressure on Russia's neighbors. Given its recent history, Moscow should not be handed another military tool of the Mistral-class magnitude."
This does not mean that morally concerned policy makers should refrain from talking to him entirely. As professor Walter Clemens, an associate of Harvard's Davis Center, argues in a fascinating paper, "Can -- Should -- Must We Negotiate with Evil?": "If a cruel dictatorship is willing to negotiate security arrangements likely to limit arms competition and make war less likely, democratic governments should engage and seek verifiable arrangements."
So, yes, according to this logic, talk to Putin about making "war less likely" in eastern Ukraine and talk to him about limiting "arms competition." Otherwise, shun him and everything he stands for.
Opinion: Are the pro-Russian rebels terrorists?
Such countries as France and Germany, which have extensive economic relations with Russia, face a difficult moral choice. They must ask themselves whether Putin is evil or evil enough. If they decide his killing spree in eastern Ukraine is neither evil nor evil enough, they must explain -- to themselves and to the rest of the world -- just why they believe the destruction of Ukrainian, Russian, Malaysian, Dutch and other lives is not a form of evil behavior.
If, alternatively, Putin's behavior strikes them as evil, they must either act on that conviction, in the manner suggested above, or explain to themselves and the rest of the world just why their enhancing Putin's war-making proclivities is not wrong.
Pentagon: Russia getting ready to send more powerful weapons into Ukraine
Ultimately, France and Germany, as well as all countries that aid and abet Russia's destructive capabilities, have to decide whether they care more about values or about money. Dictatorships can answer that question easily: Their leaders are indifferent to values.
Prosperous capitalist democracies, and especially prosperous capitalist democracies that are part of a self-styled community of values called the European Union, cannot take the easy way out and pretend values do not matter. In the final analysis, the willingness of France, Germany and all the other states making up the European Union to respond to Putin's evil doing will determine the moral fate of the EU. If they sacrifice morality to arms contracts or gas, the EU will have lost its rasion d'etre. Worse, like Putin, it will be without a soul.
Read CNNOpinion's new Flipboard magazine
Follow us on Twitter @CNNOpinion.
Join us on Facebook.com/CNNOpinion.