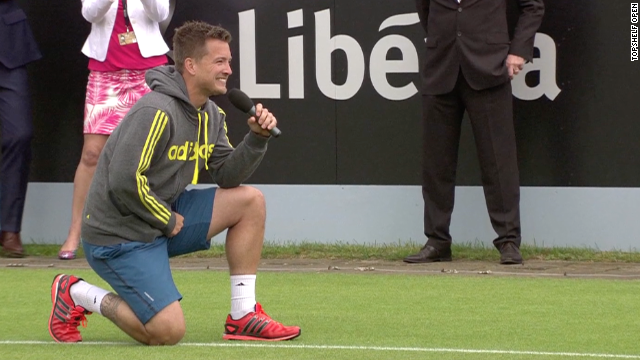 Martin Emmrich got down on one knee as he proposed to his girlfriend and fellow tennis player Michaella Krajicek at the Topshelf Open in the Netherlands in June.
Applause and cheers rang through the stadium as the crowd realized what he was doing.
An emotional Emmrich couldn't control himself as he stood there in front of his wife to be.
Although Emmrich had been planning this for months, Krajicek had no idea.
In front of an overjoyed audience, Emmrich placed an engagement ring on his fiancee's finger.
"I'd never date a tennis player," Krajicek had said previously. Emmrich has surely changed her mind.
A former junior world No. 1, Krajicek won the U.S. Open girls' title in 2004, having lost in the previous year's final.
Her older brother Richard, right, won the prestigious Wimbledon title in 1996, and reached two other grand slam semifinals.
After struggling with her health in recent years, the Dutch player has had more success in doubles, winning six titles on the WTA Tour. Here she celebrates with Karolina Pliskova (left) after their success in Nuremberg in May.
Although relatively unknown, doubles specialist Emmrich has won three ATP Tour titles in partnership with fellow Germans Andre Begemann and Christopher Kas. He represented his country in the Davis Cup for the first time in 2013.
A very public engagement
A very public engagement
A very public engagement
A very public engagement
A very public engagement
A very public engagement
A very public engagement
A very public engagement
A very public engagement
A very public engagement
STORY HIGHLIGHTS
Martin Emmrich proposed to his girlfriend on court at Dutch tournament
Michaella Krajicek was able to make a new memory at venue where she had suffered in past
The couple are partners in mixed doubles competitions
Open Court is CNN's monthly tennis show. Click here for videos, news and features.
(CNN) -- On a small tennis court in the Netherlands, love took center-stage.
It had all the ingredients of a romantic fairytale -- the nervous suitor down on one knee in front of a crowd of strangers, hoping that months of planning would win the heart of the girl of his dreams.
"I didn't cry once when I practiced it in front of the mirror, it was the nerves that kicked in when I went on the court," Martin Emmrich, a doubles specialist seeking to find his life partner, told CNN's Open Court show.
"I was very afraid that I wouldn't find any words."
The German had met his love at the same tournament 12 months earlier -- but apart from that, the venue didn't hold great memories for her.
"She fainted once on that court, had a knee injury on that court," Emmrich explains.
Fast forward to June 2014, and Michaella Krajicek had just won her opening match of the Topshelf Open, which hosts both men's and women's competitions, when Emmrich made his big move.
To her surprise, Emmrich came onto the grass with a microphone in hand.
"I thought, 'Uh-oh it's going to happen now, I can't believe it!' " recalls the Dutchwoman, younger sister of former Wimbledon champion Richard Krajicek.
"I was standing there sweaty and wrapped in a tournament towel ... It was really romantic."
Five months of scheming, having involved the tournament's director three days beforehand, finally paid off as Krajicek said "Yes."
"I saw some players with tears in their eyes," Emmrich says.
"Everybody came up and said I have big balls. It's a big step, and doing it on such a stage..."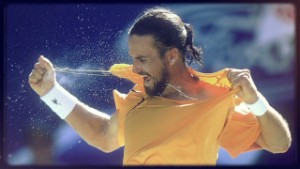 Capturing iconic tennis photographs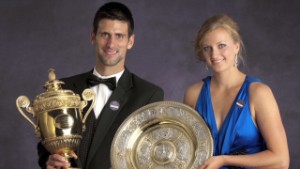 How Novak and Petra conquered Wimbledon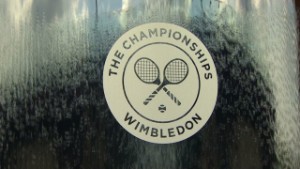 The grass court season grows
A wedding had been on their minds for a long time -- three months into the relationship, they were already talking about taking home the biggest trophy of their lives.
By January of this year, Emmrich was already planning how he would propose to his partner.
"I wrote down three papers, corrected them all, practiced 30-40 times in the bathroom," he says.
In a moment that Emmrich can only describe as "magic," Krajicek took his hand, hugged him and said yes -- to the cheers of joy ringing down from the stands.
Krajicek says she had "no idea" how Emmrich and his few accomplices managed to surprise her.
They are partners both on and off the court, playing in mixed doubles competitions together.
"I go on court, I still love him obviously, but it's business for me," says Krajicek.
For Emmrich, who has won three men's doubles titles with a highest world ranking of 35th last year, the chance to play with her adds another dimension to touring life.
"I totally enjoy it. I feel I am playing more free and easy than actual doubles," says the 29-year-old.
Although their engagement was broadcast the world over, they are in no rush to get married, with their busy tennis schedules taking priority.
Immediately after the tournament in Rosmalen they headed to Wimbledon, losing in the second round to a pairing that went on to win the title.
"There's not too many weeks where we are both actually off," says Krajicek.
The 25-year-old, who has won three singles titles on the WTA Tour and six in doubles, says she has plenty to achieve on-court before starting to think about having a family.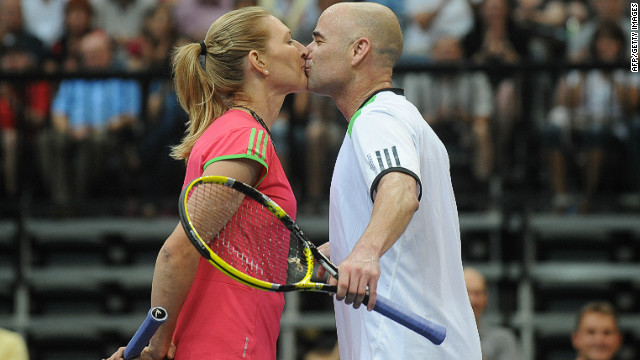 Tennis' ultimate poster couple are still going strong after 10 years of marriage since reportedly getting together at the champions' ball after both won the French Open in 1999. They have two children and still play the odd charity match, but rarely battle each other. As their website reveals: "Andre says his problem playing Steffi is not watching the ball."
Roger Federer met Mirka Vavrinec at the Sydney Olympics in 2000 when they both represented Switzerland. Mirka says her husband's glittering career has eased her pain after injury forced her retirement in 2002. Of his wife, Roger told the Telegraph newspaper: "I developed faster, grew faster with her. I owe her a lot."
She is the former world No. 1 waiting to land her first major title -- he's the baby-faced golfer whose capitulation at the 2011 Masters, and subsequent victory at the U.S. Open, entranced the sport. Together since September last year, Denmark's Wozniacki and McIlroy, from Northern Ireland, go by the moniker of "Wozilroy" and say they lean on each other's experiences to help their sporting performance.
World No. 8 Adam Scott's appearance at last month's Australian Open confirmed that another powerful golf and tennis combo are back on the scene. They split in 2010, but 2008 French Open champion Ivanovic told Australian newspaper the Herald Sun: "Sometimes you need time apart to figure things out."
Hewitt and Clijsters, both former world No. 1s, met at the Australian Open in 2000, reportedly after Kim's sister Elkie asked her to get Lleyton's autograph. They announced their engagement in 2003 but split in October 2004. Both decried the "malicious gossip" that followed their separation.
Chris Evert's romance with Jimmy Connors was one that captivated the sporting world after they both won Wimbledon singles titles in 1974, but a planned wedding in November that year was called off. Tennis writer Peter Bodo famously said of the couple: "It was a match made in heaven, not on Earth, which is probably why it didn't last."
The courtship of former world No. 8 Kournikova and pop star Iglesias was the very definition of a high-profile romance when they started dating in 2001. The Russian appeared in the video for Iglesias' song "Escape," causing a media frenzy. They are still together, 10 years on.
British pop star Cliff Richard revealed in his 2008 autobiography "My Life, My Way" that he nearly asked 1976 French Open winner Sue Barker -- now a TV presenter -- to marry him in 1982. The couple's relationship attracted much press attention. "I seriously contemplated asking Sue to marry me," he wrote. "But in the end I realized that I didn't love her quite enough to commit the rest of my life to her."
They grew up in the same town and were instantly dubbed the "Czech mates" when they started dating in 2003. But they split in 2011, with Czech model Ester Satorova seen watching world No. 7 Berdych at November's season-ending ATP World Tour Finals in London.
After her split with Connors in 1974, 18-time grand slam winner Evert married British tennis pro John Lloyd in 1979, the same year he reached the Australian Open final. Evert's alleged affair with late British pop star Adam Faith threatened to derail their marriage. They reconciled, but then divorced in 1987.
Former women's No. 1 Hingis became engaged to Stepanek in 2006 but a year later the couple announced through the ATP Tour they had split. Hingis, who won five grand slam titles, retired in 2007 after testing positive for cocaine during Wimbledon. Stepanek married fellow Czech Nicole Vaidisova in July 2010.
A third entry to the list for Evert, whose romance and susbsequent marriage to Australian golfer Greg Norman -- known as the "The Great White Shark" -- captured headlines in 1998. Evert even caddied for the two-time British Open winner at the Masters during a par-three tournament. The couple split 15 months after their wedding.
Former world No. 1 Andy Roddick famously began dating Brooklyn Decker in 2007 after asking his agent to track down a phone number for the Sports Illustrated model. They were married in 2009 at a ceremony that included Agassi and Graf as guests.
The romance between Russian tennis ace Sharapova and Slovenian basketballer Vujacic blossomed in 2009 before their engagement was announced in October the following year. The former L.A. Lakers star can often be seen courtside, cheering the three-time grand slam winner on at major tournaments. He now plys his trade in Turkey.
Before Agassi teamed up with Graf, he married actress Brooke Shields in 1997 after a four-year courtship. Agassi, winner of three grand slam titles by then, and Shields, star of TV sitcom "Suddenly Susan," were a box office hit but split after less than two years of marriage in 1999.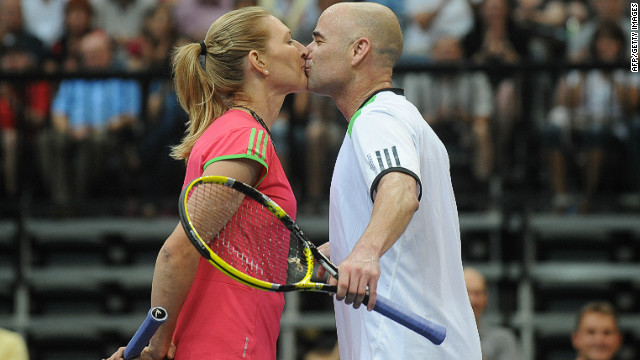 15-love: Top tennis romances
A former junior world No. 1 -- she won the U.S. Open girls' title in 2004 -- Krajicek is now ranked outside the top 200 after struggling with health problems in 2012-13, but was as high as 30th at the end of her teenage years.
She has recently had more success in doubles, reaching three WTA finals this year -- including Rosmalen.
"For now we just enjoy life and each other, and then everything else comes automatically," Emmrich says.
Krajicek adds: "We understand that it's part of it and in five years we will enjoy each other for the rest of our lives, so it's just the way it has to be."