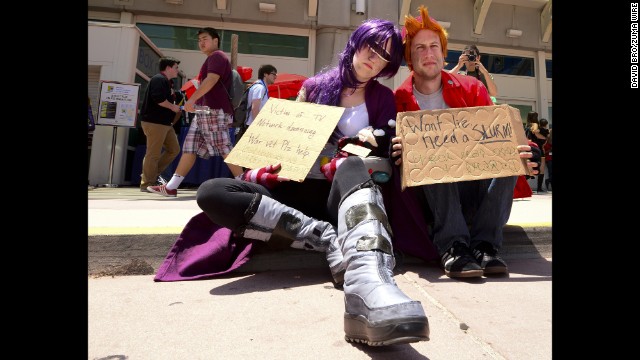 Leela and Fry, from the recently canceled "Futurama," beg on the sidewalk outside the Comic-Con convention in San Diego on Sunday, July 27. Sunday was the final day of the annual convention, mecca of all things pop culture.
Roger Rabbit takes a smoke break outside the convention center on July 27.
Two shirtless stormtroopers patrol the convention hall.
Ichigo from "Bleach" pauses for a quick photo shoot on July 27.
Two young fans dressed as Rocket Raccoon and Star-Lord from Marvel's "Guardians of the Galaxy" attend the convention.
Two attendees cosplay Wonder Woman and Supergirl on July 26. Cosplayers wear costumes of their favorite characters.
A gore-splattered attendee poses on July 26.
A fan dressed as a character from "Planet of the Apes" walks inside the convention center on July 26.
"Spiderman" villain Venom takes a taste of another attendee on July 26.
The Winter Soldier was seen on the prowl on July 26 outside the convention center.
The Joker mugs for the camera on July 26.
A fan dressed as Chito Colorado, which translates to Red Grasshopper (and also known as Captain Hopper), takes a break on a bench on July 26.
Actor Jack Black, wearing a Star Wars Stormtrooper mask, right, walks outside the convention center on on Thursday, July 24, in San Diego.
A young woman from Sacramento decided to go old-school with her makeup for Comic-Con on July 24.
A woman dressed as the character Katniss Everdeen from the movie "The Hunger Games: Catching Fire" poses in front of Comic-Con on July 24.
Christine and Justin Skolek walk outside on July 24. Thousands of fans with four-day passes to the sold-out pop-culture spectacular flocked to the event Thursday, many clad in costumes.
Costumed fans attend Comic-Con on July 24.
People dressed as Michael Myers from the "Halloween" films wait at a trolley stop outside of the San Diego Convention Center on July 24.
Fan William Pasini portrays the "Star Trek" character Worf on July 24.
Lori Ouellette portrays the Red Queen, from the film "Alice in Wonderland," on July 24.
The Teenage Mutant Ninja Turtles pose at the Nickelodeon booth on July 24.
A man dressed as Wolverine gets his shoes shined by a costumed Captain Kirk on July 24.
A man dresses as a biker pig on July 24.
"Doctor Who" fans, including a stone angel character from the series, snap photos on July 24.
Girls are dressed as zombies on July 24.
Warner Bros. Intertactive Entertainment hosted an event in celebration of Batman's 75th anniversary and the upcoming release of the video game "Batman: Arkham Knight."
A merchandising booth for "The Walking Dead."
Christopher Petrone towers over fellow attendees in his handmade Chewbacca costume.
Erien and Adonis Hodge dress as Batman and Robin on July 24.
An attendee dressed as the Disney villain Hades on July 24.
Costumed Mad Hatter fans on July 24.
Costumes at Comic-Con 2014
Costumes at Comic-Con 2014
Costumes at Comic-Con 2014
Costumes at Comic-Con 2014
Costumes at Comic-Con 2014
Costumes at Comic-Con 2014
Costumes at Comic-Con 2014
Costumes at Comic-Con 2014
Costumes at Comic-Con 2014
Costumes at Comic-Con 2014
Costumes at Comic-Con 2014
Costumes at Comic-Con 2014
Costumes at Comic-Con 2014
Costumes at Comic-Con 2014
Costumes at Comic-Con 2014
Costumes at Comic-Con 2014
Costumes at Comic-Con 2014
Costumes at Comic-Con 2014
Costumes at Comic-Con 2014
Costumes at Comic-Con 2014
Costumes at Comic-Con 2014
Costumes at Comic-Con 2014
Costumes at Comic-Con 2014
Costumes at Comic-Con 2014
Costumes at Comic-Con 2014
Costumes at Comic-Con 2014
Costumes at Comic-Con 2014
Costumes at Comic-Con 2014
Costumes at Comic-Con 2014
Costumes at Comic-Con 2014
Costumes at Comic-Con 2014