Usain Bolt ready to compete at Commonwealth Games
updated 4:43 PM EDT, Sat July 26, 2014
STORY HIGHLIGHTS
Usain Bolt arrives in Glasgow ahead of his participation in the relay
Bolt says his foot has healed and he needs races to get into running shape
He plans on being a tourist and expects to see a lot of rain and kilts
A 60-year-old grandfather ties a Games record by getting his 18th medal
Follow us at @WorldSportCNN and like us on Facebook
(CNN) -- An athlete who didn't even compete at the Commonwealth Games was the star attraction Saturday in Glasgow.
It wasn't just any athlete, mind you, but the fastest man in the world in Jamaica's Usain Bolt.
Bolt arrived in Glasgow amid a throng of journalists and photographers and it didn't take long for him to deliver his trademark 'lightning Bolt' pose alongside the Games' mascot, Clyde, and local school children.
Bolt hasn't raced in 2014 as he recovered from a foot injury but that's set to change as he said he'll take part in the 4x100-meter relay heats that begin Friday.
"I will be running in the heats," the world-record holder in the 100 and 200 meters said in a press conference. "I think I need the (races) because this is my first run of the season.
"The injury is completely gone. Fitness wise, I have done a lot of training over this past month. I have been really pushing myself.
"I think I am in pretty good shape, but I'm not in running shape. That's why I am running the heats."
The six-time Olympic gold medalist won't be involved in any individual races.
He added that he was excited to be making his Games debut after missing the 2006 edition with a hamstring injury and deciding to skip the 2010 Games in India because of how close it was to the 2011 World Championships.
Bolt plans on being a tourist, too, if only for a little bit, and expects to see a "lot of rain" and plenty of kilts in Glasgow.
Grandfather ties record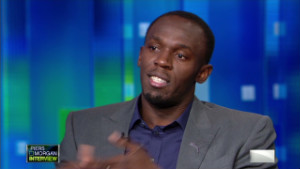 Usain Bolt channels inner Bob Marley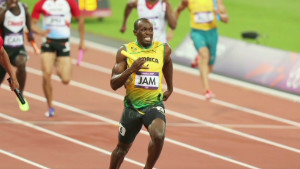 Usain Bolt: I try to clear my mind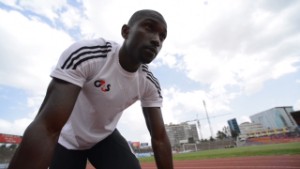 'Unbeatable' sprinter: How I stay on top
Meanwhile, England's Mick Gault tied a Commonwealth Games record when he claimed an 18th medal by winning the bronze in the 10-meter air pistol.
Gault isn't your typical Games participant -- he's a 60-year-old grandfather.
He retired due to illness after the 2010 Games but decided to return one last time.
"I just feel good that a 60-year-old can do that, just do what I've done," he told BBC television. "It's one for England, it's one for the sport, it's one for me, one for the wife and kids who have been through an awful lot.
"The wife's insisted this is my last one. Definitely my last one.
"The stress we go through is horrendous, so job done really."
Gault can break the record he now shares with Australian shooter Phillip Adams, given he still has one more event.
Read: Wiggins has to settle for cycling silver

Part of complete coverage on
updated 6:38 AM EST, Tue November 18, 2014

Click through our gallery of the most dramatic moments from the world of sport.
updated 12:06 PM EDT, Mon July 28, 2014

Whisper it quietly, but after years of foreign domination the prospect of a French winner of the Tour de France is more than just a mere pipe dream.
updated 9:21 AM EDT, Mon July 28, 2014

Seven years ago Steve Way was a 20 per day smoker and weighed a hefty 104 kg, but he led the marathon at the 2014 Commonwealth Games.
updated 9:17 AM EDT, Fri July 25, 2014

After just one day of competition, a new sport has emerged at the Commonwealth Games in Glasgow: snapping selfies with the Queen.
updated 4:48 PM EDT, Fri July 25, 2014

Inspirational cyclist Joanna Rowsell added another gold to her growing collection in the individual pursuit at the Commonwealth Games.
updated 12:04 AM EDT, Thu July 24, 2014

At the opening ceremony of the Commonwealth Games in Glasgow, an actor upstaged the Queen by kissing a male dancer.
updated 8:00 AM EDT, Wed May 7, 2014

Of course not. But former Fulham owner Mohamed Al Fayed seems to think the removal of Michael Jackson's statue was a very "bad" idea.
updated 12:36 PM EDT, Wed May 7, 2014

Second-tier French side Clermont Foot appoint Helena Costa -- the country's first ever professional female coach of a male team.
updated 1:33 PM EDT, Fri April 25, 2014

The All Blacks and their fans are focused on one thing, says Dan Carter: becoming the first rugby nation to win back-to-back World Cups.
updated 9:08 AM EDT, Fri April 4, 2014

The 2002 bomb attacks in Bali had many victims -- including a touring rugby team from Hong Kong.

Photographer Danny Lyon spent three days with Muhammad Ali in 1972 and shares his best photos and memories of the champ.
updated 7:54 AM EST, Tue February 25, 2014

With a growing audience boosted by the drama of ice hockey on show in Sochi at the Winter Olympics, can the sport capitalize on its popularity?
updated 6:25 AM EST, Mon January 20, 2014

Her paintings may sell for thousands of dollars, but she is best known for a modeling shot 50 years ago that helped launch a business empire.