Boko Haram blamed in abduction of Cameroonian official's wife
July 28, 2014 -- Updated 0347 GMT (1147 HKT)
STORY HIGHLIGHTS
Gunman storm deputy prime minister's house at 5 a.m., residents and officials say
They are thought to be Boko Haram Islamists
Area chief and his family are also abducted
Kano, Nigeria (CNN) -- Gunmen suspected to be Boko Haram Islamists on Sunday abducted the wife of the Cameroonian deputy prime minister in a dawn attack on his home village of Kolofata, north of the area where they also kidnapped a local chief and his family, residents and security sources said.
Heavily armed gunmen stormed the house of Ahmadou Ali around 5 p.m. and engaged security guards in a gunbattle.
"The sounds of gunfire woke the whole village and we later learned that the (deputy) prime minister's wife was taken away by the abductors, who killed some policemen in the gunfight," said resident Idrissa Moussa
"The gunmen are believe to be from Boko Haram from our neighbor Nigeria," Moussa said.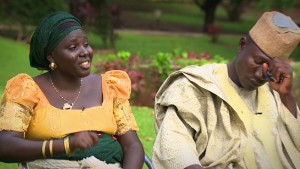 Parents outraged over missing schoolgirls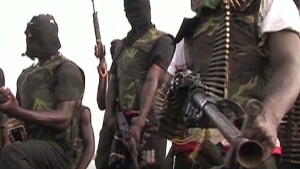 Was ransom money funneled to Boko Haram?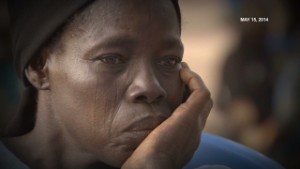 Boko Haram horror 'gripped me by throat'
The gunmen also attacked the home of the traditional chief of Kolofata, Seiny Boukar Lamine, and abducted him and his wife and children, said another resident.
Based on information from the chief's palace, his brother was shot dead in the attack.
A source told CNN six people, including two policemen, were killed in what he called "coordinated attacks."
"Fighter jets deployed in the area around the village this morning following the attack and carried out aerial bombings of some targets," said the source, who declined to give details.
Boko Haram, an Islamist group based in Nigeria, has increased raids into northern Cameroon. Military efforts to stop the group from stealing and killing have failed.
Two Cameroonian soldiers were killed on Thursday in the town of Balgaram in a Boko Haram attack that prompted the deployment of an elite Cameroonian force to the area to dislodge the Islamists.
Boko Haram established cells in several villages on the Cameroonian border with Nigeria after assaults on the insurgents by Nigerian troops in May 2013, locals said.
The group uses these hideouts to launch attacks on Nigeria, sacking entire villages and looting food supplies, a Nigerian security source said. He did not want to be identified.
Nigeria has expressed frustration with Cameroon for not doing enough to fight Boko Haram on its side of the border, a charge Cameroon has strongly denied.
Nigeria, Niger, Chad and Cameroon last week agreed to form a 700-person military unit to fight Boko Haram across their common borders.
In May, the four contiguous countries agreed to share intelligence and coordinate border security to tackle the Boko Haram threat.
READ: Nigerian police say they've arrested Boko Haram's "chief butcher"

Today's five most popular stories
Part of complete coverage on
Boko Haram
December 18, 2014 -- Updated 1633 GMT (0033 HKT)

What exactly is Boko Haram, and why has it turned into a Nigerian synonym for fear and bloodshed?
October 22, 2014 -- Updated 0946 GMT (1746 HKT)

Nigeria says that more than 200 girls abducted by Boko Haram in April are to be released.
October 20, 2014 -- Updated 1252 GMT (2052 HKT)

Six months after more than 200 schoolgirls vanished in Nigeria, the #BringBackOurGirls campaign has faded. But this man hasn't.
October 18, 2014 -- Updated 1124 GMT (1924 HKT)

CNN's Jessica King looks at how a social media campaign may have influenced the government to take action.
October 18, 2014 -- Updated 1831 GMT (0231 HKT)

Despite government claims of a ceasefire, alleged Boko Haram gunmen attack two villages and a town.
October 18, 2014 -- Updated 0410 GMT (1210 HKT)

Journalist Sarah Topol spent time with some girls who managed to escape. She gives her reaction to CNN.
October 12, 2014 -- Updated 0601 GMT (1401 HKT)

27 hostages freed from Boko Haram have arrived in the capital of Cameroon. Lynda Kinkade reports.
September 25, 2014 -- Updated 1008 GMT (1808 HKT)

Nigerian forces battling Boko Haram have killed a man suspected of acting as the group's leader, Nigerian officials said.
October 19, 2014 -- Updated 1035 GMT (1835 HKT)

In April the world was shocked to learn that Boko Haram had abducted more than 200 girls from their boarding school in Chibok.
October 22, 2014 -- Updated 1040 GMT (1840 HKT)

With every attack by Islamist militants in northern Nigeria, Daniel Ayuba relives a nightmare.
May 12, 2014 -- Updated 1318 GMT (2118 HKT)

The terrifying news began to spread before the gun-wielding Islamist militants made it into Chibok.
November 19, 2014 -- Updated 1817 GMT (0217 HKT)

Here's a look at Boko Haram, a militant Islamic group working out of Nigeria, whose purpose is to institute Sharia, or Islamic law.
October 3, 2014 -- Updated 1053 GMT (1853 HKT)

Nina dos Santos talks to the chief spokesman of a Nigerian opposition party about the challenges his country faces.