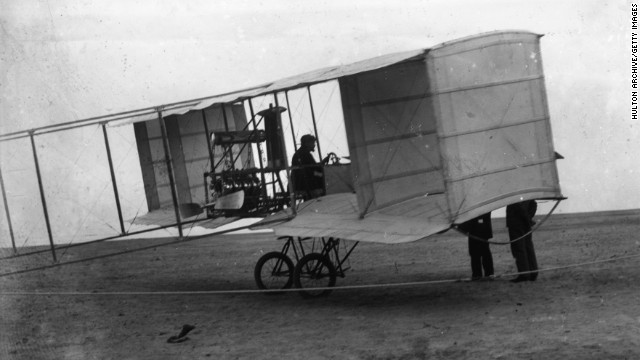 Air power harks back to Civil War-era hot air balloons and was used all over the theaters of World War I for reconnaissance, bombardment, and aerial combat. Here, the French-built Voisin "pusher," originally built for reconnaissance and later developed as a bomber. It is credited with the first air-to-air kill.
British war photographer David McLellan, originator of the photographic section of the Royal Flying Corps, holds a camera specially adapted for aerial pictures in 1915. The potential of aerial surveillance and bombardment was most rigorously tested and developed in the British campaign against the Ottoman Empire during WWI.
An aerial reconnaissance photograph from May 29, 1915, shows trench networks at Le Plantin, "Windy Corner," in France.
An early aerial photograph from 1915 shows the Belgian town of Ypres, the site of three major battles during World War I, and almost completely devastated by bombing.
A sergeant of the Royal Flying Corps demonstrates a C type aerial reconnaissance camera fixed to the fuselage of a BE2c aircraft, 1916. For the British, during the war and later for colonial policing in the postwar Middle East, surveillance aircraft seemed to promise vision beyond the mirages, sandstorms, and distances that made the region unmappable in their estimation.
Surveillance was sometimes more low-tech, as in this German observation post in a tree during the Battle of Verdun, 1916 ...
... or this observation balloon, from which an American Army major commanded a view of the front lines in June 1918 ...
... and this not-very-subtle sausage-shaped observation balloon in France on November 10, 1918. The balloons were used for, among other things, artillery spotting. Because they were filled with flammable hydrogen, they were well-guarded by anti-aircraft artillery.
WWI surveillance
WWI surveillance
WWI surveillance
WWI surveillance
WWI surveillance
WWI surveillance
WWI surveillance
WWI surveillance
STORY HIGHLIGHTS
Priya Satia: Unleashing of air power in World War I resonates in drone use today
Remote killing, surveillance used throughout war theater, but mostly by British in Middle East
Air power gave British access to remote lands; they'd later use it for colonial policing
Satia: Today's drones are a new chapter in West's efforts to dominate Middle East
Editor's note: This is the seventh in a series on the legacies of World War I appearing on CNN.com/Opinion in the weeks leading up to the 100-year anniversary of the war's outbreak. Ruth Ben-Ghiat is guest editor for the series. Priya Satia is an associate professor of history at Stanford University and the author of "Spies in Arabia: The Great War and the Cultural Foundations of Britain's Covert Empire in the Middle East." Her expanded study of drone warfare's roots in World War I, "Drones: A History from the British Middle East," appeared earlier this year in Humanity
(CNN) -- Drones are our latest Frankenstein's monster. But our preoccupation with their novelty -- with the ethical hazards of remote killing and the possible violation, through surveillance, of life and privacy at home -- has obscured their roots in the deadly history of Western aerial control of the Middle East that began in World War I, exactly a century ago.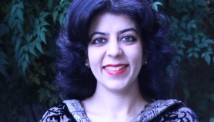 Priya Satia
As we recall the myriad ways in which that epochal war remade our world, it is time also to reckon with its unleashing of air power in the Middle East.
Air power harks back to Civil War-era hot-air balloons and was used all over the theaters of World War I for reconnaissance, bombardment, and aerial combat. However, its potential was most rigorously tested and developed in the British campaign against the Ottoman Empire during that war.
WAR'S LASTING LEGACY
The first World War began August 4, 1914, in the wake of the assassination of Archduke Franz Ferdinand of Austria-Hungary on June 28 of that year. In the next two months,
CNN.com/Opinion
will feature articles on the weapons of war, its language, the role of women, battlefield injuries and the rise of aerial surveillance.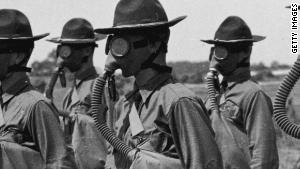 Three unexpected things from WWI
Aerial photography and signaling, the airlift, the aerial trap (bombardment of the head and tail of a column retreating through a canyon) -- all were developed in WWI's Mesopotamia and Palestine campaigns, fought in the area of present-day Iraq and the Arabian Peninsula, north through Syria.
Opinion: How a century-old war affects you
The British fought these campaigns to safeguard the all-important land, air, and sea routes to British India and oil assets in the Persian Gulf. Aircraft were used in bombardments that wrecked trains and in irregular warfare, where they, for example, helped Arab guerrillas fighting the British-backed revolt against the Ottomans communicate and conduct reconnaissance. They were also used in deception strategies, such as in providing air cover to conceal troop movements before the surprise British attack at Megiddo.
Most significantly, for the history of drones, their uses in colonial policing were discovered there and would echo through the century. When the tribes the British had "liberated" from Turkish rule in the war "got out of hand," aerial bombardment became an instrument of everyday colonial discipline, inspiring "terror in the Arabs," official memos noted approvingly.
Opinion: When chemical weapons killed 90,000
Aircraft seemed a panacea for what the British categorized as "tribal" situations. Thus did the postwar British Cabinet declare that it was in the Middle East that "the war ... proved that the air has capabilities of its own." We may have forgotten this past, but in the region, memory of it shapes the response to American drones and airstrikes today.
All this came about because of World War I-era British notions of the particular suitability of air power to the Middle East. Officials who guided the military effort in the region saw it as a land of mystery impervious to ordinary observation. Surveillance aircraft seemed to promise vision beyond the mirages, sandstorms, and distances that made it unmappable in their estimation. Commanders relied on them for "obtaining ... accurate information'' in a land where ''little can be trusted that is seen."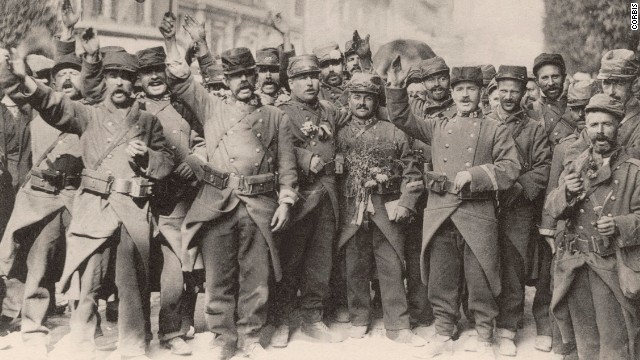 French soldiers sing the national anthem at the beginning of World War I in August 1914. This "war to end all wars" might seem like ancient history, but it changed the world forever. It transformed the way war was fought, upended cultures and home life and stimulated innovations that affect us today. With more than 30 combatant nations and nearly 70 million men mobilized, World War I profoundly destabilized the international order. Look back at some of the war's key events.
The bodies of Austria-Hungary Archduke Franz Ferdinand and his wife, Sophie, Duchess of Hohenberg, are seen after their assassination by Serbian nationalist Gavrilo Princip on June 28, 1914. The assassination led Austria-Hungary to declare war on Serbia, starting a chain of events that would gradually bring other nations into the fray.
Germans in Berlin mobilize for war on August 1, 1914. Germany was a strong ally of Austria-Hungary.
French soldiers are seen at a front-line trench in Italy. During World War I, the Allied Powers consisted of Belgium, France, Great Britain, Greece, Italy, Montenegro, Portugal, Romania, Russia, Serbia and the United States. The Central Powers consisted of Austria-Hungary, Bulgaria, Germany, and Ottoman Empire (now Turkey).
German soldiers captured by the British are seen in France.
Men visit the graves of French soldiers killed in the Battle of the Marne in September 1914.
Troops land at Anzac Cove in the Dardanelles during the battle between Allied forces and Turkish forces at the Gallipoli Peninsula in February 1915. The two sides were fighting for access to the strategic Sea of Marmara and eventually to Constantinople (Istanbul).
German and British troops are seen together during the Christmas Truce of 1914.
These French Zouave infantrymen were killed by gas during the Second Battle of Ypres, Belgium, in April 1915.
Germans give oxygen to a gas victim in 1915. The cloth masks worn by these soldiers provided little defense; more substantial gas masks were not produced until 1916. By the end of the war, even horses and dogs used at the front had their own gas masks.
German U-boats, or submarines, patrol the Mediterranean coast.
French troops rest in Verdun, France, in 1916. Verdun was the site of the longest battle of World War I.
Dead bodies lie piled in a trench at Verdun on April 9, 1916.
British troops advance during the Battle of the Somme in 1916.
A British tank is stranded while crossing a trench during the Battle of the Somme on September 25, 1918.
German soldiers stand near a crashed fighter plane in Germany in 1916.
Czar Nicholas II of Russia, right, reviews the palace guard just prior to the Russian Revolution of 1917.
U.S. President Woodrow Wilson addresses a joint session of Congress in April 1917, requesting a declaration of war on Germany. The United States declared war against Germany after the interception and publication of the Zimmermann Telegram and the sinking of three U.S. merchant ships by German U-boats.
Britons stand in line outside an Army recruiting station.
A British sergeant major instructs American soldiers in bayonet fighting at Texas' Camp Dick.
U.S. Army troops stand in a defensive trench in France. By war's end, thousands of miles of trenches crisscrossed European battlefields.
A defeated German army marches home on October 1, 1918.
Armistice Day is celebrated in Chicago on November 1, 1918.
U.S. troops returning home from France are seen on the USS Agamemnon in Hoboken, New Jersey, in 1919.
German delegates listen to French Prime Minister Georges Clemenceau's speech during the signing of the Treaty of Versailles in France on June 28, 1919.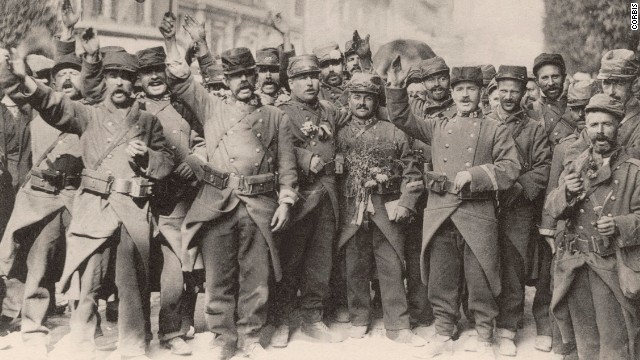 Photos: World War I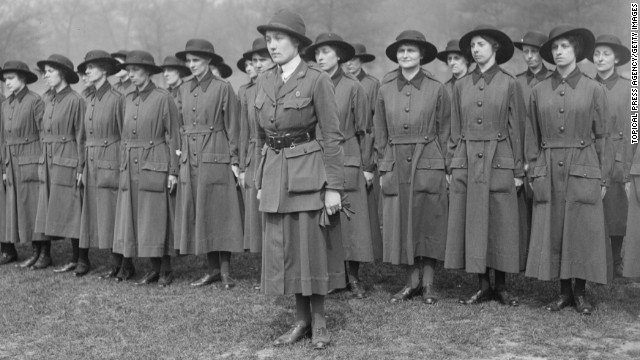 Female army recruits from the United Kingdom are seen during drills in May 1917. World War I broke down barriers between military and civilian life. With the men away in battle, women took on an extraordinary role in support of the war, whether it was on the front lines or at home in factories and farms.
Loretta Perfectus Walsh enlisted in the United States Naval Reserve in March 1917, becoming the first active-duty woman in the Navy and the first U.S. military woman who wasn't a nurse.
Women work at the Gray & Davis Co. ordnance factory in Cambridge, Massachusetts. Munitions workers faced harsh working conditions that were sometimes lethal, such as in the Barnbow National Factory explosion that killed 35 near Leeds, England.
A woman works as a porter at the Marylebone station in London. British propaganda posters declaring soldiers' dependence on female munitions workers gave women a sense that their labor contributions would be important -- and acknowledged. But this was not always the case.
A Russian women's regiment from Petrograd (now St. Petersburg) relaxes in front of its tents. Women across the globe would serve directly on the battlefields, with many serving as nurses, ambulance drivers and cooks.
Maria Bochkareva, nicknamed Yashka, was a Russian soldier who in 1917 created the 1st Russian Women's Battalion of Death -- an all-female combat unit.
"Hello Girls" at work. The U.S. Army trained more than 400 female telephone operators to serve in France and England for the Army Signal Corps. These women were bilingual, speaking French and English.
Grace Banker receives a Distinguished Medal of Service for her role as chief operator in the U.S. Army Signal Corps. She worked at a post close to the front lines in France.
Female firefighters put a fire escape into position in the United Kingdom.
Lenah Higbee, a Canadian-born U.S. Navy chief nurse, served as superintendent of the U.S. Navy Nurse Corps during World War I. She was the first female recipient of the Navy Cross.
Nurses tend to wounded soldiers in France in 1915.
Julia Stimson was superintendent of the U.S. Army Nurse Corps and the first woman to attain the rank of major in the Army. She earned the Distinguished Service Medal for her service in France.
Mairi Chisholm and Elsie Knocker drive an ambulance in July 1917. The two British women ran a first-aid post in Belgium only 100 yards from the trenches.
Milunka Savic was a Serbian combatant and the most decorated female fighter in the history of warfare. She was honored by multiple countries for her bravery.
Mary Sophia Allen inspects policewomen in London in May 1915. Before the war, Allen had been imprisoned three times for her activism as a suffragette. She turned down an offer of wartime service with a Needlework Guild to become the second in command of the Women Police Service.
A member of the Women's Forestry Corps, part of the Women's Land Army in the United Kingdom, works circa 1916.
Women "navvies" work on railway building in Coventry, England.
Dorothy Lawrence disguised herself as a man in order to become an English soldier in World War I.
A female munitions worker welds at an armaments factory.
A British Army lieutenant sits in a garden with his wife and three children while on leave during the war. In Great Britain and the United States, women confronted wartime shortages of food, fuel and housing as they struggled to maintain homes and families while they also worked outside the home.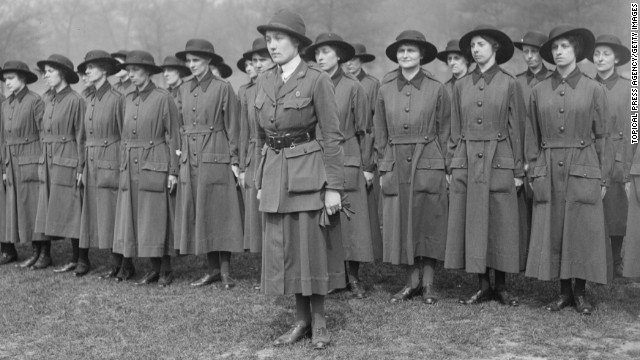 Photos: Women during World War I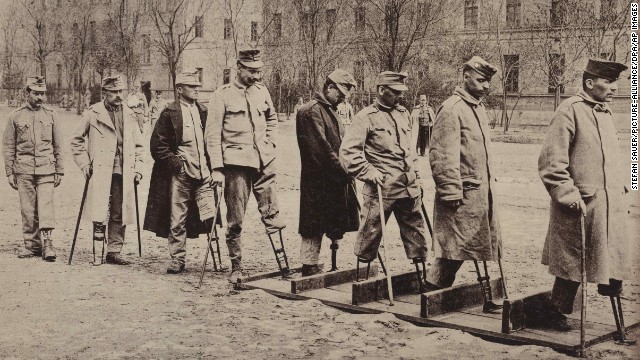 The scale and type of physical injuries endured by soldiers injured in World War One challenged the ingenuity of prosthesis designers, whose work to replace lost body parts would let many return to productive civilian life, a process echoed today with soldiers injured in our recent wars. Here Austro-Hungarian soldiers practice walking with artificial legs at the First War Hospital, Budapest. See gallery showing the effects of the war.
German soldier with simple artificial legs, 1917.
Postcard of British soldiers using parallel bars to help them learn to walk with their artificial legs. Image was probably taken at Queen Mary's Convalescent Auxiliary Hospital, a specialized orthopedic hospital that opened in London in 1915.
A disabled German ex-serviceman works as a carpenter with the aid of a prosthetic arm, Germany, circa 1919.
Prosthesis for eye and eyelid, to attach to glasses, France, 1916.
Soldier wearing prothesis to replace one eye and the eyelids, France, 1916.
German soldier equipped with two, more sophisticated, artificial legs, 1917.
German man riding a bicycle using prostheses on both arms and legs. Photo by Dr. P. A. Smithe, American Red Cross surgeon at the Vienna Red Cross Hospital, 1914-1915.
An artificial limb maker at work in Berlin in 1919. Prosthetics were perhaps Berlin's busiest industry after the carnage of the Great War.
Wounded veterans with their prostheses, 1916.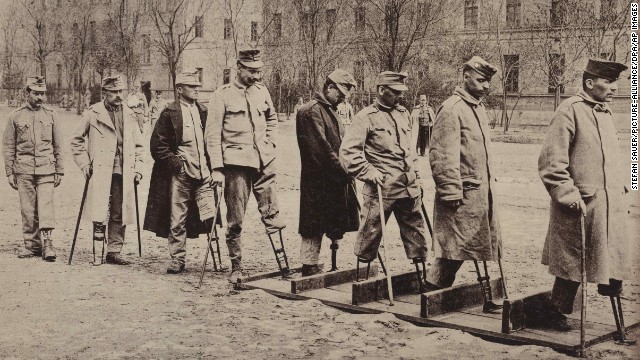 Photos of WWI's "Bionic Men"
And they provided access to forbidden sites. Conceiving the region as uniformly flat (despite its marshes, mountains and cities), British Arabists assumed it afforded no cover.
In fact, there were real limits to using aircraft even in the desert, but the idea of "knights of the air" providing panoramic surveillance of an inscrutable antique land proved irresistible. So too did the image of aircraft turning Mesopotamia into a hub of modern transportation and thus restoring its status as the cradle of civilization, in some measure redeeming the material and human losses of the war.
Opinion: Should nations pay the price for their leaders' misdeeds?
British officials made much of the "natural fellow-feeling between ... nomad arabs and the Air Force ... both ... in conflict with the vast elemental forces of nature." Arabs could uniquely endure the violence of bombardment, Britons thought: In a biblical land, tragedy was a "normal way of life" and bombardment understood as an "act of God."
These wartime experiments with aerial bombardment and surveillance produced the postwar "aerial control" regime in the region, a discreet and cheap mechanism for colonial rule in an increasingly anti-imperial world. Because the British thought of the Middle East as a region where all information was suspect and deception was everywhere, they saw casualty counts and accountability for errors -- like bombardment of the wrong town or tribe -- as superfluous.
Opinion: How World War I gave us 'cooties'
After the war, the British Royal Flying Corps survived as an independent military service, rechristened the Royal Air Force, because of this role in the Middle East.
The British used the RAF to police the new British territories in the Middle East with aerial surveillance and bombardment. This technique, known as "aerial control," spread to Palestine, Somalia, Yemen, and what we call "AfPak" -- precisely where drones reign today. It was in Iraq and Afghanistan that British airmen in World War I and the interwar period -- including Arthur Harris, zealous head of Bomber Command in World War II -- acquired the experience they applied in the next world war.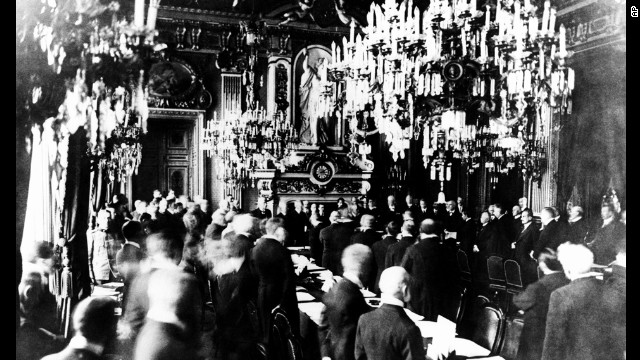 At Versailles Palace, representatives of Germany and the Allies sign the treaty that ended World War I, June 28, 1919. Article 231, the notorious War Guilt clause, required "Germany (to) accept the responsibility of Germany and her allies for causing all the loss and damage" during the war.
At the Paris Peace Conference, held earlier in 1919, some 30 nations convened to reach the terms of peace, but it was "The Big Four" who would hold sway on Versailles' terms. Left to right: Italian Prime Minister Vittorio Orlando, British Prime Minister David Lloyd George, French Prime Minister Georges Clemenceau and U.S. President Woodrow Wilson.
Versailles' collective punishment of a humiliated Germany is widely believed to have led to World War II, prompting a reorientation in international law: Guilty nations have been replaced by war criminals, prosecuted and punished by international tribunals. Here, German war crimes defendants sit in the Nuremberg courtroom of the International Tribunal after WWII. Hermann Goering, Rudolph Hess, Joachim Von Ribbentrop, Wilhelm Keitel (front row), and Karl Doenitz, Erich Raeder, Baldor von Schirach, Fritz Sauchel (second row).
Nuon Chea, a former leader in the Khmer Rouge reign of terror and right hand man to Pol Pot, gets help to stand up in the dock before a hearing in 2008 at the U.N.-backed Cambodian war crimes court in Phnom Penh. A verdict is expected in August on Chea's indictment over atrocities.
Former Yugoslav President Slobodan Milosevic enters the United Nations War Crimes Tribunal for the former Yugoslavia in The Hague in 2001. Milosevic was charged with war crimes, including genocide, and crimes against humanity in connection with the wars in Bosnia, Croatia, and Kosovo. His trial, which began in 2002, ended without a verdict when he was found dead in his prison cell in 2006.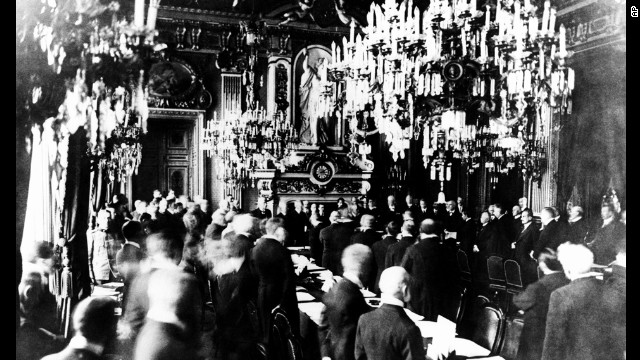 Photos: Tribunals and justice after WWI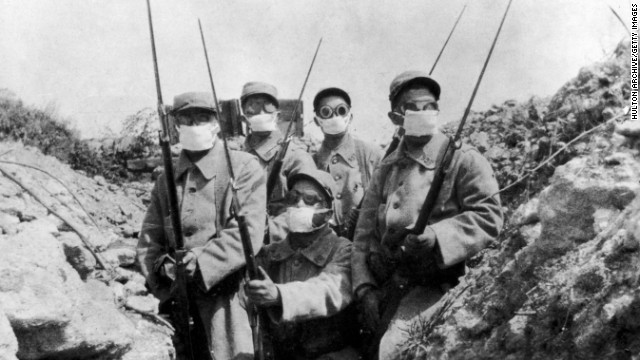 World War I ushered in an era of chemical weapons use that lingers, lethally, into the present day. About 1 million casualties were inflicted, and 90,000 were killed. Here, French troops wear an early form of gas mask in the trenches during the first widespread use of gas, by the Germans at the Second Battle of Ypres in 1916.
French soldiers making a gas and flame attack on German trenches in Flanders, Belgium, in 1918. German forces were the first to open valves on gas cylinders, releasing the toxic cloud on unprepared French troops in Ypres in 1915.
The bodies of hundreds of Italian soldiers are strewn across the battlefield, victims of a gas and flame attack during World War I, as others haul the wounded on stretchers. They were members of the Ninth Italian Regiment of the Queen's Brigade.
Early gas masks were often ineffectual. The Germans and Americans would ultimately be the most successful in creating barriers to lethal gases. A German soldier shows how to wear one version.
A soldier demonstrates an ungainly French gas mask. "French masks were notoriously unreliable," wrote historian Gerald Fitzgerald.
A German cavalry unit with both horses and soldiers wearing gas masks advances during the Second Battle of the Aisne at Soissons, France, in June 1918.
A German soldier wears a more rudimentary gas mask in 1915. Although the Germans were first to deploy chemical weapons in the war, both sides were soon routinely using chlorine and other gases in battle.
Men of the British Army's 55th Division, blinded by a poison gas attack, in April 1918. British soldier Wilfred Owen captured the panic of an attack in verse "Gas! Gas! Quick, boys! -- An ecstasy of fumbling, Fitting the clumsy helmets just in time; But someone still was yelling out and stumbling, And flound'ring like a man on fire or lime."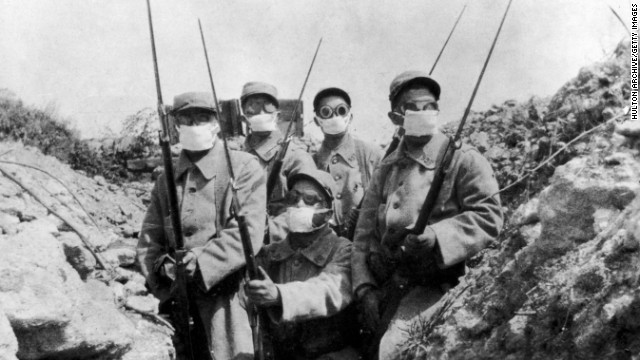 Photos: WWI chemical weapons
Opinion: The mighty women of World War I
The British state propagated a myth of successful air control in the Middle East, but the technique never really worked. The British presence provoked insurgency and undermined local governments until the Iraqi revolution of 1958, when the United States began its interventions in the region.
Those who live under drones see them as the latest chapter in a long history of Western efforts to dominate the region with air power. The "Reaper" dropping "Hellfire" missiles again styles bombardment as a biblical fate. Today, too, casualties are not published and all the dead in a strike zone are presumed to be militants.
Opinion: The 'bionic men' of World War I
We would do well to recall this aerial history of the very region where drones found their initial justification. Remote piloting was always an objective of aerial warfare; drones follow rocket warfare and cruise missiles.
Aerial warfare was always about minimizing casualties on one side and pursuing empire discreetly. Drones may be more precise than earlier aircraft, but the principle of cowing a population with ubiquitous surveillance and exemplary violence, without arousing the ire of a democratic public at home, remains their underlying principle. So, too, do notions of the Middle East's particular suitability to aerial control.
In our shock at the new, we have overlooked these Great War roots. In their recovery lies crucial insight into why an aerial strategy will fail in the Middle East, piloted remotely or on the spot.
Photo blog: WWI: The Golden Age of postcards
Read CNNOpinion's new Flipboard magazine.
Follow us on Twitter @CNNOpinion.
Join us on Facebook.com/CNNOpinion.