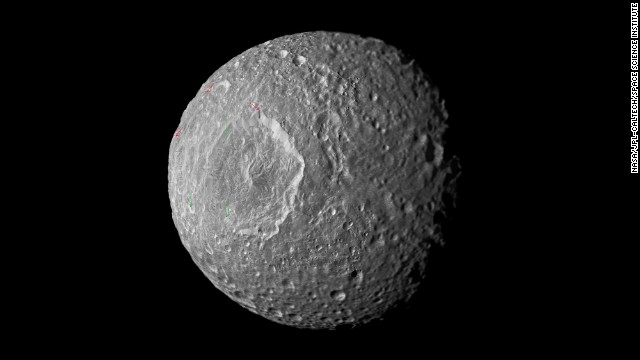 This mosaic of Saturn's moon Mimas was created from images taken by NASA's Cassini spacecraft in February 2010. A new study indicates the moon may contain a liquid water ocean. Click through to see more Cassini images of Saturn and its moons.
The Cassini spacecraft glided high above Saturn in October to capture this 36-image mosaic of the ringed planet. The colors of the planet appear natural, just as the human eye would see them.
Plumes of water ice and vapor shoot up from the surface of Saturn's moon Enceladus in this two-image mosaic taken by NASA's Cassini spacecraft in November 2009. Analysis by NASA scientists indicates that water can reach the Saturnian moon's surface.
A small, bright blip can be seen on the outermost edge of Saturn's rings in this image taken in April 2013. The bump in the smooth ring structure is an icy object that could provide clues to how Saturn's moons formed.
This false-color image of Saturn's north polar storm looks like a giant red rose surrounded by green foliage. Measurements indicate the storm's eye is a staggering 1,250 miles across with cloud swirling as fast as 330 mph.
Saturn's rings cast a narrow shadow on its surface in this image taken in August 2009.
The scars of time and space mark the surface of Saturn's moon Enceladus. Saturn has at least 62 moons in its orbit.
The Saturn-facing side of Enceladus is illuminated by light bouncing off the planet. Plumes of water ice can be seen streaming off the moon's southern pole.
Saturn's moon Rhea is seen from approximately 174,181 miles away in this March 2013 image.
Rhea's surface is pockmarked with craters from billions of years of impacts. The moon is Saturn's second-largest, with a diameter of 949 miles.
Saturn's largest moon, Titan, has a diameter of 3,200 miles. It looks like a fuzzy orange ball because of its atmosphere.
Though it's the largest moon orbiting Saturn, Titan is dwarfed by Saturn itself.
Saturn has a small moon called Dione orbiting about 234,000 miles away. That's about the same distance Earth is from its moon.
The surface of Dione is seen in this May 2012 image.
Tethys, top left, is dwarfed by Saturn as it orbits the planet, though scientists think the moon is much larger than Saturn's ring system.
The Odysseus Crater spans 280 miles across the northern hemisphere of Tethys.
Saturn and its moons
Saturn and its moons
Saturn and its moons
Saturn and its moons
Saturn and its moons
Saturn and its moons
Saturn and its moons
Saturn and its moons
Saturn and its moons
Saturn and its moons
Saturn and its moons
Saturn and its moons
Saturn and its moons
Saturn and its moons
Saturn and its moons
Saturn and its moons
Saturn and its moons