'Artbnb'? Spanish village offers free accommodation for sculptures
July 29, 2014 -- Updated 0726 GMT (1526 HKT)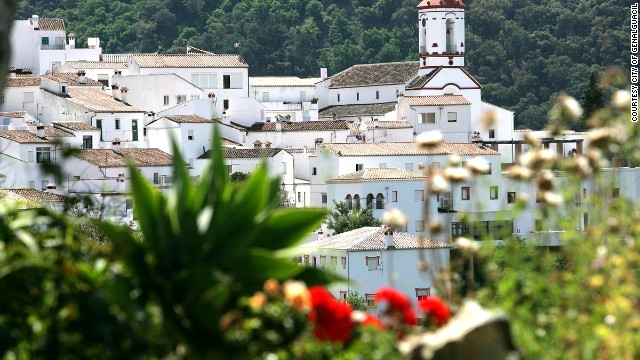 Every year Genalguacil, in southern Spain's Andalucia, invites artists to stay for free in exchange for an example of their work.
The town's streets and contemporary arts museum are now filled with dozens of works, including this water fountain titled "Acemilas" -- or mules -- by Juan Ramon Gimeno.
The art festival was dreamed up by a local mayor 20 years ago as a way of attracting visitors to the village, which forms the termination point of a road.
Artists are provided with the materials they need to work in addition to accommodation. This piece, titled "Salto al Vacio" or leap into the void, is by Raquel Neco.
This year, the festival will also pay 10 selected artists a stipend of €1,000 ($1,340). Among previous participants is Ricardo Avila, who supplied this piece titled "Raices" or roots.
This piece titled "Proximidad y distancia" is by Eduardo Andaluz. Genalguacil's festival has reportedly inspired plans for a similar project in Canada.
Art titled "Plains Heads," by Esteban Vicente Perez, went on display in Genalguacil after the Spanish-born American painter stayed in 1995.
Ceramicist Pepa Jordana supplied this piece titled "Nena." This year's festival runs from July 31 to August 14 and is billed as the biggest yet.
As well as its art event, Genalguacil is also known for its immaculate whitewashed buildings and beautiful countryside.
Spanish town where artists stay free
Mule fountain
Cats on a hot tiled roof
'Leap into the Void'
'Roots'
'Proximity and Distance'
'Plains Heads'
Biggest festival yet
Whitewashed buildings
STORY HIGHLIGHTS
Spanish village of Genalguacil offers free two-week stays to artists in exchange for their work
Biennial art festival celebrating its 12th edition this year
Village's streets and museum now host dozens of contemporary works
(CNN) -- As vacation deals go this one isn't bad.
The beautiful southern Spanish village of Genalguacil is offering free accommodation for more than two weeks during the summer peak season.
There's a catch of course.
The offer is open only to artists who must produce sculptures or other work during their stay, and bequeath at least one to the village.
Call it "Artbnb."
Long before Airbnb began undercutting hotels with cheap deals in other people's homes, this sleepy Andalucian community came up with it's own version.
The biennial "art encounters" festival was dreamed up in the 1990s by a local mayor hunting for ways to turn Genalguacil from a dead-end village to a genuine tourist destination.
Artists are offered cottages or other accommodation and all the materials they need to produce their work.
MORE: Spain's 7 natural wonders
Ambitious art festival
It seems to have paid off. The Andalucian village's immaculate streets of whitewashed houses -- and its contemporary art museum -- are now filled with dozens of works of art.
And the idea has reportedly inspired proposals for a similar project in Canada.
This August, to celebrate the festival's 20th anniversary, Genalguacil is hosting its most ambitious edition to date, with 10 selected artists receiving a stipend of €1,000 ($1,340) on top of their board and lodgings.
Among those selected this year is Eugenio Merino, a controversial artist whose latest exhibitions have included mannequins of dead leaders -- including Spain's General Francisco Franco -- stuffed inside refrigerators, and one of President George W. Bush in the shape of a punch bag.
This year's festival runs from July 31 to August 14.
MORE: Spanish castle to host 'Game of Thrones'

Today's five most popular stories
Part of complete coverage on
November 24, 2014 -- Updated 0118 GMT (0918 HKT)

These quirky and beautiful subway stops make standing cheek-to-cheek with 45 strangers almost seem fun.
November 21, 2014 -- Updated 1314 GMT (2114 HKT)

Luxury vintage Land Rover tours explore Bedouin backwaters without bashing up precious dunes.
November 20, 2014 -- Updated 0250 GMT (1050 HKT)

Cities around the world have closed the brew gap, but the Oregon city's innovative scene continues to lead the beer parade.
November 19, 2014 -- Updated 2249 GMT (0649 HKT)

From gourmet hotdogs to Sevillian tapas, the food served in these London restaurants is worth lining up for.
November 20, 2014 -- Updated 1545 GMT (2345 HKT)

Plans are underway to build the world's tallest -- and quite possibly most terrifying -- roller coaster at an Orlando, Florida, theme park due to open in 2017.
November 18, 2014 -- Updated 1932 GMT (0332 HKT)

The 7th Annual Cruise Critic Editors' Picks Awards highlight the top cruise lines for North American travelers in 18 categories.
November 19, 2014 -- Updated 0206 GMT (1006 HKT)

Joining the ranks of pilgrims tackling Adam's Peak rewards with a spiritual awakening, or at least a stunning sunrise.
November 18, 2014 -- Updated 1313 GMT (2113 HKT)

Beautifully designed travel document reveals image of Northern Lights when placed under UV light.
November 18, 2014 -- Updated 0525 GMT (1325 HKT)

New concept offering luxury rooms in ancient dwellings helps spare beautiful villages from falling into ruin.
November 21, 2014 -- Updated 2247 GMT (0647 HKT)

Are you the butcher or the cattle? Tainted meat-obsessed fans are following the tracks of their favorite "Walking Dead" survivors.
November 17, 2014 -- Updated 0521 GMT (1321 HKT)

People never cease to find amazing ways to make water more incredible than it already is. Here are some powerful examples