Biggest celebrity feuds
Biggest celebrity feuds
Biggest celebrity feuds
Biggest celebrity feuds
Biggest celebrity feuds
Biggest celebrity feuds
Biggest celebrity feuds
Biggest celebrity feuds
Biggest celebrity feuds
Biggest celebrity feuds
Biggest celebrity feuds
Biggest celebrity feuds
Biggest celebrity feuds
Biggest celebrity feuds
Biggest celebrity feuds
Biggest celebrity feuds
Biggest celebrity feuds
Biggest celebrity feuds
Biggest celebrity feuds
Biggest celebrity feuds
Biggest celebrity feuds
Biggest celebrity feuds
Biggest celebrity feuds
Biggest celebrity feuds
Biggest celebrity feuds
Biggest celebrity feuds
Biggest celebrity feuds
Biggest celebrity feuds
Biggest celebrity feuds
Biggest celebrity feuds
Biggest celebrity feuds
Biggest celebrity feuds
Biggest celebrity feuds
Biggest celebrity feuds
Biggest celebrity feuds
Biggest celebrity feuds
Biggest celebrity feuds
STORY HIGHLIGHTS
Grainy video shows Orlando Bloom taking a swipe at Justin Beiber in a Spanish club
Bieber posted, then deleted a photo of Bloom's ex-wife after their late night brush
A New York Post source says the clash started when Bloom declined a handshake
Bieber is getting court-ordered anger management counseling
(CNN) -- Justin Bieber tweeted "Keeping it positive" just hours after a clash in a Spanish nightclub with Orlando Bloom on Wednesday.
Perhaps the court-ordered weekly anger management sessions Bieber is attending are helping the young singer.
He's on probation for egging his California neighbor's home and he still faces charges for an alleged drunken drag race in Miami.
Hours after his brush with Bloom, Bieber posted a photo on Instagram of Bloom wiping his eye, as if he were crying. It's the kind of posting that keep the pop singer at the top of the social media buzz, the lifeblood of today's entertainment business.
Did Bloom land a punch on Bieber in an Ibiza, Spain, club? Were they feuding over who did what with whose ex? Young people -- and more than a few older ones -- want to know.
No celebrities were harmed in the making of this controversy. Grainy video shows the singer and actor apparently exchanging words, followed by Bloom's right fist zooming toward Bieber's face. A bodyguard swiftly and effectively intercepts the dubious punch before it becomes a blow.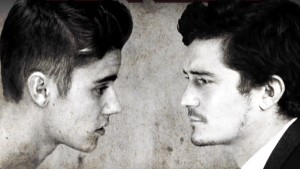 Funny or Die takes a closer look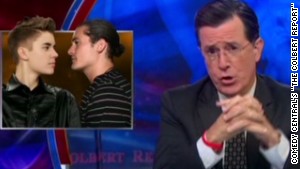 Colbert mocks Bieber, Bloom feud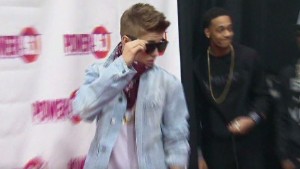 Bieber 'decided he wants to be gangster'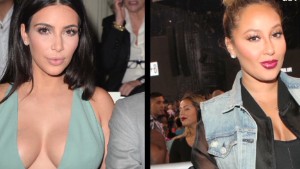 Why are these celebs fighting?
The video, apparently captured by someone with a cell phone, was first posted on Facebook, where tabloids found it and made it their own.
The New York Post's Page Six column, taking a break from covering rumors of Beyonce's marital troubles with Jay Z, found a source who saw the Bieber-Bloom incident. It began when Bloom declined a handshake when Bieber walked by, the paper's source said.
Bieber retaliated for the perceived disrespect by saying "something rude to Orlando, like, 'She was good,'" the Post source said.
"She" could have been a reference to Bloom's ex-wife and mother of his young son, the beautiful supermodel Miranda Kerr.
Bieber, now 20, was 18 when he was photographed talking with supermodel Kerr, 31, in October 2012 -- a year before her marriage to Bloom ended. Kerr has publicly denied hooking up with Bieber.
Rumors swirled that Bloom was seeing Bieber's longtime off-and-on girlfriend, Selena Gomez, after the two were photographed at a comedy show in April.
Bieber fanned the flames by posting a photo of Kerr on Instagram on Wednesday morning and deleting it minutes later.
Bloom, who at 37 is 17 years older than Bieber, has not tweeted or otherwise posted online since the incident. His publicist did not immediately respond to CNN's request for comment on Wednesday.
CNN's Topher Gauk-Roger contributed to this report.