U.S. official: Spy plane flees Russian jet, radar; ends up over Sweden
August 5, 2014 -- Updated 0026 GMT (0826 HKT)
STORY HIGHLIGHTS
U.S. military official tells CNN the incident occurred on July 18
RC-135 Rivet Joint was on electronic eavesdropping mission in international airspace
Russians began tracking with ground radar, and sent at least one fighter to intercept
U.S. plane evaded encounter by flying into Swedish airspace without permission
Washington (CNN) -- The Cold War aerial games of chicken portrayed in the movie "Top Gun" are happening in real life again nearly 30 years later.
A U.S. Air Force spy plane evaded an encounter with the Russian military on July 18, just a day after Malaysia Airlines Flight 17 was downed by a suspected surface-to-air missile that Ukraine and the West allege was fired by pro-Russia rebels in eastern Ukraine.
The RC-135 Rivet Joint fled into nearby Swedish airspace without that country's permission, a U.S. military official told CNN. The airplane may have gone through other countries' airspace as well, though it's not clear if it had permission to do so.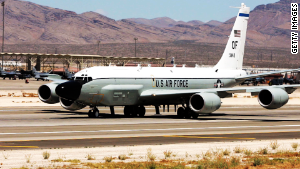 U.S. spy plane evades Russian jet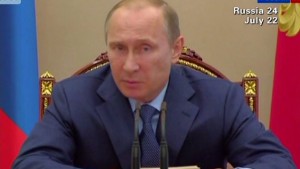 Russians push Cold War talk
The U.S. plane had been flying in international airspace, conducting an electronic eavesdropping mission on the Russian military, when the Russians took the unusual action of beginning to track it with land-based radar.
The Russians then sent at least one fighter jet into the sky to intercept the aircraft, the U.S. official said Saturday.
The spy plane crew felt so concerned about the radar tracking that it wanted to get out of the area as quickly as possible, the official said. The quickest route away from the Russians took them into Swedish airspace. The U.S. official acknowledged that was done without Swedish military approval.
As a result of this incident, the United States is discussing the matter with Sweden and letting officials know there may be further occurrences where American jets have to divert so quickly they may not be able to wait for permission.
"We acknowledge a U.S. aircraft veered into Swedish airspace and will take active steps to ensure we have properly communicated with Swedish authorities in advance to prevent similar issues before they arise," the U.S. State Department said.
The incident was first reported by the Swedish news agency Svenska Dagbladet.
Russian officials did not provide any immediate reaction about the encounter.
This was at least the second potentially-dangerous encounter between a U.S. plane and Russia over the past few months. On April 23, a Russian Su-27 Flanker fighter jet buzzed within 100 feet of the nose of a U.S. Air Force RC-135U reconnaissance plane over the Sea of Okhotsk between Russia and Japan, a Defense Department official said.
Russian fighter jet nearly collided with U.S. military plane in April
Russian and U.S. aircraft often encounter each other, both in Northern Europe as well as the area between the Russian Far East and Alaska. But the official said the land radar activity by the Russians in this instance was unusual.
The ongoing civil unrest in Ukraine and the downing of MH 17 over eastern Ukraine on July 17, which killed all 298 people aboard, have heightened tensions between Washington and Moscow. Malaysia Airlines Flight 17 was brought down by a suspected missile.
Pro-Russia rebels have denied allegations from Ukraine and the West that they shot down the Malaysian airliner, or that Russia supplied equipment used to shoot it down.
CNN's Jim Sciutto, Bill Mears and Mark Morgenstein contributed to this story

Today's five most popular stories
Part of complete coverage on
U.S. military
December 19, 2014 -- Updated 0039 GMT (0839 HKT)

The U.S. Army plans to launch two stationary "blimps" at 10,000-feet in the air next week to better protect the Washington D.C. area from cruise missiles and other possible air attacks.
December 11, 2014 -- Updated 1412 GMT (2212 HKT)

The U.S. Navy says its new laser weapon works and it will use it if it has to.
November 5, 2014 -- Updated 0146 GMT (0946 HKT)

A combination of old and new hooked up off the coast of San Diego Monday to give the U.S. Navy a glimpse into its future.
October 13, 2014 -- Updated 0020 GMT (0820 HKT)

The U.S. Navy is getting ready to "swarm" its adversaries.
October 3, 2014 -- Updated 1914 GMT (0314 HKT)

The U.S. Navy's oldest nuclear aircraft carrier has given a piece of itself to one the younger carriers in the fleet.
October 2, 2014 -- Updated 0839 GMT (1639 HKT)

A winged piece of history sits parked at a small airport.
September 11, 2014 -- Updated 1657 GMT (0057 HKT)

When a flight of military helicopters descended into a field in the small village of Gruta, Poland, on Tuesday, residents had reason to be alarmed.
August 22, 2014 -- Updated 1735 GMT (0135 HKT)

A storied former U.S. Navy aircraft carrier is on its final voyage Friday, a slow voyage from Rhode Island to a scrapyard in Texas.
August 27, 2014 -- Updated 1123 GMT (1923 HKT)

Call it part tank, part boat and part beer cooler. But it's unquestionably all cool.