Barcelona to host world's first sports theme park
August 4, 2014 -- Updated 0758 GMT (1558 HKT)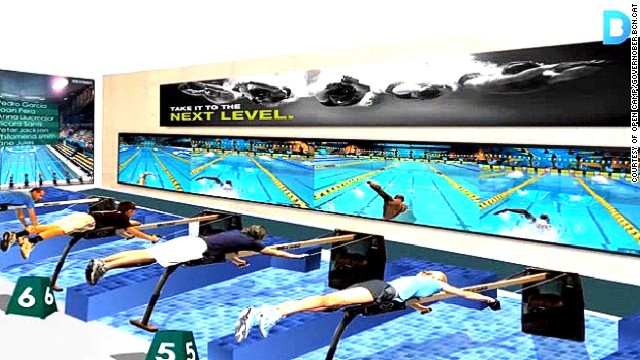 Details of a new sports-based theme park in Barcelona are sketchy, but promotional images show visitors taking part in virtual swimming races.
Promoters for the sports theme park say the "sportainment" experience will be created using "the world's best technology."
Barcelona officials hope the new sports theme park will regenerate "neglected" Olympic venues.
The promotional video for the park shows people experiencing virtual ski jumps.
The Barcelona sports theme park will allow visitors to experience what it's like to compete against Usain Bolt, officials say.
Visitors will to Barcelona's sports theme park will also be able to take part in medal ceremonies.
The sports theme park has attracted $26 million in funding and is expected to bring $71 million in annual revenues.
Virtual Olympics in Barcelona
'Sportainment'
Alive and kicking
Ski jump
Faster, higher, stronger
Gold, silver, bronze
Money maker
STORY HIGHLIGHTS
Sports theme park planned for Barcelona's Olympic venues
Visitors will take part in virtual races using "best technology on the planet"
Tickets to be priced according to the sports visitors want to take part in
(CNN) -- Fitness isn't usually a requirement for theme parks -- standing in lines, climbing into rides and screaming in abject terror require only basic levels of stamina.
Not so at the world's first-ever sports amusement park planned for the Olympic Stadium and other Olympic venues in Barcelona, which promises to give visitors the chance to experience what it's like to race against Usain Bolt.
Open Camp will offer more than 50 "virtual experiences with links to every sport" when it opens in 2015, according to officials in the Spanish city.
Details of how they'll be able to strut their stuff against the world's fastest and strongest are so far thin on the ground, but a promotional video offers some clues.
One image shows people strapped to horizontal machines that supposedly mimic swimming as a screen in front of them shows an Olympic-sized pool.
Another shows a visitor in ski gear hoisted aloft in a wind tunnel apparently designed to recreate the experience of ski jumping.
It's not just about taking part though -- it's also about winning.
The park will also stage daily awards ceremonies to dole out bronze, silver and gold.
MORE: World's top 25 amusement parks
'Sportainment' experience
A statement said "the best technology on the planet" would be used in creating the "sportainment" experience.
"Visitors will be able to feel what it is like to be professional football players, run a smooth 100 meters against Usain Bolt, take part in any Olympic Games race recreated exactly as it was in reality and experience a medals ceremony," it said.
It said the park is intended to breathe new life into the "neglected" venues that hosted Barcelona's Olympics in 1992. Since then the venues have continued to host sports events as well as music concerts.
"The park will bring more life to the stadium than it has today and encourage more of the public to use it, while allowing it to continue holding big events," says Maite Fandos, one of the city's deputy mayors.
More than €20 million ($26 million) of private funding has been stumped up for the project, which is expected to create at least 240 jobs and bring in up to €53 million in annual revenues.
Tickets ranging from €20-30 are likely to be priced according to the sports that visitors want to take part in, the statement says.
While it sounds exhausting, Open Camp promoter Francesc Medina reportedly insists it'll be an experience for everyone, "even people with a beer gut."
MORE: Insider guide: What to do in Barcelona
Would you visit a sports theme park? Let us know in the comments.

Today's five most popular stories
Part of complete coverage on
September 23, 2014 -- Updated 1007 GMT (1807 HKT)

Which cities provide the most memorable party times? A self-proclaimed "nightlife connoisseur" names his top 10.
September 22, 2014 -- Updated 0344 GMT (1144 HKT)

Whether you're looking for a post-meeting pint or a wild night out, creativity is on the menu at these hot Hong Kong venues.
September 23, 2014 -- Updated 1028 GMT (1828 HKT)

Artists and migrants are moving out as a once-crumbling neighborhood goes upscale.
September 20, 2014 -- Updated 0502 GMT (1302 HKT)

They irrigate our farms, are an important means of transport and a source of eco-friendly power.
September 19, 2014 -- Updated 0828 GMT (1628 HKT)

Open House festivals allow snooping in homes and landmarks normally closed to public
September 19, 2014 -- Updated 0422 GMT (1222 HKT)

Ancient competitions held and yurt town set up to rejuvenate nomadic cultures.
September 19, 2014 -- Updated 0102 GMT (0902 HKT)

Playful sea lions, fearless boobies and the only ocean-going lizards in the world -- these islands offer amazing experiences for naturalists and tourists alike.
September 18, 2014 -- Updated 1200 GMT (2000 HKT)

A foreign language can be the best aphrodisiac, so we traveled the world in search of the hottest accents.
September 23, 2014 -- Updated 0657 GMT (1457 HKT)

Hidden from the rest of the world for decades, Myanmar's Lethwei boxing is experiencing a revival globally.
September 17, 2014 -- Updated 1117 GMT (1917 HKT)

This aging cargo work whale makes more than 60 flights each week, carrying parts for all of the Airbus programs.
September 15, 2014 -- Updated 0026 GMT (0826 HKT)

Former brothels, public toilets and war bunkers now provide eccentric watering holes for those willing to drink deep.
September 12, 2014 -- Updated 0338 GMT (1138 HKT)

Whether filled with electric blue sulfur flames or hissing lava, these mega mountains offer incredible vistas.