Barcelona to host world's first sports theme park
August 4, 2014 -- Updated 0758 GMT (1558 HKT)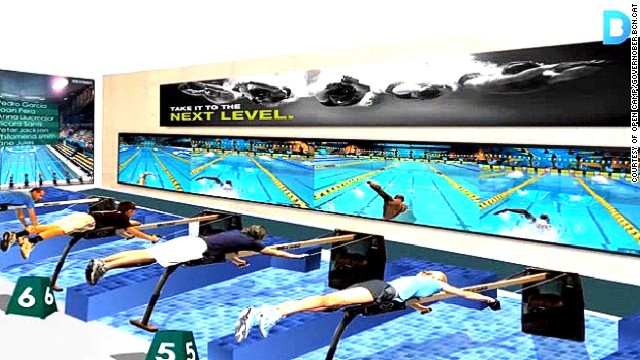 Details of a new sports-based theme park in Barcelona are sketchy, but promotional images show visitors taking part in virtual swimming races.
Promoters for the sports theme park say the "sportainment" experience will be created using "the world's best technology."
Barcelona officials hope the new sports theme park will regenerate "neglected" Olympic venues.
The promotional video for the park shows people experiencing virtual ski jumps.
The Barcelona sports theme park will allow visitors to experience what it's like to compete against Usain Bolt, officials say.
Visitors will to Barcelona's sports theme park will also be able to take part in medal ceremonies.
The sports theme park has attracted $26 million in funding and is expected to bring $71 million in annual revenues.
Virtual Olympics in Barcelona
'Sportainment'
Alive and kicking
Ski jump
Faster, higher, stronger
Gold, silver, bronze
Money maker
STORY HIGHLIGHTS
Sports theme park planned for Barcelona's Olympic venues
Visitors will take part in virtual races using "best technology on the planet"
Tickets to be priced according to the sports visitors want to take part in
(CNN) -- Fitness isn't usually a requirement for theme parks -- standing in lines, climbing into rides and screaming in abject terror require only basic levels of stamina.
Not so at the world's first-ever sports amusement park planned for the Olympic Stadium and other Olympic venues in Barcelona, which promises to give visitors the chance to experience what it's like to race against Usain Bolt.
Open Camp will offer more than 50 "virtual experiences with links to every sport" when it opens in 2015, according to officials in the Spanish city.
Details of how they'll be able to strut their stuff against the world's fastest and strongest are so far thin on the ground, but a promotional video offers some clues.
One image shows people strapped to horizontal machines that supposedly mimic swimming as a screen in front of them shows an Olympic-sized pool.
Another shows a visitor in ski gear hoisted aloft in a wind tunnel apparently designed to recreate the experience of ski jumping.
It's not just about taking part though -- it's also about winning.
The park will also stage daily awards ceremonies to dole out bronze, silver and gold.
MORE: World's top 25 amusement parks
'Sportainment' experience
A statement said "the best technology on the planet" would be used in creating the "sportainment" experience.
"Visitors will be able to feel what it is like to be professional football players, run a smooth 100 meters against Usain Bolt, take part in any Olympic Games race recreated exactly as it was in reality and experience a medals ceremony," it said.
It said the park is intended to breathe new life into the "neglected" venues that hosted Barcelona's Olympics in 1992. Since then the venues have continued to host sports events as well as music concerts.
"The park will bring more life to the stadium than it has today and encourage more of the public to use it, while allowing it to continue holding big events," says Maite Fandos, one of the city's deputy mayors.
More than €20 million ($26 million) of private funding has been stumped up for the project, which is expected to create at least 240 jobs and bring in up to €53 million in annual revenues.
Tickets ranging from €20-30 are likely to be priced according to the sports that visitors want to take part in, the statement says.
While it sounds exhausting, Open Camp promoter Francesc Medina reportedly insists it'll be an experience for everyone, "even people with a beer gut."
MORE: Insider guide: What to do in Barcelona
Would you visit a sports theme park? Let us know in the comments.

Today's five most popular stories
Part of complete coverage on
October 20, 2014 -- Updated 1808 GMT (0208 HKT)

The guidebook asked staff, contributors and authors for well-known and lesser-known recommendations.
October 20, 2014 -- Updated 1607 GMT (0007 HKT)

An airport in Asia has stolen the crown from Manila's Ninoy Aquino, voted 'world's worst' three years in a row.
October 21, 2014 -- Updated 1620 GMT (0020 HKT)

It's time for a beef break, veal vacation, hog holiday or sinew sabbatical in a T-bone a-fide U.S. meatopolis.
October 20, 2014 -- Updated 1319 GMT (2119 HKT)

With so many awesome new attractions on the way, the next few years are going to be a roller coaster ride.
October 17, 2014 -- Updated 0107 GMT (0907 HKT)

Scientists are busy surveying Southeast Asia's Coral Triangle, home to 75 percent of all known coral species.
October 16, 2014 -- Updated 1350 GMT (2150 HKT)

Bounce Below transforms an abandoned slate mine into a surreal, springy world of fear and fun,
October 14, 2014 -- Updated 2316 GMT (0716 HKT)

With chopsticks or fingers? Wasabi or no? A double Michelin-starred Tokyo chef sets the record straight and shows us the sushi way.
October 13, 2014 -- Updated 2224 GMT (0624 HKT)

It may look like a gateway across time and space crafted with alien technology, but in reality it's a fruit and vegetable market.
October 13, 2014 -- Updated 0925 GMT (1725 HKT)

Based on the votes of over 330 industry experts, the 2014 winners include bars from 27 cities in 14 countries.
October 12, 2014 -- Updated 2231 GMT (0631 HKT)

Careening down an active volcano at 95 kph on a thin board? It happens only at Cerro Negro in Nicaragua.