STORY HIGHLIGHTS
Nancy Writebol and Dr. Kent Brantly contracted Ebola while helping others in Liberia
Both were flown home to the U.S. and are being treated at Emory University Hospital
Nancy Writebol's husband says she's not yet in the clear but "in very good hands"
Kent Brantly says his "focus ... remains the same -- to follow God"
(CNN) -- Like the other American who volunteered to help others in Africa and ended up with Ebola, Nancy Writebol is driven first and foremost by her fervent faith.
Still, that doesn't mean she doesn't need -- or deserve -- a pick-me-up.
So, after arriving at Atlanta's Emory University Hospital from Liberia, Nancy Writebol asked for -- and received -- coffee from Starbucks. That was a definite plus about being back in her home country, though her husband acknowledges she has a long way to go to beat the deadly disease.
"I don't believe we can say she is in the clear, (but) I would say she is in very good hands," her husband, David Writebol, said Friday. "... I am praying like never before."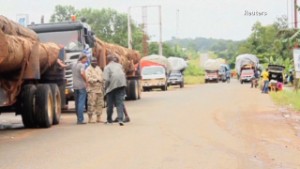 Western Africa continues fight with Ebola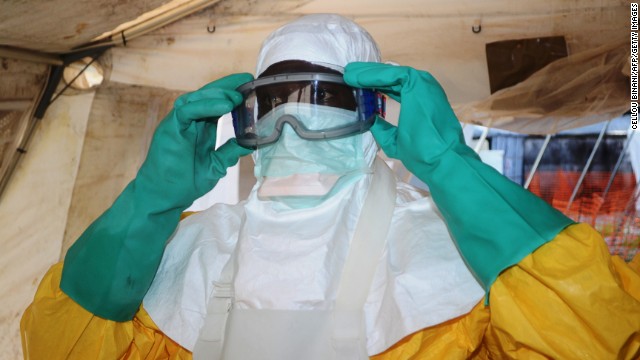 The current Ebola virus outbreak in West Africa is thought to have infected 1,093 people, and killed 660. Doctors Without Borders has described the epidemic as "out of control."
The outbreak began in forested areas of south-eastern Guinea, before spreading into Sierra Leone and Liberia. Pictured, a health specialist works in a lab set up in a tent at the Doctors Without Borders facility in Gueckedou, Guinea.
Symptoms of Ebola hemorrhagic fever typically include: weakness, fever, aches, diarrhea, vomiting and stomach pain. Additional experiences include rash, red eyes, chest pain, throat soreness, difficulty breathing or swallowing, and bleeding.
People can be infected by others if they come into contact with body fluids from an infected person or contaminated objects from infected persons. Pictured, Guinean Red Cross members spread awareness about the Ebola virus.
Typically, symptoms appear 8-10 days after exposure to the virus, but the incubation period can span two to 21 days.
The Ivorian Ministry of Health has asked Ivorians to avoid consuming or handling bushmeat. The virus can spread to animal primates and humans who handle infected meat -- a risk given the informal trade in bushmeat in forested central and West Africa.
The World Health Organization says that healthcare workers have been attacked and threatened in some affected villages. Healthcare workers have struggled to convince some communities to change traditional burial practices that could promote transmission of the virus.
Gloves and boots used by medical staff, drying in the sun, at a center for victims of the Ebola virus in Gueckedou, Guinea.
Isolation tents at Donka Hospital in Conakry, Guinea. This is the first outbreak to have affected Guinea. Previous outbreaks have affected Democratic Republic of the Congo, Uganda, and Republic of the Congo.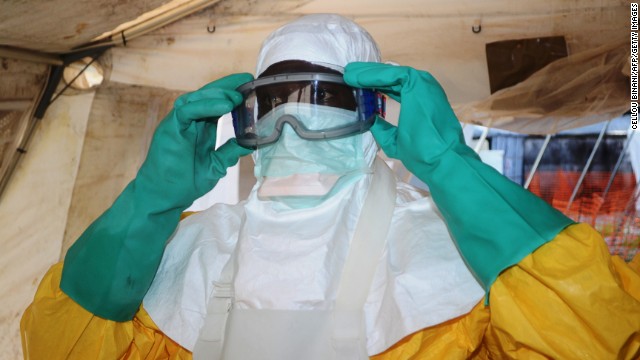 Ebola virus in West Africa
'Unassuming' woman of faith thrust into spotlight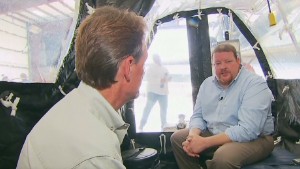 Go inside plane that held Ebola patients
On the same day he spoke about his wife's illness, the other infected American, who is being treated at the same Atlanta hospital, spoke publicly for the first time.
Dr. Kent Brantly said in a statement that he is receiving "the very best care possible" and "growing stronger every day."
Brantly and the Writebols talked about what led them to Liberia, where they thrust themselves into the midst of poverty and disease with a mission focusing on those in need. They also spoke about their struggles now to overcome Ebola.
Brantly, 33, went to Liberia with his wife and two children last year to serve a two-year fellowship through a Samaritan's Purse post-residency program to practice general medicine.
Infected U.S. doctor long drawn to mission work
But everything changed when Ebola started to sweep through West Africa. Brantly got a new role as medical director for the Samaritan's Purse Ebola Consolidated Case Management Center in Monrovia.
"I held the hands of countless individuals as this terrible disease took their lives away from them," he said Friday. "I witnessed the horror firsthand and I can still remember every face and name."
It was in Monrovia where Brantly said he "immediately isolated" himself after first feeling ill. Three days later, his Ebola diagnosis was confirmed, though it didn't trigger the emotional response one might expect.
"When the result was positive, I remember a deep sense of peace that was beyond all understanding," he said. "God was reminding me of what he had taught me years ago, that he will give me everything I need to be faithful to him."
Two weeks after that diagnosis, Brantly said, "My focus ... remains the same -- to follow God."
WHO: Ebola an international health emergency
That strong Christian faith also echoed throughout David Writebol's comments about his wife.
Married for 40 years, the Writebols have traveled the globe focused on their faith and their desire to help others.
They are an ocean apart now, though plans are in the works to bring David Writebol from Liberia to be with his wife in Atlanta. When they do reunite, David said, "I would give her a kiss. Hold her."
After that, the couple wouldn't necessarily go back to the comforts of America and more coffee from Starbucks. Ebola might have derailed them, but it hasn't changed their purpose in life.
"We aren't going to stop our ministry," David Writebol said. "We believe we can serve wherever God sends us."
Ebola virus: 9 things to know about the killer disease
Experimental drug likely saved Ebola patients
9 questions about this new Ebola drug