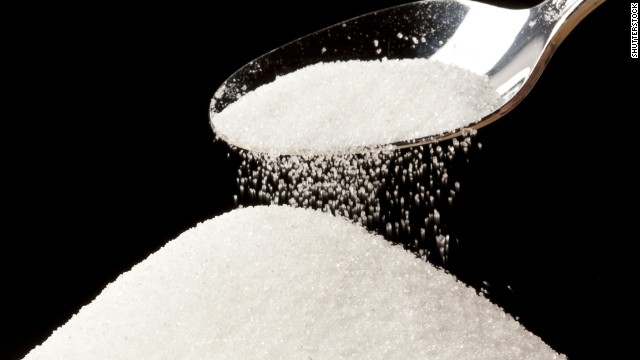 Natural and artificial sweeteners are in more food products than you might expect. Find out how many calories are in your favorite sweetener and see which ones have the most nutritional bang for your buck.
granulated sugar
, or white sugar, which is derived from sugarcane or sugar beets. Common in foods, it has less nutrients than other natural sweeteners due to a refining process. Calories per tablespoon: 48.
What most people consider sugar is refined
Brown sugar
is created when molasses is added to sugar crystals. It has higher calcium and potassium levels than its white counterpart. The darker the sugar, the more molasses is present. Calories per tablespoon: 51.
Molasses
is a byproduct when sugarcane and sugar beets are refined. It is often used in baked goods, and is a rock star when it comes to nutrition with 1,464 mg of potassium, 205 mg of calcium and 242 mg of magnesium -- the highest of all the sweeteners. Calories per tablespoon: 58.
Maple syrup
is made from the sap of maple trees, though the artificial varieties are often just a combination of water and sugars. Nutritional perks of authentic syrups include calcium and potassium. Calories per tablespoon: 52.
Mayo Clinic
recommends that people who have bee-related allergies avoid honey, and it shouldn't be given to children younger than 12 months. Calories per tablespoon: 64.
Honey is produced by bees and has the most calories out of all the sweeteners on our list. The
dark syrup
contains the most nutrients).
Mayo Clinic
says there is a lack of evidence on the possible dangers of the controversial high-fructose variety. Calories per tablespoon: Light (62), dark (57), high-fructose (53).
Corn syrup is a sweetener made from corn starch that is commonly used in drinks and packaged foods. It comes in light, dark and high-fructose syrups (the
agave nectar
is created from the agave plant that is native to southern and western United States and parts of South America. It contains fewer carbs than most other sweeteners and contains vitamin C. Calories per tablespoon: 63.
A more exotic sweetener,
FDA
. Nausea is a possible
side effect
. Calories per tablespoon: 0.
The leaves from stevia plants are used for medicinal purposes and as a sugar-free sweetener. It is reported to be much sweeter than white sugar, but isn't approved by the
Splenda
, is sucralose-based and is created from chemically processed sugar. According to
researchers
, one possible risk of digesting these products is that it can confuse your body, making it harder to process real sugars as a result. Calories per tablespoon: 0.
Equal and NutraSweet are FDA-approved artificial sweeteners made from aspartame (two amino acids put together). Another artificial sweetener,
The sweet truth
White sugar
Brown sugar
Molasses
Maple syrup
Honey
Corn Syrup
Agave nectar
Stevia
Artificial sweeteners
STORY HIGHLIGHTS
Sweeteners are derived from natural substances rather than synthesized
They haven't been studied as extensively as sugar and artificial substitutes
FDA considers most of them to be generally recognized as safe
(SELF) -- With regular sugar taking a nutritional beating and artificial sweeteners unable to shake their sketchy made-in-the-lab connotations, it's no wonder newcomers like stevia and agave are conquering our morning coffee (and the world of packaged foods).
The new low-cal sweeteners are derived from natural substances rather than synthesized like saccharin and aspartame, so choosing them can make you feel at least somewhat healthy and virtuous. Still, there are concerns.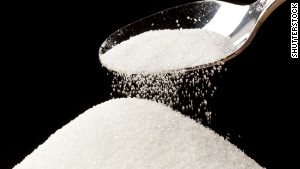 Put down that sugar!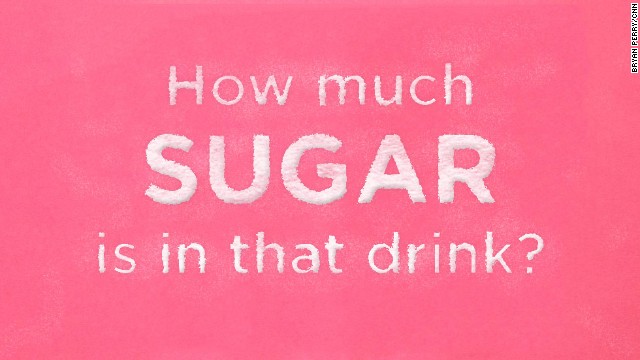 Sugar has become public enemy No. 1 in the nutrition field -- doctors and public health advocates alike are "Fed Up" with the amount Americans are consuming. The World Health Organization recently proposed new guidelines that recommend consuming less than 5% of our total daily calories from added sugars. For an adult at a normal body mass index, or BMI, 5% would be around 25 grams of sugar -- or six teaspoons. While food accounts for a large portion of the added sugar in our diet, many experts recommend cutting back on sugary beverages to reduce daily intake. In the following slides, we compare the amount of sugar found in some of America's top-selling beverages -- according to Beverage Industry magazine's 2013 State of the Industry Report -- to the sugar found in common sugary snacks. Many of these companies offer lower or no-sugar versions of their drinks, says American Beverage Association spokesman Christopher Gindlesperger. "Nearly half -- 45% -- of all non-alcoholic beverages contain 0% (sugar)," he says. Click through to see the comparisons. Keep in mind that we are matching the amount of sugar, not calories, in each of the following examples.
Soda: Coca-Cola. A 20-ounce bottle of Coca-Cola Classic contains 65 grams of sugar, which is the same amount of sugar found in five Little Debbie Swiss Rolls.
Soda: Pepsi. A 20-ounce bottle of Pepsi contains 69 grams of sugar. Each Little Debbie Swiss Roll contains an estimated 13 grams of sugar.
Juice: Minute Maid 100% Apple Juice. This 15.2-ounce bottle contains 49 grams of sugar, which is about the amount of sugar in 10 Oreos. Sugar occurs naturally in fruit, but natural sugar isn't any different in chemical structure from what most people refer to as added sugar. The body processes both the same way. One benefit of eating whole fruit is the fiber that helps slow absorption; that fiber is generally lost in the juice-making process.
Juice: Sunny D Original. A 16-ounce bottle of SunnyD Original contains 28 grams of sugar. Each these six Oreos contains about 4.6 grams of sugar.
Tea: Arizona Green Tea with Ginseng & Honey. A 23-ounce can of Arizona Green Tea contains 51 grams of sugar, which is about the same as can be found in 20 Hershey's Kisses.
Tea: Lipton Lemon Iced Tea. There are 32 grams of sugar in this 20-ounce bottle of iced tea. Each of these 12 Hershey's Kisses contains approximately 2.5 grams of sugar.
Energy drink: Red Bull. Three-quarters of a cup of generic brand frosted flakes contains about 11 grams of sugar. This 16-ounce can of Red Bull has 52 grams of sugar.
Energy drink: Monster Energy. This 16-ounce can of Monster Energy has 54 grams of sugar. It contains the same amount of sugar as about 3.5 cups of frosted flakes.
Milk: Skim milk. An 8-ounce glass of skim milk has about 11 grams of sugar. A single Starburst candy has 2.7 grams.
Milk: Silk Vanilla Soymilk. A glass of vanilla soymilk has about 8 grams of sugar, which is equal to the amount found in three Starbursts.
Milk: Silk Almond Milk Original. A glass of original almond milk contains 7 grams of sugar. Unsweetened almond milk has 0 grams.
Juice smoothie: Naked Berry Blast. The 15.2-ounce bottle of Naked Berry Blast has 29 grams of sugar. Each of these eight Chips Ahoy! cookies contains about 3.6 grams of sugar.
Juice smoothie: Bolthouse Farms Berry Boost. You'd consume 24 grams of sugar by drinking this Bolthouse Farms Berry Boost 15.2-ounce bottle -- or by eating six Chips Ahoy! cookies.
Sports drink: Gatorade Thirst Quencher Cool Blue. This 32-ounce Gatorade bottle has 56 grams of sugar, the same that can be found in approximately five Reese's Peanut Butter Cups.
Sports drink: Powerade Mountain Berry Blast. Powerade's Mountain Berry Blast also has 56 grams of sugar. Each of these five Reese's cups contains about 11 grams of sugar.
Iced coffee: Starbucks Iced Flavored Latte. A Grande Starbucks Iced Flavored Latte with 2% milk and your choice of syrup has about 28 grams of sugar. The same amount of sugar is in 2.5 Krispy Kreme donuts.
Iced coffee: Dunkin Donuts Iced Caramel Latte. A 16-ounce Dunkin Donuts Iced Caramel Latte has 37 grams of sugar. Each Krispy Kreme donut has about 11 grams of sugar.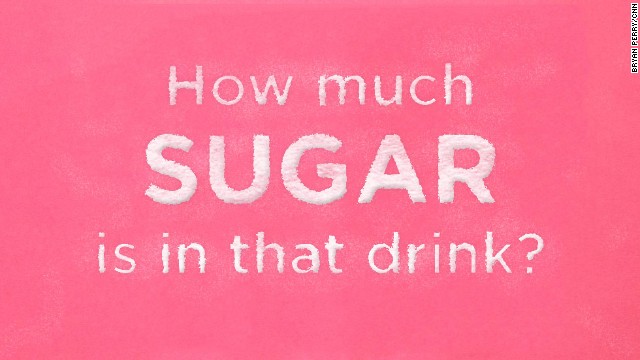 Sugar-sweetened beverages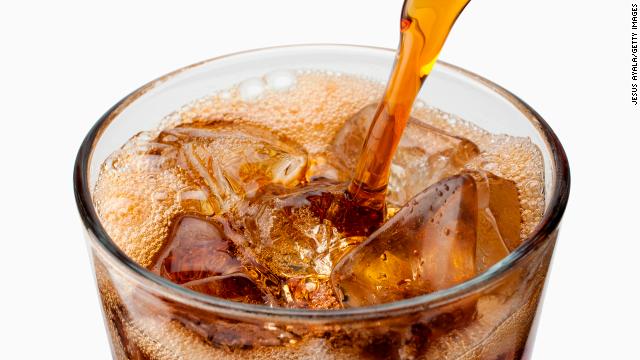 10 reasons to give up diet soda When taken at face value, diet soda seems like a health-conscious choice. It saves you the 140-plus calories you'd find in a sugary soft drink while still satisfying your urge for something sweet with artificial sweeteners like aspartame, saccharin, and sucralose. But there's more to this chemical cocktail than meets the eye. Health.com: The 25 best diet tricks of all time
It confuses your body Artificial sweeteners have more intense flavor than real sugar, so over time products like diet soda dull our senses to naturally sweet foods like fruit, says Brooke Alpert, author of "The Sugar Detox." Even more troubling, these sugar stand-ins have been shown to have the same effect on your body as sugar. "Artificial sweeteners trigger insulin, which sends your body into fat storage mode and leads to weight gain," Alpert says. Health.com: 5 steps to quitting artificial sweeteners
It could lead to weight gain, not weight loss Diet soda is calorie-free, but it won't necessarily help you lose weight. Researchers from the University of Texas found that over the course of about a decade, diet soda drinkers had a 70% greater increase in waist circumference compared with non-drinkers. And get this: participants who slurped down two or more sodas a day experienced a 500% greater increase. Health.com: 27 Mistakes Healthy People Make
It may increase your risk of type 2 diabetes Drinking one diet soda a day was associated with a 36% increased risk of metabolic syndrome and diabetes in a University of Minnesota study. Metabolic syndrome describes a cluster of conditions (including high blood pressure, elevated glucose levels, raised cholesterol, and large waist circumference) that put people at high risk for heart disease, stroke, and diabetes, Bjork explains. Health.com: Could you have type 2? 10 diabetes symptoms
It has no nutritional value When you drink diet soda, you're not taking in any calories -- but you're also not swallowing anything that does your body any good, either. The best no-calorie beverage? Plain old water, says Bjork. "Water is essential for many of our bodily processes, so replacing it with diet soda is a negative thing," she says. If it's the fizziness you crave, try sparkling water. Health.com: 15 big benefits of water
Its sweetener is linked to headaches Early studies on aspartame and anecdotal evidence suggests that this artificial sweetener may trigger headaches in some people. "I have several clients who used to suffer from migraines and pinpointed their cause to diet soda," Bjork says. Health.com: Headache-proof your diet
It'll ruin your smile over time Excessive soda drinking could leave you looking like a "Breaking Bad" extra, according to a case study published in the journal General Dentistry. The research compared the mouths of a cocaine user, a methamphetamine user, and a habitual diet-soda drinker, and found the same level of tooth erosion in each of them. The culprit here is citric acid, which weakens and destroys tooth enamel over time. Health.com: 20 things that can ruin your smile
It makes drinking more dangerous Using diet soda as a low-calorie cocktail mixer has the dangerous effect of getting you drunk faster than sugar-sweetened beverages, according to research from Northern Kentucky University. The study revealed that participants who consumed cocktails mixed with diet drinks had a higher breath alcohol concentration than those who drank alcohol blended with sugared beverages. The researchers believe this is because our bloodstream is able to absorb artificial sweetener more quickly than sugar. Health.com: 6 ways to enjoy cocktails guilt-free
It's associated with depression A recent study presented at a the American Academy of Neurology meeting found that over the course of 10 years, people who drank more than four cups or cans of soda a day were 30% more likely to develop depression than those who steered clear of sugary drinks. The correlation held true for both regular and diet drinks, but researchers were sure to note that the risk appeared to be greater for those who primarily drank diet sodas and fruit punches. Although this type of study can't prove cause and effect, its findings are worth considering. Health.com: The 10 most depressing states in the U.S.
It may be bad for your bones Women over 60 are already at a greater risk for osteoporosis than men, and Tufts University researchers found that drinking soda, including diet soda, compounds the problem. They discovered that female cola drinkers had nearly 4% lower bone mineral density in their hips than women who didn't drink soda. The research even controlled for the participants' calcium and vitamin D intake. Additionally, a 2006 study published in the American Journal of Clinical Nutrition found that cola intake (all kinds, not just diet) was associated with low bone-mineral density in women. Health.com: 11 foods for healthy bones
It may hurt your heart Just one diet soft drink a day could boost your risk of having a vascular event such as stroke, heart attack, or vascular death, according to researchers from the University of Miami and Columbia University. Their study found that diet soda devotees were 43% more likely to have experienced a vascular event than those who drank none. Regular soda drinkers did not appear to have an increased risk of vascular events. Researchers say more studies need to be conducted before definitive conclusions can be made about diet soda's effects on health. This article originally appeared on Health.com.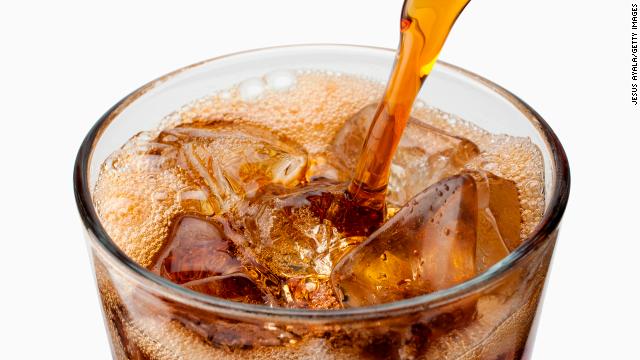 10 reasons to give up diet soda
Are they safe?
Some of these natural sweeteners are relatively new, so they haven't been studied as extensively as sugar and artificial substitutes have.
And though you would expect natural to mean that a product contains nothing artificial, some new sweeteners may have undergone chemical processing to extract them from their original sources, says Barry Popkin, a professor of nutrition at the school of public health at the University of North Carolina at Chapel Hill.
The processing involved may affect their healthfulness, though we can't be sure since manufacturers provide few details. However, the FDA has reviewed provided data and considers most of them to be generally recognized as safe.
SELF: 25 easy (delicious!) ways to eat healthy
In fact, the food-safety watchdog group Center for Science in the Public Interest believes this new generation is probably safer than aspartame and saccharin, which it asserts could increase cancer risk. (The FDA and the American Cancer Society dismiss the talk of cancer, because it's based on older animal studies involving very large amounts of artificial sweeteners.)
There is one new sweetener CSPI has put in its "caution" category: the monk-fruit extract found in products such as Nectresse, which CSPI says has been poorly tested for safety.
"But since it's derived from a fruit, it is probably safe," says Michael Jacobson, CSPI's executive director.
And slimming?
With the exception of agave syrup, the new naturals are very low-calorie or calorie-free, so you would think they'd be a great way to help decrease your daily calorie intake. But it's complicated -- mostly because there's no research that specifically looks at how these sweeteners affect weight loss.
SELF: How the naturals stack up
Existing studies on dieting focus on the older generation of artificial additives. And on that front the evidence is mixed.
"Our research shows that artificial sweeteners do appear to reduce the risk for weight gain when combined with a healthy, well-balanced diet," Popkin says.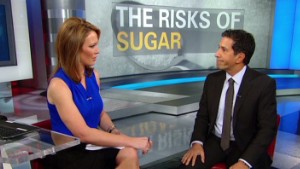 Report: Sugar raises heart concerns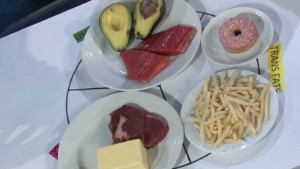 Sugar and fat: What's worse?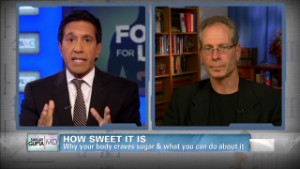 Can Oreos be as addictive as cocaine?
On the other hand, a 2013 study review in Trends in Endocrinology & Metabolism found that artificial sweeteners -- as little as the amount in one diet soda a day -- are associated with an increased likelihood of weight gain and diabetes.
"Sweeteners may be interfering with the physiological responses that help us regulate body weight and control blood sugar," says the study's author, Susan Swithers, professor of behavioral neuroscience at Purdue University.
In other words, when we taste something sweet, our bodies expect actual calories to hit our bellies soon afterward. To prepare for that, we release insulin and other hormones to react to the influx and register fullness. But in the absence of actual calories, the insulin and other hormones may not only cause your blood sugar to plunge but could actually make you crave more sweets and overeat.
SELF: 20 super foods for weight loss
Though the study focused on artificial low-calorie sweeteners, experts think the effect would hold true for natural ones, too, since mere sweetness jump-starts this chain reaction.
"We would not expect natural low-calorie sweeteners to be any better than artificial sweeteners when it comes to weight management," says Swithers.
However, you may be able to counter the overeating effect if you consume sweetened foods that contain fiber, like oatmeal. The fiber will help keep insulin levels steady so blood sugar doesn't plunge, says New York psychologist Stephen Gullo.
The sweet lowdown
One thing's certain: As a range of new studies continues to show that sugar is a major factor in not only obesity but heart disease, inflammation and other chronic health conditions, many experts now advocate controlling added sugar intake in the diet as much as possible.
"If you have a sweet tooth, consuming sugar substitutes is better for you," says Cindy Fitch, a registered dietician and director of Families and Health Programs at West Virginia University's extension service.
Reprinted with permission of Conde Nast.