Anthony Weiner finds a new way to serve New York City
August 9, 2014 -- Updated 1953 GMT (0353 HKT)
STORY HIGHLIGHTS
Former mayoral hopeful Anthony Weiner announced plans for a new restaurant
Rockaway Restoration Kitchen is slated as a non-profit with a mission to serve its community
"We want to do something sustainable for the community," said Weiner
Rockaway, Queens was devastated by Superstorm Sandy in 2012
New York (CNN) -- Former New York Congressman Anthony Weiner is hoping to open a restaurant and create jobs, a year after his failed bid to become the city's next mayor.
The Rockaway Restoration Kitchen is still in the planning phases, but part of its stated mission is to aid the unemployed residents of Rockaway, Queens, a neighborhood that was devastated by Hurricane Sandy in 2012.
In its current state, Rockaway is a "food desert" according to Weiner, with pizzerias and other fast food joints dominating the landscape.
Bagel shop rises after Hurricane Sandy
"It's more than just opening a restaurant," Weiner told CNN. "We want to do something sustainable for the community, while also providing healthy, local food options for the Rockaway population."
There is no indication yet of what will be on the menu.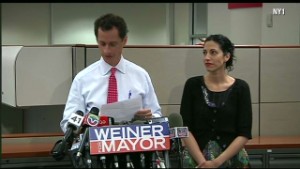 Five big campaign moments of 2013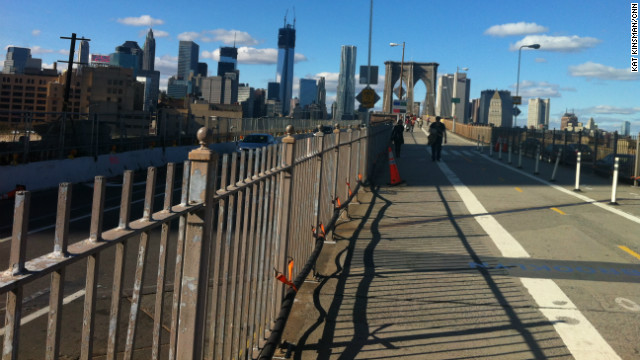 New York City restaurants downtown and in Brooklyn were hit hard by Superstorm Sandy. Not only did they and their tipped and hourly employees, lose business and earning potential -- many of them had to throw out a great deal of food when the power to their refrigerators went out.
Food lovers from all around New York rallied to spend their dining dollars at restaurants as soon as they opened -- and some of us had a longer journey than others. Most subway lines had not yet been restored by the weekend, so Eatocracy editors decided to walk over the Brooklyn Bridge to eat in downtown Manhattan.
Halal food trucks met us on the other side of the bridge, selling grilled meats, pretzels and drinks as if it were a day like any other.
The Wafels and Dinges truck reopened for service on Wednesday, when most downtown businesses were still without power.
Most businesses in the Financial District and near City Hall are closed on a normal weekend, anyhow so we kept moving toward the good stuff, with hope in our hearts and rumblings in our stomachs.
Nom Wah on Doyers St. was serving up a bustling dim sum business, with only a few items missing from the regular menu.
New Beef King, which serves up the best jerky in Chinatown -- or possibly anywhere -- was open for business.
"Parigot is open!" proclaimed the sign. "We have heat. Downtown is back. Come celebrate."
Daniel Boulud's DBGB apologized for offering a limited menu. The beaming diners inside didn't seem to mind.
Even Superstorm Sandy couldn't keep New Yorkers from their beloved cupcakes.
Lombardi's has occupied Spring Street for over 100 years. It wasn't about to let a storm -- even a Super one -- get in its way.
Pulino's, a much newer addition to the neigborhood, refused to give up its ground, either.
Maharlika boasted one of hundreds of triumphant signs throughout the city, trumpeting a restaurant's return.
Veniero's, like Lombardi's, has fed the stomachs and sould of New Yorkers for over 100 years. It's time for us to return the favor.
Many of us are using the Twitter hashtag #dineoutNYC to spread the word, and encouraging fellow diners to #tipBIG (in cash, when possible).
And if you can't make it to New York to eat in the next short while, remember: it's a marathon, not a sprint, and it will take a long time for some of these small businesses to recover.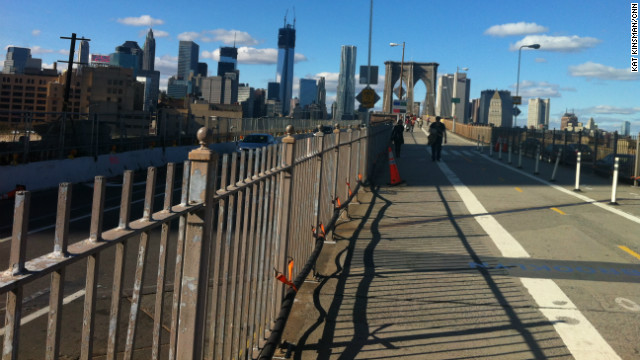 Dining downtown after Sandy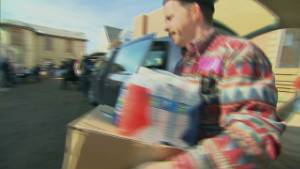 Volunteers help victims of Sandy
A thirteen week training program for prospective employees will cover not only kitchen and serving skills, but also professional appearance and life skills, according to Weiner.
"Our hope is to train people and give them skills to be able to go on and work in other restaurants," Weiner said. "They'll be able to write on their resume that they worked at Rockaway Restoration Kitchen."
The program's target population is unemployed residents who have had trouble finding work "because of history of substance abuse, incarceration or health problems," according to the restaurant's website.
"It's ridiculous that these people are not able to find jobs because of one blemish on their records," Weiner said.
Anthony Bourdain: Eat out and tip big to save NYC restaurants after Sandy
Weiner says he's still raising money for the non-profit, and that he hopes the restaurant will be operational "in about a year." The eatery is currently seeking an executive director, according to a post on Idealist.org.
This won't be the first restaurant endeavor for the family; Weiner's brother Jason is the chef and co-owner of Almond restaurant in New York City's Flatiron district.
Weiner gained national attention in 2011 when he resigned from Congress after admitting to sending inappropriate pictures and messages to several women.
In 2013 Weiner again made headlines when lewd text messages surfaced between him and a 22-year-old woman while he was running for mayor of New York City.

Today's five most popular stories
Part of complete coverage on