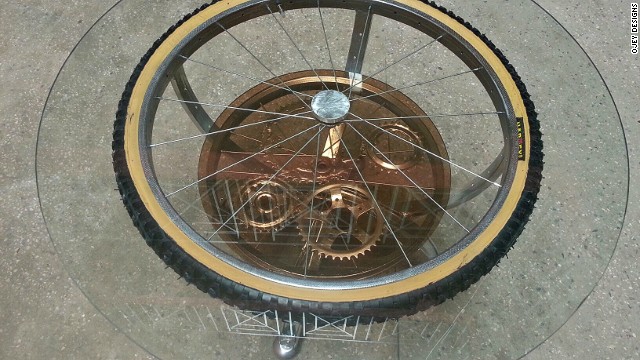 Ojey's Designs Limited is a Kenyan startup specializing in making contemporary furniture from old bicycle parts.
Based on the outskirts of Nairobi, Ojey's Designs is crafting eye-catching chairs, tables and stools.
Founder Martin Ojwang has set up his workshop where he lives: on the 5th-floor balcony of an apartment block.
"Getting a shop outside, it's pretty expensive for someone who's starting," says Ojwang. "So for me here, my landlord is a good person I only pay for rent so I pretty much save on that."
Ojwang's designs always use parts from bicycles -- fromm tims and ties to spokes and pedas. The different parts are welded together to form the base of his furniture.
"When we started Ojey's Designs I was alone and then I employed some two people for assisting," says Ojwang. "Right now, we actually have four employees and we have four casual workers who come when the production is high."
Yet, despite access to bicycle parts, starting a business has not been without its difficulties.
"Some of the challenges that we're facing as Ojey's Designs is ... penetrating the market," says Ojwang. "[That] is a little bit hard; then pricing of our products and then getting the raw materials."
Another challenge for the young entrepreneur is promoting his creations. "We do market online, and marketing online is a bit of a challenge because of trust that lays around online marketing in Kenya."
Ojwang is, however, optimistic about the future. "In the next five years we want to be known countrywide," he says. " We want to supply countrywide; we want to start branches with major cities -- basically we are looking to be visible countrywide."
Bikes turned into furniture
Bikes turned into furniture
Bikes turned into furniture
Bikes turned into furniture
Bikes turned into furniture
Bikes turned into furniture
Bikes turned into furniture
Bikes turned into furniture
Bikes turned into furniture
Bikes turned into furniture