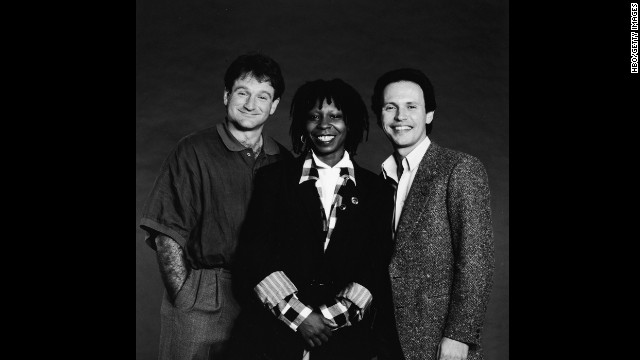 Robin Williams
was honored during this year's Emmy telecast with a tribute led by friend Billy Crystal, who hosted the "Comic Relief" benefits with Williams and Whoopi Goldberg (seen here in 1986). Williams died August 11 at age 63. Click through to see moments from the beloved actor's remarkable life.
David Letterman remembered him
as "nothing we had ever seen before."
Williams' peers regarded him as a brilliant actor and comedian. His friend
Williams first shot to stardom with Pam Dawber in the sitcom "Mork & Mindy" in September 1978.
Williams attends the Robin Williams Opening Party on April 11, 1979, at Studio 54 in New York City.
This 1982 file photo originally released by Warner Bros. Pictures shows Williams as T.S. Garp from the film "The World According to Garp."
Williams and his first wife, Valerie Velardi, join a huge number of photographers packed into singer Paul Simon's apartment to celebrate Simon's wedding to actress Carrie Fisher in New York City on August 16, 1983.
Williams, center, takes time out from rehearsal at NBC's "Saturday Night Live" with cast members Eddie Murphy, left, and Joe Piscopo on February 10, 1984. Williams would appear as guest host on the show.
Williams enjoys music through a headset in a scene from the film "Good Morning, Vietnam" in 1987.
Williams portrayed a teacher in the movie "Dead Poets Society" in 1989, one of his first mostly dramatic roles.
Williams went to all lengths to stay with his children in the 1993 movie "Mrs. Doubtfire."
From left, Bonnie Hunt, Bradley Pierce, Kirsten Dunst and Williams hold one another in a scene from the 1995 film "Jumanji."
Comedians and co-hosts, from left, Billy Crystal, Whoopi Goldberg and Williams sing and dance the 1940s-era opening number to "Comic Relief VII" on November 11, 1995, in Los Angeles.
Jay Leno laughs as Williams jokes around during a taping of "The Tonight Show with Jay Leno" on November 13, 1995, at the MGM Grand Hotel in Las Vegas.
Williams and Nathan Lane starred in the film "The Birdcage" in 1996.
Williams visits a sick child in a scene from the film "Patch Adams" in 1998.
Williams and his wife, Marsha, pose for photographers with their daughter, Zelda, as they arrive at the premiere of the film "Patch Adams" in December 1998 in New York City.
Williams wears a clown nose as he places his hands in concrete during a ceremony outside Mann's Chinese Theatre in Hollywood in 1998. In the critically acclaimed "Patch Adams," he played a doctor who used humor to help heal his patients
Actor-writers Matt Damon, left, and Ben Affleck, right, pose with Williams, holding the Oscars they won for "Good Will Hunting" at the 70th annual Academy Awards in 1998. Damon and Affleck won for best original screenplay, and Williams won for best supporting actor.
Williams donates blood at the Irwin Memorial Blood Center in San Francisco on September 11, 2001.
U.S. Postal Service team rider Lance Armstrong rides with Williams during training on a rest day of the 89th Tour de France cycling race in Vaison La Romaine on July 22, 2002.
Williams plays Rainbow Randolph in the 2002 black comedy "Death to Smoochy."
Williams and Oscar host Billy Crystal perform at the 76th Academy Awards show in 2004.
Williams poses for pictures with U.S. soldiers at the main U.S. base at Bagram, Afghanistan, on December 16, 2004.
Williams in 2007's "License to Wed."
Williams and Susan Schneider arrive at the premiere of "World's Greatest Dad" in Los Angeles on August 13, 2009.
Williams at the pre-premiere party for "Happy Feet Two" at the Grand Connaught Rooms in London on November 20, 2011.
Williams poses for photographs in Sydney, Australia, on December 5, 2011. He and Australian director George Miller were in Australia to promote "Happy Feet Two."
Williams' wife, Susan Schneider, said, "This morning, I lost my husband and my best friend, while the world lost one of its most beloved artists and beautiful human beings. I am utterly heartbroken."
Comedic actor Robin Williams dies
Comedic actor Robin Williams dies
Comedic actor Robin Williams dies
Comedic actor Robin Williams dies
Comedic actor Robin Williams dies
Comedic actor Robin Williams dies
Comedic actor Robin Williams dies
Comedic actor Robin Williams dies
Comedic actor Robin Williams dies
Comedic actor Robin Williams dies
Comedic actor Robin Williams dies
Comedic actor Robin Williams dies
Comedic actor Robin Williams dies
Comedic actor Robin Williams dies
Comedic actor Robin Williams dies
Comedic actor Robin Williams dies
Comedic actor Robin Williams dies
Comedic actor Robin Williams dies
Comedic actor Robin Williams dies
Comedic actor Robin Williams dies
Comedic actor Robin Williams dies
Comedic actor Robin Williams dies
Comedic actor Robin Williams dies
Comedic actor Robin Williams dies
Comedic actor Robin Williams dies
Comedic actor Robin Williams dies
Comedic actor Robin Williams dies
Comedic actor Robin Williams dies
STORY HIGHLIGHTS
Robin Williams killed himself this week inside his Northern California home
Raised in the Midwest, his breakthrough role came as lovable alien, Mork
Williams starred in comedic and dramatic films, including "Good Will Hunting"
He's remembered for his kindness as well as his work
(CNN) -- Of all the things to say about Robin Williams, the truest may be this: He made people smile.
They might be those who packed comedy cubs for his frenetic, improvisational, hilarious routines. Or those who fell in love with him as the lovable alien Mork and stayed in love through fun films such as "Aladdin" and serious ones such as "Good Will Hunting." Or those who had the pleasure of knowing him as a man -- a kind, decent, generous soul who made others' lives better.
Throughout his 63 years, Williams rarely failed to impress others with his charisma, his talent, his heart. All the while, he fought his personal demons -- including substance abuse that led to at least two rehab stints, the most recent coming last summer.
Ultimately, those struggles led to his end. According to police, Williams apparently hanged himself with a belt this week in a bedroom of his Marin County, California, home. Someone who'd given so much to so many over the years, in ways big and small, decided to take his own life after struggling with depression.
Officials: Williams apparently hanged himself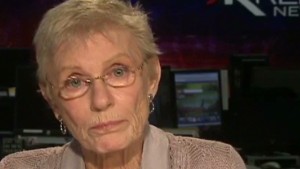 Patty Duke speaks out on mental health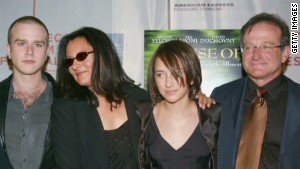 The loved ones Robin Williams left behind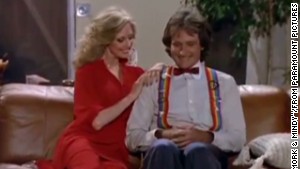 Morgan Fairchild remembers Robin Williams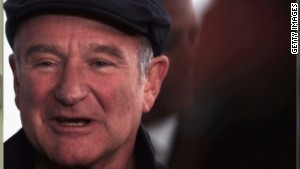 Police: Robin Williams hanged himself
Still, while Williams never denied his struggles, he was never defined by them either. Just ask those who rubbed elbows with him, whether they were big-time comedians or fathers he could give joy to their ailing children.
Invariably, they had a story that involved him laughing, telling stories and making people feel good.
"His impact on the world was so positive," tweeted comedian and occasional co-star Ben Stiller. "He did so much good for people. He made and so many people laugh so hard for a very long time."
'A comedy force of nature'
The son of a model and an auto company executive, Robin Williams was born in Chicago on July 21, 1951, yet spent most of his childhood in and around Detroit.
Chubby and sometimes bullied, Williams laid low growing up -- the latter being expected in his family, Williams told People in a 2009 interview, even if it's opposite of the bigger-than-life persona he'd cultivate through his career.
"The ideal child was seen, not heard," he said then.
In an interview with the Detroit Free-Press, Williams characterized himself as "the opposite of a class clown" while at Detroit Country Day, a private boys school. He worked hard, played soccer and wrestled and "just went out of my way to fit in."
"I loved school, maybe too much really. I was summa cum laude in high school," he told the Free-Press. "I was driven that way."
As a teen, Williams moved to Northern California's Marin County -- attending high school and college there before enrolling at New York's prestigious Juilliard School for performing arts. He'd later return to the Bay Area, handing out Halloween candy and boosting local causes.
The once shy boy also found his place and his voice on stage at comedy clubs. Even after making a name for himself in Hollywood, he kept coming back to do stand-up at establishments such as Cobb's, Catch a Rising Star, the Improv and The Comedy Store because, as he told People: "It was my only release."
"To see Robin perform was an experience," fellow comedian Gilbert Gottfried recalled in a piece on CNN.com. "He was more than a comedian. He was a comedy force of nature."
Mork from Ork
The comedy clubs may have been where Robin Williams felt at home. But he made it into millions of Americans' homes in his role as Mork from Ork.
Just as there's never been anyone else like Williams, there's been no other character like Mork -- an alien who took an egg-shaped spaceship to Earth and, thanks to Williams, ended up stealing many Earthlings' hearts.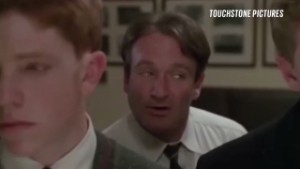 Robin Williams: 9 memorable moments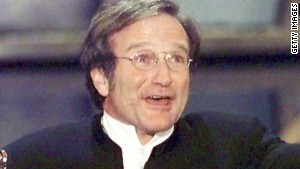 Comic Relief founder remembers Williams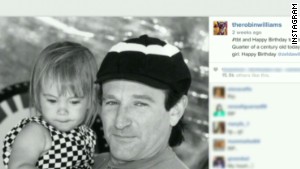 Robin Williams' final tweet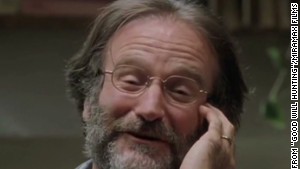 Winkler on Williams: 'I'm speechless'
The character debuted on the sit-com "Happy Days," whose star Henry Winkler "realized I was in the presence of greatness" during Williams' first rehearsal. From the start, his delivery, myriad faces and improvisational talents made him hard to resist.
"I just realized my only job is to keep a straight face," said Winkler, who played "The Fonz." "And it was impossible. Because no matter what you said to him, no matter what line you gave to him, he took it in, processed it, and then it flew out of his mouth, never the same way twice. And it was incredibly funny every time."
The "Happy Days" appearance was such a hit that CBS created "Mork and Mindy," pairing him with his human roommate played by Pam Dawber and fellow alien (and real-life idol) Jonathan Winters.
The show's run ended four years later in 1982, during which time Williams also starred as the titular character in the movie, "Popeye."
Williams didn't rest on his laurels. In fact, the beloved comedian turned his career on its heels by turning to dramas, starting with "The World According to Garp."
Instead of tickling people's funny bones, he tugged at their heartstrings. And as he had done at comedy clubs, Williams excelled in roles in films such as "Good Morning, Vietnam" and "Dead Poets Society."
Seesawing between comedy and drama
Williams went back and forth over the decades to come, from family-friendly fare such as "Mrs. Doubtfire" and as the voice of the genie in "Aladdin" to more adult-themed movies such as "The Birdcage" and "The Fisher King."
What turned out to be biggest role yet was actually a small film led by two then unknown actors, Matt Damon and Ben Affleck, in "Good Will Hunting." Playing sage psychologist and community college Professor Sean Maguire, Williams won the Oscar -- after losing out three other times-- for supporting actor.
As he stepped on stage to accept the award, he said, "This might be the one time I'm speechless" -- before launching an emotional, humble, joke-laden speech thanking all those involved in the film and his life.
"And most of all, I want to thank my father, up there. the man who, when I said I wanted to be an actor, he said, 'Wonderful, just have a back-up profession like welding.' "
As the years rolled by, Williams didn't slow down.
He seesawed in his roles -- from dark pieces such as "One Hour Photo" and "Death to Smoochy," to the lighter likes of "Happy Feet" and the "Night at the Museum" movies. He even went back to TV on the short-lived CBS comedy, "The Crazy Ones."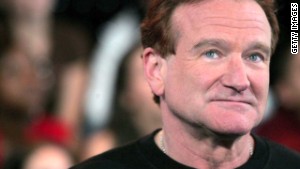 Williams' wife: I am utterly heartbroken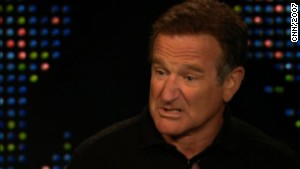 Williams in 2007: 'I was an alcoholic'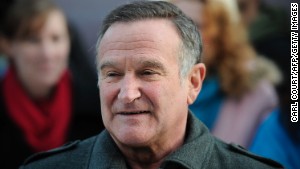 Larry King: Williams was one-of-a-kind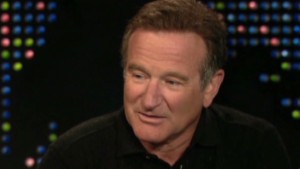 Dr. Drew: Mental issues can be fatal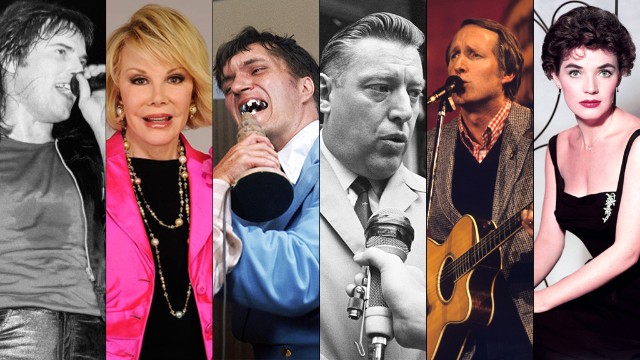 Click through to see people who passed away in 2014.
Emmy-winning actress Polly Bergen, whose TV and movie career spanned more than six decades, died on September 20, according to her publicist. She was 84, according to IMDb.com.
Singer George Hamilton IV, known as the "International Ambassador of Country Music," died at a Nashville hospital on September 17 following a heart attack, the Grand Ole Opry said in a press release. He was 77.
Northern Ireland's former first minister and former Democratic Unionist Party leader Ian Paisley has died, his wife, Eileen, said in a statement on September 12. He was 88.
Richard Kiel, the actor best known for playing the James Bond villain "Jaws," died September 10 at a California hospital, St. Agnes Medical Center spokeswoman Kelley Sanchez said. He was 74.
Joan Rivers, the sassy comedian whose gossipy "can we talk" persona catapulted her into a career as a headlining talk-show host, best-selling author and red-carpet maven, died September 4. She was 81.
Jimi Jamison, lead singer of the 1980s rock band Survivor, died at the age of 63, it was announced September 2.
Acclaimed actor-director Richard Attenborough died on August 24, the British Broadcasting Corporation reported, citing his son. Attenborough was 90.
Don Pardo, the man whose voice introduced the cast of NBC's "Saturday Night Live" for decades, died at the age of 96, the network announced August 19.
Skateboarding legend Jay Adams died of a heart attack August 14 while vacationing in Mexico with his wife. He was 53.
Ed Nelson, best known for playing a doctor in the 1960s nighttime soap opera "Peyton Place," died on August 13, his family said. He was 85.
Actress Arlene Martel, whom "Star Trek" fans knew as Spock's bride-to-be, died in a Los Angeles hospital August 12 after complications from a heart attack, her son said. Martel was 78.
Actress Lauren Bacall, the husky-voiced Hollywood icon known for her sultry sensuality, died on August 12. She was 89.
Actor and comedian Robin Williams died at his Northern California home on August 11. Williams apparently took his own life, law enforcement officials said. He was 63.
Actor Charles Keating, who had been fighting lung cancer for several years, died on August 8, his son Sean Keating said. Charles Keating was known for his role of villain Carl Hutchins on the daytime drama "Another World." He was 72.
JJ Murphy, an actor who was set to join the "Game of Thrones" cast, died August 8, his agent said. He was 86.
James Brady, the former White House press secretary who was severely wounded in a 1981 assassination attempt on President Ronald Reagan, has died, the White House said on August 4. He was 73. Later in the week, authorities told CNN they are investigating it as a homicide.
Theodore "Dutch" Van Kirk, the last crewman of the U.S. plane that dropped the first atomic bomb over Hiroshima, Japan, in 1945, died of natural causes on July 28, according to his daughter Vicki Triplett. He was 93.
James Shigeta, a prolific and pioneering Asian-American actor whose 50-year career included the movies "Die Hard" and "Flower Drum Song," died in his sleep in Los Angeles on July 28, his agent said. He was 81.
Skye McCole Bartusiak, who played Mel Gibson's youngest daughter in "The Patriot," died July 19, at her home in Houston, her mother said Sunday. She was 21. While investigators didn't immediately determine a cause of death, Bartusiak had been suffering from epileptic seizures, according to her mother.
James Garner, the understated, wisecracking everyman actor who enjoyed multigenerational success on both the small and big screens, died of natural causes on July 19. He was 86.
Broadway legend Elaine Stritch died July 17. According to her longtime friend Julie Keyes, Stritch died at her home in Birmingham, Michigan, surrounded by her family. She was 89 years old.
Blues guitarist and singer Johnny Winter died July 16 in a Swiss hotel room, his representative said. He was 70.
Nadine Gordimer, a South African author who won the Nobel Prize in Literature in 1991, died on July 13, according to her family. She was 90.
Renowned conductor Lorin Maazel died from complications of pneumonia on July 13, according to his family. He was 84.
Grammy-winning jazz bassist Charlie Haden, whose music career spanned seven decades and several genres, died July 11, according to his publicist. He was 76.
Drummer Tommy Ramone, the last living original member of the pioneering punk band The Ramones, died on July 11, according to the band's Facebook page. He was 65.
Eileen Ford, who founded the Ford Model Agency 70 years ago, died July 9 at the age of 92, the company said.
Richard Percy Jones, the actor who gave Pinocchio his voice in the 1940 Disney movie, died at his California home on July 8. He was 87.
David Legeno, known for playing Fenrir Greyback in the "Harry Potter" movies, was found dead July 6, by hikers in a remote desert location in Death Valley, California. He was 50. "It appears that Legeno died of heat-related issues, but the Inyo County Coroner will determine the final cause of death," read a press release from the Inyo County Sheriff's Department. "There are no signs of foul play."
Rosemary Murphy, an Emmy Award-winning actress known for her roles in the movie "To Kill a Mockingbird" as well as TV soap operas "All My Children" and "Another World," died July 5 at the age of 89. The New York Times cited cancer as the cause of death.
Olympian and World War II hero Louis Zamperini, the subject of the book and upcoming film "Unbroken," died July 2 after a recent battle with pneumonia. The 97-year-old peacefully passed away in the presence of his entire family, according to a statement.
Walter Dean Myers, a beloved author of children's books, died on July 1 following a brief illness, according to the Children's Book Council.
Paul Mazursky, a five-time Oscar nominee who directed and wrote such films as "Bob & Carol & Ted & Alice," "An Unmarried Woman" and "Down and Out in Beverly Hills," died at the age of 84, his agent said July 1.
Actor Meshach Taylor died June 28 at his Los Angeles-area home, his agent, Dede Binder, said. He was 67. Taylor had fought a terminal illness and faded markedly in recent days, Binder said. His wife, children, grandchildren and mother surrounded him as he passed away.
Legendary soul singer Bobby Womack died June 27, according to Womack's publicist. He was 70.
Character actor Eli Wallach, seen here in "The Good, the Bad and the Ugly," died on June 24, according to a family member who did not want to be named. Wallach was 98.
Major League Baseball Hall of Famer Tony Gwynn died June 16 at the age of 54, according to a release from the National Baseball Hall of Fame and Museum. Gwynn, who had 3,141 hits in 20 seasons with the San Diego Padres, had cancer.
Radio personality Casey Kasem died June 15. He was 82 and had been hospitalized in Washington state for two weeks.
Former Pittsburgh Steelers head coach Chuck Noll died June 13. He had suffered from Alzheimer's and heart disease. He was 82.
Ruby Dee, an award-winning actress whose seven-decade career included triumphs on stage and screen, died June 12. She was 91.
Former baseball star Bob Welch passed away on June 9 after suffering a heart attack, according to the Los Angeles Dodgers. He was 57.
British actor and comedian Rik Mayall, who appeared in the TV series "Blackadder," died June 9 at the age of 56, his agent said. The cause of death was not immediately reported.
Chester Nez, the last of the original Navajo code talkers credited with creating an unbreakable code used during World War II, died June 5 at his home in Albuquerque, New Mexico, the Navajo Nation President said. Nez was 93.
Ann B. Davis, who played Alice the maid on "The Brady Bunch," died from a subdural hematoma on June 1. She was 88.
Maya Angelou, a renowned poet, novelist and actress, died at the age of 86, her literary agent said on May 28. Angelou was also a professor, singer and dancer whose work spanned several generations.
Australian racing legend Jack Brabham died on May 19, according to Brabham's son David. Brabham, 88, was a three-time Formula One world champion.
Malik Bendjelloul, the Oscar-winning director of "Searching for Sugar Man," died suddenly on May 13, police said. He was 36.
H.R. Giger, the Swiss surrealist artist whose works of sexual-industrial imagery and design of the eponymous creature in the "Alien" movies were known around the world, died on May 12. He was 74.
Former professional tennis player Elena Baltacha died at the age of 30 after losing her battle with liver cancer on May 4. Before retiring in November, she had reached a career high of 49th in the world rankings.
Al Feldstein, who guided Mad magazine for almost three decades as its editor, died on April 29, according to a Montana funeral home. He was 88.
Oscar-nominated British actor Bob Hoskins, known for roles in "Who Framed Roger Rabbit" and "Mona Lisa," died April 29 at age 71, his publicist said.
Hall of Fame basketball coach John "Dr. Jack" Ramsay, who became a television analyst years after winning a league championship with the Portland Trail Blazers, died on April 28, according to his longtime employer ESPN. Ramsay was 89.
Former Barcelona soccer coach Tito Vilanova, who had been battling cancer, died at the age of 45, the club announced April 25.
Country singer Kevin Sharp died from "complications due to cancer" on April 19, his mother told CNN. He was 43.
Rubin "Hurricane" Carter, the middleweight boxing contender who was wrongly convicted of a triple murder in New Jersey in the 1960s, died April 20 at the age of 76, according to Win Wahrer, the director of client services for the Association in Defence of the Wrongly Convicted.
Gabriel Garcia Marquez, the influential, Nobel Prize-winning author of "One Hundred Years of Solitude" and "Love in the Time of Cholera," passed away on April 17, his family and officials said. He was 87.
Jose Luis "Cheo" Feliciano, a giant of salsa music and a Puerto Rican legend, died in a car crash April 18 in San Juan, Puerto Rico, according to police. He was 78.
Days after being inducted into World Wrestling Entertainment's Hall of Fame, WWE superstar Ultimate Warrior died April 8. Born James Hellwig, he legally changed his name to Warrior in 1993. He was 54.
Comedian John Pinette, 50, was found dead in a Pittsburgh hotel room on April 5. Pinette died of natural causes stemming from "a medical history he was being treated for," the medical examiner's spokesman said. An autopsy will not be done because his personal doctor signed the death certificate.
Mickey Rooney, who started as a child star in vaudeville and went on to star in hundreds of movies and TV shows, died April 6 at the age of 93.
DJ Frankie Knuckles, a legendary producer, remixer and house music pioneer, died March 31 at the age of 59.
Kate O'Mara, the British actress best known for playing Joan Collins' sister on the 1980s show "Dynasty," died March 30. She was 74.
Ralph C. Wilson Jr., the founder and longtime owner of the NFL's Buffalo Bills, died at age 95, the team announced March 25.
Gwar lead singer Dave Brockie died March 23 at the age of 50, his manager said. The heavy-metal group formed in 1984, billing itself as "Earth's only openly extraterrestrial rock band." Brockie performed in the persona of Oderus Urungus.
James Rebhorn, whose acting resume includes a long list of character roles in major films and TV shows, died March 21, his representative said. Rebhorn was 65.
L'Wren Scott, a noted fashion designer and girlfriend of musician Mick Jagger, was found dead of an apparent suicide March 17, according to a law enforcement official. She was 49.
Drummer Scott Asheton, who co-founded and played drums for the influential proto-punk band The Stooges, died March 15. He was 64.
Comedian David Brenner, a regular on Johnny Carson's "The Tonight Show," died after a battle with cancer, a family spokesman said March 15. He was 78.
Actress Sheila MacRae, who portrayed Alice Kramden in a 1960s revival of "The Honeymooners" on "The Jackie Gleason Show," died on March 6, according to her family. She was 92.
Spanish guitarist Paco de Lucia, seen here in 2006, died February 25 of an apparent heart attack. He was 66. De Lucia transformed the folk art of flamenco music into a more vibrant modern sound.
Actor, writer and director Harold Ramis, seen here on the far left with fellow "Ghostbusters" Dan Aykroyd and Bill Murray, died at his Chicago-area home on February 24. He was 69. Other popular Ramis films include "Stripes," "Groundhog Day" and "Analyze This."
Maria von Trapp, seen here posing with a photo of her family, was the last of the singing siblings immortalized in the movie "The Sound of Music." She died February 18 of natural causes at her Vermont home, according to her family. She was 99.
Journalist Garrick Utley died at age 74 following a long battle with cancer, his wife of 40 years said in February. Utley worked for CNN after his 30-year career at NBC News.
Devo guitarist Bob Casale, known by fans as "Bob 2," died February 17, his brother and band mate announced. Casale was 61.
John Henson, the son of Jim Henson who is perhaps most notable for his portrayal of Sweetums on "The Muppets," died after a "sudden, massive heart attack," his family's company said on February 15.
Veteran actor Ralph Waite died at 85 on February 13, according to an accountant for the Waite family and a church where the actor was a regular member. Waite was best known for his role as John Walton Sr. on 'The Waltons."
Sid Caesar, whose clever, anarchic comedy on such programs as "Your Show of Shows" and "Caesar's Hour" helped define the 1950s "Golden Age of Television," died on February 12. He was 91.
Hollywood child star Shirley Temple, who became diplomat Shirley Temple Black, died February 10 at her Woodside, California, home. She was 85.
Joan Mondale, the wife of former Vice President Walter Mondale, died on February 3, according to a statement from the family's church.
Oscar-winning actor Philip Seymour Hoffman was found dead in his Manhattan apartment of an apparent drug overdose, law enforcement sources said February 2.
Maximilian Schell died on February 1 in a Austrian hospital with his wife by his side, his agent Patricia Baumbauer said. He was 83. Schell was nominated for an Oscar three times. He won in 1962 for "Judgment at Nuremberg."
Legendary folk singer Pete Seeger, known for classics such as "Where Have All the Flowers Gone" and "If I Had a Hammer (The Hammer Song)," died of natural causes in New York on January 27, his grandson told CNN. He was 94.
Ruth Robinson Duccini, who played one of the Munchkins in the 1939 classic "The Wizard of Oz," died on January 16. She was 95.
Former Playboy centerfold Cassandra Lynn Hensley was found dead at a friend's home in Los Angeles, the coroner there said on January 17. Hensley was 34. Her cause of death was not immediately known.
Hiroo Onoda, center, salutes after handing over his military sword on Lubang Island in the Philippines in March 1974. Onoda, a former intelligence officer in the Japanese army, had remained on the island for nearly 30 years, refusing to believe his country had surrendered in World War II. He died at a Tokyo hospital on January 16. He was 91.
Russell Johnson, center, stands with Alan Hale Jr., left, and Bob Denver in an episode of "Gilligan's Island" in 1966. Johnson, who played "the professor" Roy Hinkley in the hit television show, passed away January 16 at his home in Washington state, according to his agent, Mike Eisenstadt. Johnson was 89.
Ariel Sharon, whose half century as a military and political leader in Israel was marked with victories and controversies, died on January 11 after eight years in a coma, Israeli Army Radio reported. Sharon was 85.
Franklin McCain, seen center wearing glasses, one of the "Greensboro Four," who made history for their 1960 sit-in at a Greensboro Woolworth's lunch counter, died on January 10 after a brief illness, according to his alma mater, North Carolina A&T State University.
Larry Speakes, who served as President Ronald Reagan's press secretary, died January 10 at his home in Cleveland, Mississippi, following a lengthy illness, according to Bolivar County Coroner Nate Brown. He was 74.
Poet Amiri Baraka, who lost his post as New Jersey's poet laureate because of a controversial poem about the 9/11 terror attacks, died on January 9, his agent said. Baraka was 79.
Sir Run Run Shaw, the media tycoon who helped bring Chinese martial arts films to an international audience, died at his home in Hong Kong on January 7 at age 106, the television station he founded said.
Stage, TV and film actress Carmen Zapata, who founded the Bilingual Foundation of the Arts as a means of of introducing "the rich and eloquent history of the diverse Hispanic culture to English-speaking audiences," died on January 5 at her Los Angeles home. She was 86.
Portugal football legend Eusebio, who was top scorer at the 1966 World Cup, died from a heart attack on January 5 at age 71, said his former club, Benfica.
Alicia Rhett, who had been one of the oldest surviving cast members of the classic film "Gone With the Wind," died on January 3 in her longtime hometown of Charleston, South Carolina, a retirement community spokeswoman said. She was 98.
Singer Phil Everly, left -- one half of the groundbreaking, smooth-sounding, record-setting duo the Everly Brothers -- died on January 3, a hospital spokeswoman said. He was 74.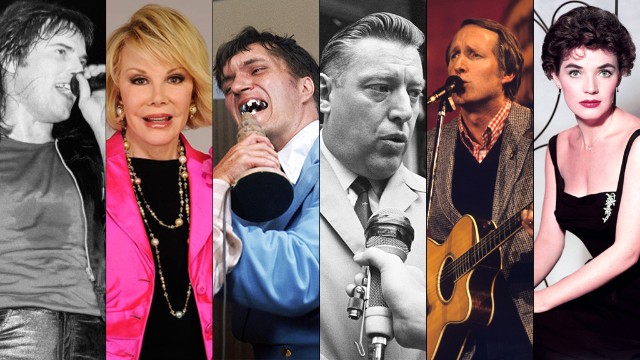 Photos: People we lost in 2014
The admitted workaholic at one point turned out eight movies over a two-year period. He told The Guardian in 2010 that he'd "take it slow ... and enjoy the ride" after his 2009 heart surgery, though that doesn't seem the case: Four more films -- "Night at the Museum: Secret of the Tomb," "Merry Friggin' Christmas," "Boulevard" and "Absolutely Anything" -- are expected to be released posthumously.
"You have this idea that you'd better keep working, otherwise people will forget," he said.
A funny man and humanitarian
Yet, as hard as he worked, Williams was never just about his work.
For all the admiration of his talents, other actors remembering Williams tended to talk first about his huge heart, as the type of person who made you feel special, made you feel loved and made you laugh.
And then there is his considerable charity work: Look to the Stars, a website that compiles the charitable work of celebrities, notes that Williams offered his time, money and celebrity to over 50 causes.
That humanitarian work ranges from hosting Comic Relief, biking in a fundraiser for good friend Lance Armstrong's cancer support charity Livestrong, to appearing pro bono in TV spots and then some for St. Jude Children's Research Hospital. The United Service Organization, or USO, hailed Williams for his 12 years performing for nearly 90 military personnel in 13 countries.
He connected many more times one-on-one. That might mean boosting the confidence of an up-and-coming comedian, bringing the first smile to former Juillard roommate and close friend Christopher Reeve after he was paralyzed or reaching out personally to young people suffering from serious illnesses.
"I couldn't believe it," CNN iReporter Mark Cole said about Williams' chartering a plane, at his own expense, to visit and trade jokes with his ailing daughter in 2004. "I felt very privileged that he came to spend the day with her like that. It was the most moving thing I've ever seen in my life."
Patients' families: A 'comedic Mother Teresa'
Survived by wife and three children
Yet as his death showed, Williams wasn't always upbeat.
He made no secret about his battles with substance abuse, even as he joked that "cocaine is God's way of telling you that you too much money." His fight didn't get easier as he got older; if anything, it got harder.
"When you relapse, you fall deeper," Williams told People in 2009. "I found myself drinking to blackouts. It's like your brain goes into witness protection."
Beyond that, his media representative Mara Buxbaum noted that Williams "has been battling severe depression of late."
His personal life wasn't always smooth either. He had a son, Zak, with his first wife, Valerie Velardi. Williams then spent 19 years with wife Marsha -- a union that led to two more children, Zelda and Cody, before ending in divorce in 2008.
In October 2011, he wed graphic designer Susan Schneider in Napa Valley, California.
On her Twitter feed, his daughter Zelda remembered her dad with a quote from Antoine De Saint-Exupery's "The Little Prince."
"In one of the stars I shall be living. In one of them I shall be laughing. And so it will be as if all the stars were laughing, when you look at the sky at night ... You -- only you -- will have stars that can laugh."
Zelda added, "I love you. I miss you. I'll try to keep looking up."
Complete coverage on Robin Williams
Share your memories of Robin Williams
CNN's Alan Duke, Josh Levs, Travis Sattiewhite, Rachel Wells and Carolyn Sung contributed to this report.