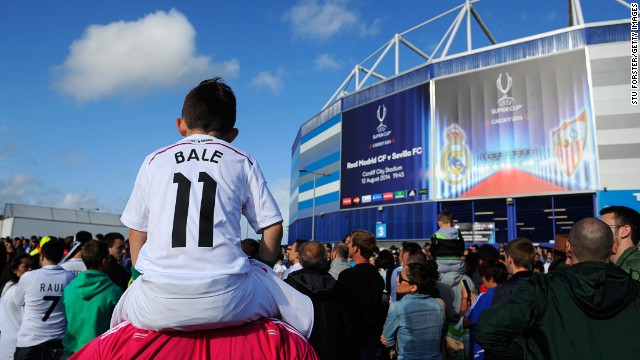 Real Madrid met Sevilla in the Welsh capital Cardiff on Tuesday night to fight for the UEFA Super Cup crown, the traditional curtain raiser to the new European soccer season.
It was the first glimpse of Germany's World Cup-winning midfielder Toni Kroos in the famous white of European Champions League holders Real. The 24-year-old signed from German champions Bayern Munich after his success in Brazil.
Real's other high-profile acquisition was also on display -- James Rodriguez. The 23-year-old was top scorer at the World Cup as he led Colombia to the quarterfinals of the competition for the first time in its history.
Gareth Bale, the world's most expensive player, was back in his hometown of Cardiff after a journey that has taken him from the English Premier League to La Liga in Spain.
But as he so often is for Real, Cristiano Ronaldo was the star of the show. The world footballer of the year scored twice as Sevilla were beaten 2-0 to showcase how formidable Carlo Ancelotti's side might prove this season.
Real Madrid captain Iker Casillas lifts the first trophy of Real's season, with another five on offer.
New dawn
Kroos control
J-Rod
Bale returns
The Real deal
Silver service
STORY HIGHLIGHTS
Two goals from Cristiano Ronaldo help Real Madrid claim the UEFA Super Cup title
Real beat fellow Spanish side Sevilla 2-0 in the Welsh capital Cardiff
New signings James Rodriguez and Toni Kroos on show for European champions
Hometown favorite Gareth Bale turns in fine display on return to Cardiff
Follow us at @WorldSportCNN and like us on Facebook
(CNN) -- It is an attacking arsenal to make any soccer side in the world quiver.
And European champions Real Madrid wasted little time in underlining its emboldened firepower en route to a 2-0 victory over Sevilla in the UEFA Super Cup final.
In truth, little else was expected of a team that took the field in the Welsh capital Cardiff to reports that at a reputed cost of $612 million, it was the most expensive ever assembled in the sport.
The focus was largely on its new recruits, Colombia's World Cup poster boy James Rodriguez, and Toni Kroos, who lifted the trophy in Brazil with Germany.
Read: Rodriguez joins Real Madrid
But it was the world footballer of the year Cristiano Ronaldo that shone yet again, even taking the gloss off Gareth Bale, the world's most expensive player who was back in his hometown.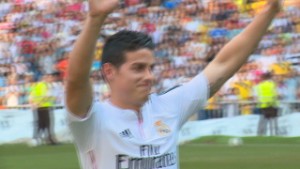 James Rodriguez to Real Madrid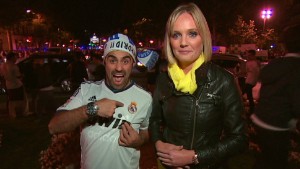 Real Madrid fans celebrate on the street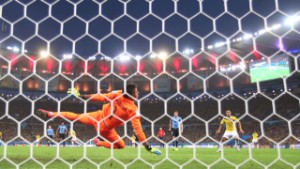 Colombia knocks Uruguay out of World Cup
Two fine goals from the Portuguese star helped the European Champions League holders ease past its Europa League counterparts in front of a capacity crowd.
The first was provided by Bale, a hometown hero who said prior to the clash that Real were gunning to win all six titles on offer to them this season.
The second was the result of another fine move, as Ronaldo was released by France striker Karim Benzema, before slamming the ball into the top corner.
Real's dominant performance sent out an ominous warning to its domestic and European rivals with the new season poised to burst into life.
"Obviously it'll take a little bit of time for everyone to settle in but I think we played very well tonight," Bale told ITV. "We gelled as a team and we've got a lot of time to improve.
"The most important thing for us tonight was to get the job done, get the trophy and go down in history.
"Everybody comes to Real Madrid to win trophies, we want to play with the best players in the world. We're going out to win every trophy this season."
Successful soccer sides seldom stand still and no-one can accuse Carlo Ancelotti's men of doing that this summer.
The Spanish giants, who ended a long wait for their tenth European Champions League crown last season with victory over city rivals Atletico, have bolstered their 'galatico' ranks in typical fashion.
A huge amount of buzz has centered on Rodriguez, the 23-year-old who proved a revelation at the World Cup.
His six goals helped Colombia to the quarterfinals for the first time in its history, and secured him the golden boot -- awarded to the tournament's top scorer.
Rodriguez looked a little ring rusty on his first competitive outing for his new club, a heavy first touch often belying the skill he showed in Brazil, when the ball seemed to be attached to his foot.
The star, known the world over by his first name -- pronounced Ha-mes -- did show some silky touches and forced Sevilla goalkeeper Beto into one fine save with a powerful volley.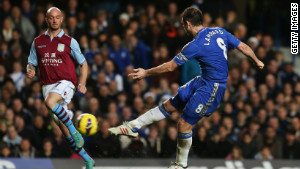 Lampard: Leaving Chelsea now feels right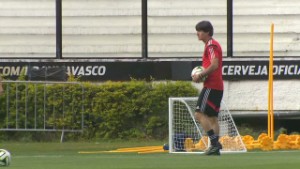 Germany's rebuilt team may win World Cup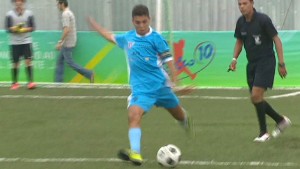 Brazilian youth's long shot at big dreams
Real's other new recruit looked sharper and more comfortable in his surroundings.
Unsurprising, given that Kroos' last outing saw him help Germany to lift the World Cup crown.
Signed from Bayern Munich, the 24-year-old controlled the midfield and showed he can by the lynchpin behind a wealth of attacking talent.
Real eased into a confident stride early in the match despite most of its stars having only recently returned to training due to their World Cup exertions.
Bale, roared on by the Welsh fans inside the stadium, drew a save from Beto after prodding a Rodriguez cross towards goal before Iker Casillas was forced to save a shot from Sevilla midfielder Vitolo.
Ronaldo's first effort of menace on the night was smartly saved by Beto, the goalkeeper standing tall to repel his shot after neat work from Benzema.
But five minutes later Ronaldo, who scored a record 17 European Champions League goals last season, did find the net as he slid in to fire home from Bale's pinpoint cross.
The Portuguese repeated the feat in the fledgling stages of the second half as Benzema released him inside the area, Ronaldo's shot flashing into the corner.
Chances came and went as Sevilla tried to fashion a way back into the game, Rodriguez going close before Ronaldo was denied a hat-trick thanks to a vital tackle from Grzegorz Krychowiak.
Krychowiak and Diogo Figueiras went close in the dying stages for Sevilla before a fine save from Beto denied Bale the goal he and the large portion of Welsh fans so desperately craved.
Real then took that familiar climb up the stairs to accept its first silverware of the season. One down, five to go.
Read: Real named most valuable team