Chinese tech hopefuls challenge Silicon Valley heavyweights at TechCrunch
August 13, 2014 -- Updated 0528 GMT (1328 HKT)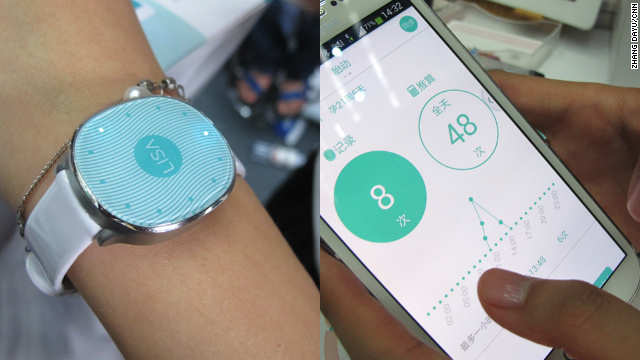 TechCrunch Beijing showcases some of China's most innovative start-ups. During the two-day event, which ended on Tuesday, participants took part in a Silicon Valley-style pitch competition with products such as this smart watch designed for pregnant women to help them keep track of their baby's kicks.
A visitor plays with a gaming helmet designed by Beijing-based company ANTVR. The device allows its user to fully immerse themselves in the virtual experience.
This drone can be controlled with a smartphone using a compatible app, which tells the controller the altitude, speed and battery life.
Start-up Mobvoi.com has designed the first Chinese app on Google glass, Chumenwenwen. The app allows users to get directions, weather and restaurant information through using voice commands in Chinese.
With its iris recognition system, Beijing-based company EyeSmart aims to help companies keep their businesses secure.
3D printing is popular in China. Earlier this year, a private company in east China recently used a giant printer set to print out ten full-sized houses within just one day.
DIY kits designed by Shenzhen-based Makeblock allow you to make your own robot. A starter kit costs $119.
STORY HIGHLIGHTS
More than 100 Chinese startups attended Beijing TechCrunch this week
Organizers and participants say Chinese startups face tough challenges
Fund-raising and counterfeits are big problems for Chinese tech innovators
Virtual Think Tank is a digital series focusing on the emerging markets, covering their startups, the power of the middle classes on their economies and the macro environment.
Beijing (CNN) -- San Francisco-based TechCrunch brought a taste of Silicon Valley to Beijing this week, with more than 100 startups showcasing their innovations to tech fans and investors at a two-day event in the Chinese capital.
The conference attracted some of the most forward-thinking and dynamic Chinese technology wannabees, including ANTVR, a wearable gaming device company.
The startup attracted a long line of visitors eager to try out its very first product, ANTVR kit.
Consisting of a headset and a controller, ANTVR claims the kit can provide a "fully immersive experience" by projecting a high-definition image onto users' retinas without distortion and provide an experience similar to an IMAX movie.
During the demo, the player is thrown into a pitch-dark room and told to find the source of a sound, which leads to a pale ghost with blood trickling down her face.
Qin Zheng, founder of ANTVR said the kit is compatible with all major gaming consoles and will hit both Chinese and overseas markets by the end of the year.
The 27-year-old said ANTVR went through the same difficulties as many startups in China — it was hard to find proper platforms to release products and raise funds.
Crowdfunding
Qin founded the company half a year ago, and to get started raised initial funding of $231,095 on U.S. crowdfunding site Kickstarter.
"Fund-raising is hard (here). I think this is why everybody rushes to crowdfunding sites," Qin said.
Lu Gang, head of Technode, TechCrunch's partner in China, said that Chinese startups face a unique set of challenges.
"I think Chinese startups (face) much tougher competition, like copies," said Lu. "We've found so many copycats."
By bringing TechCrunch to China, Lu hopes to bring the originality and creativity that Silicon Valley is known for and inspire Chinese companies to invent something that "really makes a difference."
"I think the TechCrunch brand obviously stands for original work for entrepreneurs, and for creating something out of nothing, which is ideal. I think this is what everybody's striving for," says Lu.
"We want to encourage people here to be truly innovative instead of copying."
Beijing intern Shen Lu contributed to this report

Today's five most popular stories
Part of complete coverage on
Virtual Think Tank
December 19, 2014 -- Updated 0249 GMT (1049 HKT)

In China, bribery is known colloquially as "tea money" and nearly everyone from local businesses to foreign multinationals has usually had a brush with it.
November 21, 2014 -- Updated 1039 GMT (1839 HKT)

In China it's known as gaokao -- the college entrance exams -- and for most young people it dictates the course of a life.
November 18, 2014 -- Updated 1100 GMT (1900 HKT)

What is the nature of the headwinds they now face, and how can they steer their way forward?
November 6, 2014 -- Updated 1702 GMT (0102 HKT)

If department stores in Asia are the battle ground for its emerging middle classes, then the cosmetics counter is its front line.
October 23, 2014 -- Updated 1030 GMT (1830 HKT)

Don't let slower GDP statistics distract you -- the battle for a share of the growing consumer class is underway now and will grow more fierce.
October 13, 2014 -- Updated 1541 GMT (2341 HKT)

It's no longer necessary to launch your startup in Silicon Valley -- thanks to the internet, you can do it anywhere.
October 9, 2014 -- Updated 1042 GMT (1842 HKT)

You've heard of crowdfunding -- raising funds through donations on the internet -- well, get ready for "like" funding.
October 2, 2014 -- Updated 1125 GMT (1925 HKT)

Feeling sick? Worry no more! A mobile app lets patients consult with doctors to diagnose their ailments.
September 26, 2014 -- Updated 1024 GMT (1824 HKT)

Experts pick 10 of the best startups to come out of emerging markets this year.
September 16, 2014 -- Updated 1324 GMT (2124 HKT)

What are the startups dominating China's ferociously competitive social networking landscape?
September 19, 2014 -- Updated 1901 GMT (0301 HKT)

eCommerce giant Alibaba's wildly successful IPO raises questions about the future of tech startups in China.
August 13, 2014 -- Updated 0528 GMT (1328 HKT)

Chinese tech hopefuls challenge Silicon Valley heavyweights at a two-day event in the Beijing.
September 16, 2014 -- Updated 1052 GMT (1852 HKT)

Below-the-radar inventors across India are devising low-cost solutions to local problems using bespoke technologies of their own creation.

See the full coverage of CNN's Virtual Think Tank -- the digital series looking at the startups, middle class and macro-environment in emerging markets.