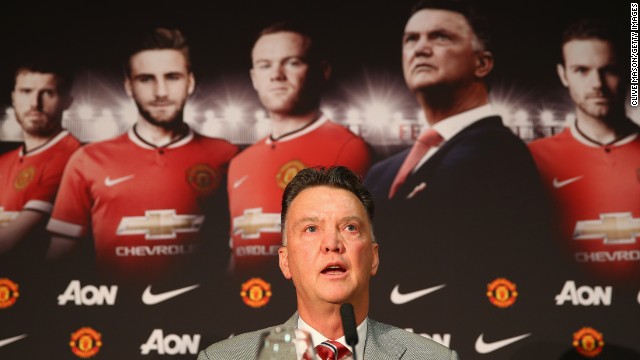 Louis van Gaal will be hoping to restore English Premier League giant Manchester United to its former glories after succeeding David Moyes as manager.
Luis Suarez will line up alongside Lionel Messi and Neymar at Barcelona this season after signing for the Catalan club from Liverpool.
Bayern Munich will be seeking a third consecutive German Bundesliga title, after last season's success came in record time.
New Juventus manager Massimiliano Allegri faces the unenviable task of succeeding Antonio Conte, who led the club to three successive Italian Serie A titles.
Paris Saint-Germain will be looking for a third consecutive French Ligue 1 title, but will also want to improve on last season's European Champions League quarterfinal appearance.
England: New dawn?
Spain: Star signing
Germany: More glory?
Italy: Pressure's on
France: European ambitions
STORY HIGHLIGHTS
Ligue 1 got European football season underway last weekend
Premier League starts Saturday, while Bundesliga and La Liga begin the following week
Serie A is the last league of the "big five" to get underway, starting on August 30
Follow us at @WorldSportCNN and like us on Facebook
(CNN) -- The World Cup has been over for just a month, yet the European football season has already begun.
New managers have been appointed, new players have been signed and new storylines are waiting to unfold.
Over the next nine months, great goals will be enjoyed, vital victories will be savored and disappointing defeats will be agonized over.
So sit back, relax and enjoy the show. But first, here are five things you may want to bear in mind along the way.
Can Louis van Gaal restore Man Utd to former glories?
When David Moyes took over from Alex Ferguson at Manchester United last year, those at Old Trafford were preparing to embark on a glorious new era in the club's history.
After 27 years under the guidance of Ferguson that had delivered a bucketload of trophies including 13 English Premier League titles and two European Champions League crowns, the new "Chosen One" was expected to continue that success in one seamless transition.
Few, however, could have predicted what was to unfold over the 2013-14 season, as Moyes was humiliatingly sacked just 10 months into his rein following a disastrous campaign that saw the defending English champions eventually finish an embarrassing seventh, thus missing out on top-tier European football for the first time in 19 years.
The mistake of employing a relatively inexperienced manager in Moyes, though, had now been learned, and those without very, very big resumes need not apply to be his replacement. An SOS was sent out at the beginning of the summer, with the accompanying message to restore the club to its former glories. And fast.
Step forward Louis van Gaal.
A man who has won a European Champions League crown as well as league titles with four different sides, including the mighty Barcelona and Bayern Munich, seems like the perfect fit for a club like United.
And while some may have argued upon his appointment that his better days are well and truly behind him -- that Champions League win with Ajax came 19 years ago -- the Dutchman silenced his critics by leading an average-looking Netherlands squad to third place at the 2014 World Cup.
After the perils of last season, and indeed missing out on the jackpot that Europe's top competition brings with it, one would imagine a third-place finish would be more than welcome at Old Trafford this time around.
The signs so far are looking good. United finished their preseason campaign undefeated, winning the International Champions Cup -- also featuring the likes of Real Madrid and Manchester City -- in the process.
As well as fostering an impressive team spirit that was missing last season, Van Gaal has already shown his renowned tactical nous by implementing a 3-4-1-2 system -- similar to the one used by Netherlands in Brazil -- to get the best out of players who have struggled of late, such as Antonio Valencia and forgotten man Ashley Young.
What's more, in true Ferguson style, the new United boss has already demanded the club tear up and build two new training pitches to suit his needs, while also hitting out at its exhaustive preseason schedule of the United States.
In fact, just about every little detail he has attempted to implement has been about as far removed from Moyes' reign as possible. And that can only be a good thing for United.
The future's bright. The future's Oranje.
Read: Manchester United appoint Louis van Gaal
Can Luis Suarez, Lionel Messi and Neymar all play together?
It has been an exciting summer for transfer business in Spain. Once again, the world's best players are heading to La Liga clubs.
Headlining the bill, as ever, are Barcelona and Real Madrid, with both sides seemingly trying to trump the other with each passing transfer -- especially after being upstaged domestically last season by Atletico Madrid.
Barca has spent big on the likes of Luis Suarez, Ivan Rakitic, Jeremy Mathieu and Thomas Vermaelen, while Real has splashed out on World Cup stars Toni Kroos and James Rodriguez.
Suarez's arrival in Catalonia from Liverpool perhaps creates most excitement -- the thought of the Uruguay international lining up alongside Lionel Messi and Neymar is one to take the breath away.
Sadly for Barca fans, they will have to wait some time before this dream becomes a reality. Suarez will not be able to play for his new club -- pending an appeal to the Court of Arbitration for Sport -- until the end of October after biting Italy's Giorgio Chiellini at the World Cup.
Blaugrana manager Luis Enrique does then, at least, have a couple of months to work out exactly how he is going to fit the striker into his team.
While the prospect of Suarez, Messi and Neymar in full flight together at the Camp Nou is a thrilling one, whether the trio can work in tandem is another question altogether.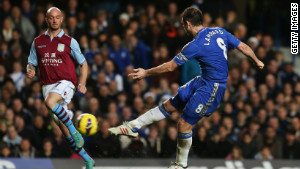 Lampard: Leaving Chelsea now feels right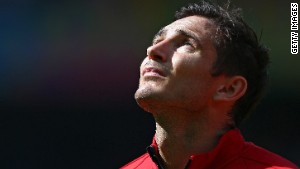 Lampard determined to make mark on MLS
Former Barcelona player and manager Johan Cruyff told De Telegraaf last month: "I don't know how they plan to play free-flowing attacking football with Messi, Neymar and Suarez in one team. They are all players who rely on their individual actions."
And perhaps he has a point. Will they get in each other's paths? Will one limit the others? Will egos get in the way? All questions Enrique will no doubt be thinking about, but does he have the answers?
An interchangeable forward line consisting of the trio could be what the Barca boss opts for, with Alexis Sanchez's sale to Arsenal freeing up some space in the team. All three are capable of dropping deep or wide to receive the ball, while they are all clearly devastating in the box.
A half-cooked Messi showed at the World Cup with Argentina that his qualities will still shine through when playing alongside an abundance of attacking talent, while Suarez excelled at Liverpool last season when partnering Daniel Sturridge.
Neymar, though, struggled during his maiden campaign at Barca playing second fiddle to Messi, and seemingly only sparkled for Brazil at the World Cup -- like he did at Santos -- due to being the main man.
Thus, it may well be the Brazilian who needs to up his game if the triumvirate is to prove a success, once he recovers from the back injury that cut short his World Cup.
A good job, then, that he has until the end of October to put in the practice.
Read: Liverpool and Barcelona reach deal on Suarez
Bayern Munich über alles?
Can anybody in Germany stop Bayern Munich?
It is hard enough for the cream of Europe to thwart the Bavarians -- although they were humbled by Real Madrid in last season's Champions League semifinals -- while it seems nigh on impossible for a club in Germany to get in its way.
Yet the equation is a simple one: Finish above Bayern and you win the German Bundesliga.
The last team to do so was Borussia Dortmund in 2012. Since securing the second installment of back-to-back titles -- a first for the club in 15 years -- however, Dortmund has been, domestically at least, in something of a downward spiral.
Often in football, teams can become victims of their own success. They exceed expectations, and as a result, bigger sides soon come along and take their best players.
This is how the story of Dortmund and Bayern reads.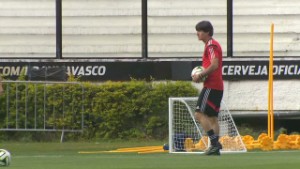 Germany's rebuilt team may win World Cup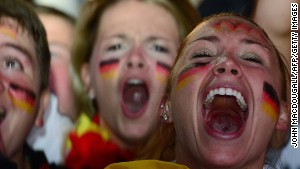 How are women watching the World Cup?
Key players Nuri Sahin and Shinji Kagawa were both sold to the bigger fish of Real Madrid and Manchester United respectively in the summers that followed the title wins in 2011 and 2012, while Mario Gotze and Robert Lewandowski have both since beaten a retreat for the brighter lights of Bayern.
In that time, to the detriment of Dortmund, Bayern has gone on to reach stratospheric heights. The treble win of 2013 included securing the German Bundesliga by a league record 25 points, while the Bavarians managed to claim the title in record time by March last season.
Dortmund, to their credit, did manage to reach a first Champions League final for 16 years in 2013, only to be defeated by, you guessed it, the arch-nemesis of Bayern.
Dortmund will once again be Bayern's biggest threat in the Bundesliga this season -- having finished second in the previous two campaigns -- yet it is hard to avoid the conclusion that, following the arrival of Lewandowski, Bayern is stronger this time around, while the Pole's departure has weakened Dortmund.
The signing of Italy striker Ciro Immobile softens the blow somewhat, yet unless manager Jurgen Klopp can work miracles -- he has proven in the past that he can -- a second-place finish may be the more likely outcome for Dortmund once again.
That said, a fine 2-0 German Super Cup victory over Bayern showed Dortmund still has the firepower to worry its rivals, a result that will give it enormous hope going into the new campaign.
Schalke and Bayer Leverkusen will start the new campaign feeling as if the title is not completely out of their reach, but given Bayern has finished a whopping 26 points clear of at least one of the sides over the last two seasons, the onus of spoiling the Bavarians' party surely rests solely on Dortmund's shoulders.
Another ray of hope for Dortmund et al, though, is Bayern's loss of Kroos to Real Madrid.
One of the stars of Germany's World Cup-winning side, it will be intriguing to see if, come May, Bayern is made to regret letting the midfielder go.
Read: Bayern clinch title with seven games to go
Can Massimiliano Allegri make it four on the trot for Juve?
May 18, 2014. The latest Italian Serie A season has just come to its conclusion, and Juventus has finished a whopping 17 points ahead of its nearest challenger, Roma, at the top of the table.
Antonio Conte has led a side he has molded into his own image to a third straight Scudetto, and this time with a league record haul of 102 points to boot.
Can anybody stop this Bianconeri express train?
Fast forward nearly three months, however, and Juventus' position at the top of the Italian football pyramid looks slightly less secure.
Star player Arturo Vidal could be on his way to Manchester United, while Conte is already long gone -- officially leaving the club by mutual consent, but amidst talk that he was unhappy at the board's inability to financially back him in his quest to translate Juve's domestic domination onto the European scene.
Succeeding him is Massimiliano Allegri -- a former Serie A-winning coach with AC Milan, but one who was sacked with the team lingering down in 11th position nearly three years later.
A repeat of his triumphant debut Milan campaign this year in Turin, though, and that will be forgotten if he can keep the "Old Lady" of Turin on top.
Standing in Allegri's way, however, will be an ever-improving Roma side. Rudi Garcia took over the Giallorossi reins last year, and in his debut campaign managed to enhance the club's previous points tally by 23, as well as pushing it four places up the table to second.
With the experience of being in last term's title challenge, Garcia's side will be all the stronger for it, and that is without mentioning the smart signings of the likes of Ashley Cole and Juan Iturbe.
Third-placed Napoli will also have learned from the lack of consistency that thwarted its assault on the title last season under Rafael Benitez.
If Juve relinquishes the title, it could mean the end of an era for key players such as Gianluigi Buffon and Andrea Pirlo, who are 36 and 35 respectively.
Allegri has much to gain, but even more to lose.
Read: Allegri succeeds Conte as Juve coach
Can PSG do it in Europe?
Back at Stamford Bridge in April, Paris Saint-Germain was just a matter of minutes away from reaching a first European Champions League semifinal in 19 years.
The hundreds of millions spent in recent years by the French club's Qatari owners had all been invested in the hope this long-awaited moment would soon come around.
A late scrambled goal from Demba Ba, however, changed all of that. Chelsea went through to the final four instead, while the Ligue 1 champion was sent packing with the knowledge it would have to wait yet another year to realize its lofty dreams.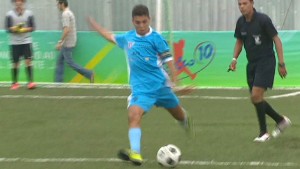 Brazilian youth's long shot at big dreams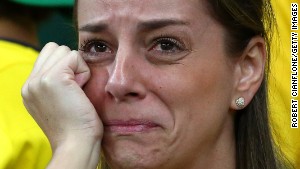 Who do fans blame for stunning defeat?
Another domestic title would follow on at the Parc des Princes a month later -- the first back-to-back success in the club's history.
Yet despite the magnitude of this achievement, it will likely not quite have been enough to satisfy the needs of ambitious owners who have thrown vast sums of money towards building a force to be reckoned with.
When you have spent some $650 million on world-class talent such as Zlatan Ibrahimovic, Thiago Silva and Edinson Cavani, putting you worlds apart from the fellow teams in your division in the process, securing the domestic championship becomes the bare minimum. European domination is the goal.
PSG kicked off its new league campaign last Friday, stuttering to a 2-2 draw at Stade de Reims.
While clearly not the ideal result for the club, it will take solace from the fact that it also dropped points on the opening days of the last two seasons.
Despite being hit with sanctions by UEFA after breaching financial fair play rules, PSG made David Luiz the world's most expensive defender at a reported cost of $80 million -- which is looking inflated after his performances for Brazil at the World Cup.
PSG's closest rival last year, Monaco, has been weaked by the departure of Colombia star Rodriguez to Real Madrid, while key striker Radamel Falcao has been tipped to follow his compatriot to the Spanish capital.
If PSG does not wrap up a hat-trick of titles this season, then Laurent Blanc and his team will have been adjudged to have failed, and failed badly.
But it is the Champions League that is the real Holy Grail for the club, and that will be the true litmus test for its season.
Read: Chelsea rallies to reach UCL semifinals