STORY HIGHLIGHTS
Obama sends letter to Congress, stressing dam's strategic importance
ISIS wants to keep Mosul Dam working, CNN analyst says
Peshmerga spokesman: Forces have retaken one side of the dam
Smoke rises from the horizon, and buildings are ablaze in the battle to retake it
Mosul Province, Iraq (CNN) -- Kurdish forces fired mortars and explosives at extremist militants Sunday as the battle to retake a strategic dam in northern Iraq raged on.
Smoke rose from the horizon, buildings were ablaze and the sound of massive explosions filled the air near Mosul Dam.
By Sunday evening, the Kurdish forces -- known as the Peshmerga -- had taken over the eastern side of the structure, a spokesman for the group said. Clashes were ongoing over the western side, Peshmerga spokesman Halgord Hikmat told CNN.
The forces face a daunting challenge: fighting a fierce offensive to retake the dam without damaging it.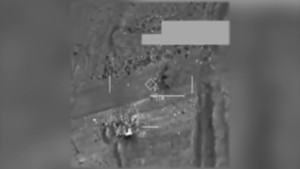 Raw video shows US airtrikes in Iraq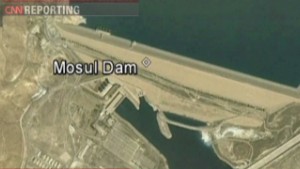 U.S. airstrikes hit ISIS near Mosul Dam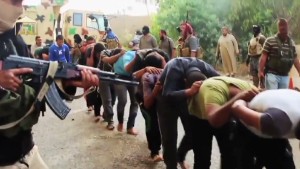 Family of ISIS victim haunted by video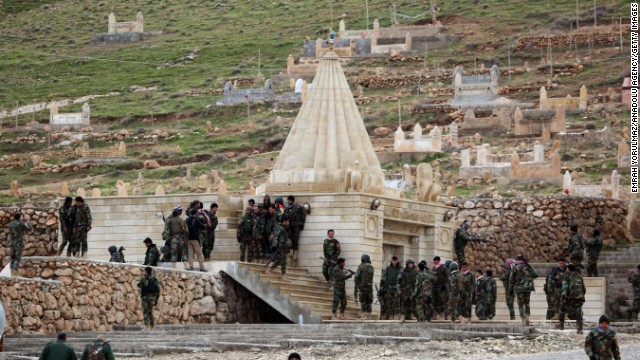 Kurdish Peshmerga fighters assemble at a shrine on Iraq's Mount Sinjar on Friday, December 19. The Kurdish military said that with the help of coalition airstrikes, it has "cleansed" the area of ISIS militants. ISIS has been advancing in Iraq and Syria as it seeks to create an Islamic caliphate in the region.
A Peshmerga fighter looks down at the body of an alleged ISIS fighter in Zummar, Iraq, on Thursday, December 18.
A Kurdish fighter stands next to a destroyed armored vehicle in northern Iraq on December 18. The vehicle was destroyed by an improvised explosive device placed by ISIS militants.
Peshmerga fighters stop to check a vehicle in Zummar on December 18 as they continue to battle ISIS fighters near the border with Syria.
Pro-Iraqi government forces guard a shrine in Balad, Iraq, on Monday, December 15.
A Yazidi woman displaced by ISIS militants tends to a fire Wednesday, December 10, at a shelter in Dohuk, Iraq.
A Kurdish child from the Kobani, Syria, area holds laundry at a refugee camp in Suruc, Turkey, on Monday, November 17. Tens of thousands of people have fled Kobani, known in Arabic as Ayn al-Arab, to escape ISIS.
Smoke rises from Kobani following airstrikes on November 17. The United States and several Arab nations have been bombing ISIS targets to take out the group's ability to command, train and resupply its fighters.
A Kurdish child from the Kobani area holds on to a fence at a refugee camp in Suruc on Sunday, November 16.
People in Suruc watch smoke rise near the Syrian border during clashes between ISIS members and armed groups on Thursday, November 13.
A bomb (upper left) falls on an ISIS position in Kobani during an airstrike by the U.S.-led coalition on Saturday, November 8.
Iraqi military forces take up position in Jurf al-Sakhar, Iraq, on November 8.
Fire and smoke rise from Kobani following airstrikes against ISIS on Thursday, October 30.
Iraqi special forces search a house in Jurf al-Sakhar on October 30 after retaking the area from ISIS.
Smoke rises during fighting in Kobani on Monday, October 27.
ISIS militants stand near the site of an airstrike near the Turkey-Syria border on Thursday, October 23.
An explosion rocks Kobani during a reported car-bomb attack by ISIS militants on Monday, October 20.
People watch Kobani from a hill near the Turkey-Syria border on October 20.
Kurdish fighters walk to positions as they fight ISIS forces in Kobani on Sunday, October 19.
A U.S. Air Force plane flies above Kobani on Saturday, October 18.
Heavy smoke rises in Kobani following an airstrike by the U.S.-led coalition on Saturday, October 18.
Cundi Minaz, a female Kurdish fighter, is buried in a cemetery in the southeastern Turkish town of Suruc on Tuesday, October 14. Minaz was reportedly killed during clashes with ISIS militants in nearby Kobani.
Turkish police officers secure a basketball stadium in Suruc on October 14. Some Syrian Kurds have been held there since crossing from Syria into Turkey.
Kiymet Ergun, a Syrian Kurd, celebrates in Mursitpinar, Turkey, after an airstrike by the U.S.-led coalition in Kobani on Monday, October 13.
Smoke rises from Kobani on Sunday, October 12.
Syrian Kurds from Kobani stand outside the grounds of a refugee camp in Suruc on Saturday, October 11.
Alleged ISIS militants stand next to an ISIS flag atop a hill in Kobani on Monday, October 6.
In this photo released by the U.S. Air Force on Saturday, October 4, a U.S. Navy jet is refueled in Iraqi airspace after conducting an airstrike against ISIS militants.
A Kurdish Peshmerga soldier who was wounded in a battle with ISIS is wheeled to the Zakho Emergency Hospital in Duhuk on Tuesday, September 30.
Iraqi Shiite militiamen aim their weapons during clashes with ISIS militants in Jurf al-Sakhar on Sunday, September 28.
Syrian Kurds wait near a border crossing in Suruc as they wait to return to their homes in Kobani on Sunday, September 28.
Syrian Kurds wait behind border fences to cross into Suruc on September 28.
Tomahawk missiles, intended for ISIS targets in Syria, fly above the Persian Gulf after being fired by the USS Philippine Sea in this image released by the U.S. Navy on Tuesday, September 23.
Turkish Kurds clash with Turkish security forces during a protest near Suruc on Monday, September 22. According to Time magazine, the protests were over Turkey's temporary decision to close the border with Syria.
Syrian Kurds fleeing ISIS militants wait behind a fence in Suruc on Sunday, September 21.
A elderly man is carried after crossing the Syria-Turkey border near Suruc on Saturday, September 20.
A Kurdish Peshmerga fighter launches mortar shells toward ISIS militants in Zummar on Monday, September 15.
An ISIS flag flies on the other side of a bridge at the front line of fighting between ISIS and Kurdish Peshmerga fighters in Rashad, Iraq, on Thursday, September 11.
U.S. Secretary of State John Kerry reads on a flight en route to Iraq on Wednesday, September 10. Kerry traveled to the Mideast to discuss ways to bolster the stability of the new Iraqi government and combat ISIS.
Kurdish Peshmerga fighters fire at ISIS militant positions from their position on the top of Mount Zardak, east of Mosul, Iraq, on Tuesday, September 9.
An Iraqi fighter jet flies over Amerli, Iraq, on September 3. Amerli had been under siege by ISIS militants.
Iraqi volunteer fighters celebrate breaking the Amerli siege on Monday, September 1. ISIS militants had surrounded Amerli, 70 miles north of Baquba, Iraq, since mid-June.
Kurdish Peshmerga forces stand guard at their position in the Omar Khaled village west of Mosul on Sunday, August 24.
Kurdish Peshmergas fight to regain control of the town of Celavle, in Iraq's Diyala province, on August 24.
Peshmerga fighters stand guard at Mosul Dam in northern Iraq on Thursday, August 21. With the help of U.S. military airstrikes, Kurdish and Iraqi forces retook the dam from ISIS militants on August 18. A breach of the dam would have been catastrophic for millions of Iraqis who live downstream from it.
Displaced Iraqis receive clothes from a charity at a refugee camp near Feeshkhabour, Iraq, on Tuesday, August 19.
A fighter with Kurdish Peshmerga forces battles ISIS militants near Mosul on Monday, August 18.
Peshmerga fighters inspect the remains of a car that reportedly belonged to ISIS militants and was targeted by a U.S. airstrike in the village of Baqufa, north of Mosul, on August 18.
Kurdish Peshmerga fighters fire at ISIS in Khazair, Iraq, on Thursday, August 14.
Volunteers of the Iraqi Red Crescent Society unload boxes of goods before distributing them August 14 to families who fled from ISIS.
From the flight deck of the USS George H.W. Bush, which is in the Persian Gulf, two U.S. fighter jets take off for a mission in Iraq on Monday, August 11. U.S. President Barack Obama authorized airstrikes against Islamic militants and food drops for Iraqis who are trapped by the militants.
Aziza Hamid, a 15-year-old Iraqi girl, cries for her father while she and some other Yazidi people are flown to safety Monday, August 11, after a dramatic rescue operation at Iraq's Mount Sinjar. A CNN crew was on the flight, which took diapers, milk, water and food to the site where as many as 70,000 people were trapped by ISIS. But only a few of them were able to fly back on the helicopter with the Iraqi Air Force and Kurdish Peshmerga fighters.
Thousands of Yazidis are escorted to safety by Kurdish Peshmerga forces and a People's Protection Unit in Mosul on Saturday, August 9.
Iraqi Shiite volunteers who have joined government forces to fight ISIS take part in a training session near Basra, Iraq, on Thursday, August 7.
Thousands of Yazidi and Christian people flee Mosul on Wednesday, August 6, after the latest wave of ISIS advances.
A Baiji oil refinery burns after an alleged ISIS attack in northern Selahaddin, Iraq, on Thursday, July 31.
A Syrian rebel fighter lies on a stretcher at a makeshift hospital in Douma, Syria, on Wednesday, July 9. He was reportedly injured while fighting ISIS militants.
Iraqis who fled fighting in the cities of Mosul and Tal Afar try to enter a temporary displacement camp in Khazair on Wednesday, July 2.
Peshmerga fighters check cars at the entrance of a temporary displacement camp in Khazair on Thursday, June 26.
Kurdish Peshmerga take their positions behind a wall on the front line of the conflict with ISIS militants in Tuz Khormato, Iraq, on Wednesday, June 25.
Peshmerga fighters clean their weapons at a base in Tuz Khormato on June 25.
New army recruits gather in Najaf, Iraq, on Wednesday, June 18, following a call for Iraqis to take up arms against Islamic militant fighters.
An MH-60R Sea Hawk helicopter lands on the aircraft carrier USS George H.W. Bush in the Persian Gulf on Tuesday, June 17.
Newly recruited Iraqi volunteer fighters take part in a training session in Karbala, Iraq, on June 17.
Members of ISIS prepare to execute soldiers from Iraq's security forces in this image, one of many reportedly posted by the militant group online. CNN cannot independently confirm the authenticity of the images.
Iraqi men chant slogans outside of an army recruiting center to volunteer for military service Thursday, June 12, in Baghdad.
Kurdish Peshmerga forces, along with Iraqi special forces, deploy their troops and armored vehicles outside of Kirkuk, Iraq, on June 12.
Children stand next to a burnt vehicle during clashes between Iraqi security forces and ISIS militants in Mosul on Tuesday, June 10.
Civilians from Mosul escape to a refugee camp near Irbil, Iraq, on June 10.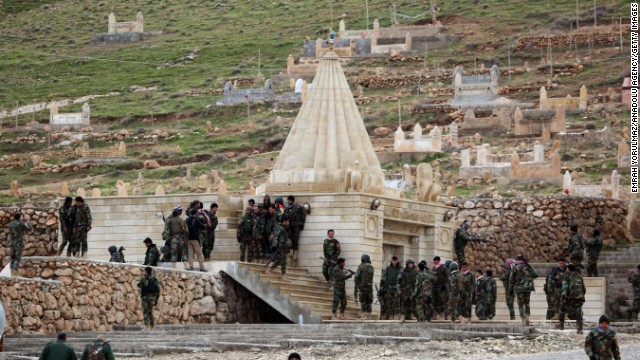 Photos: The ISIS terror threat
U.S. warplanes joined the effort amid growing concern that the facility is not maintained and could rupture, a U.S. official told CNN.
Engineering studies show that a failure of the dam would be catastrophic, resulting in flooding all the way to Baghdad, the official said on condition of anonymity.
Iraq's largest hydroelectric dam, the facility on the Tigris River about 50 kilometers (31 miles) north of the city of Mosul is a key source of electricity, irrigation and flood protection.
ISIS fighters seized it this month, and they were digging in Sunday to keep their grip, using snipers, land mines and other explosives in their efforts to fend off advancing forces.
The United States estimates there may be up to 400 ISIS fighters in and around the dam complex, the official said.
And members of the Peshmerga said Sunday that they were worried that the militants could try to sabotage the dam.
Militants of ISIS, which calls itself the Islamic State, set up high-powered explosives around buildings and detonated them, Kurdish Intelligence chief Masrour Barzani said.
Kurdish forces fought back, sparking clashes.
"We believe our Peshmerga can take (the dam) back because this is something very, very dangerous," Barzani said.
U.S. military forces used "a mix of fighter, bomber, attack and remotely piloted aircraft to successfully conduct airstrikes near the Mosul Dam" on Sunday, according to U.S. Central Command.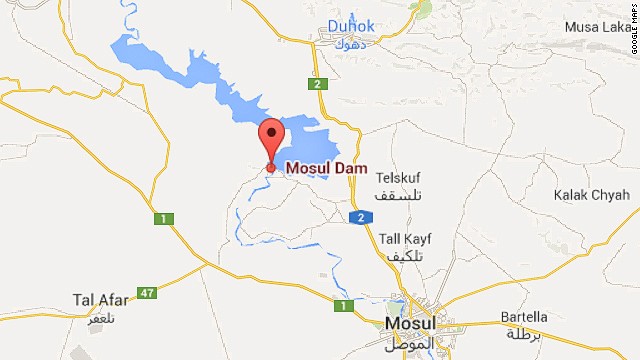 Map: Mosul Dam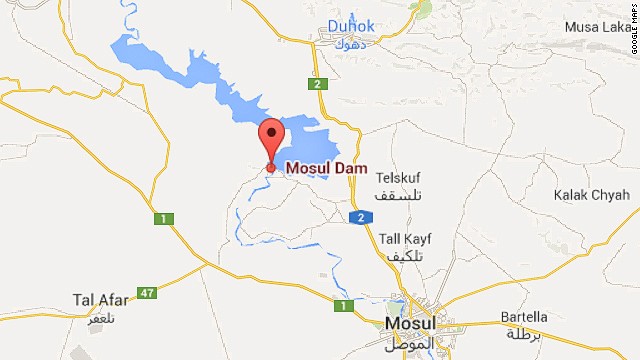 Map: Mosul Dam
President Barack Obama justified the airstrikes in a letter to Congress the same day.
"These military operations will be limited in their scope and duration as necessary to support the Iraqi forces in their efforts to retake and establish control of this critical infrastructure site," the letter read.
"The failure of the Mosul Dam could threaten the lives of large numbers of civilians, endanger U.S. personnel and facilities, including the U.S. Embassy in Baghdad, and prevent the Iraqi government from providing critical services to the Iraqi populace," it continued.
A Peshmerga colonel told CNN the operation began early Saturday with Kurdish forces advancing toward the dam as the United States carried out airstrikes.
The U.S. military confirmed a mix of fighter jets and drones carried out nine airstrikes on Saturday near Mosul and the Kurdish regional capital of Irbil. On Sunday, the U.S. military conducted 14 airstrikes in Iraq, damaging or destroying ISIS militants' vehicles, armored personnel carriers and a checkpoint, Central Command.
Videos released by the military showed two airstrikes near the Mosul Dam -- one hitting an armed truck, the other hitting a Humvee.
The dam complex has not been hit, the colonel said on condition of anonymity. He is not authorized to speak to the media.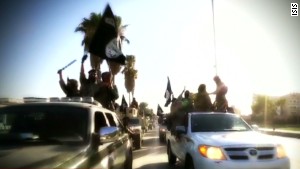 How concerned is the U.S. by ISIS?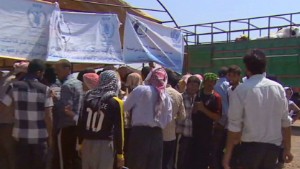 Thousands of Iraqi Yazidis flee to Syria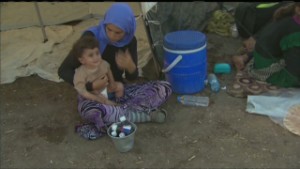 Yazidis take refuge from ISIS militants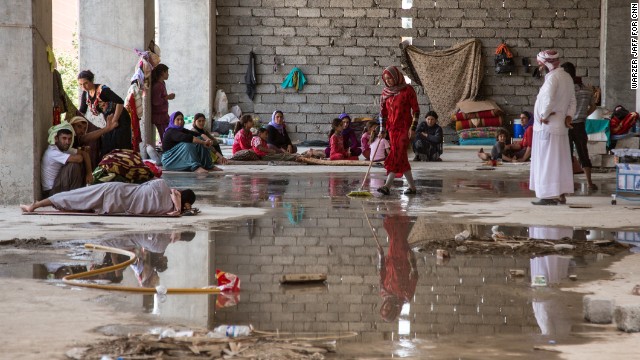 A Yazidi family from Sinjar cleans a spot for themselves in a derelict building that houses more than a thousand other refugees on Thursday, August 14, in Zakho, Iraq.
A woman and child sit in the makeshift housing on Thursday.
A Yazidi woman holds her baby while crossing Peshkhabour bridge from Syria back into Kurdish-controlled Iraq on Tuesday, August 12.
Entire families carry nothing but the clothes on their back. Some are barefoot. And not everyone who set out on the arduous journey survived.
The militant group ISIS, which now calls itself the Islamic State, executes civilians who don't adhere to its version of Sunni Islam.
Yazidis fled into the barren and windswept Sinjar Mountains more than a week ago after ISIS captured their town.
Descendants of Kurds and followers of an ancient pre-Islamic religion, Yazidis are one of Iraq's smallest minorities, and have been persecuted for centuries, but they have a strong sense of community.
According to some accounts, Syrian Kurds also helped people use parts of northeastern Syria under their control to reach Kurdish areas of northern Iraq.
A young refugee carries a disabled man across the bridge.
Thousands trudge across a river to seek humanitarian aid in Syria.
A number of those who made the treacherous trek off the mountain told CNN that PKK fighters control parts of the mountain, and they fed and protected them from ISIS.
A Kurdish border guard watches while people cross.
A senior Kurdish official estimated that as many as 70,000 people remain trapped on Mount Sinjar, and that at least 100 have died so far from dehydration and the heat. CNN could not independently confirm those estimates.
A man weeps after been reunited with his family.
A Kurdish Peshmerga stands in front of the bridge.
Children rest after arriving back into Kurdish-controlled Iraq.
A little girl was seen crossing the bridge by herself. The United States is sending more troops to northern Iraq, a move that U.S. officials told CNN is necessary to help in the rescue of tens of thousands of Yazidis trapped in the mountains.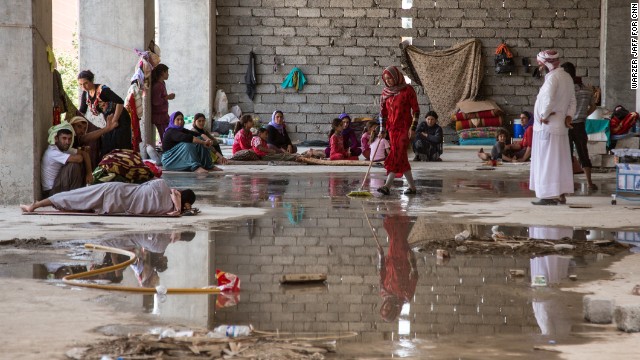 Iraqi refugees fleeing ISIS
Mosul Dam is under ISIS control, but it is still up and running, the colonel said. Engineers and employees remain at work, he said.
U.S. intelligence agencies, according to the U.S. official, are also keeping an eye on the Haditha Dam on the Euphrates River in Iraq's western Anbar province, where Iraqi troops have been holding off an ISIS assault for weeks. The dam is the second-largest in the country, and it provides water to western and southern Iraq.
Earlier this year, ISIS fighters opened the gates on the Falluja dam after seizing it in an effort to stop an Iraqi military advance. The water from the dam flooded a number of villages.
CNN military analyst retired Maj. Gen. James "Spider" Marks said it's likely ISIS wants to keep the Mosul Dam in working order.
"You don't want to have the cataclysmic event where, if this dam were to break, you would run the risk of flooding downstream along the Tigris," he said. "I would think that ISIS wants to retain control of that dam and would want to maintain its integrity, because it generates this electric power and they want to be able to sue that as a weapon system to those who are under their control."
U.S. President Barack Obama ordered targeted airstrikes to protect U.S. personnel and facilities in Iraq and prevent a potential genocide of ethnic and religious minority groups by ISIS.
Last week, Obama declared an end to an ISIS siege that had trapped tens of thousands of Yazidis in mountains, citing the success of targeted American airstrikes.
The Yazidis are one of Iraq's smallest and oldest religious minorities.
On Sunday, the Cabinet of the Kurdish region of Iraq called on the Iraqi parliament to recognize the crimes committed by ISIS against the Yazidi people as "genocide."
The United Nations estimates they are among more than 600,000 people who've been driven from their homes since June, when ISIS swept across the border from Syria into Iraq.
Yazidi refugees braced for life in exile
Opinion: In Iraq, it's not 'mission creep'
Anna Coren reported from Mosul province, Jomana Karadsheh reported from Baghdad and Faith Karimi reported and wrote from Atlanta. CNN's Barbara Starr, Ali Younes, Mohammed Tawfeeq, Alexander Felton, Mariano Castillo and Fredricka Whitfield contributed to this report.