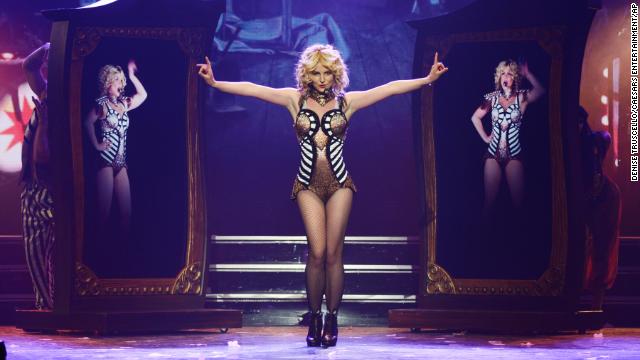 Spears began a two-year residency at Planet Hollywood Resort & Casino in Las Vegas on December 27, 2013, with the debut of her show "Britney: Piece of Me."
Britney Spears sent out an image on Instagram showing her latest look -- transforming her blond locks to brunette.
A blond Spears takes the stage at the 40th Annual People's Choice Awards to accept the favorite pop artist award on January 8.
Spears recently released a new album, "Britney Jean," and on December 2, 2013, celebrated her 32nd birthday.
As a youngster, Spears was a member of the a new generation of the "Mickey Mouse Club" shown here sitting next to Ryan Gosling in the front row along with, from left in back row, T. J. Fantini, Tate Lynche, Nikki Deloach, Christina Aguilera and Justin Timberlake.
Spears bounced onto the scene in 1999 with her first studio album "Baby One More Time." Here she is that year performing in East, Rutherford, New Jersey.
Spears famously performs with a snake draped over her shoulders at the 2001 MTV Video Music Awards in New York City.
In 2001, Spears appears on the red carpet with then-boyfriend and fellow Mouseketeer Justin Timberlake.
In 2002, Taryn Manning, Spears and Zoe Saldana appear in the film "Crossroads."
Britney Spears and her younger sister, Jamie Lynn Spears, appear at the Teen Choice Awards 2002 at the Universal Amphitheatre in Los Angeles.
In 2003, Spears and Madonna set tongues wagging as they kiss during the opening performance of the MTV Video Music Awards at New York's Radio City Music Hall.
Spears receives a star on The Hollywood Walk of Fame in Hollywood, California, in 2003.
Spears and then-husband Kevin Federline arrive at the 2004 Billboard Music Awards at MGM Grand in Las Vegas.
A Daily News front page dated February 18, 2007, shows Spears after she shaved her head. Headlines at the time focused on whether the star was in the midst of a breakdown.
Spears performs at the 2007 MTV Video Music Awards at The Palms Hotel and Casino in Las Vegas.
The singer arrives at the Los Angeles County Superior courthouse in 2008 for a hearing regarding visitation rights for her two sons that she has with ex-husband Kevin Federline.
Spears poses in the press room at the 2008 MTV Video Music Awards at Paramount Pictures Studios in Los Angeles.
Spears poses with her sons Preston and Jayden in Mickey's Toontown Fair at the Magic Kingdom in Lake Buena Vista, Florida, in 2009.
Spears and Rihanna perform at the 2011 Billboard Music Awards at the MGM Grand Garden Arena in Las Vegas.
From left, contestant Carly Rose Sonenclar, judge Britney Spears and contestant Diamond White appear on Fox's "The X Factor" during Season 2 in 2012.
Spears and her boyfriend David Lucado go out for a stroll in 2013.
Britney Spears through the years
Britney Spears through the years
Britney Spears through the years
Britney Spears through the years
Britney Spears through the years
Britney Spears through the years
Britney Spears through the years
Britney Spears through the years
Britney Spears through the years
Britney Spears through the years
Britney Spears through the years
Britney Spears through the years
Britney Spears through the years
Britney Spears through the years
Britney Spears through the years
Britney Spears through the years
Britney Spears through the years
Britney Spears through the years
Britney Spears through the years
Britney Spears through the years
Britney Spears through the years