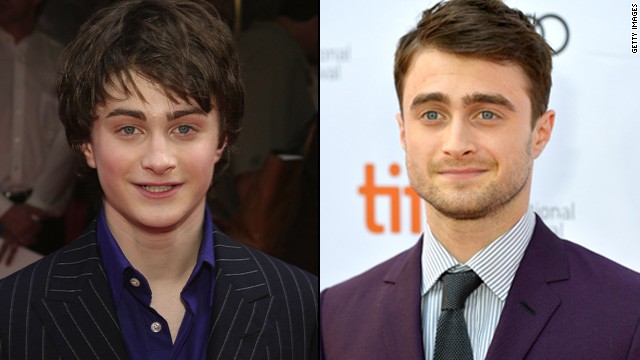 July 23 marks Daniel Radcliffe's 25th birthday. He and his "Harry Potter" co-stars graduated from the franchise in 2011, but there's a plan for additional films set in the Potter-verse, including a spinoff
based on a fictional Hogwarts textbook
. Radcliffe, who has been busy with movies such as "Kill Your Darlings,"
doesn't plan to make an appearance
. But what's the rest of the cast up to these days?
Since portraying sharp witch Hermione in the "Harry Potter" series, Emma Watson has broken away from the supernatural with roles grounded in the (mostly) real world. After "My Week With Marilyn," "The Perks of Being A Wallflower" and "The Bling Ring," the 23-year-old actress also showed her sense of humor in Seth Rogen's outlandish summer comedy, "This Is the End."
Bonnie Wright began playing Ginny Weasley at age 10, and since leaving the franchise has been on a steady diet of dramas. Wright appeared in "The Philosophers," followed by "Before I Sleep" with Tom Sizemore.
Just enough time has passed for us to stop cringing at the sight of Tom Felton, who came to be known as the weakling bully Draco Malfoy. Even while working on the "Potter" franchise, Felton dabbled in other films, like "The Disappeared" and "Get Him to the Greek." Felton has been busy since "Potter" wrapped, and appeared in the World War II movie "Ghosts of the Pacific."
quite the charming young man
. Now 24, Lewis initially migrated over to TV for a spell with 2012's "The Syndicate."
By the time the "Potter" movies wrapped, Matthew Lewis -- and his character, Neville Longbottom -- had morphed into
don't have the trademark ginger hair anymore
, but they're still recognizable as the prankster pair. James (left) and Oliver Phelps are still happy to talk all things "Potter," even as they move on to other endeavors. James has been recently active on stage, and Oliver has been traveling in support of his website,
JopWorld.com.
The brothers who played the elder Weasleys -- George and Fred --
she tweeted
. "Even if I'm too old to play Luna, can I go through 10 hours prosthetics to play a crumple-horned-snorkack. Please??"
Evanna Lynch's Luna Lovegood showed up halfway through the "Potter" saga, but her character was so wonderfully strange she's easily among the most memorable. And if there's anyone who's eager for the "Harry Potter" spinoff films, it's Lynch: "Maybe 'Fantastic Beasts' will turn into a long ting like HP did & I can play Luna as an old lady?"
he was sentenced to two years in jail
for his participation in the 2011 London riots.
Jamie Waylett's Vincent Crabbe appeared in the first half of the franchise, and life post-"Potter" hasn't been so easy for the actor. In May 2012,
assured a supporter
from his unverified Twitter account in late September 2013 that he's "been offered a lead role in a new movie so could be seeing my mug soon :)"
Devon Murray's Seamus Finnigan was an easy character to love, and fans have missed seeing Murray (and hearing his accent) on the big screen. The 24-year-old actor
'Harry Potter': Hogwarts class of '11
'Harry Potter': Hogwarts class of '11
'Harry Potter': Hogwarts class of '11
'Harry Potter': Hogwarts class of '11
'Harry Potter': Hogwarts class of '11
'Harry Potter': Hogwarts class of '11
'Harry Potter': Hogwarts class of '11
'Harry Potter': Hogwarts class of '11
'Harry Potter': Hogwarts class of '11
'Harry Potter': Hogwarts class of '11