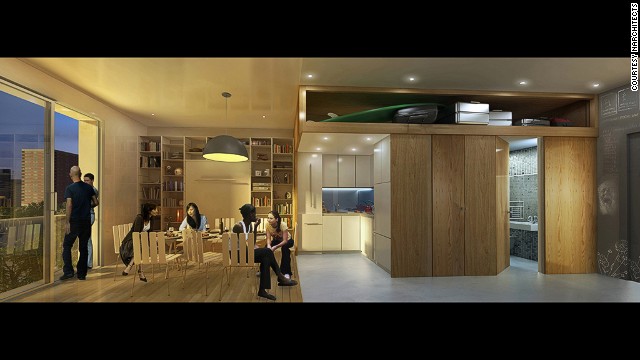 Micro-condos are on the rise in urban centers across North America, including New York City. After winning the adAPT NYC apartment design competition in 2013, nArchitects was awarded a city contract to build a micro-condo pilot that could address the city's changing housing needs. My Micro NYC, which should be completed next year, will have 55 units between 250 and 370 square feet.
Vancouver's Burns Block, unveiled in 2011, offers micro-lofts in the city's rapidly gentrifying Gastown neighborhood, and is popular with students and young professionals.
When they are not being rented, FLATS Chicago's micro-units--which they describe only as "significantly under 300 square feet"-- are also used for short stays. This unit has been fitted with bunk beds and a fold-out couch to accommodate up to three. (Most long-term renters opt for a full bed instead.)
Pocket Living has already completed seven micro-condos across six London boroughs, and shows no sign of slowing down. They recently received funding from the mayor of London to aid in the creation of about 400 units for middle-income buyers. Units in their Camden development (pictured) range from 269 to 408 square feet.
Completed in 2013, these micro-lofts were part of the $10 million restoration of Rhode Island's historic Arcade Providence, America's oldest shopping small. Units range from 225 to 450 square feet, and come fitted with built-in furniture.
The Wolf Hall Apartments are part of an on-going $2 billion redevelopment of the Washington D.C. southwest waterfront, and are scheduled to be completed by 2017. The building, which will be connected to a music hall, will offer units between 325 and 354 square feet, as well as larger units to appeal to a range of millenial buyers.
The LEED Platinum-rated SmartSpace SoMa condo boasts 295-square-foot units that emphasize utility and optimized space. The queen bed, for example, can be converted into a table that seats six.
There may be 130 condos under construction in Toronto this year -- more than any other city in North America -- but Smart House is the city's first and only micro-condo, with units starting at 289 square feet. The 25-storey building is set to be completed in 2017.
My Micro NY, New York City
Burns Block, Vancouver
FLATS Chicago
Pocket Living, London
The Micro-Lofts at the Arcade Providence
Wharf Hall Apartments, Washington D.C
Smart Space, San Francisco
Smart House, Toronto
STORY HIGHLIGHTS
Micro-condos -- units under 500 square feet -- are a growing trend in cities like New York, San Francisco and London
Developers are targeting millenials who wouldn't otherwise be able to afford properties in major Western cities
The units are designed to be hyper-functional and stylish to appeal to design-conscious young buyers
(CNN) -- Could you fit your life into 300 square feet? Developers are betting on it, positioning tiny living spaces as a new status symbol for urban millennials.
Chic, central and closet-sized, micro-condos -- loosely defined as units under 500 square feet -- are being marketed as luxury rentals or a stylish first step onto the property ladder. While small units are already the norm in high-density Asian megacities and old European neighborhoods, major U.S. cities like New York and San Francisco are leading a new charge in North America with others quickly following suit.
"What these great world cities have in common is a scarcity of the resource called land and a large number of people who want to work and play in these cities," says Mark Vlessing, co-founder of London developer Pocket Living.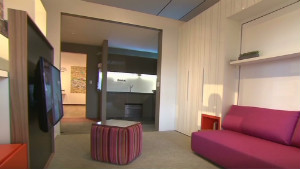 Could you live in 300-sq.-ft. apartment?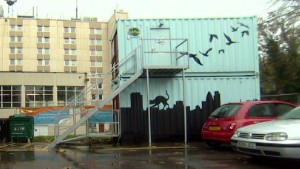 Living in a shipping container
According to a report from Neilson, an American consumer research company, 40% of Americans between the ages of 18 and 36 want to live in urban areas instead of the suburbs their parents idealized, but 69% feel they don't earn enough to afford the lifestyle they covet. High rent, rising property prices, and growing demand make finding an affordable home harder than ever.
Local governments have taken notice. New York City, for one, has waved its minimum 400-square-foot housing requirement for a pilot project with units between 250 and 370 square feet. Last year, Pocket Living -- which makes 400-square-foot units for those who earn less than around $100,000 a year -- received roughly $36 million from the mayor of London to build approximately 400 units for first-time home buyers. Small units are seen as an affordable way to make cities accessible to more people.
Read: Can magic boxes solve urban housing conundrum?
This was the case for Andrea Wong, a hair stylist living in Vancouver. In 2012, unable to afford a centrally located apartment, she decided to move into a unit in Burns Block, the city's first micro-condo. Most of the studios she'd seen rented for around $1,400 a month, so her 291-square-feet apartment -- the building's largest -- seemed like a steal at $1,000.
But it was the design, she says, that she sealed the deal. The tiny space -- all enamel-like white cupboards, foldout tables, and wall-mounted design hacks -- was not only smart, but stylish.
"I wanted something that looked pretty modern. The use of space was really good," she says. "I didn't feel like I was living in a jail cell or anything."
Her friends marveled. Her place was officially cool.
Maxwell Ryan, the New York-based founder of home design website Apartment Therapy, isn't surprised that micro-condo developers are pushing design and utility as their major selling points. To him, it shows an awareness of how generational priorities have shifted.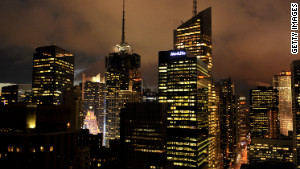 Living small in New York City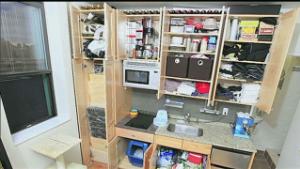 Ever live in a place this tiny?
"As a culture, there's been a renaissance of interest in design -- design as a lifestyle choice, design as a way of life," he says.
Ryan believes young people will happily accept smaller spaces, but only if done properly.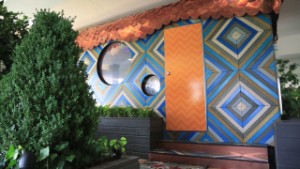 Would you live in a parking garage?
"When you design a small space, you can design it in a way that has more utility and expansiveness," he says, going on to quote Charles Eames, one of the 20th century's most celebrated product designers: "I have never been forced to accept compromises, but I have willingly accepted constraints."
Read: The rise and rise of the "McMansion"
It's a maxim Smart House, an upcoming micro-condo project in Toronto, exemplifies. The designs, masterminded by architecture firm architectsAlliance, are stylish, with seemingly endless concealed storage, contemporary finishes, and floor-to-ceiling windows. Drawers become dishwashers and refrigerators. Couches fold into beds and walls. A number of elements, like a bathtub and oven, have been left out. But even these omissions are meant to cater to the millennial lifestyle.
"This generation wants to live within the city," says Peter Clewes, of architectsAlliance.
When they aren't working, they're eating out with friends and enjoying city life, not spending time at home. For a unit that offers elegance on a budget (Smart House units, which have yet to go on sale, will likely start at $285,000), Clewes thinks they'll be willing to make a few sacrifices.
"Five years ago, if you suggested units of 258 square feet, people would say that's mean, that's immoral. But that's starting to flip the other way," Clewes says. "It's become a moral cause. We need all (income) groups to make a healthy city."
No one seems to know whether tenants or owners will look at micro-condos as temporary stops, or something more permanent. Certain elements seem so tailored to a certain lifestyle they risk being outgrown by those they so carefully target.
For Wong, the initial novelty of micro-living wore off as time wore on. She started to resent not having space for her screen-printing and acrylics projects, or an oven for cooking. When it came time to renew her yearlong lease, she decided to move to a 620-square-foot unit across the street, even though it cost almost $400 more per month.
Today, Wong lives with her boyfriend in a 900-square-foot apartment in East Vancouver. Now 35, she's more focused on settling down. But she doesn't regret giving micro-condos a try.
"My lifestyle has changed a lot since I lived down there," she says. "I liked being there at the time, but I like the space I have now."
Read: Swimming pools and golf ranges in London's insane luxury basements
Read: Are hipsters ruining urban communities?
Read: How China claimed the world's greatest architectural hits