Designer shuns medical school to build 'jewelry empire'
updated 6:46 AM EDT, Thu August 21, 2014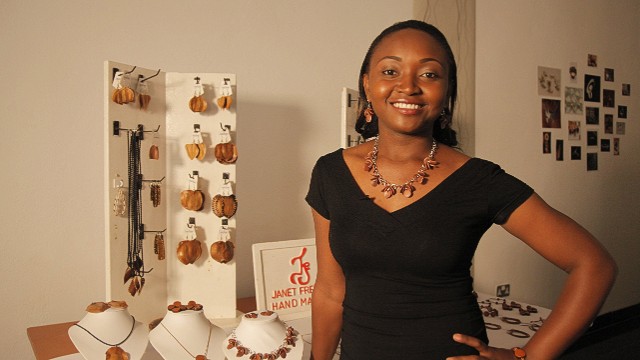 Janet Fredman Designs is a jewelry retailer specializing in contemporary accessories. Utilizing natural resources such as seeds, wood and leather, Fredman creates unique pieces that encapsulate the raw beauty of Zambia.
Fredman hopes her designs will help her business grow into a jewelry empire so that "everyone will be talking about it."
A commitment to craft and an unwavering desire to "make things with her hands" helped make Fredman's dream a reality.
When Fredman was growing up, she would often be found helping her grandmother with bead-work. Now, her passion has transformed into a money making venture where nature is at the heart of her creations.
Destined for medical school, Fredman took a gamble and tried her hand at a goldsmith course. Her experience with precious materials inspired her to try new combinations - such as fusing rustic wood with glistening silver.
The Jacaranda tree, perched conveniently outside of Fredman's office, is known for its woody seeds that are a huge 5cm in diameter. These pods are frequently used in her designs, adding an earthy feel to her work.
Fredman's age has proved to be a point of controversy since she started her business in January 2014, with many debating the legitimacy of her work -- simply because she is still in her 20s
Fredman has found that working with raw natural materials has helped her business stand out from others, especially as Zambia is rich in gold and gemstones.
Raw materials
Ambitious future
Creative freedom
Lifelong passion
Medical school vs jewelry design
Doorstep resources
The age debate
Resource rich
STORY HIGHLIGHTS
Janet Fredman Designs is a jewelry business based in Lusaka, Zambia
Fredman transforms raw materials such as wood and seeds into quality accessories
The venture hopes to reveal the inherent beauty in modest resources
Every week, African Start-Up follows entrepreneurs in various countries across the continent to see how they are working to make their business dreams become reality.
(CNN) -- It takes a lot of guts to choose jewelry design over a career in medicine, but then, Janet Fredman isn't the kind of woman to shy away from challenges.
Shunning the prospect of attending medical to follow her creative side, the young entrepreneur went about transforming a passion for handmade accessories into a flourishing design practice based in Zambia's capital, Lusaka.
Despite the country's rich offering of gold and gemstones, Fredman opted for everyday materials such as wood, seeds and leather to make her pieces. The result is a stunning collection of rings, bracelets and necklaces that translate the beauty of Zambia into wearable art.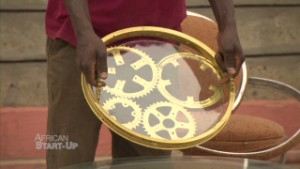 Bicycles transformed into trendy furniture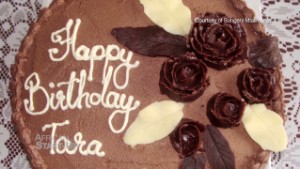 Moonlighting lawyer 'draws' on cakes
"[When] I started first making jewelry, it started as a hobby", recalls Fredman. "I started making jewelry out of beads, and then later went to study as a goldsmith."
She adds, "after studying, I came back and then what I learned as a goldsmith I incorporated it with Zambian materials to make contemporary Zambian jewelry."
A visit to a Cape Town jewelry shop further inspired Fredman to dive headfirst into her new venture, and since January 2014, the business has provided both a rewarding and challenging experience. Still in her 20s, Fredman has impressed many with her success, but establishing a new business at a young age is never easy.
"Business has been going OK", says Fredman. "Sometimes it's slow and sometimes it's high -- [I'm] still trying to find my way, what to do, the how, the do's and the don'ts; still trying to figure it out."
Professional and sleek, Janet Fredman Designs has the appearance of a high value retailer -- but it's this very quality that has led some people to question the legitimacy of her work.
They're like 'you're young, did you really make this?'
Janet Fredman
"They're like 'you're young, did you really make this?' or 'maybe you bought and maybe you're selling'" she says.
Nevertheless, Fredman remains unfazed. In fact, the talented designer shows no sign of slowing down.
"The hopes for my business is to grow it, so it becomes an empire, a jewelry empire everyone will be talking about."
Click through the gallery above to see Fredman's creative process and check the video below to find out more about her entrepreneurial journey.
Read this: Brand creates buzz with Africa-inspired designs
Read this: Luxury shoes put sparkle in your step