STORY HIGHLIGHTS
Actor Tom Hanks has helped develop a new app that acts like a typewriter
Hanks is a fan of typewriters and has a personal collection
The app is supposed to give users a vintage feel, but with modern technology
Editor's note: Each week in "Apparently This Matters," CNN's Jarrett Bellini applies his warped sensibilities to trending topics in social media and random items of interest on the Web.
(CNN) -- We all have weird, irrational concerns.
So, if you're just staring at your walls, drowning in fear that the great Tom Hanks may never release a digital typewriter app for your iPad, then this one is for you.
Because it finally exists. I'm just not exactly sure why.
But, the new Hanx Writer app definitely looks, acts, and sounds just like a real typewriter, all nestled within the technological convenience of your amazing, space-age digital tablet.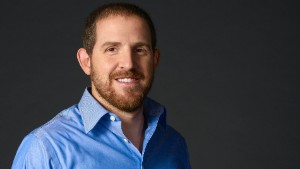 "Apparently This Matters" Is Jarrett Bellini's weekly (and somewhat random) look at social-media trends.
The one you bought to replace your laptop. Which you bought to replace your desktop. Which we all bought to replace our typewriters when we realized we were living in the '80s and didn't have to deal with this crap anymore.
Speaking of which, did you know the decline of typewriters can directly be traced to the rise of the British pop music duo, Wham!.
Coincidence? Yes. Totally. Completely.
It's just that I sort of got sucked into an Internet information wormhole, and that was my major takeaway. Typewriters went out. Wham! came in.
Serious journalism.
Anyway, I really don't mean to be critical of anyone's interest in outdated typewriters. Or even modern, pretend digital typewriters. After all, both are great if you enjoy that warm, old-world feel of seemingly irreversible mistakes.
"Dave, you misspelled seven words."
"Whatever. It's not like it's the Torah."
"No, it's your resume."
As for me, it's just too much trouble. I'm simply not hipster enough to fully appreciate a device that somehow makes it more difficult to write 700 words about not wearing pants.
That kind of art requires only the very best modern technology. And a weird childhood.
But long-form writing really isn't the point of the Hanx Writer, for it serves a completely different purpose.
Digital nostalgia.
And it's a hit. As I'm writing this on Thursday night, the Hanx Writer sits proudly as the No. 1 free iPad app in the iTunes store.
Behold! The awesome power of Tom Hanks!
He managed to take something from your parents' garage, and put it right on your iPad.
But what I really find funny is the iTunes category: Productivity.
Sorry, Mr. Hanks. I do appreciate the inventiveness of your app and your passion for the medium, however let's not kid ourselves. It's anything but productive.
Unless, of course, your goal for the day is to make multiple spelling and punctuation mistakes. In which case, it" s f&9#ing greatgdzfg!.;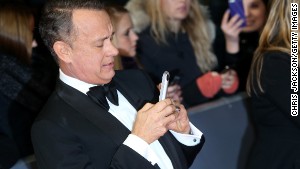 "Well, what in the world is this fancy-pants thing?"
To be fair, it does have a few necessary conveniences, like a setting which allows you to use "modern delete." It also provides for copy-paste.
So, it's sort of a combination of old and new. Users can enjoy the feeling of a typewriter while still processing words digitally. The idea is that what you make will feel to you, and look to your reader, like something more personal than an e-mail or a text message.
And Hanks argues that kind of personalization shines best through a typewriter. Even a digital one.
The Oscar-winning actor is actually a huge aficionado of typewriters. A year ago, he even wrote an op-ed in the New York Times about why he loves them so much.
Amazingly, Hanks says he uses a manual typewriter almost every day.
He wrote: "Everything you type on a typewriter sounds grand, the words forming in mini-explosions of SHOOK SHOOK SHOOK. A thank-you note resonates with the same heft as a literary masterpiece."
Maybe so.
"Sarah, thanks for being my beautiful maid of honor on such a special day for me and Brad. I'm sorry you threw up in the hotel lobby."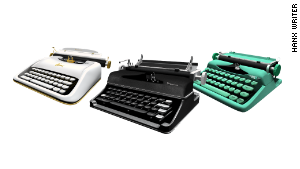 The vintage-style typewriters of the Hanx Writer app are all digitally crafted from the personal collection of the guy who left Wilson the Volleyball to die scared and alone in the middle of the ocean like some sort of dirty animal. That was his best friend, man. He could've gone back. He could've saved Wilson. Hell, he'd be dead without Wilson. And then he's all, "Oh, bye Wilson. I'm sorry. But I'm on a raft and I'm too scared to go back for my best friend. Hope you have a nice life floating around like a whale turd in the pacific." What a jerk. Nice typewriters, though.
And maybe not.
Now, for what it's worth, this column was crafted (ha!) over the span of two days using two different computers. During that time, I paused to read more of Hanks' op-ed. And, despite my earlier cynicism, I admit that I now better understand the appeal.
Dammit, Tom Hanks. Why do you have to be so charming?
So, yeah, I'm sort of sold on the idea that an old typewriter might tap into your creativity in a different way. Which is why they put a lot of thought into making this app.
Pulling from Hanks' vast personal collection, the app's developer, Hitcents, created several totally original vintage-style typewriter choices. One of these comes standard with the app. The others are available for purchase. And each types with a completely different style.
With the help of Hanks, they literally studied the ink patterns of these old typewriters, and digitally recreated the typefaces within the app.
Thus, if you're not working on anything too serious as a final draft, and if you want to explore your creativity and communication in a different, perhaps even more personal, way, the Hanx Writer might just be the app for you.
Maybe so.
"Sarah, we just got a bill from the hotel."
And maybe not.
Follow @JarrettBellini on Twitter.
See more content with questionable news value at CNN Comedy.